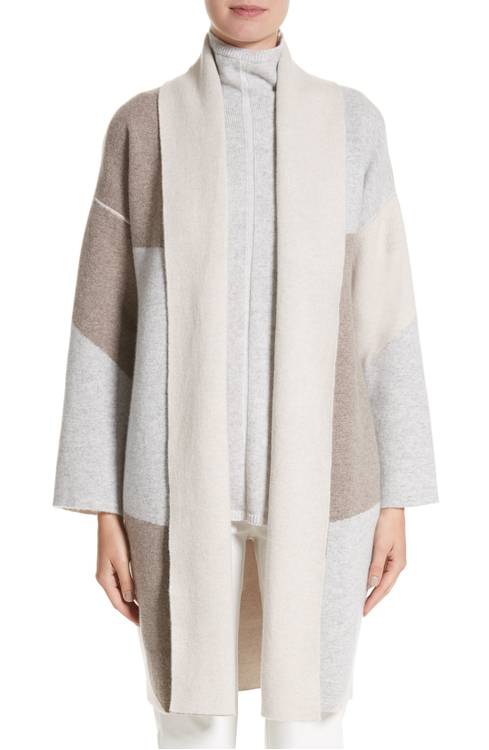 Although the chill is only slightly touching San Diego, my clients are finally clamoring for winter outerwear. The sales and selection probably have something to do with it. Either way, let's get it while the getting is good. Below you will find many delicious options for the colder seasons from lightweight year-round goodies to true winter coats.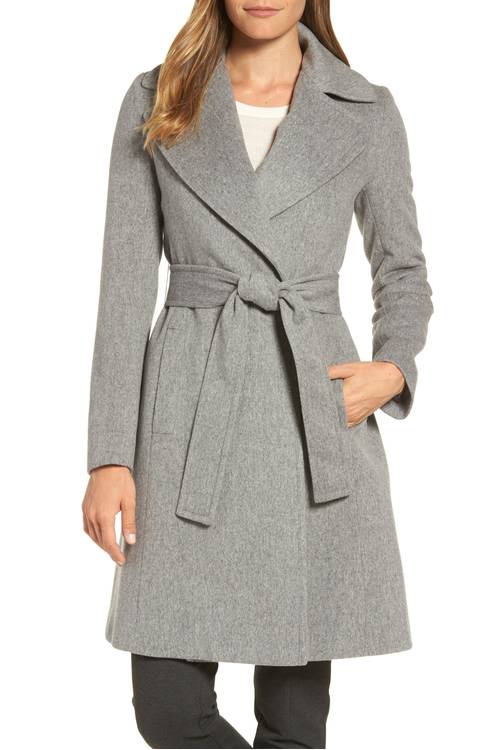 This sophisticated Fleurette wool wrap goodie is one of the best winter coats available. It is timeless, warm, versatile, and comfortable. The sleek inner lining prevents itch and makes a smooth transition off and on, even over sweaters. This light heather grey goes with earth tones, black, and navy. Wear over work looks, dressier outfits, and legging looks. You basically can't go wrong, unless you pair it with sneakers or grubby boots. Keep it with heels, nicer boots and booties, and dressy flats.
Sizing Tip: True to size. If you want to order two sizes to compare, order a size down as well.
Talbots Stand Collar Coat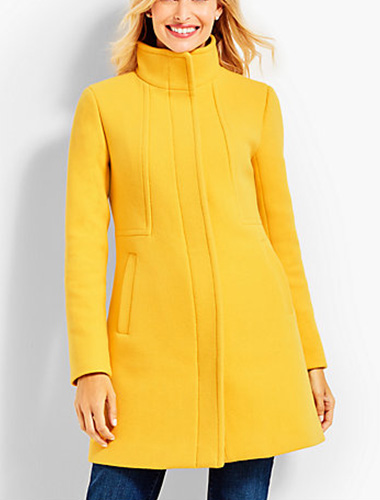 I love this Talbots Stand Collar Coat. The silhouette is classic, but the sunny yellow color is bold. The combination is delicious. Plus, it feels great on the body. The 100% polyester lining gives you 100% protection from the outside wool. I coordinated a client's entire travel wardrobe around this garment. Note, sunny yellow is the most flattering yellow for almost all skin tones. Don't be scared to try it out. If you're just not ready for yellow, it also comes in a lovely light grey.
Sizing Tip: Runs a little big if you are not layering over sweaters. If wearing over sweaters, the coat is true to size.
Rebecca Taylor Garment-Washed Leather Moto Jacket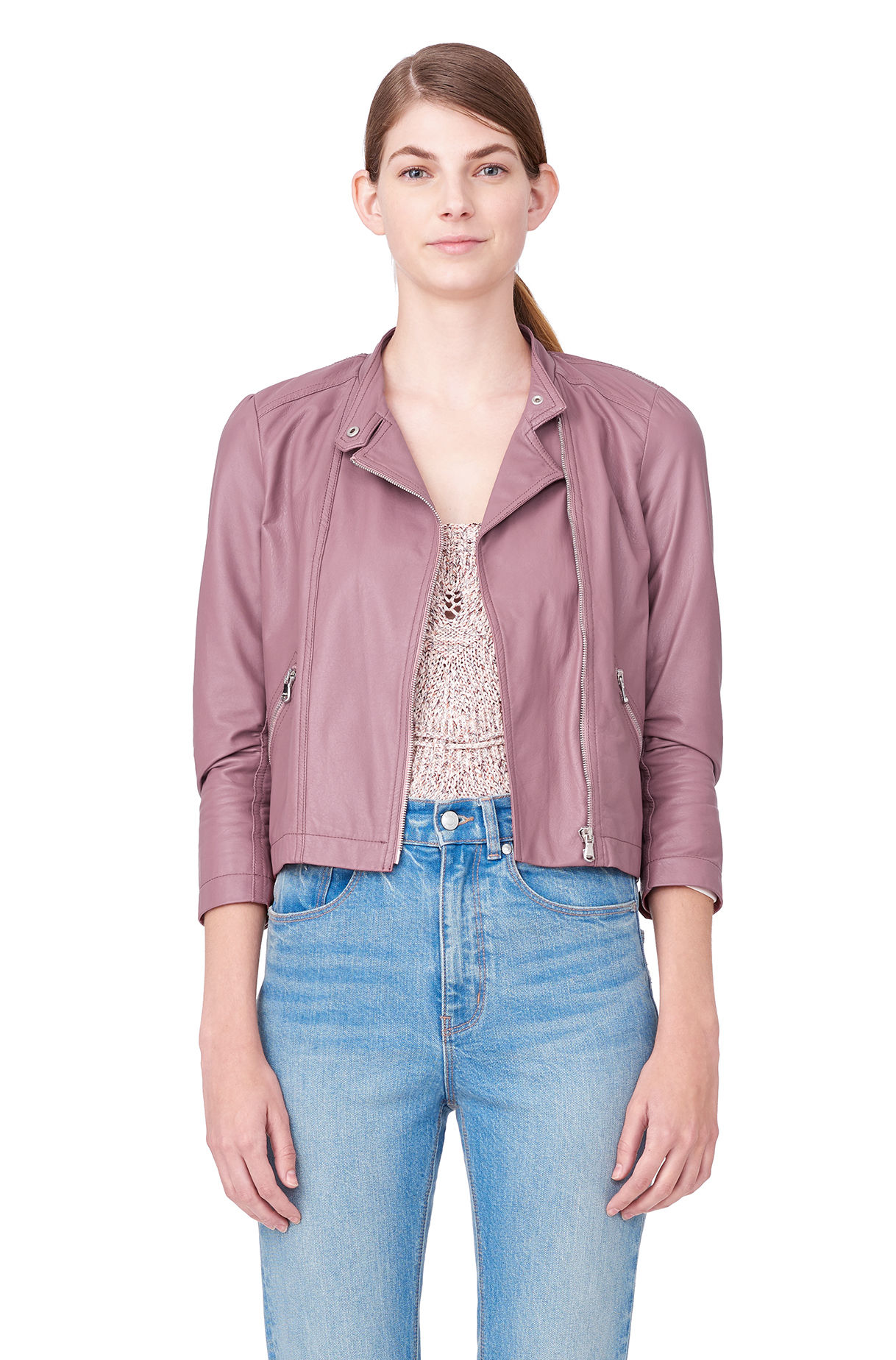 Rebecca Taylor makes the most feminine leather jackets that pair beautifully with dresses. So often leather jackets are too long to work with dresses, but this sweet moto jacket is perfect for them. It also pairs well with high-waisted skirts and high-rise pants. Check it out in this pastel green shade as well.
Sizing Tip: Runs true to size. If you want to compare two sizes, compare it with one size up. As a size 4/6 woman, I wear a size 6 in this jacket.
Love Token Faux Suede Trench Coat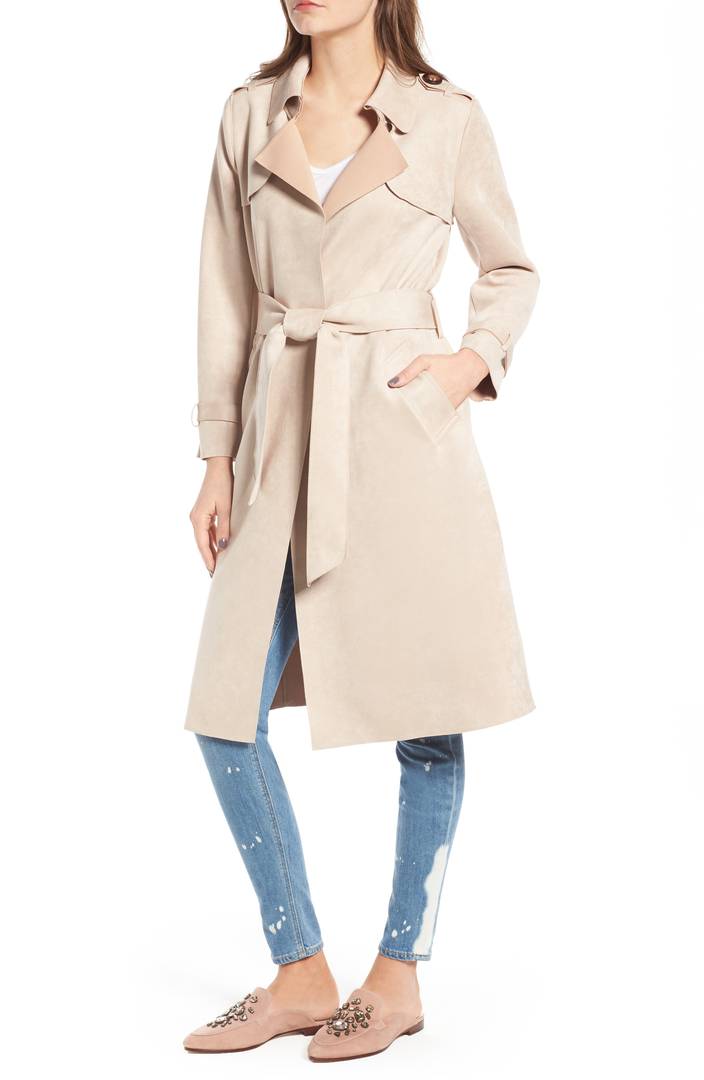 Love Token is usually known for its real fur, so they absolutely surprised me with this gorgeous faux suede trench coat. The blush shade is delicious and the feel is incredible. It is lightweight, so it can work year round in San Diego, but you will mostly likely freeze your tushy under 60°.
Sizing Tip: Runs true to size. If you wan to compare two sizes, order a size up as well.
Ted Baker Keyla Short Wrap Coat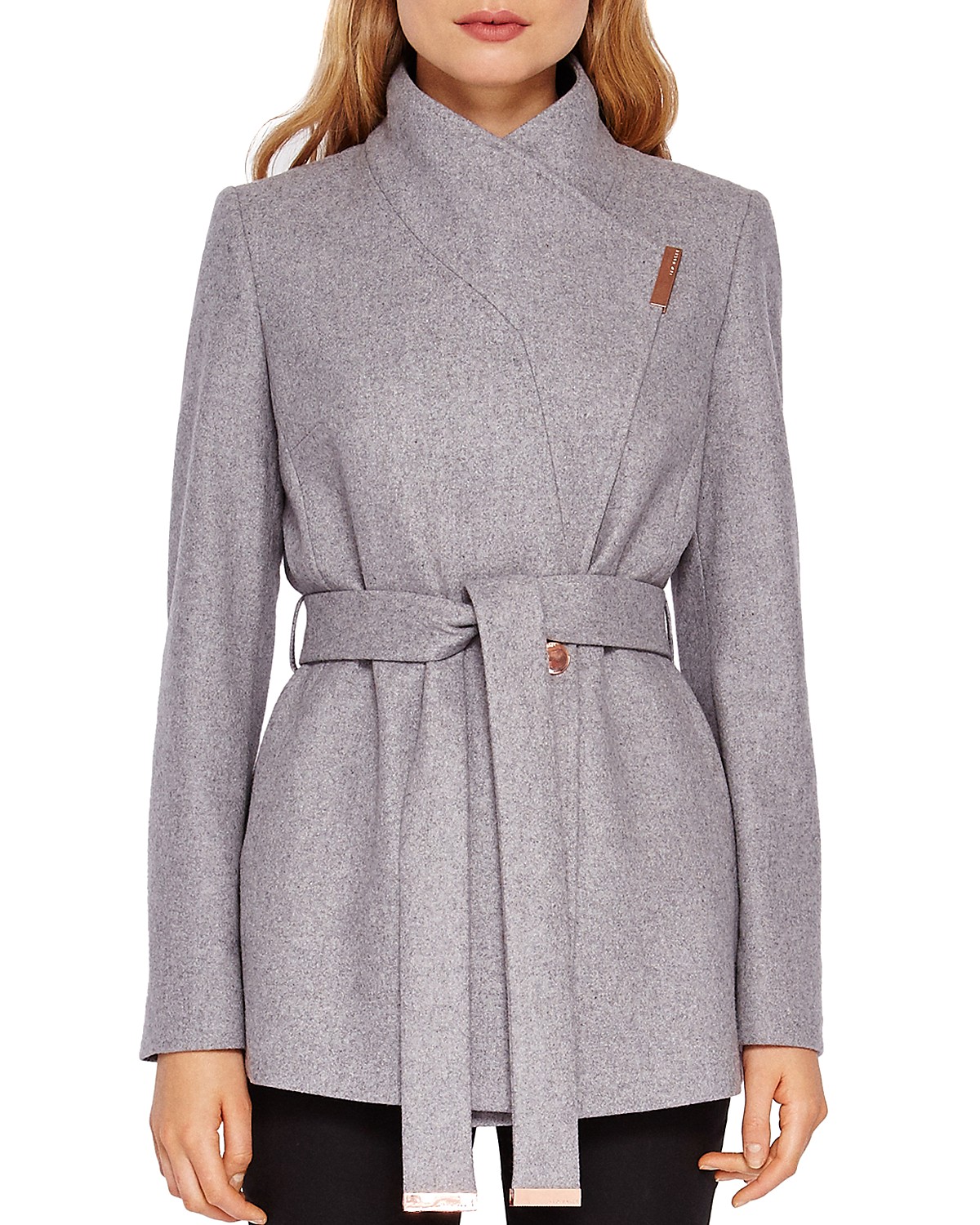 This short Ted Baker wrap coat has been my go-to for winter coats for the past four years. Its color, shape, comfort, and length make it insanely versatile. It can go from work to pleasure to travel. I wear it with jeans, leggings, and cocktail looks.
Sizing Tip: Runs true to size. If you want to order two sizes to compare, order one size up as well.
Burberry Wool Cashmere Funnel Neck Coat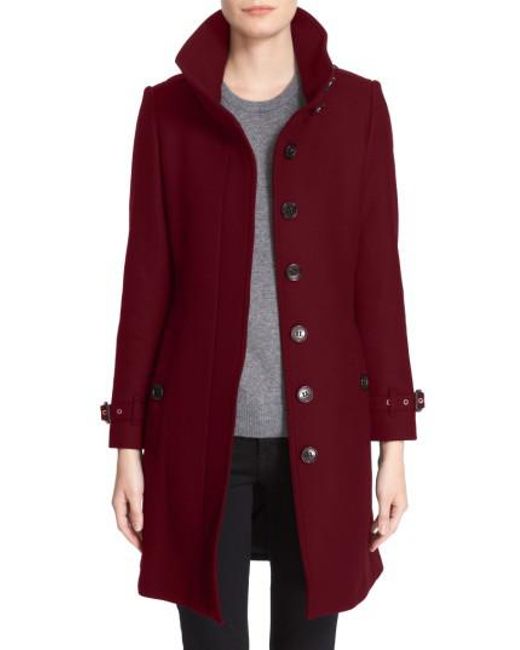 This is one of my all-time favorite winter coats from Burberry. The deep red works with all skin tones, and you know it is insanely flattering and comfortable. Every client I put it on raves.
Sizing Tip: Runs Small. Order one size up than normal.
Vince Drape Front Wool Knit Cardigan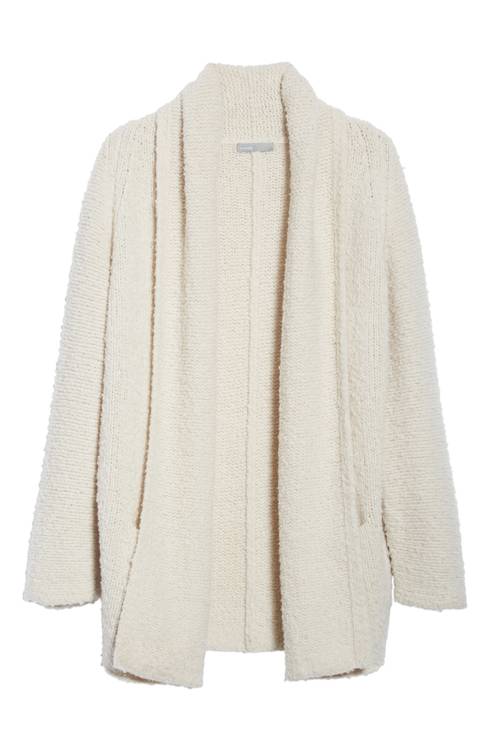 This chunky knit Vince cardigan is fantastically cozy soft despite being 100% wool. I also love its versatility. It's chunky enough to wear over long sleeves, but light enough to wear indoors. You'll feel like you're wearing your bathrobe, but you're not. Pair with medium to light wash jeans and light colored earth tones like camel, cream, certain greys and olive green. This sweater is available at Nordstrom, Neiman Marcus, shopbop, and Vince.com.
Sizing Tip: Runs large. Order a size or two down.
Kensie Leopard Spot Faux Fur Coat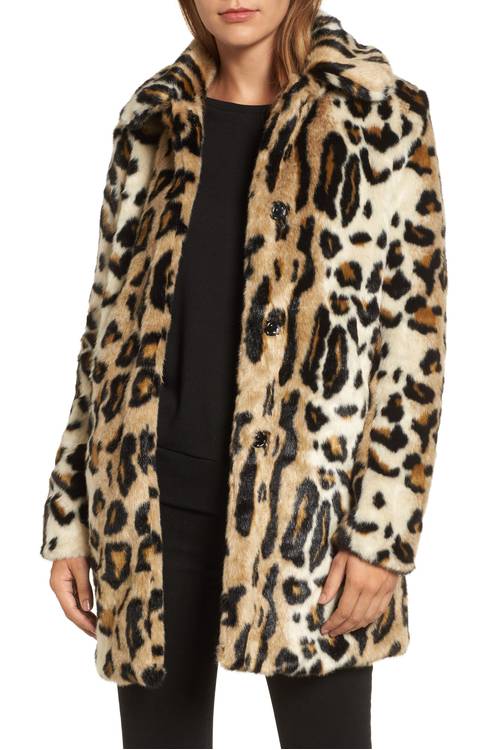 Animal print is available in a big way and this playful plush
Kensie
coat might be my favorite. To ensure a fashion forward look, pair with funky outfits or super sleek looks. It can work with black, camel, creams, and bright colors.
Sizing Tip: Runs true to size.
Lafayette Cashmere Reversible Colorblock Cardigan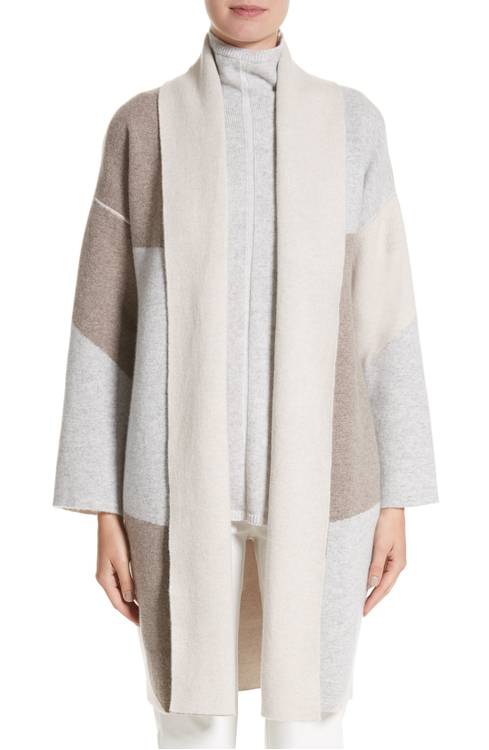 Lafayette nailed it with this insanely chic reversible outerwear. It is referred to as a cardigan, but it's more of a hybrid between a sweater and a coat. Pair it with jeans, knit pants, leggings, and short knit dresses. Due to the wide set sleeves, you can also pair it with those bell sleeve tops that can't fit into regular jackets and sweaters.
Sizing Tip: Runs large. Order two sizes down.
J.Crew Open Front Sweater Blazer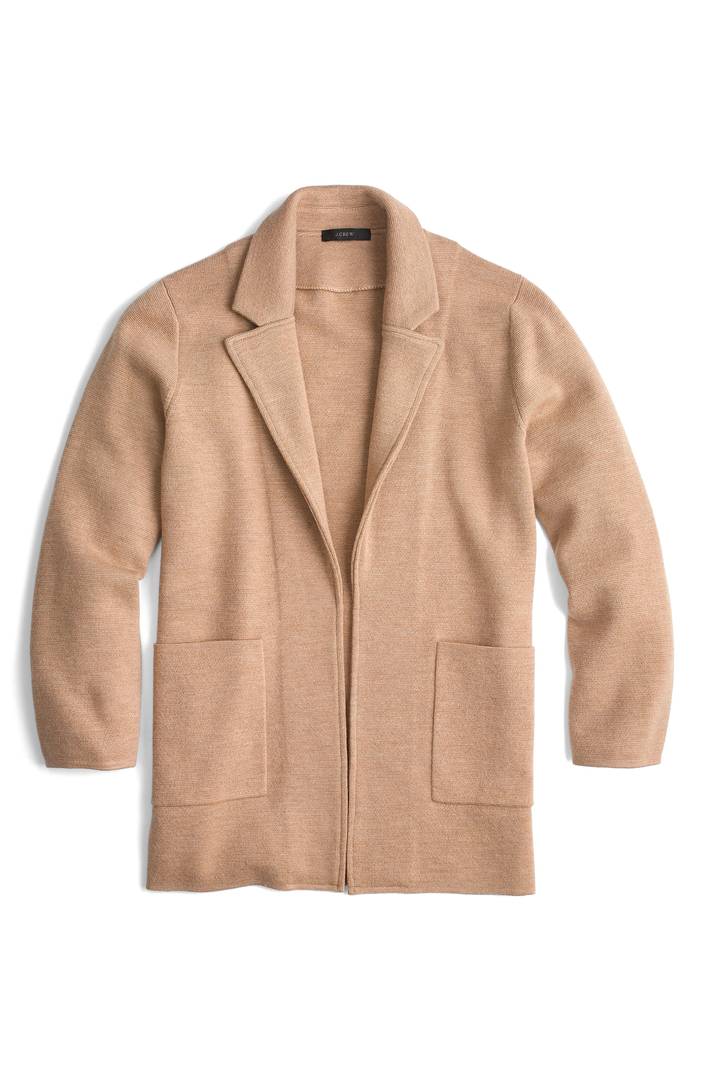 This J.Crew hybrid sweater blazer is a great work piece. The heather khaki color compliments most everyone seeking a lightweight jacket in a camel shade. Pair with knit dresses, shorter fall skirts, and lean pants.
Sizing Tip: Runs true to size. For comparison, order a size down.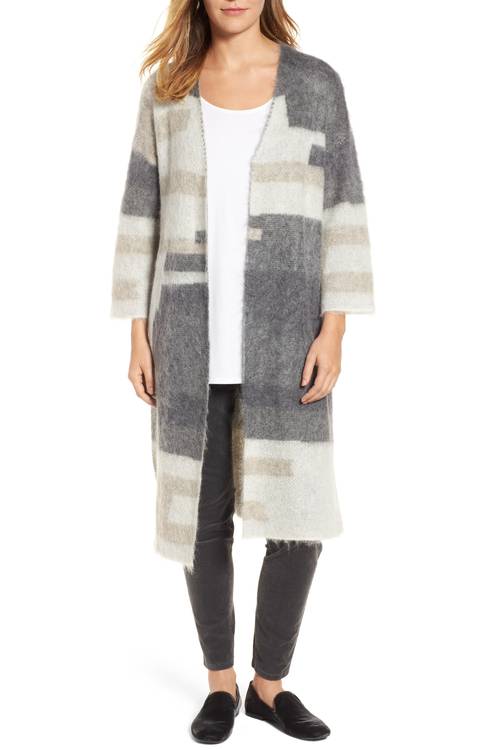 I know this Eileen Fisher Colorblock Cardigan looks crappy on the model, but it looks much better in person. Pair it with jeans, leggings or a lean knit dress.
Sizing Tip: Runs large. Order two sizes down.
Club Monaco Shovonne Jacket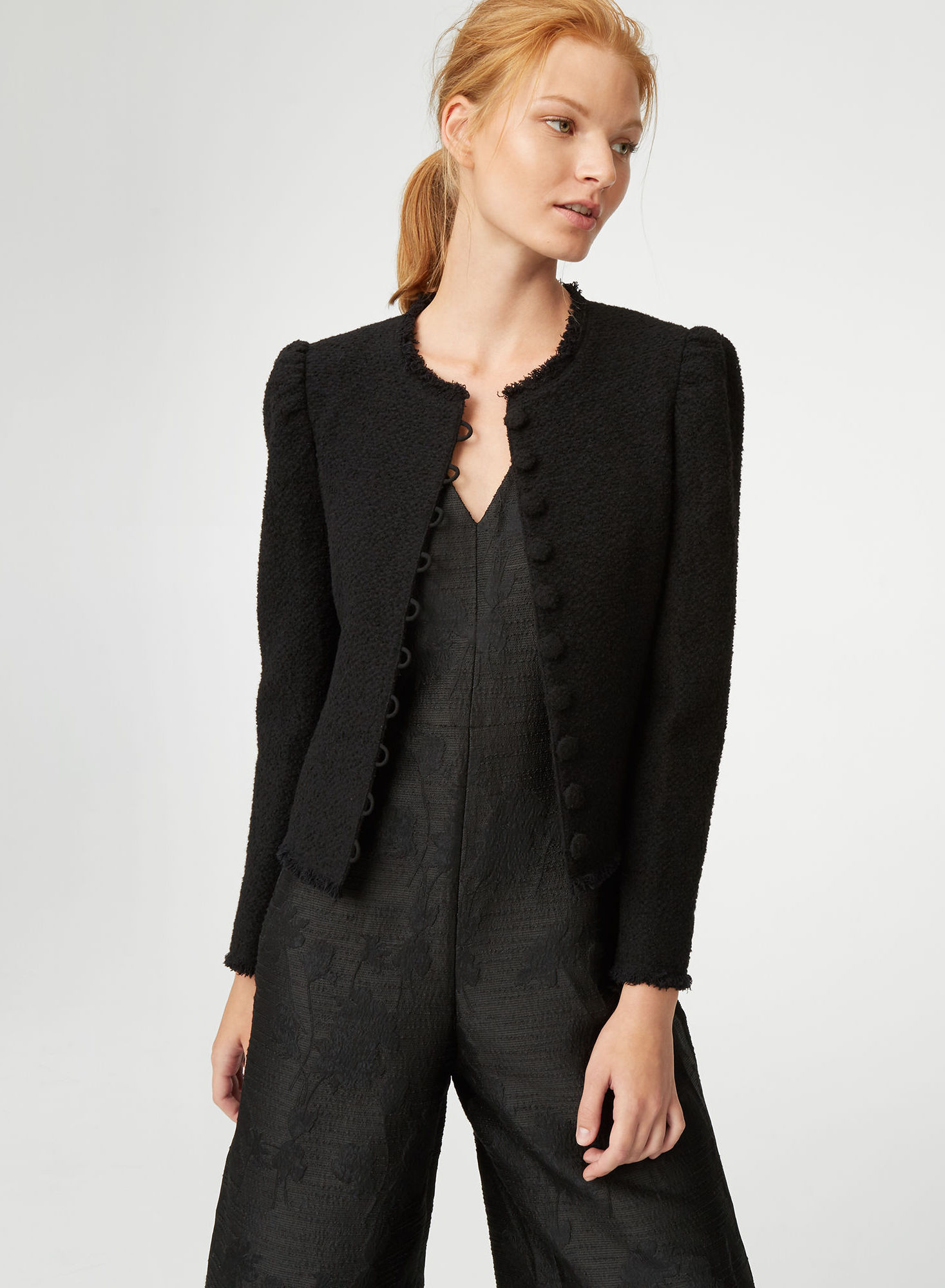 This elegant Shovonne jacket from Club Monaco is perfect for work and dressy nights out, and the length enables multiple pairings. It is long enough to be paired with medium grey pants with a tucked in blouse, and short enough to be paired with dresses and skirts.
Sizing Tip: Runs true to size. If you want to order two sizes to compare, order one size up as well.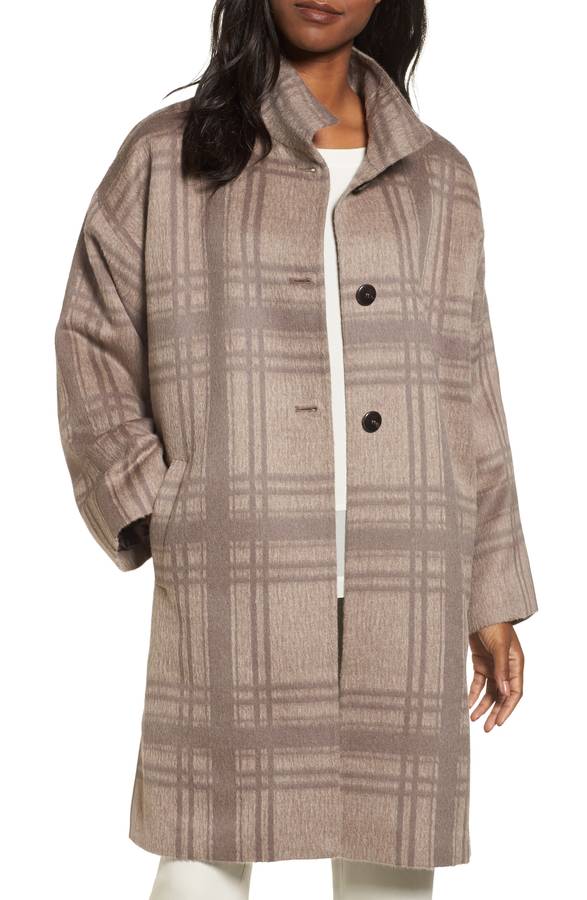 The Eileen Fisher coat is lightweight, sophisticated, and can work year-round if needed. Pair with earth tones.
Sizing Tip: Runs large. Order two sizes down.
Sanctuary Midnight Rose Camo Bomber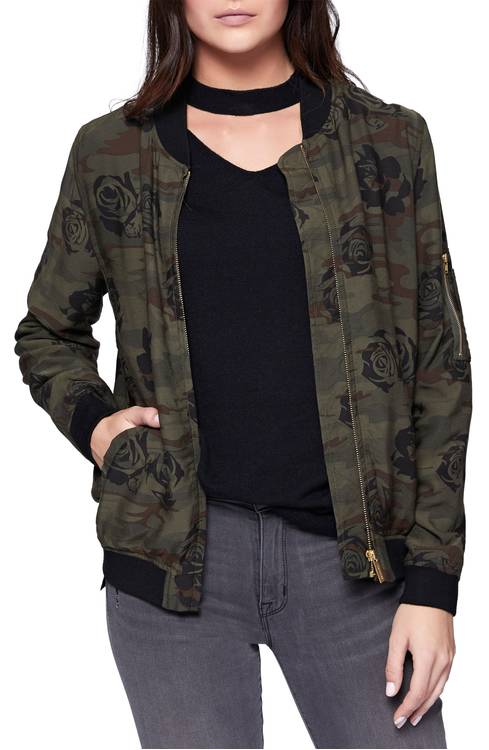 I love this Sanctuary jacket for San Diego. It is lightweight and can be worn year-round. Pair with black, olive, camel, and yellow.
Sizing Tip: True to size.
Hinge Animal Print Winter Coats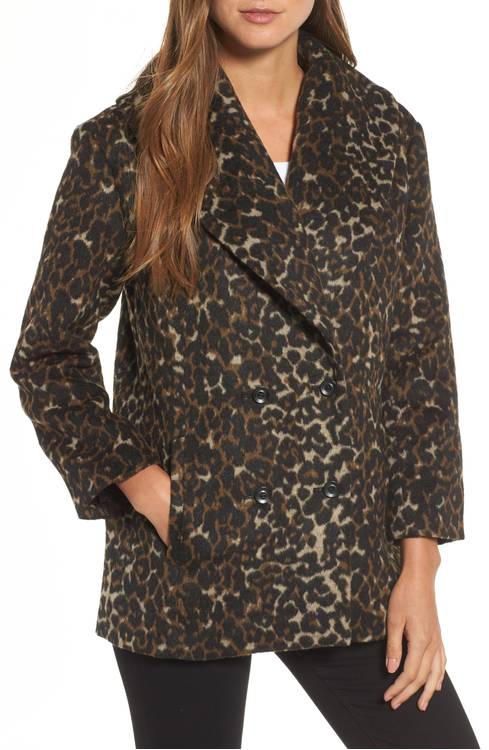 Another animal inspired item, Hinge made a classic option for you. It is soft, flattering, and light enough to wear from fall through spring. Pair wth sweater dresses, fall skirts, and skinny pants. Color wise, pair it with camel, cream, and black. Note: this looks best on redheads and blondes. It can appear a little dowdy or dated on brunettes.
Sizing Tip: Runs large. Order a size or two down.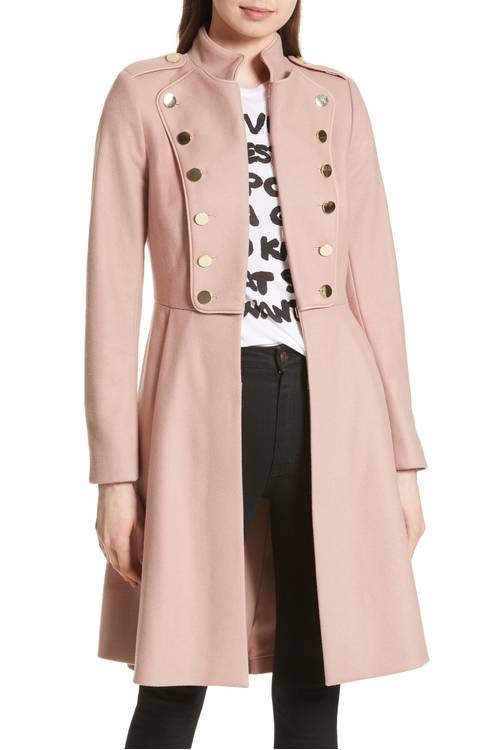 I adore this blush colored military coat by Alice + Olivia. It is truly one of the most unique yet versatile options of all the winter coats available. The nipped-in waist creates a flattering silhouette for even the shortest gals. Pair with creams, pastels, light greys, and camel. Despite it being shown with black, I don't recommend it.
Sizing Tip: Runs true to size.
J.Crew Stadium Cloth Coon Coat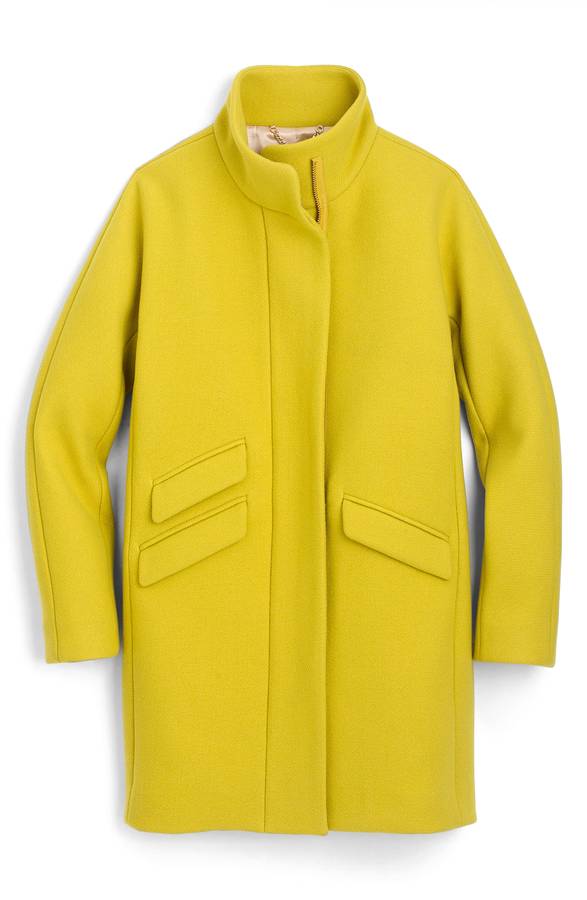 J.Crew always makes fantastic coats. They are made of a wool blend, but their silky lining protects you from any itching or irritation. I wear mine over sleeveless garments all the time with no issue.
Sizing Tip: Runs slightly big. Order a size down.