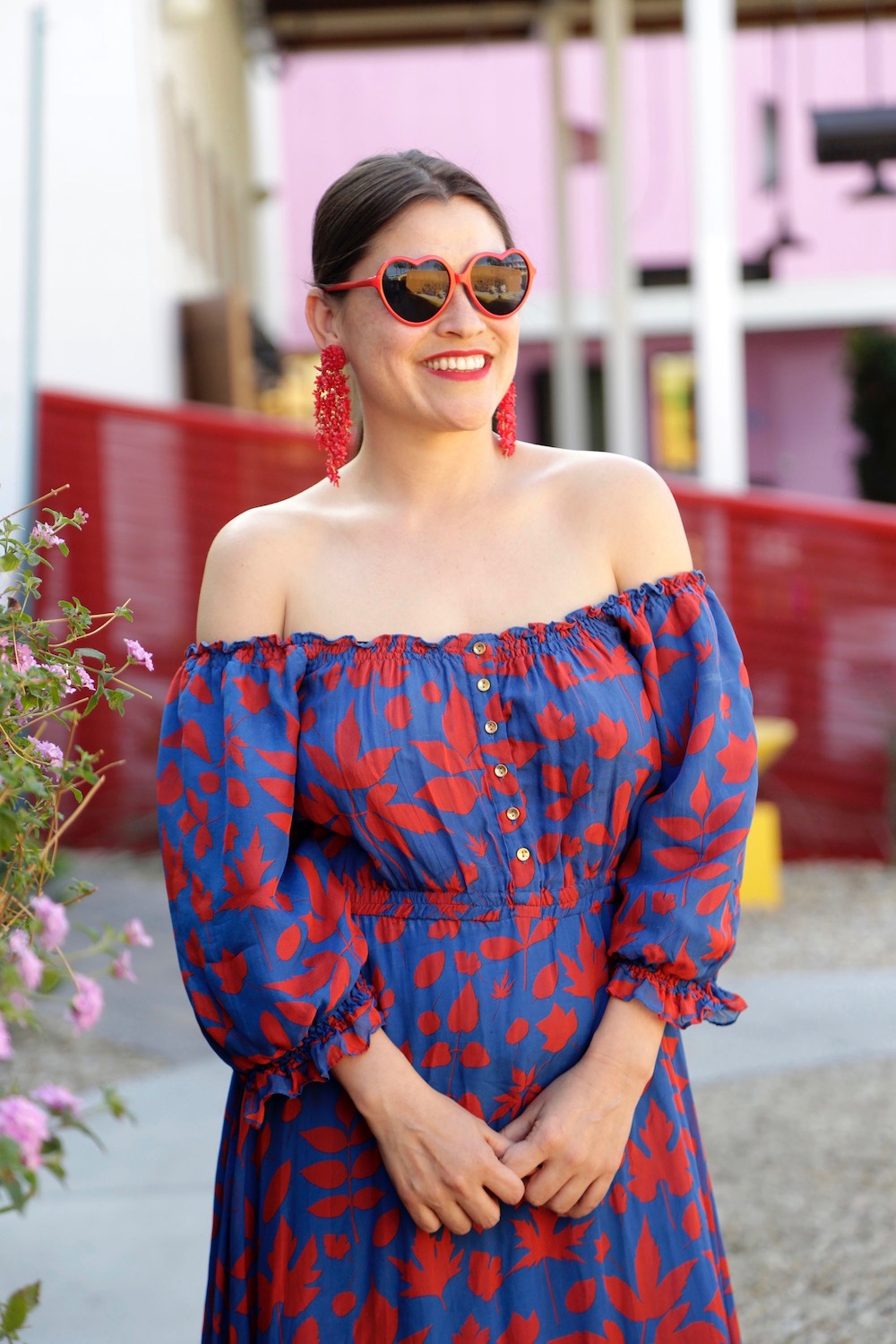 Altitude Summit, or Alt Summit, is one of the top conferences in America for creative female soloprenuers and influencers. The conference takes place the first week of March in Palm Springs, and offers technical workshops, one-on-one consulting with experts, inspirational talks, roundtable discussions on a vast array of topics, crafts, parties, yoga, and more — have I convinced you of its awesomeness yet? Women, and some men, come from as close as California and as far as Australia and Lebanon to attend. I went this year and had the privilege of leading a roundtable on how to become a personal stylist.
Why You Should Attend ALT Summit
Before I tell you what to wear to Alt Summit, I have to tell you, never in my entire life have I been around so many nice and friendly people. I cannot emphasize enough how absolutely lovely and wonderful every single person I spoke to, passed by, smiled at, sat next to — you name it — was! I am still in awe of the mass number of NICE people.
If you are a soloprenuer in the creative field, I highly recommend attending. You will have access to lawyers, publicists, SEO masters, agents, business coaches, life coaches, published authors, consultants and technicians of so many kinds — and more, and more, and more. Besides the fantastic technical learning, you will also meet a sea of highly-qualified, highly-motivated, eager-to-work potential employees and contractors. Until this conference, I had been so overwhelmed and disappointed with the process of hiring the right people for my team. Being at Alt Summit meant being dropped into the richest pool of eager talent. I have added so many people to my team from Alt Summit, it is truly astounding. Not having enough or the right people on my team has held me back for years. I am finally free to really grow.
What To Wear Traveling To Alt Summit
From the moment you arrive to the moment you leave, there are so many networking opportunities, so you want to arrive in style. To be more blunt, if you are there to gain clients or press opportunities, I encourage looking your best as you travel to and from Alt Summit, whether you're arriving by plane or car. If you're not worried about that, stick with your usual travel style. Many attendees wore very casual clothes to, at, and from the conference.
What To Wear At Alt Summit
Alt Summit is only slightly less fabulous than New York Fashion Week. In other words, wear the most wonderful and creative duds you own. Color reigns supreme, resort wear runs rampant, and you will feel slightly less excited if you dress down or wear conservative clothing. My friend who came with me definitely felt a little low in her casual clothes next to so many amazingly dressed people. She said one day, "You all have your insides on your outsides. It kinda makes me want to start [dressing that way too]." She was referring to the art of dressing in a way that reflects your personality.
There is no "Alt Summit" look. Each person's sartorial fabulosity is truly personal, so pack your absolute favorite clothing. Take your personal style and turn it up a few notches. And feel free to wear bold items that haven't seemed quite right in other social or work situations. It will be "right" at Alt Summit. Here are a few packing ideas:
Color
Flats, sandals, edgy booties, chunk heels
Midriff tops
Jumpsuits
Dresses (maxi to mini)
Dressy shorts
Denim
Creative work wear
Hats
What Not To Wear To Alt Summit
Alt Summit style is all about representing your brand and your ethos, but it is also very "Palm Springs." So, it's more like what your brand would look like on vacation. Skip conservative wear, high heels, and anything uncomfortable whatsoever (Let's just skip uncomfortable clothing all the time for that matter). You will stick out like a stain on a dress in the color black, and formal party or club wear won't make sense. Although there are evening events, they are relaxed. In sum, avoid:
Black
High heels/stilettos
Conservative work wear
Formal cocktail wear
Tall boots
What I Wore To Alt Summit
Below is the list of what I packed for Alt Summit. I only left out my workout wear, pajamas, and bra.
Best Alt Summit Tips
I stayed at The Saguaro in room 265, which overlooks the pool. It provided some of the worst sleep of my life. I could hear deep discussions and then snoring in room 266 every single night. I could also hear every time anyone in the room above or next to us flushed their toilet, ran their bathroom faucet, or turned on their bathroom light, which turns on the very loud bathroom fan. But, if it's your first time at Alt Summit, I do recommend staying at the Saguaro. It has the best talks, access to the majority of fellow Alt Summit attendees, and the best complimentary food. I am delighted to have stayed there for those reasons. But next year, I look forward to staying at the Riviera, a much nicer hotel that holds the other important talks, and hopefully, a good night's rest. The cons of the Riviera? Their complimentary food is rumored to be less delicious than the food at the Saguaro. They also have less food than the Saguaro, so they run out every single day. People definitely went hungry at the Riviera. Plus, the hotel is so huge with Alt Summit attendees scattered throughout that I imagine there will be less opportunity for connecting in the hallways.
I had the luxury of being able to drive to Palm Springs from San Diego. I ended up using my car 1-2 times a day since the shuttles between locations of talks were slow to show, and ended abruptly at 5:30 p.m. even though programming went later. A rideshare between The Saguaro and the Riviera ranged from $10-$15, which means you could be spending at least $30/ day on rides if you are tight on time and need to go to multiple locations, which was the case for me. You could split rides with people, but it doesn't reliably work out.
Budget about $90 on rideshares for the week if you don't have a car
Stay at The Saguaro if it is your first time attending
Download the Sleep Bug app, or pack your preferred noise machine to help with evening noise
Talk to everyone
The best food is at The Saguaro
Look/dress your best
Take pictures of slides during talks
Essentials To Pack
Here are the essential items you will want to pack for Alt Summit…
Portable charger
Sunscreen
Swimsuit
Sweater/jacket — it gets cold at night and it rained while I was there
Cash to give someone if you share a Lyft with them
Fabulous, but comfortable clothing and shoes
The good photography was done by Joe Khoury Studio