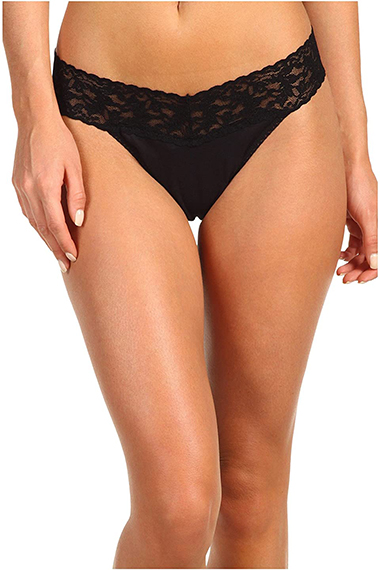 We have added to our list of most comfortable women's thongs! As you know, my clients and I only wear the most comfortable thongs. I have no tolerance for any discomfort in my clothing, especially my underwear. So my extensive 15-year search for the most comfortable women's thongs was personal. Plus, I had an issue with my hormones a few years ago that made me prone to yeast infections, so I can not have any fabric against my lady parts that isn't the highest quality cotton. And I am not just talking about a cotton gusset — you know that little scrap of cotton fabric sewn into the crotch of cheap poly-blend underwear? Nope, that little strip of cotton does not protect us from uncomfortable center seams some panties have or allow airflow when attached to cheap lace or polyester. I require high-quality cotton in each layer from front to back. So, below you'll find an amazing list of the most comfortable women's thongs with some options that actually prevent yeast infections. Gross, but exciting!
The Most Comfortable Women's Thongs: Hanky Panky Organic Cotton Thong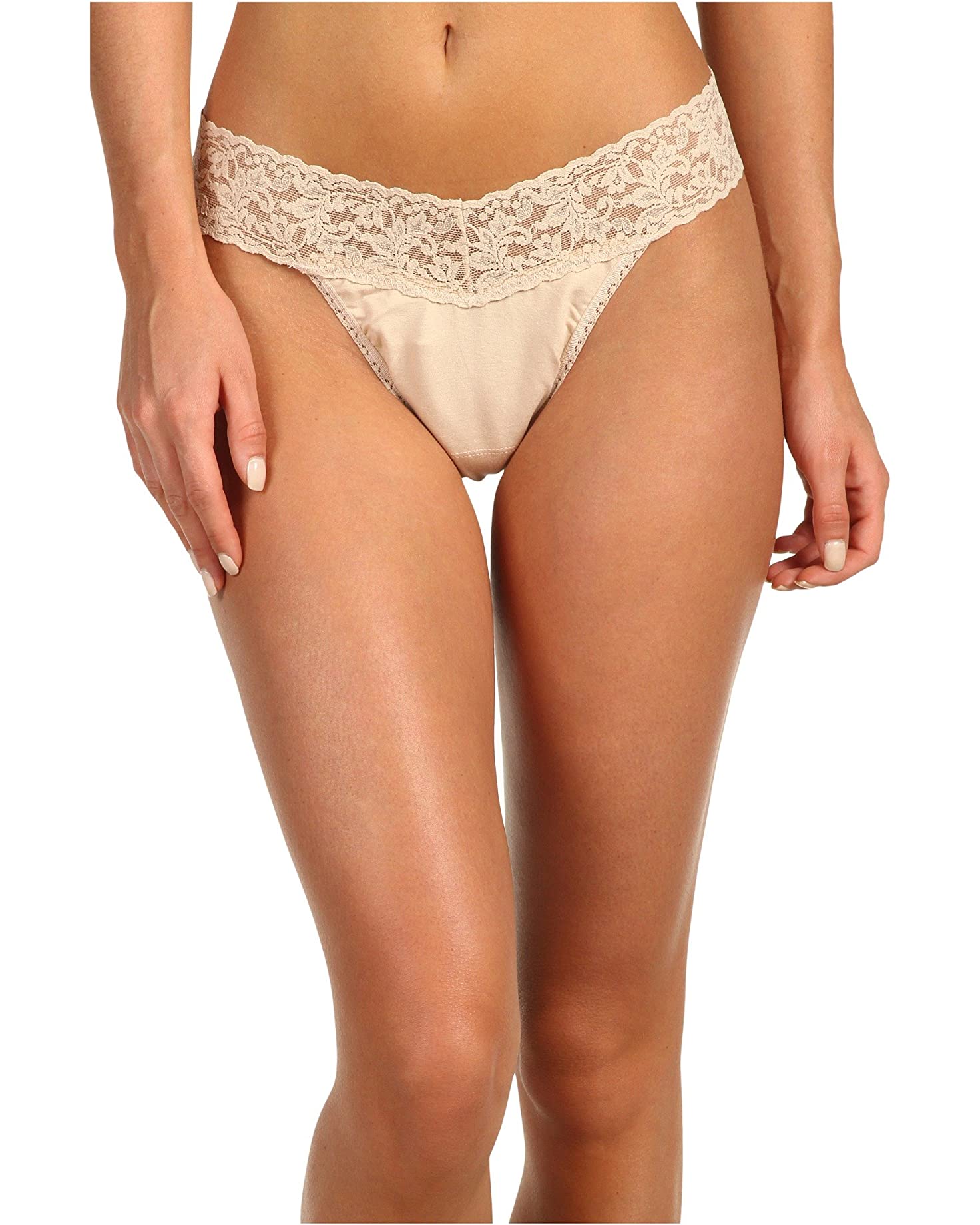 The Hanky Panky Organic Cotton Original Rise Thong is my all-time favorite, most comfortable women's thong. The original rise gives me so much coverage, and the generous amount of fabric prevents that "going up the butt" feeling that many women attribute to thong underwear. I own at least 30 pairs and I will yodle from rooftops that these are the best panties ever. 
Now, let's talk looks. That stretchy lace on your hips is not just sexy, it's also extremely comfortable and super flattering. It doesn't cut into the flesh whatsoever. And it stays put, so your hips look smooth and you feel secure. These organic cotton thongs can last a long time even though I wash them in warm water. For me, it takes years for them to start deteriorating. Keep in mind though, I have over 30 pairs of these panties so a single thong is probably only being laundered once a month or so.
Sizing: Only comes in one size. If you are size 00-2 and 5′ 2″ or shorter, get the low rise Hank Panky organic thong. It's available at Zappos (another style here), Nordstrom, Bare Necessities, Amazon, and Macy's. 
If you are size 4 – 8 get the original rise Hanky Panky organic thong. To reiterate, this is what I wear. It's available at Zappos, Nordstrom, Bare Necessities, Amazon, and Macy's.
Tip: Do not get the signature thong by Hanky Panky. It is not comfortable and is bad for yeast-prone ladies.
Fabric Content: 96% organic Supima cotton, 4% spandex; Lace Trim: 90% nylon, 10% spandex
Hanky Panky Breath High Waist Thong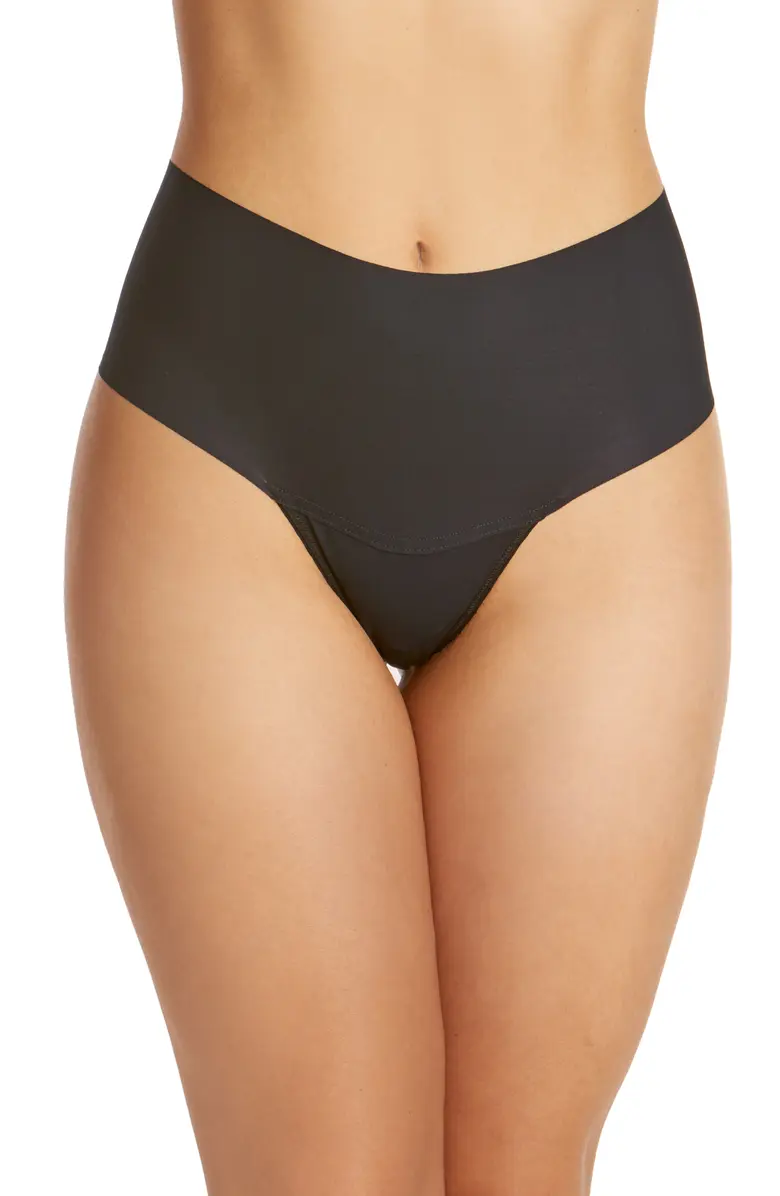 I have been on the search for a high waisted smoothing thong for my clients in need of some smoothing around the hip and belly area. My clients and I are picky and this was the winner after trying numerous options. Many high-waisted thongs ride up into your butt or create a muffin top. This thong does not do that — hurray! This comfortable high waisted thong is available at Nordstrom, Zappos, Bloomingdale's, and Hanky Panky.
Sizing: S-XL
Fabric Content: 72% nylon, 28% Lycra spandex
Cosabella Lowrider Comfortable Thong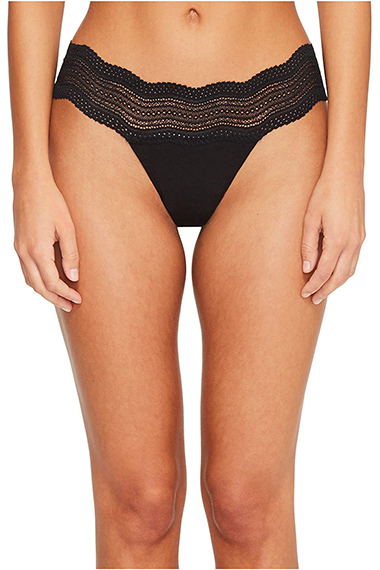 The Cosabella Dolce Lowrider Thong is just about as comfortable as the Hanky Panky organic cotton thong and prevents yeast infections even though the main fabric is not entirely made of cotton. Compared to the original rise Hanky Panky thong, it does sit a little lower on the torso, has a slightly narrower fabric along the bum crack, and has wider elastic along the hips. Some of you may prefer one or all of those things. I find them comfortable, but they are not as secure as my Hanky Pankys. I think my hips might be a little narrow for them. Therefore, I believe these are best for women size 6/8 through size 12.  This thong is available at Zappos, Shopbop, Bloomingdale's, and Amazon.
Sizing: Only one size available that fits women size 6 – 10
Fabric Content: 51% cotton, 37% polyamide, and 12% elastane with a 100% cotton gusset
EBY High Waist Comfortable Thong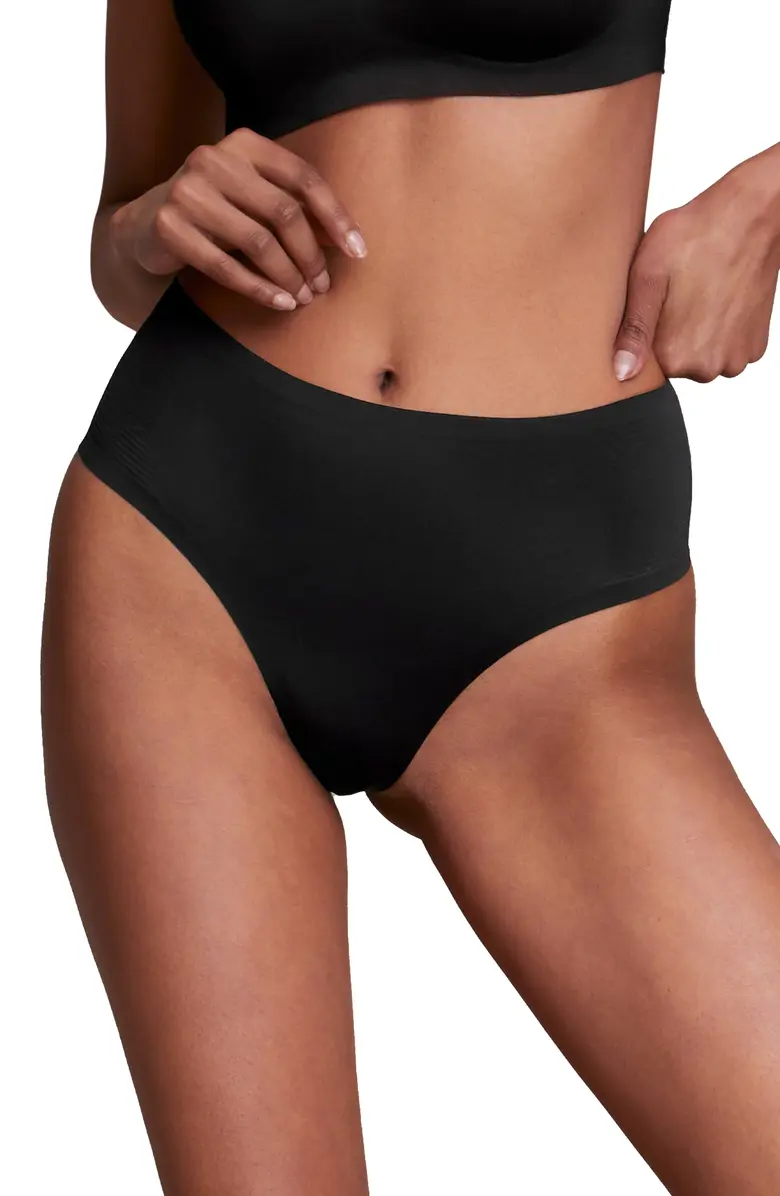 We have another high-waisted winner in the most comfortable women's thongs search. This baby has gotten the stamp of approval from a very picky client and it goes all the way up to 4XL, thank you! This thong is available at Nordstrom and EBY.
Sizing: XS-4XL
Fabric Content: 85% nylon, 15% spandex
Natori Bliss Perfection Thong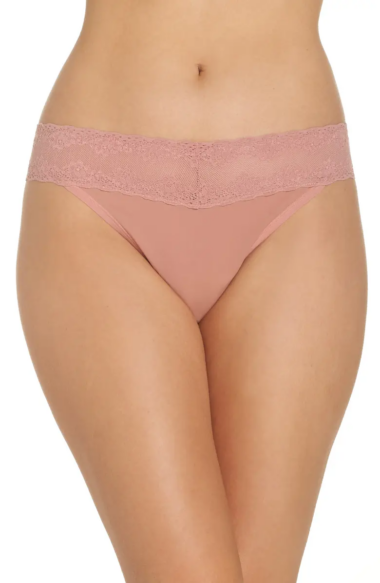 This thong by Natori is another one of the most comfortable thongs for women because of its impeccable softness and high quality. It can last years if you don't wash it in hot water too often. This thong is available at Nordstrom, Bloomingdale's, Natori, Amazon, and Macy's.
Sizing: Only one size available that fits women size 4 – 8
Fabric Content: 62% nylon, 38% elastane; 85% polyamide, 15% elastane lace
Knickey Low-Rise 100% Cotton Thong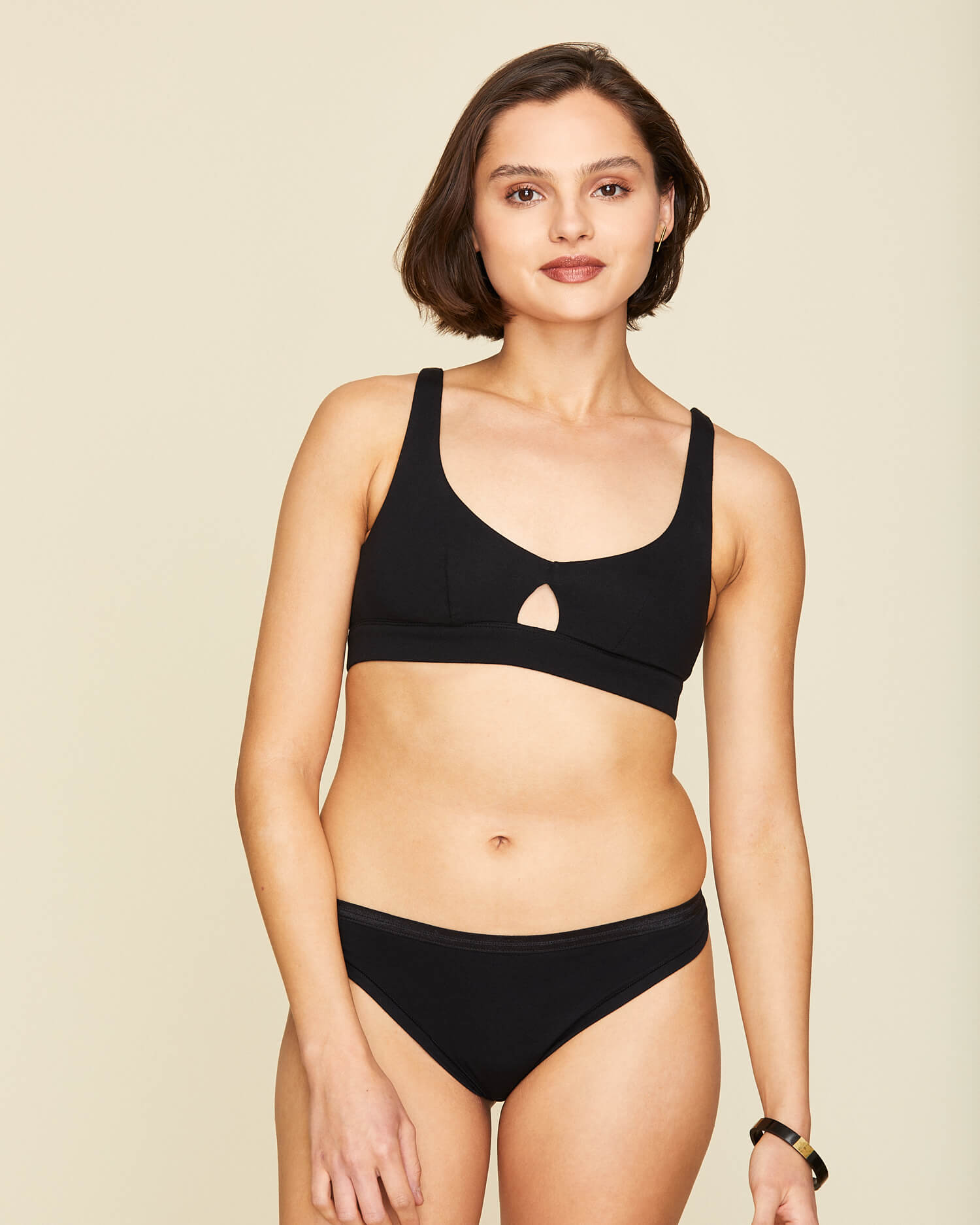 The Knickey low rise 100% organic cotton thong is my designated workout thong. When I sweat in a Knickey thong I am shocked by the lack of moisture anywhere. A Knickey thong absorbs allllll the sweat. If you want an absorbent thong, this is it! Plus it is comfortable and flattering. It's not the most flattering and comfortable thong on this list, but it is certainly not far behind, and for those who require absorbing underwear, well this had to make the list!
I have read some women prefer "wicking" thongs for work outs. I do not! The wicking material always seems to cut into my flesh, making me look "fatty." And most importantly, wicking underwear is the absolute worst for yeast infections, which confuses the hell out of me. It seems to hold all the moisture in. Sure the underwear doesn't get that wet, but my body does! I will get a yeast infection immediately if I wear "sport" underwear.
As an FYI, I still often work out in my Hanky Panky original rise cotton thong. My crotch stays pretty dry in it, but the panty itself gets very wet. I don't notice it until the rare occasions I use the restroom in the middle of a run. When I pull the thong back up I am suddenly aware how moist my underwear feels against my skin – eek! It was these rare bathroom breaks that inspired my (successful) hunt for a 100% cotton thong. 
Sizing: XXS – XXXL (runs small)
Order a size up for comfort and a more flattering fit, but keep in mind, this is cotton so it will stretch out eventually.
Fabric Content: 100% cotton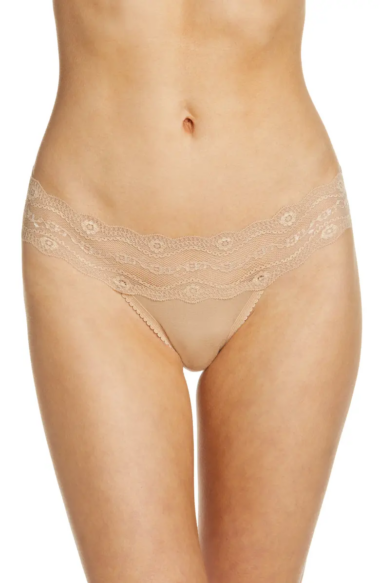 This panty is made from modal, so it is insanely comfortable, stretchy and soft, but is horrible at soaking up any juices. Some people think the extreme softness is worth it, but I cannot stand a crotch that isn't 100% cotton, so I personally skip this thong. But, alas, I cannot deny it a spot on the list of the most comfortable women's thongs, as I know it's just what some of you are looking for. It's available at Nordstrom, Wacoal, Macy's, Amazon, Bare Necessities, and Bloomingdale's.
Sizing: S – XL
Fabric Content: 94% modal, 6% spandex
Thinx Period Thong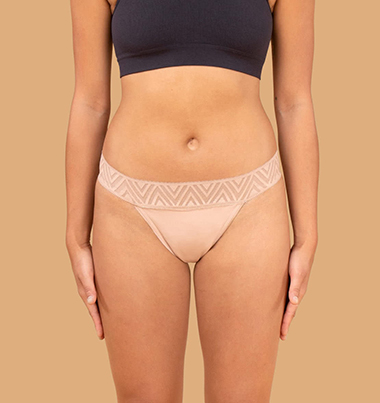 I adore the Thinx period thong for light period days and I love using it as a built-in panty liner for heavier days when the tampon might overflow. I think any woman with any kind of leakage (menstruation, urine, whatever!) should have this. It is comfortable and fits beautifully. Besides the comfort, I love that the nude color is invisible under white clothing, but the inner layer is black so there is no visible staining and it's easy to wash. I am very impressed by the functionality of this thong while still retaining full comfort. You can buy the Thinx thong at Thinx, Amazon, and Nordstrom. 
Sizing: XS – 4X (Runs small, order a size up)
Fabric Content: Outer shell is 89% nylon, 11% elastane with 100% polyester trim. Middle layer and inner lining are 95% cotton, 5% elastane.
What To Do With Old Underwear & Thongs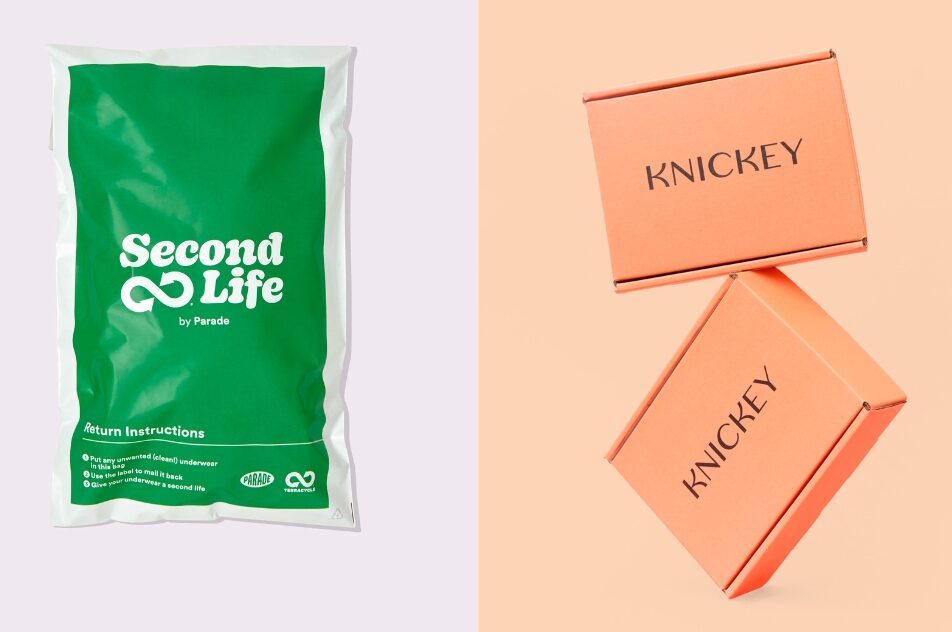 Don't throw your old underwear and thongs in the trash — recycle them instead! There are a few programs that will recycle your old underwear and transform them into materials like insulation and carpet padding.
One of my favorites is Knickey's recycling program. Not only will they accept your old undies and thongs but they'll also take your bras, socks, and tights, as well as men's and kids' undergarments from any brand. You need to pay $5 for a shipping label, but then you'll get 15% off your next order for every package recycled. They just ask that you wash all items before sending them in.
Parade also has a recycling program for underwear through TerraCycle US. They will also take old — but clean — underwear from any brand, though they ask that you don't send back bras or swimsuits. You just need to order a recycling kit, which comes with a prepaid envelope. You pay $5 in shipping to have the kit mailed to you, and in exchange, you'll get 30% off your next order.
For more information on where and how to recycle your old clothes, check out my post 5 Ways To Reduce Your Waste When Shopping. 
Most Comfortable Women's Thongs From Years Past
I originally wrote this post years ago and update it regularly due to its popularity. Production changes occur sometimes, so thongs that used to be the most comfortable either no longer live up to my high standards, or they stopped making them. I've put those thongs below so that you know which ones I am no longer recommending. I also love having a record of it. Whenever I update older posts, I love to hold on to a collection of images as a bit of a time capsule so we can watch how fashion evolves.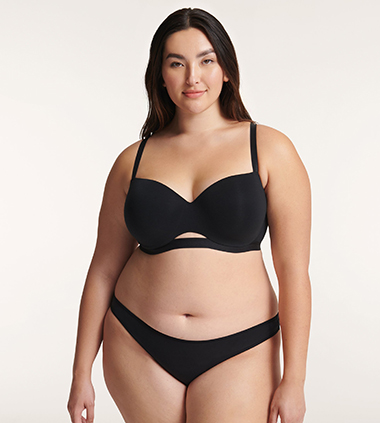 I adore the style and sophistication of a lace trim on my thong, but I know many of you don't care for it, or need it. This means you need the most basic comfortable thong. I have thoroughly enjoyed Thirdlove's Pima Cotton Thong for this. It's soft, comfortable, and doesn't irritate my crotch yeast wise. I feel secure in it, yet it doesn't cut into my hips. I also like that it doesn't come up too high or too low. It's really one of the comfiest thongs. And the best part is the inclusive sizing. This thong comes in sizes XS – 3X. As a size 4/6 woman, the size medium fits perfectly. The small was a bit too small for me. It cut into my hips a bit, which as we all know is unflattering.