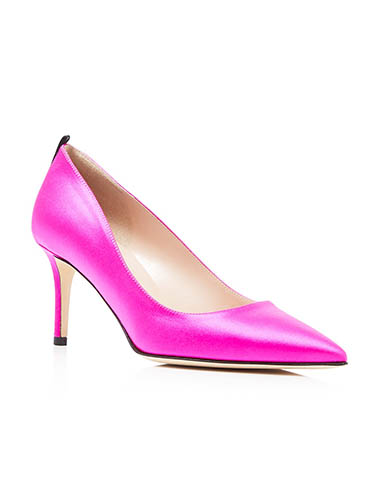 I used to hate the color pink. As a youngster growing up with three brothers who always got the fun action toys while I got all the pretty things, I came to glower at the feminine shade. Of course, I loved the pretty things, but I wanted the "boy" toys too. Now a woman with all the toys I want (yes, I have a skateboard), I can appreciate pink for all it's fabulosity, especially right now when so many clients need a break from the, sometimes dreary, fall colors. I especially love all the hot pink color available right now. I am putting it on all my clients that will let me. Are you ready to wear pink?
Free People Swim Too Deep Oversized Sweater
I love this cotton blend oversized sweater from Free People. It's a fantastic sweater option for those that can't wear wool or cashmere. I know it looks red in the picture, but it is in fact pink.
Sizing Tip: This thing runs huge. The extra small is big on a size 6 woman, so anyone under size 6 should skip this sweater. I would also say it is best for tall women, but shorter women can enjoy the chunky hugeness with leggings.
Banana Republic Avery-Fit Pop Pink Wool Pant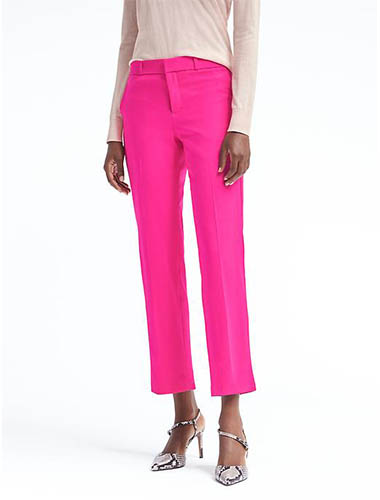 This Banana Republic Avery-Fit Pop Pink Lightweight Wool Pant is very flattering when paired with heels. It is perfect for work or a party. I recommend getting the pockets cut out because you can see the outline of them through the pants.
Sizing Tip: Runs true to size, but compare to a size down just in case.
CeCe Flutter Sleeve Blouse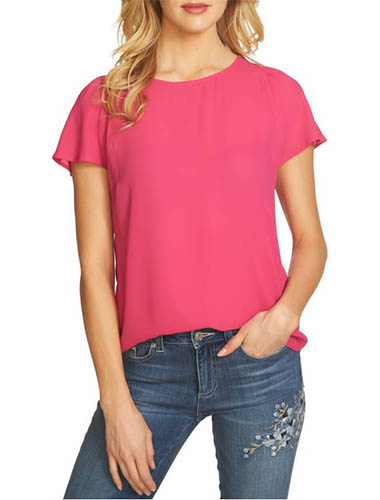 Although made of my nemesis, polyester, this CeCe Flutter Sleeve Blouse actually fits beautiful and flows nicely. Tuck it into pants and skirts for the best looks.
Sizing Tip: True to size.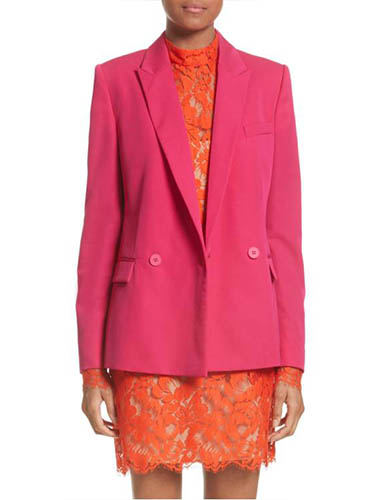 This Stella McCartney Double Breasted Blazer is for the lavish trendsetter. I have yet to explore this garment fully, but had to add it to the hot pink list for it's bold combination of masculine lines and desired bright color. In fact, Stella's garments are the only items on this list actually labeled hot pink. Every other piece has been titled anything from azalea and lipstick to neon and peony.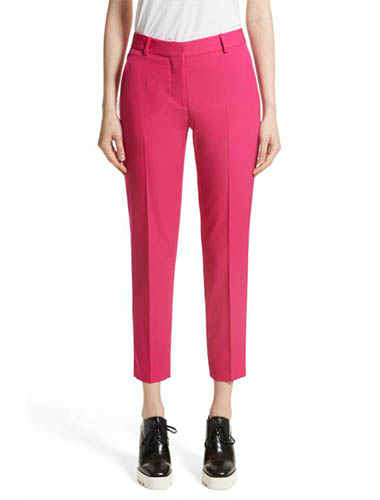 These Stella McCartney Wool Ankle Pants are, of course, the matching pants to this hot pink suit. Bold colored suits are not only delightful, they are au courant.
CeCe Crepe Shift Dress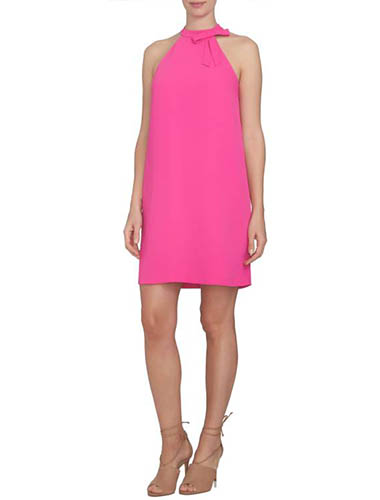 This CeCe Crepe Shift Dress is another polyester foe, but the color was too perfect and the style too classic to skip. There are always exceptions to my rules.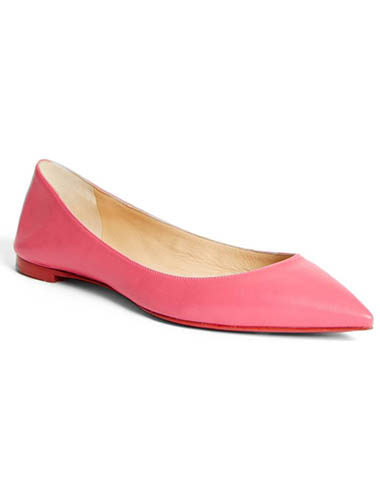 For my Christian Louboutin devotees, the Ballalla Flat in pink should satisfy your pink cravings. I am not the biggest fan of the Louboutin comfort, but some of clients are loyal fans. This flat is available at Neiman Marcus.
Sizing Tip: Runs small. I recommend a half-size up.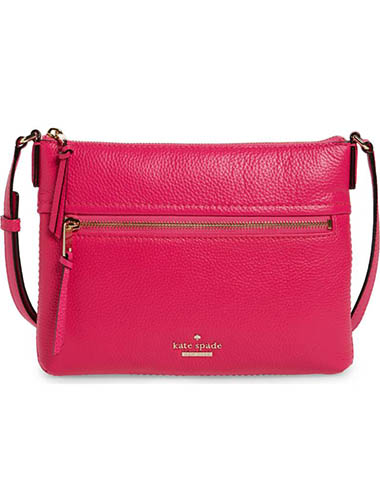 This Kate Spade New York 'Gabriele' Leather Crossbody Bag is borderline gauche, but it has respectable utility and is too fun. Pair it with jeans, white or navy for a more sophisticated look. It will also be fresh with minty greens or a sunny yellow, not to be confused with mustard yellow.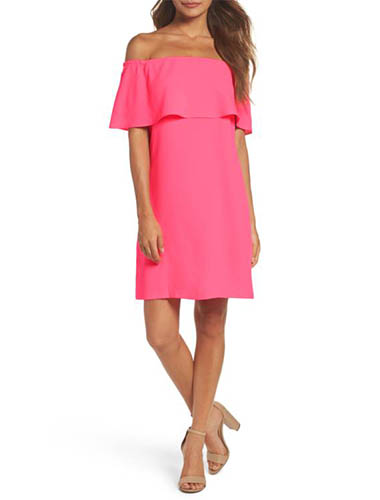 Charles Henry often does a wondrous job with polyester. This Off the Shoulder Dress is proof. Although more summer than fall, in San Diego you can get away with this skin exposing pop of a garment.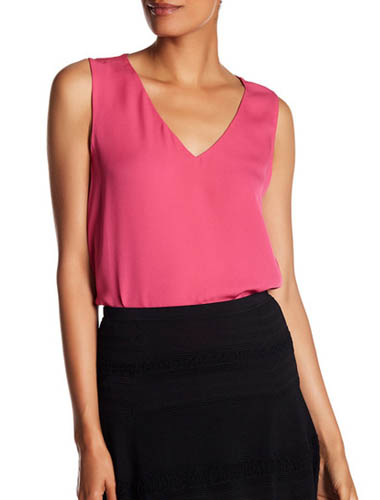 This Diane von Furstenberg 'Jacqui' Ruffle Hem Silk Tank can be tucked in or worn out. This is a great shell for those who want to indulge in the pink madness without getting carried away.
Sizing Tip: DVF usually runs small, but her shells tend to run true to size.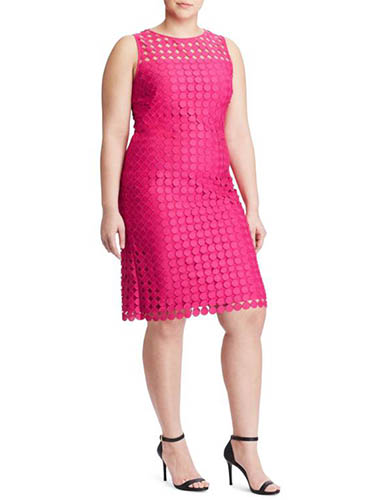 This Lauren Ralph Lauren Dot Lace Dress is a treat for my plus size gals. I adore the hot pink shade on this classic sheath silhouette. Interesting enough to note, this dress is labeled 'Caliente Pink'. Hot pink indeed. This dress is available at Nordstrom in plus sizes and Bloomingdale's in standard sizes.
Sizing Tip: Lauren Ralph Lauren runs large. You might want to order a size down.
Miu Miu 'Madras' Goatskin Leather Crossbody Bag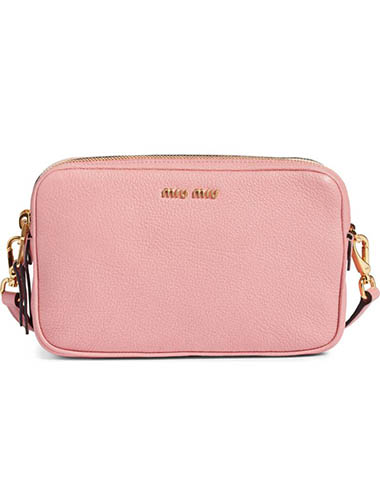 More bubble gum than hot pink, this Miu Miu 'Madras' Goatskin Leather Crossbody Bag is a delicious splurge. I love the dual pockets for separating your contents.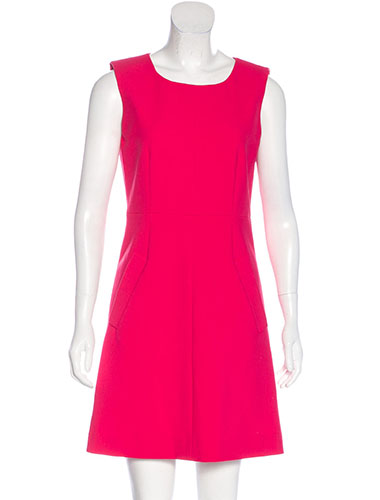 I just paired this DVF frock with the hot pink J.Crew tweed jacket listed below for a fall wedding. Why not hot pink in October?!
Sizing Tip: This dress runs small, so order a size up from your normal size.
J.Crew Tweed Peplum Jacket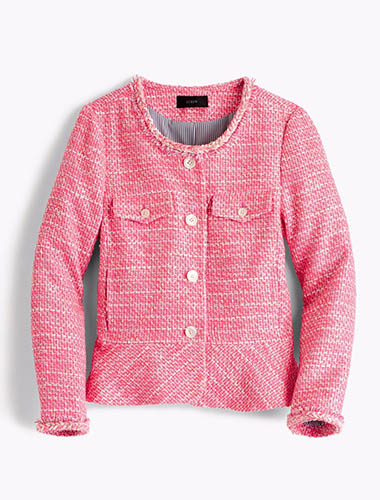 I adore this J.Crew Tweed Peplum Jacket. Pair it with creams, whites, and other pinks. And of course it looks amazing with light to medium blue jeans.
Sizing Tip: This jacket runs true to size.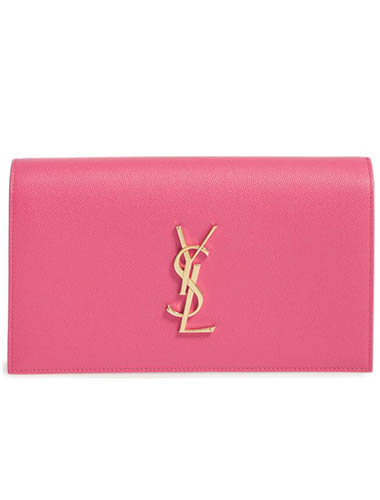 Another splurge, this Saint Laurent 'Monogram' Leather Clutch is a timeless hot pink piece. I don't usually like a bold logo on a bag, but combined with the loud pink, it seems well suited to just 'own' the outrageousness of it all.
J.Crew Dover Italian Wool Blazer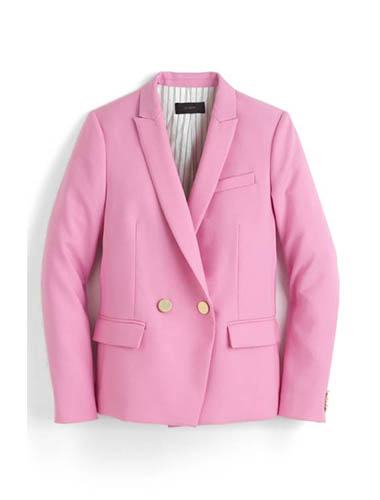 The J.Crew Dover Italian Wool Blazer in this bubble gum pink is so incredibly delicious for fall. Pair with jeans or white pants for a fun, fresh cooler weather look that will make your black blazer outfits look absolutely depressing.
Sizing Fit: Runs true to size, but I recommend comparing it to a size down just in case.
SJP Fawn Satin Mid Heel Pumps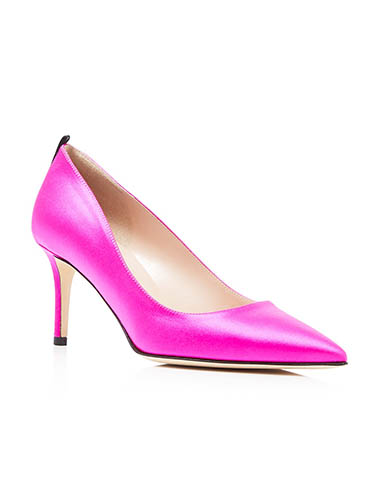 I am absolutely mad for these Fawn Satin Mid Heel Pumps by none other than the "shoe gal" Sarah Jessica Parker. Her mid heel pumps are perfection, but this hot pink one is beyond. This pump is available at Bloomingdale's and Saks Fifth Avenue.
Sizing Tip: They run a bit small. I recommend a half size up, or give it a stretch.