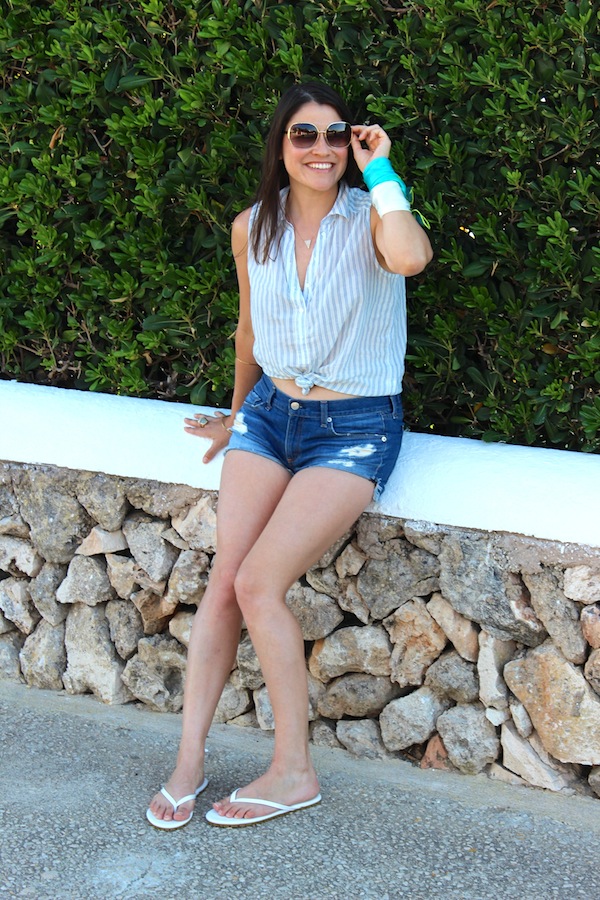 My wardrobe is a sea of chic. I have the perfect dresses for client meetings, fantastic frocks for cocktail events, fabulous leather skirts, cutting-edge blazers and a rack dedicated to exquisite silk garments. This is all well and good for my career as a personal stylist, but is of no help for a hot summer day off with loved ones. For the past five summers, I was only slightly aware of this large summer casual gap in my wardrobe because I work so darn much, but this summer's itinerary brought it to attention. With my trips to Spain and Malta in mind, I created a very comfortable-casual-cool summer wardrobe. Nothing elegant about it, as you can tell from my favorite look we photographed in Menorca, Spain.
Best Denim Cutoff Shorts
Interestingly enough, my favorite addition to my comfortable-casual-cool summer wardrobe is my Rag & Bone 'Freeport' denim cutoff shorts ($165). I have not owned and operated denim cutoffs in a loooong time. It was weird making the decision to pursue and purchase a garment I associate with my much younger, much more fun self, but that's the point. I want to have more fun. I have been too fancy, too articulate, and too busy for too long. I want a garment that says, "Hey! I'm having fun. I'm freakin breezy."
Finding the best denim cutoffs shorts for me was a thorough process.  Here were my requirements:
Big enough in the waist with slim leg openings. (I have a wide-ish belly and slim legs.)
Short, but not too short. (Aka hides the collection of flesh that sits at the top of my inner thighs, while still exposing as much skin as possible to the sun.)
The perfect medium blue wash for a versatile worn in look.
I tried on about 10 denim shorts before finding the best denim cutoff shorts. Some great runners up to my favorite shorts include Treasure & Bond's cuffed denim shorts ($68), Joe's rolled denim shorts in Genna ($98), and Rag & Bone's distressed cutoff shorts ($180). Sizing note: the Rag & Bone is running a bit big. Order one size down.
Breezy Summer Top
Perhaps you'll will find this gross, but I wore this sleeveless Paige top almost everyday. If I didn't wear it out and about, I wore it to bed. It is made of super light cotton, and I adore the feel of it. I feel sexy, light and relaxed in it. Plus it goes with everything. I tied it in a knot, as pictured, with a sarong, my stretchy light grey Loft skirt, and obviously with my denim cutoff shorts. You can also tuck it into jeans or throw it over a bikini. This top is magic to me. It epitomizes my new summer persona.
Calaphya Silk Scarf
The best part of this outfit is the Calaphya silk scarf tied around my wrist. Without it, I am just another lady in cutoff shorts. Beyond the unusual placement of the scarf, the 35 x 35 Risen Scarf is unique in and of itself. It is digitally printed with a dream like bird that extends out into pastel and jewel tone feathers, waves and shapes. As Calaphya touts, the scarf is art.
White Rhea Non-Slip Flip-Flops
I was delighted when Rhea sent me the Eva White non-slip sandals right before my trip to Spain. A white sandal is like a white top: they go with absolutely everything. The white flip-flops were a fantastic asset to this trip. Besides their versatility, they practically repel dirt and are truly no-slip. I tested their tread thoroughly by climbing all over these rocks and on the slippery tile by the pool in our villa. I am incredibly impressed by the cushion, the flexibility, and the discreet look of Rhea's effective tread. My only issue is its comfort endurance. After a few hours of walking, the straps rubbed a spot red on both sides of my feet.
The Accouterments
I recently put this Nadri earring on a client and had to have it for myself as well. I love to pair it with my Nadri 'Geo' pendant necklace. The addition of the bling to this laid back look is perfection. I have always loved the saying, "diamonds and denim." It's a lovely juxtaposition that makes me feel dressed up even when I'm dressed down. To compliment these jewels, I added my Melinda Maria ring, Alexis Bittar cocktail ring, and my Kris Nations bracelets. I topped it all off with the retro inspired Marc Jacobs sunglasses.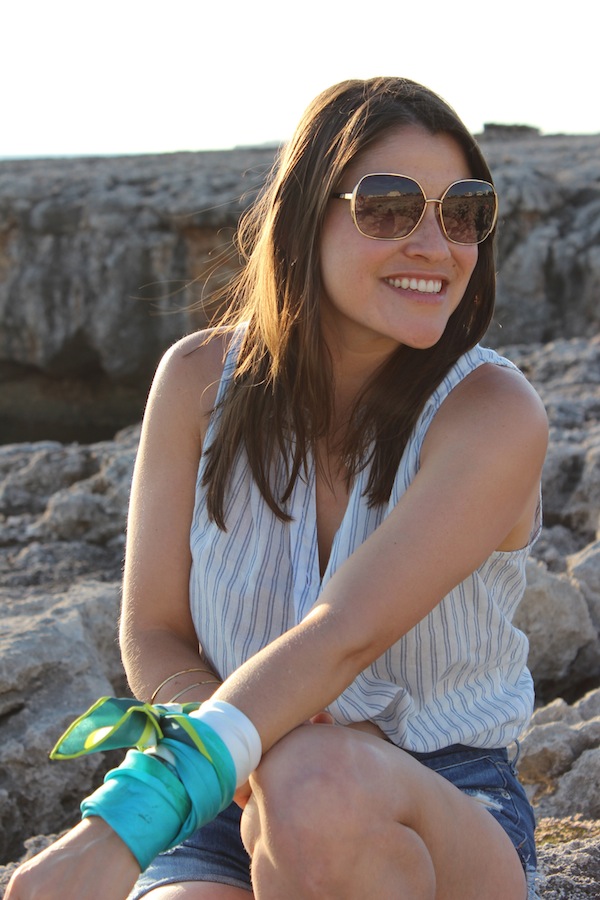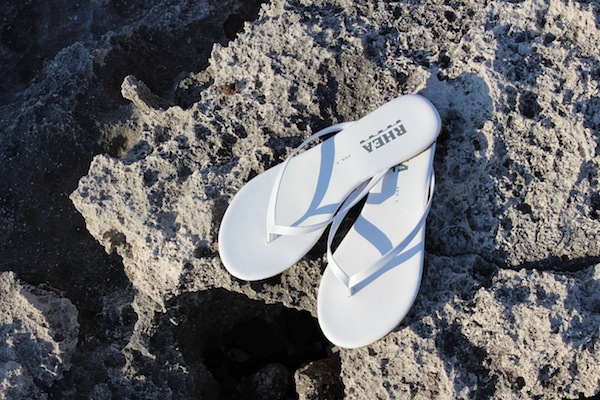 Photography by David McClory
My blog posts are my honest and personal opinion. Sometimes my content includes products sent from companies or PR firms. In this case I was sent samples from Rhea and Calaphya. If I am sent something that is unimpressive or boring I don't write about it.