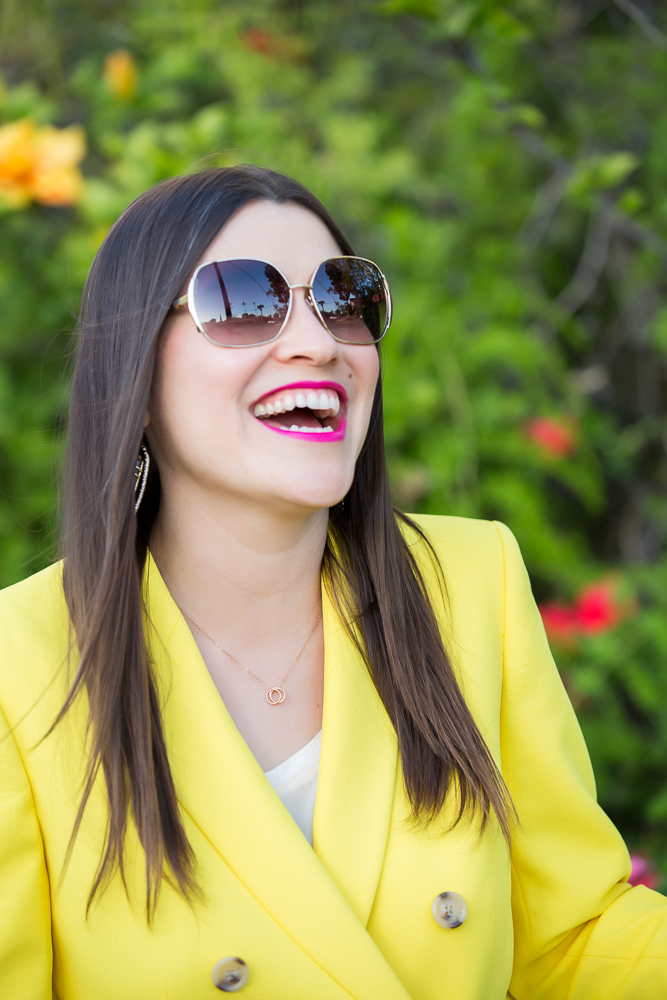 Photo Credit: Robin Dayley
blazer: J.Crew, lisptick: Make-Up Forever & Sephora, sunglasses: Marc by Marc Jacobs, earrings: Alexis Bittar
While Elton John apparently needs $250,000 pairs of sunglasses, many of my clients prefer having just one pair of versatile sunglasses. Like a purse, they will use the same one everyday, until it wears out. I applaud their efficiency, but I recommend owning two minimum in case you lose the one pair. Without the trusty back up, the need to purchase a new pair immediately will be a rushed decison at best.
For less minimalist clients I recommend owning 3-4 pairs of sunglasses. This often happens organically, as most clients like to get a new pair every year. You would think that the sunglasses would pile up after a few years, but most sunglasses don't stay in style for that long, or you simply tire of the look after wearing a pair so diligently month after month. Plus, we end up losing our sunglasses at some point. Either way, I am sure you are ready for a new pair of sunglasses. Without further adieu, here are the best sunglasses for spring…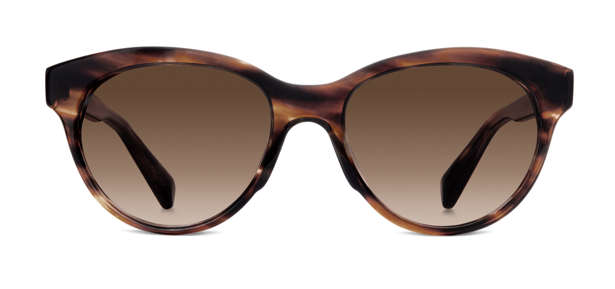 Staple Prescription Sunglasses
I am loving Warby Parker. They are a great resource for stylish and flattering sunglasses. My favorite styles they have right now are the Laurel, the Piper and the Marple. Their online site is easy to use, and they offer Free Shipping and Free Returns, which is basically a must for me when ordering a product I have never seen in person. They even allow you to try on five pairs of sunglasses in your home without a charge to you credit card. It's incredibly convenient. I also love how easy it is to make the sunglasses prescription. Lastly, Warby Parker funds the production of a pair of glasses in developing countries every time we buy pair of glasses from them.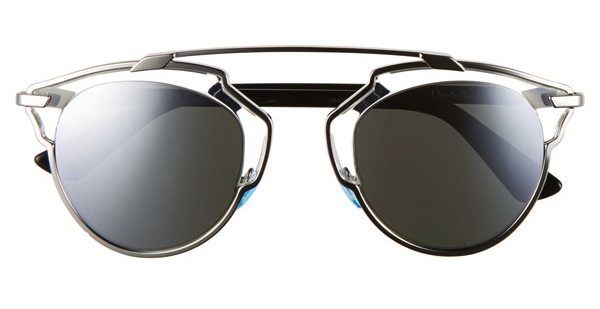 Best Edgy Sunglasses
If you are seeking a pair of edgy sunglasses, I love the Dior 'So Real' sunglasses that Olivia Palermo made famous. To our delight, they are 30% off right now at Nordstrom. I recommend the Palladium/Crystal "color."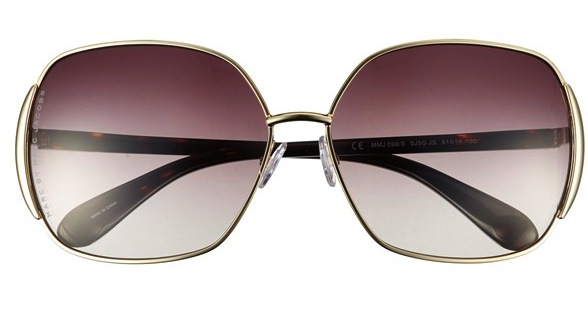 On Point 1970's Inspired Sunglasses
Hands down, my favorite accessory from the 1970's was the sunglasses. There are so many great choices for 1970's inspired sunglasses, especially come Fall, but for this Spring, I adore Marc by Marc Jacobs vintage inspired oversized sunglasses in gold.