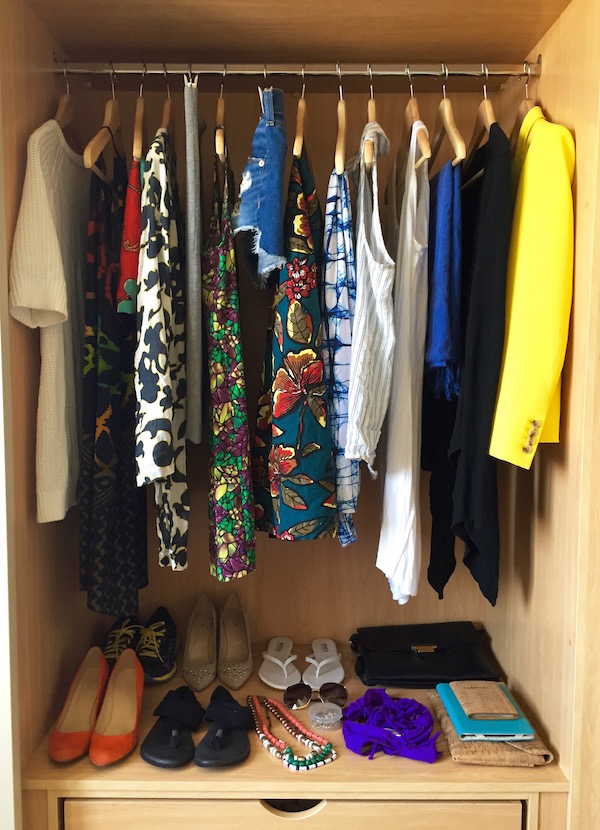 The popular European airline Easy Jet, would be more aptly named as, Damn Your Purse Airlines, but I can see how such a title could be bothersome for branding issues alone. For those that haven't flown Easy Jet recently… in order to secure the somewhat inexpensive benefit of Easy Jet, you have to fit everything you need for your European vacation into one tiny suitcase, medium sized duffle bag or large backpack. And when I say one, I mean one. You cannot bring a purse or laptop case in addition to this individual hand luggage. That means your wallet, gum, laptop, magazines, Kindle and whatever else, must fit into this hand luggage along with all your clothing and toiletries. If you wanted to skip this traveling travesty, it would cost you 41 pounds (65 dollars) to check a bag. For my Easy Jet flight from London, England to Menorca, Spain I decided $65 was worth the packing challenge, if only for the opportunity to write a blog post on how to travel with just a carry-on for a summer vacation.
How To Travel With Just A Carry-On For Vacation
Pack Around Comfortable Shoes
Packing should start with shoes. Pack only comfortable shoes that multi-task. Once you pick out your shoes (1 for beach, 1-2 for walking, one for going-out at night), pick out the clothes that match them.
Check The Weather for Night & Day
Plan for the exact weather conditions that is reported on your weather AP. Do not guess what the weather will be or plan for just in case.
There is nothing easier than dresses and you can generally re-use them without washing.
Each top should go with, at the very least, two bottoms, and each bottom should go with, at the very least, two tops.
Stick To A Beach Uniform, aka 'One'
If you are going on a simple relaxing water based vacation, you only need one tan friendly bathing suit, one pair of sunglasses, one sarong or cover-up, and one sand friendly sandal. Wear the same one everyday and make sure to rinse your suit in the shower and lay it out to dry after every use to ensure your beach uniform soldiers through the trip.
Travel Friendly Beauty Regime
You must have a beauty regime that is completely travel size. Nothing, absolutely nothing should be full size. From your shampoo and mousse to Neosporin and face creams, everything should be in the smallest container necessary for your trip.
Don't pack separate PJ's. Instead pack one sleep appropriate outfit and use it for everything lounge worthy from naps to hanging out at your villa.
Don't bring anything that will stain, wrinkle badly or ruin easy. You can't risk losing any of your few garments. I like to stick to fabrics like rayon, cotton, tencel and other flexible, comfortable and often stretchy garments. I made an exception with my J.Crew yellow blazer for my trip o Menorca, which I wore on the plane to prevent misshaping.
Cotton socks get stinky quick, so I recommend packing only Dry Max socks that you can re-use without washing. I ran four times in one pair of Dry Max socks before they needed a wash.
Pick out all your must-have items for the trip and lay them out. For instance, I need a dress for that night out, a bathing suit for swimming, one bra, shorts and a top for walking around, sunglasses, panties and so on. Make sure you think of each day you are there, and what you will be doing. Once each event has its correct garment, you're done packing. You should not consider or pack any garment that does not have an absolute need for your trip. Nine times out of ten (made-up statistic of course) you will not need any garment you think you "might" need. Even on my trip to Menorca, I thought I had been absolutely ruthless, but I ended up packing one sweater, one running shirt, and one beach dress I never needed.
I often start putting items I know I want for the trip on a wardrobe rack in my office. Anything I bought for the trip goes on this rack as well. If you don't have the luxury of a rack, start making a section in your closet of the items you will be taking. A day or two before my trip, I like to give myself about 1-2 hours to try on all the outfits, especially outfits I have not worn before or haven't worn recently. During this time I cut anything that isn't 100% comfortable, efficient or necessary. I then need about an hour to see how I can roll everything into the perfect carry-on puzzle (Space Saving Tip: always stuff you shoes with panties, socks and other small things). Basically, I need about 2-3 hours to comfortably think, plan, and pack well for a ruthless carry-on only trip.
Wear the bulkiest items on the plane
Pile up on bulky items for your plane ride. As you can see on my packing list below, I wore a handful of clothing for the plane ride from London to Spain. Since London was cold and rainy when I left, it worked out, although I was a sweaty mess once we arrived.
A sarong, a breezy top, denim shorts, and a large bold scarf will dress you for days. The sarong alone can be a skirt, a dress, a shawl and a robe. Garments that you wear more than 3 times on a week trip are called power pieces. If you are really good, your suitcase will only contain power pieces such as these.
What To Pack For 7 Days in Menorca
Here is what I packed for 7-days on my beach vacation to Menorca, Spain:
'Paige' Sleeveless Top (Power Piece)
'Trina Turk' White Sweater (Wore on the plane) (Didn't need it)
Running Shirt (Didn't need it)
'J.Crew' Yellow Double Breasted Blazer (Wore on the plane)
'Gap' Black Convertible Sweater
'Loft' Stretchy Skirt
'Rag & Bone' cut off shorts  (Power Piece)
2 Stretchy Short Shorts (1 for running, 1 for lounging/sleeping) (Power Piece)
Jeans (Wore on plane) (Didn't need it)
2 Maxi dresses 'Loft', 'Tart' (Didn't need the Loft maxi)
'Tildon' Party Dress
'Donna Morgan' Date Dress
Running Shoes
'J.Crew' Orange Martina Wedge heels
'Sanuk' Black Yoga Sling Sandals (Power Piece)
'J.Crew' Pointy Toe Heels (Didn't Need it)
1 Running Hat
1 'J.Crew' scarf (wore on plane)
1 Bathing Suit
1 Sarong  (Power Piece)
1 Tunic (Didn't need it)
2 Clutches (Only needed the black one)
Jewelry: 1 dangling earrings, 1 stud earrings, 2 rings, 1 statement necklace, 1 delicate necklace