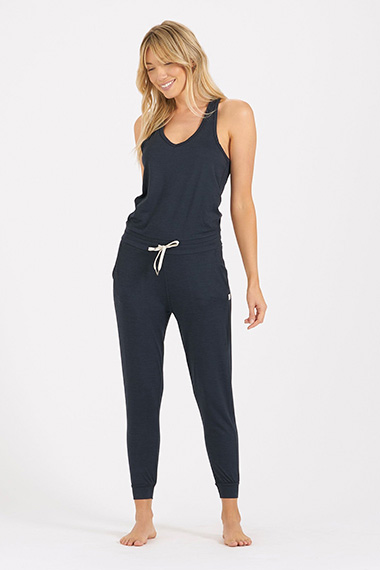 Who'd have guessed loungewear would one day be the garb of heroes. But here we are, staying home to save lives in our coziest clothes. I am sure by now you are utterly bored of the same joggers you've been sporting this past year. It's not just you. As I was browsing Instagram, I saw a very stylish influencer sporting fluffy sandals and adorable joggers above the caption, "Better enjoy your time in the spotlight loungewear, because once this is over, you're never coming out." This is what I call loungewear fatigue. I think it's time we refresh our at-home look — and may I suggest a loungewear jumpsuit? The selection of stylish, yet comfortable jumpsuits is amazing right now. I've included my selection of the best loungewear jumpsuits below.
My Favorite Loungewear – Stylish Jumpsuits
My personal favorite loungewear items are joggers and jumpsuits. I've written all about the best joggers and how to style them in this post. So here, I'm going to tell you about the best loungewear jumpsuits and why jumpsuits are such ideal loungewear.  To start, they have all the comfort of ugly pajamas, yet all the style of a "real" outfit. But they aren't tight on the body like most attractive clothing. I like my legs, skin, and crotch to breathe at home, so I rarely wear leggings as leisurewear — I generally wear leggings for workouts, travel, and cold-weather looks.
On top of that, loungewear jumpsuits are ideal for those of you who are guilty of throwing together two comfortable pieces and calling it an outfit. If that's your dream, then I highly recommend a loungewear jumpsuit — it takes all the thought out of making an outfit. Nowadays, there is even a growing selection of jumpsuits designed to look like you're wearing joggers — I call them "jogger jumpsuits." You'll see what I'm talking about below in my list of the best loungewear jumpsuits below.
The Rules of Loungewear
To prevent loungewear fatigue, you need to change every day. Don't wear the same loungewear jumpsuit three days in a row. I am not saying you need to wash your clothes after one wear, I'm just saying give your jumpsuit a break, and make sure to hang it up so it doesn't get gross. Air is good for loungewear pants, including pants that are connected to their top. And if you slept in it, change out of it. Don't spend 24 hours in the same clothing — it's not good for your mind or your mood. Dress for the mood you want to be in, not the mood you are in.
Lastly, I recommend you make your hair look nice every day. That was a real game-changer for me. I took a break from earrings and makeup for the most part, and I have loved it! But hair is like clothing. It has a direct effect on your mental state. You don't need to blow dry it (I've skipped that for the most part too), but you need to make it presentable, or maybe just, you know, wash it. In short, here are my 5 rules of loungewear:
Create loungewear outfits (even a loungewear jumpsuit needs the right jacket and slippers).
Don't wear the same thing two days in a row (or three, or four).
If you slept in it, don't wear it for the day.
Hang up clothes you are not washing.
Make your hair presentable.
My Favorite Activity In Loungewear
I know it's all about Netflix and Prime right now, but I have been using this time at home to learn. I have been attending conferences like Fashinnovation, diverse webinars, and I just signed up for a subscription to Masterclass ($180 for the year). The online education subscription includes access to all 80+ of their classes. I can't wait to take Steve Martin's class on comedy, Anna Wintour's class on creativity and leadership, and Christina Aguilera's class on singing. Should I take the class with the Gangster Gardener despite the fact I don't own dirt? I might.
Michael Stars Cotton Modal Tank Jumpsuit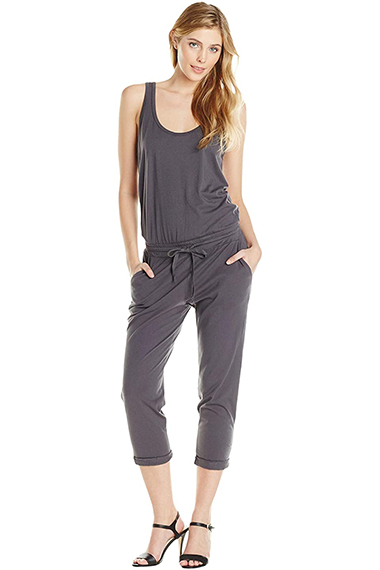 This jogger-inspired jumpsuit is available at Zappos, Amazon, Nordstrom, and Michael Stars.
Vuori Lux Romper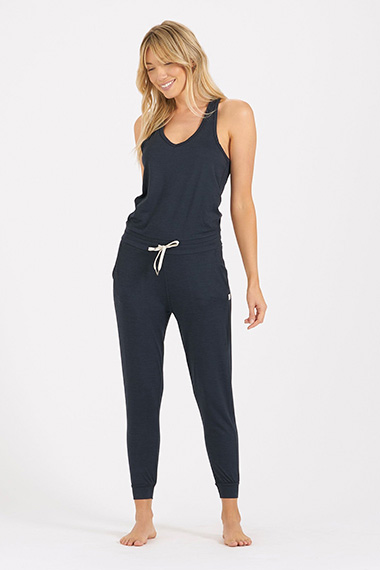 You already know that Vuori makes one of my all-time favorite joggers, so it should come as no surprise that their jogger-style jumpsuit is also yummy. It's great for those with longer torsos.
1. State Strapless Knit Jumpsuit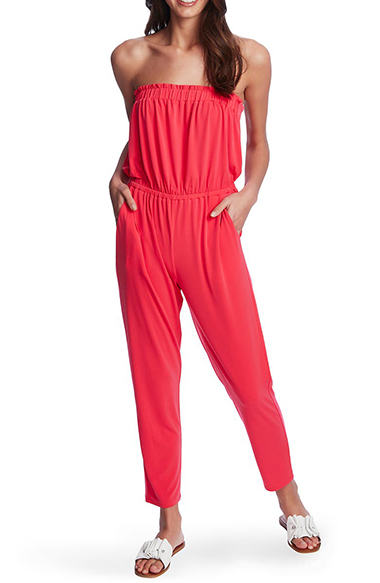 This loungewear jumpsuit is great for an outdoor gathering where you don't want to get tan lines. It's available in pink at Revolve and Amazon, and in other colors at Bloomingdale's, Macy's, and Nordstrom.
Loveappella Short Sleeve Wrap Top Jumpsuit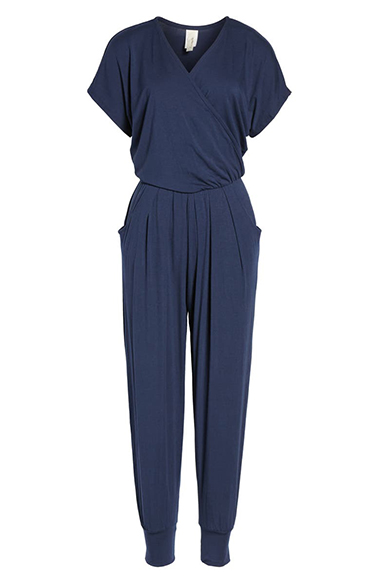 This Loveappella jumpsuit is the perfect loungewear outfit. It's super soft and stretchy and feels like pajamas. You can see me wearing it, here.
Becca Breezy Basics Jumpsuit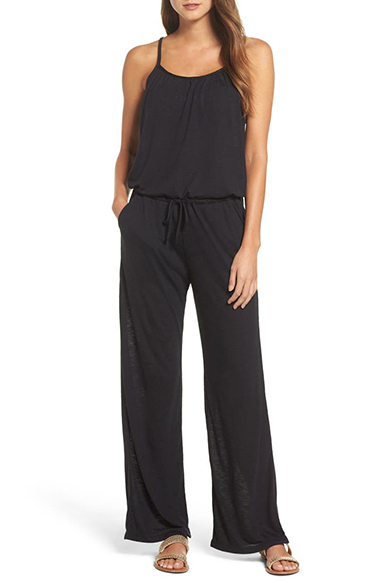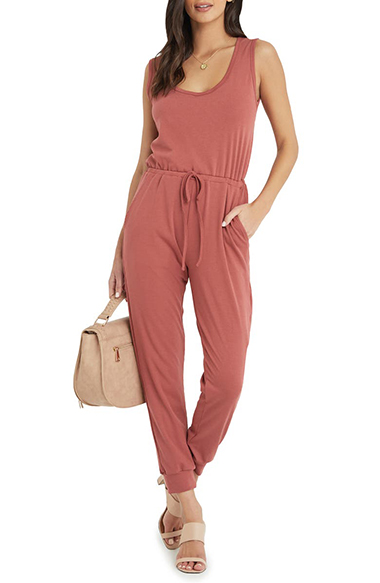 Bobi Supreme Jersey Sleeveless Jumpsuit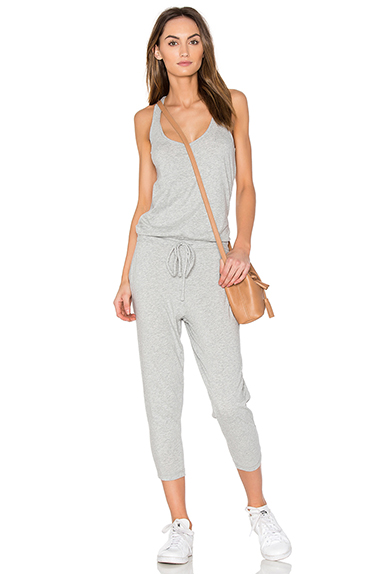 This jumpsuit is available at Revolve and Zappos.
Loveappella Button Front Tie Jumpsuit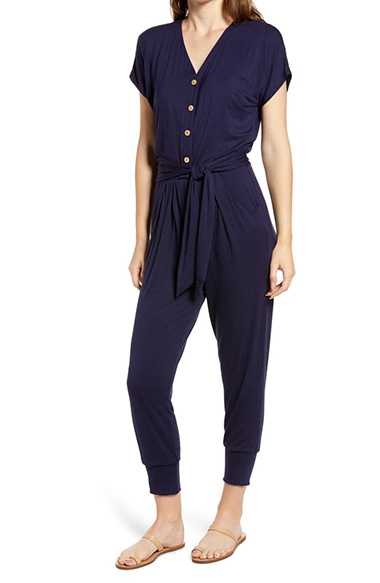 Socialite Sleeveless Wide Leg Jumpsuit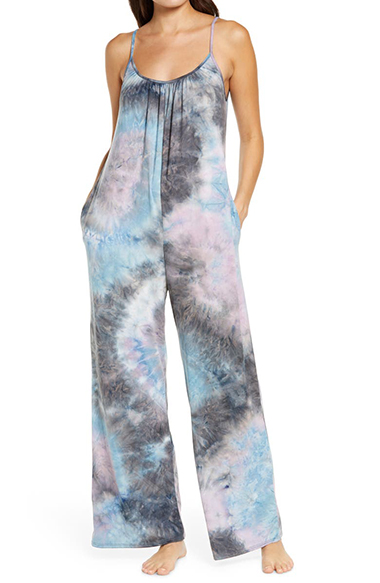 Socialite Waffle Knit Wide Leg Jumpsuit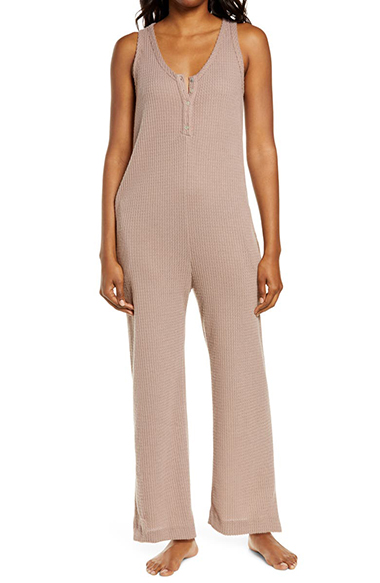 N:Philanthropy Britton One-Shoulder Crop Jumpsuit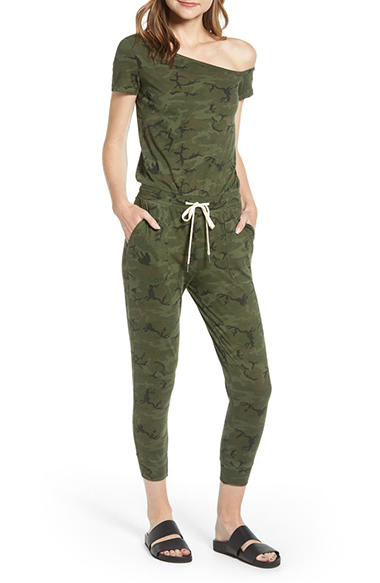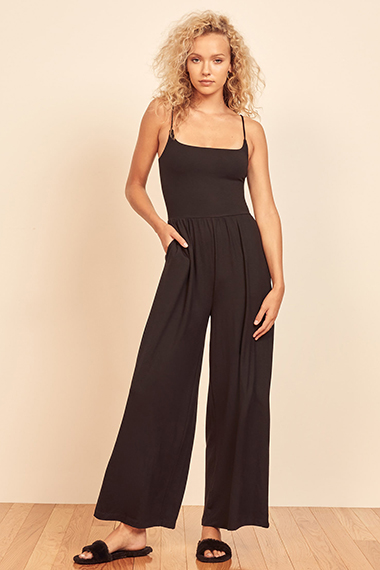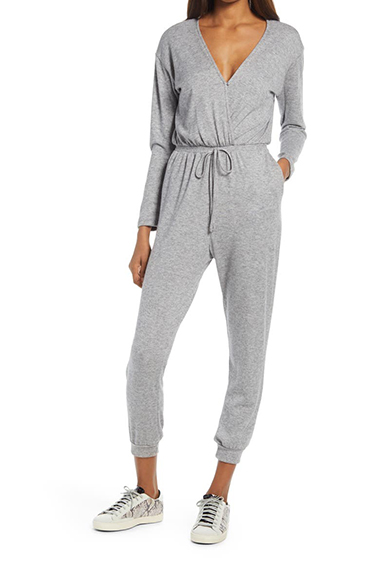 Sweaty Betty Gary Long Sleeve Jumpsuit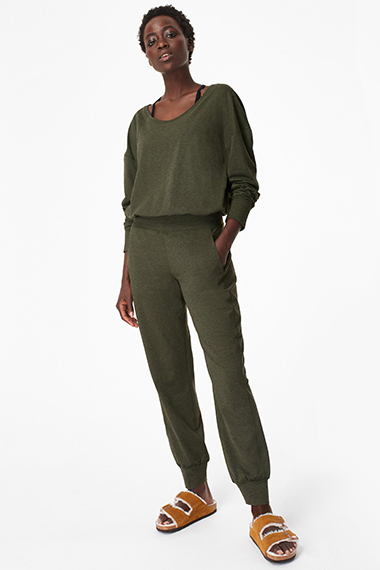 Gap Softspun V-Neck Jumpsuit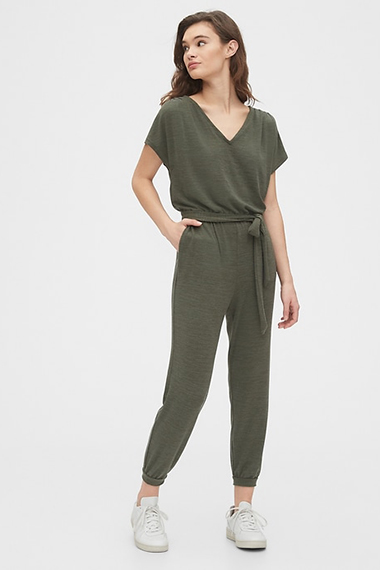 RVCA Singular Thermal Knit Jumpsuit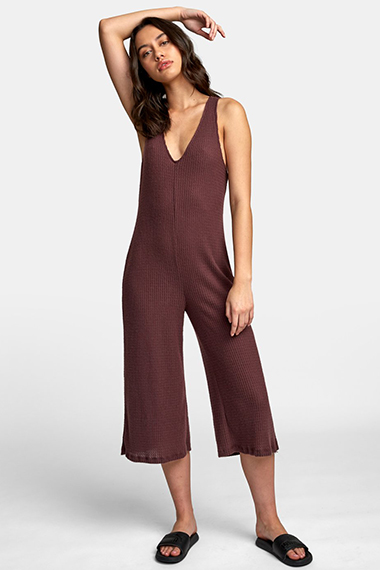 This jumpsuit is available at Amazon.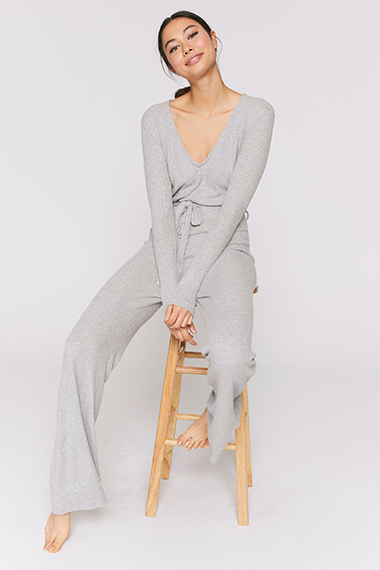 Splendid Active Studio Jumpsuit Marled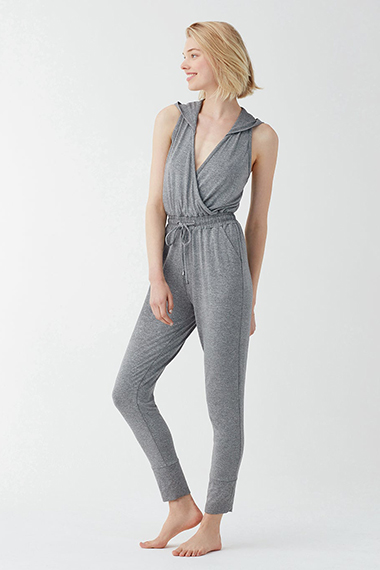 Sundry Racerback Jumpsuit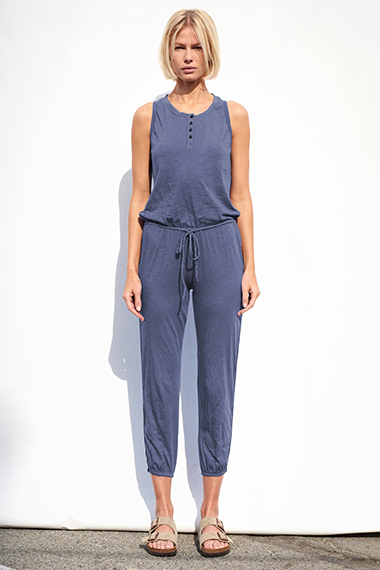 Target Perfectly Cozy Lounge Jumpsuit – Stars Above