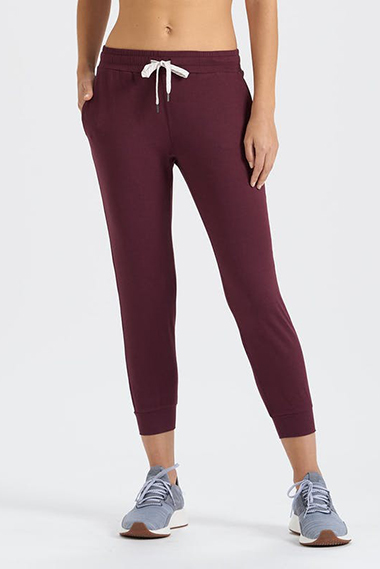 Joggers is a new-age word for sweatpants, and although most modern joggers are far more stylish and flattering than their old-school counterparts, a lot of people need help with these comfy pants. Especially this year, the question "how to style sweatpants" has never been so top of mind…
How To Style Sweatpants – How To Make Joggers Look Cute
The best loungewear items are joggers and jumpsuits. You can read all about my love of loungewear jumpsuits, here, so this post is going to focus on joggers. The best kinds of tops to wear with joggers are either a tucked-in, or half tucked-in, t-shirt/tank, or a cropped sweater/tee. Jacket-wise, joggers generally look best with a shorter jacket that ends at the high hip, or a knee-length coat. When it comes to shoes, high-top sneakers are the best if you want to wear socks with your joggers. Once it warms up, you can wear any low, slim sneaker sans socks. Casual sandals also look perfect with joggers. Since I run cold and prefer to wear socks when I am cozying up, I mainly wear Hue ankle socks and high-top sneakers, shown below.
Best Outerwear For Jogger Outfits
I know I mentioned you want to wear shorter outerwear with joggers, but let's talk specifics. Here is my favorite outerwear to pair with a jogger outfit:
They complement the causal tone of a jogger outfit, flatter the silhouette, and appear effortlessly stylish.
Vuori Performance Jogger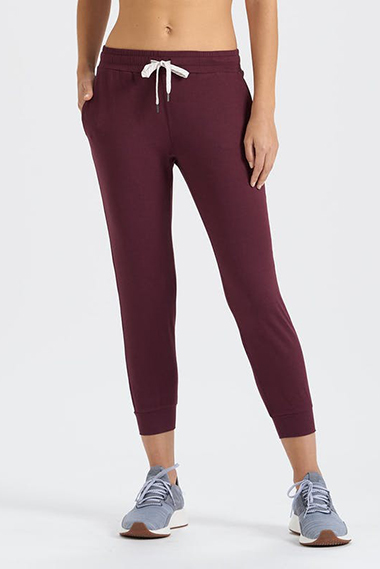 These Vuori joggers are an all-time favorite of my clients. You must have them. You will not regret this purchase. They are available at Vuori, REI, and Nordstrom.
BP Comfy Joggers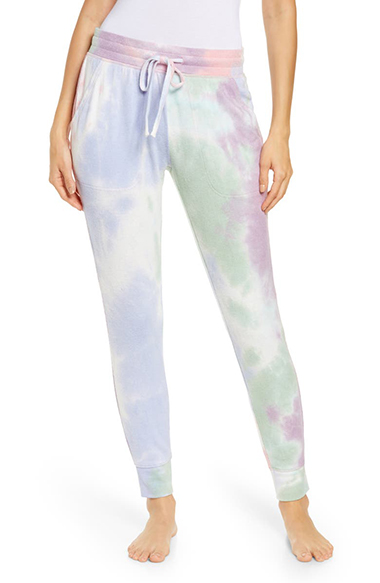 I personally wear these pants like crazy. Because of the high waist, I wear very cropped tops, bodysuits, or a fully tucked-in tee.
Lululemon Ready to Rulu Jogger 29″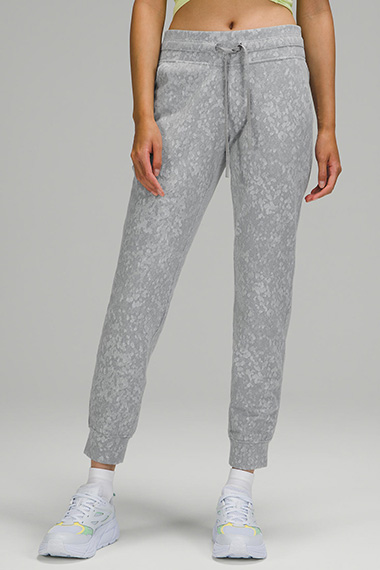 You know Lululemon sweatpants will always be comfy and these Ready to Rulu joggers are no exception. I love the speckled pattern on this pair for a fresh update to classic grey sweatpants.
Lululemon Dance Studio Jogger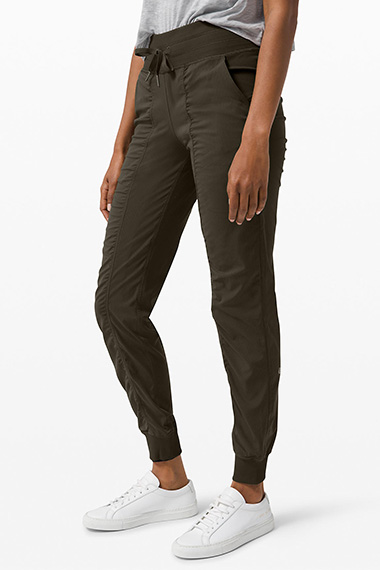 These Lululemon pants are insanely popular for a reason. Their material gives them a somewhat dressy feel, they flatter the body, and, you guessed it, they are pajama comfortable.
ATM Silk Joggers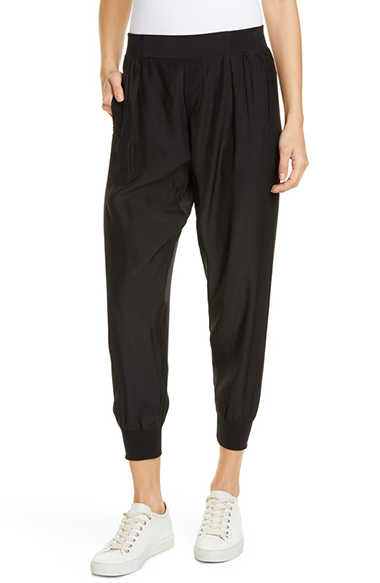 These dressy joggers are available at Nordstrom, ATM, Saks 5th Avenue, Bloomingdale's, and Revolve. Pair them with heels on a night out, or lounge about the house. The comfort is real.
Athleta Salutation Jogger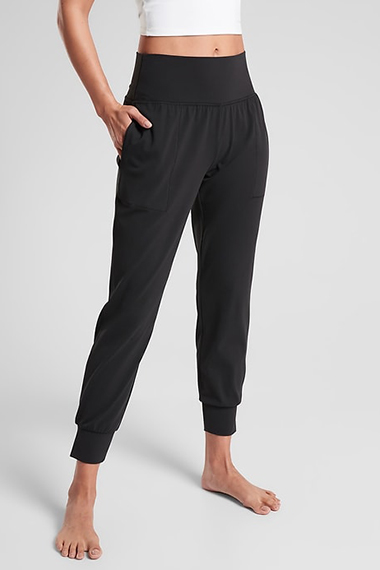 These joggers have a more relaxed fit for you ladies who want to feel a little less exposed in your loungewear. These are also a great option if you have very athletic or thicker thighs.
Baleaf Cotton Comfy Pocketed & Tapered Weekend Joggers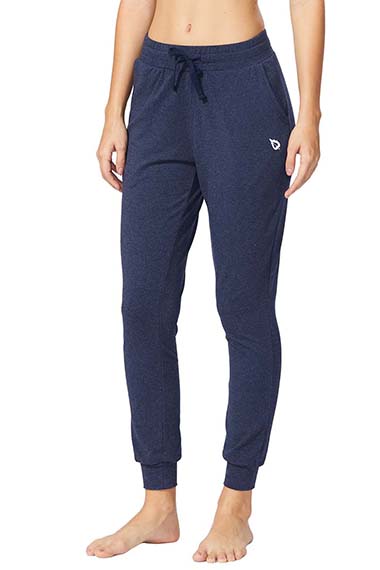 Baleaf is one of my new favorite brands for comfy, versatile, and inexpensive workout wear (see my full review, here). And these joggers are another one of their items I'm loving. They're more akin to the old-school sweatpants you are used to. I wear these every week with a tucked-in t-shirt or bodysuit. I love the soft sweatpant feel of these babies, and they are very durable. You'll understand what I mean if you compare them to the comfy BP joggers that are made from a little thinner fabric.These are available at Baleaf and Amazon.
Free People Sunny Skinny Sweatpants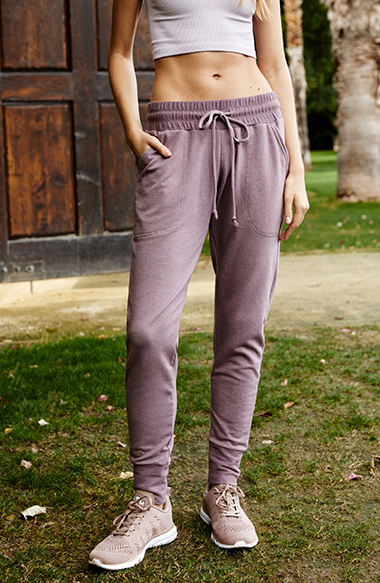 These comfy, yet fitted sweatpants are available at Nordstrom, Amazon, and Zappos.
Patagonia Happy Hike Studio Pants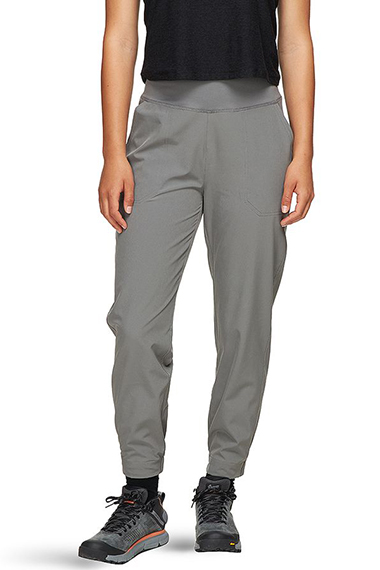 You can hike in joggers too! These utility sweatpants are available at REI and Backcountry.
Adidas Women's Beyond 18 Jogger Pants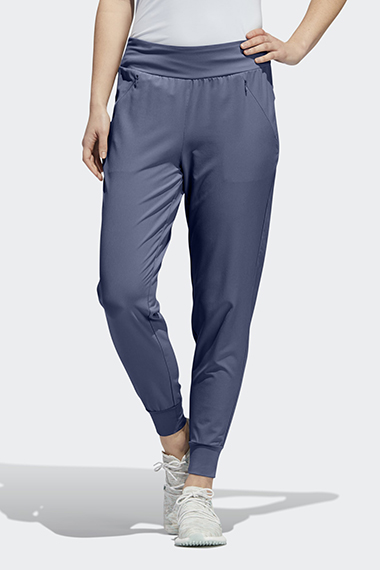 Ever since I started styling the Adidas gold shoots, I have been admiring everyone that comes to set wearing these top-rated pants. These are available at Adidas, Amazon, and Zappos.
Cinq a Sept Tous Les Jour Giles Jogger Pants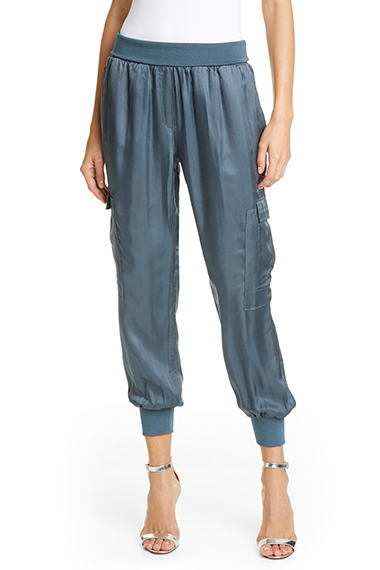 Like the ATM silk joggers featured above, these Cinq a Sept Tous Les Jour Giles Jogger Pants can be dressed up with heels or worn to lounge around the house. You can't complain about that type of versatility and comfort.  These pants are available at Nordstrom, Shopbop, and Saks 5th Avenue.
Vuori Performance Jogger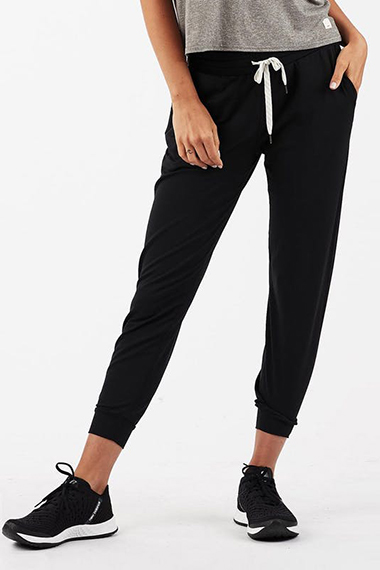 Here is that all-time favorite jogger in the color black. It's available at Vuori, REI, and Nordstrom.
Faherty Arlie Day Pants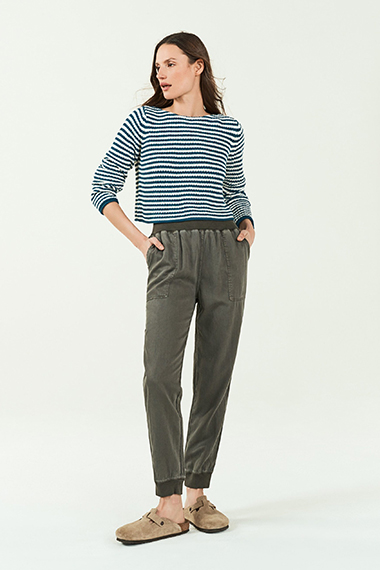 These comfy pants by Faherty have a little more structure to them but, like all the stylish joggers in this post, are insanely comfortable. They're available at Nordstrom, Faherty, and Backcountry.