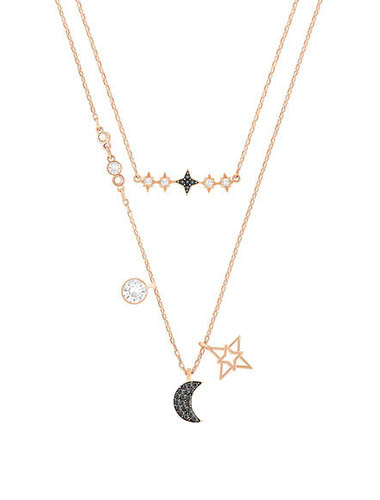 Some may call it a trend, but a layered necklace is a classic adornment that compliments a variety of personal styles from the sophisticate to the bohemian. Case and point, I have had numerous clients of vastly different styles asking to add a layered necklace to their wardrobe. With so many requests to sport a layered necklace, and because I am an absurdly detailed personal stylist, I have sifted through about 600 options. Time for you to reap the benefits of all my research, but first, some tips on how to layer necklaces…
Tip 1: A layered necklace looks best when paired with a button front collared shirt, v-neck or plunge neckline.
Tip 2: For a sexier, more glamorous effect, layer with one of the longer necklace options listed below and tuck the necklaces into your blouse or dress so it barely shows.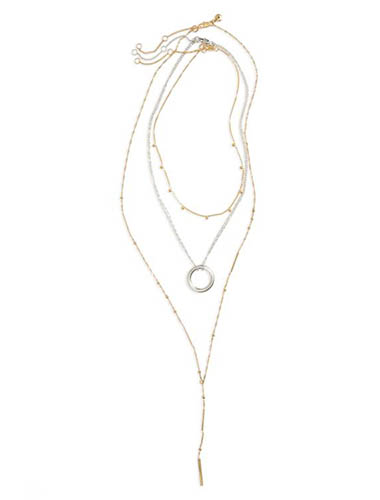 It has never been easier to sport a layered necklace look with Madewell offering a variety of these Necklaces Packs. Multiple clients have absolutely loved this particular one, but truth be told, we never use the silver necklace in the bunch. I recommend donating it. It is too dated and disproportioned.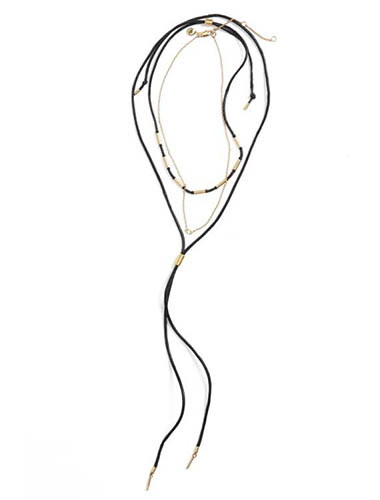 Madewell does it again with this Chord Lariat Layered Necklace. I actually love to pair the black and gold necklace in the middle with the longer gold necklace of the 3-pack mentioned above.
Glowing Strandage Necklace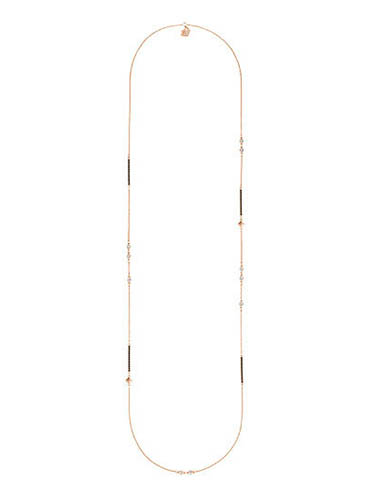 This rose gold Glowing Strange layered necklace look from Swarovski is my absolute favorite layered look when paired with the complimentary Glowing Moon Necklace mentioned below. I can't wait to pair this with my pink suede summer dress, among other things. To learn how to wear suede in summer, click here.
Glowing Moon Necklace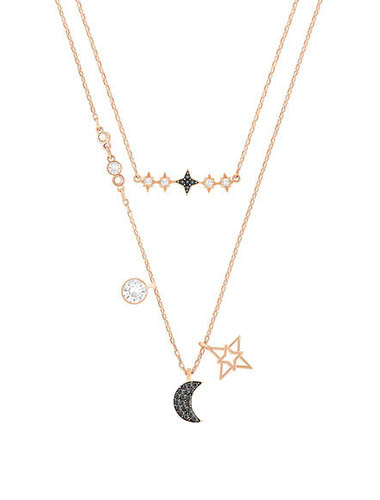 This Glowing Moon Layered Necklace is truly delicious. You can wear this as your everyday necklace if you are so inclined. Don't forget to layer it with the longer Glowing Strange necklace mentioned above. Seems to be sold out at swarvoski.com, but Zappos has it.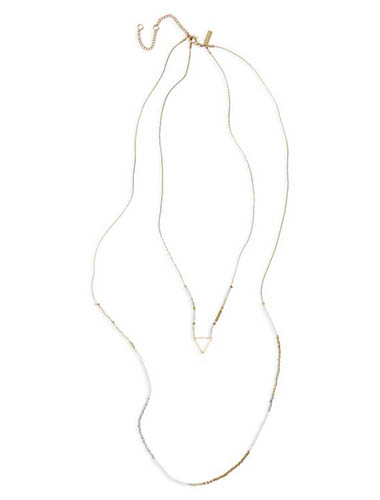 Like many layered necklace options, this Triangle Charm Beaded Layer Necklace takes the legwork out of trying to find two or more separate necklaces that will layer perfectly. This particular layered look is great for the beachy or bohemian vibe. Pair it with layered bracelets in a similar color palette, like Gorjana's power stone bracelet in hoplite and gold or Gorjana's semiprecious beaded bracelet.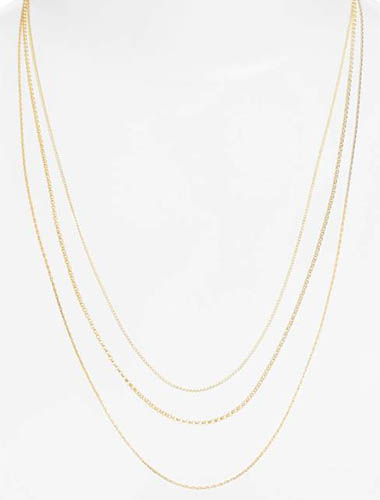 This ready-to-go Multistrand Chain Necklace can also be paired with the Madewell black and gold necklace listed above. This one should definitely be tucked into your dress or blouse.
Serefina Beaded Choker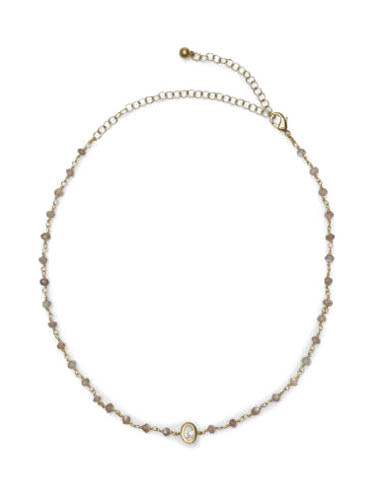 I love this Serefina Beaded Choker. It is one of the most fresh and least trendy chokers available. You can wear it by itself, or layer it with the Leah Alexander necklace listed above.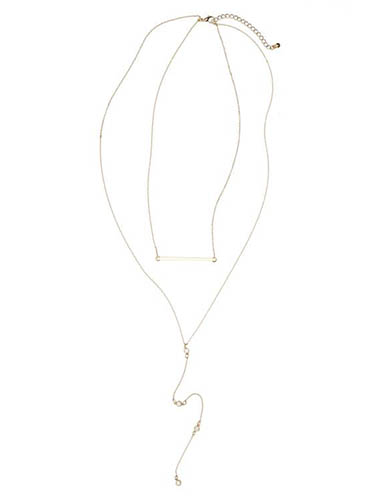 Nordstrom's inexpensive BP line has come out with some fabulous layered necklace looks with this Bar & Crystal Lariat Necklace being one of my personal favorites. I sport the silver one with my pink summer suede dress, but the gold one should be just as good. Don't forget to tuck that 'Y' portion of the necklace into your blouse.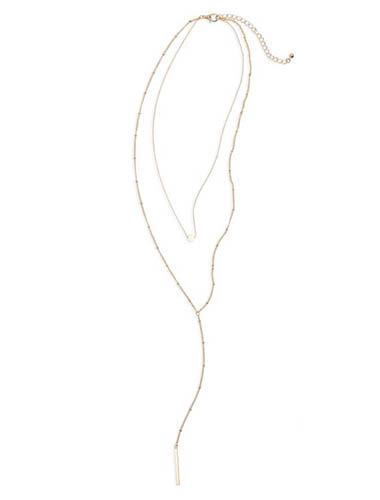 Another cheapy, but fabulous Layered Y-Necklace from BP. You know the drill, tuck that y-necklace into your dress or blouse for a sexier, more mysterious look.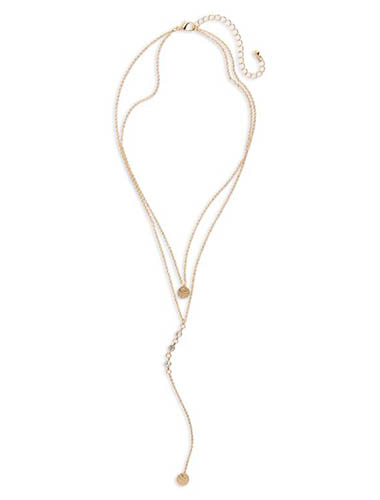 Love this delicate Layered Crystal Y-Necklace option. It is the perfect gold color and could be worn daily if you have the right wardrobe.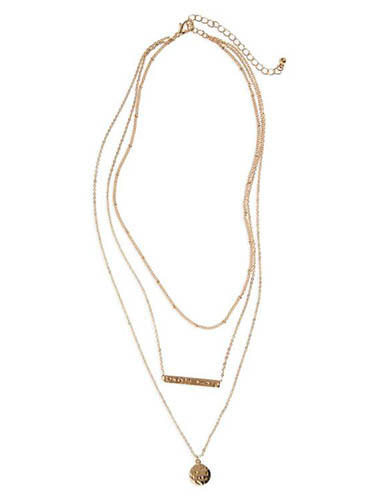 Too many from BP? Couldn't help it. This Plate & Disc Layered Necklace is another great layered necklace look.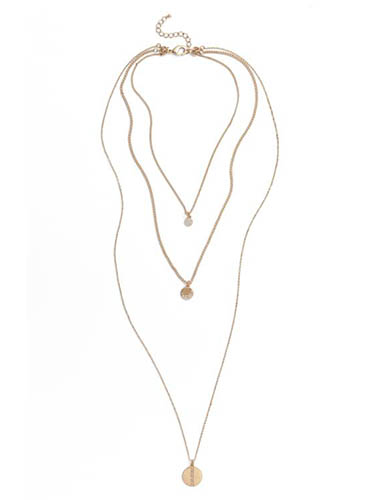 This Treasure & Bond Something Navy Multistrand Necklace takes the guess work out of creating an anchored layered look.