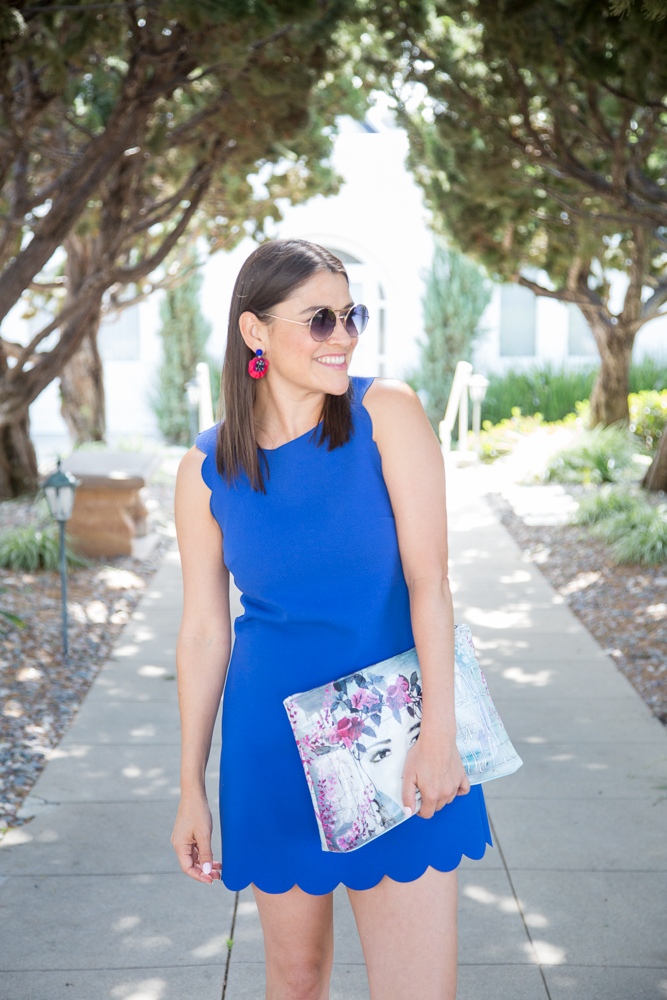 As minimalism and the neutral colored capsule collections start to bore clients and bloggers alike, the bold minimalist seems an obvious yet overlooked choice for those folks who like to keep it simple without the lethargy.
The Goal Of A Minimalist Wardrobe
Let's refresh ourselves with the goals of a minimalism. When we seek out a minimalist wardrobe, these are the general goals we want to accomplish…
Save time. (Minimalism = less time shopping, less time returning, less time choosing outfits, less time locating garments.)
Save Money.
Securing human's lease on Earth. (Less shopping = less poisoning and destruction of the earth = Mother Nature may let us stay on this planet longer. 'AKA' environmental purposes.)
Aesthetically pleasing closet.
Define Bold Minimalism
For a hot second I thought I made it up, but a quick google search will show that other people have used the phrase 'bold minimalist', mostly in reference to invitations and fonts, but it is used nonetheless. Basically, my bold minimalism accomplishes the minimalist's goals, but trades in the neutral color palette often used in minimalist fashion and replaces it with loud and bright hues. These garments will often have fun details as well, where minimalism of yesteryear is very basic and simple.
How To Create A Bold Minimalist Wardrobe
The easiest way is to focus on bright solid-colored garments. In short, it is color blocking. You will be pairing one bright solid-colored garment after another. Color blocking is often referred to within one garment, but it can be done with multiple garments as well.
Best Garments for A Bold Minimalist Wardrobe
I find dresses are the cornerstone of bold minimalism for obvious reasons. You only need one item of clothing to not be naked. It  takes very little thought to put on, which is the whole point of minimalism. Jeans are another key component of a bold minimalist wardrobe. A bright bold top and jeans avoids boredom, yet is still easy. After those two key pieces, add the garments that feel best for you, like skirts, shorts or pants, but skip anything that requires layering. Layering requires thought and effort. The minimalist has no time or interest in thought and effort in regards to her look.
Best Color Pairings For A Bold Minimalist Wardrobe
You want to make sure you are mixing the right bold colors. For instance, you can have a bold minimalist look with strong earth tones or bright primary colors, but you usually can't mix a strong earth tone with a bright primary color. Here are my current favorite color palettes for a simply bold outfit…
Royal Blue + Pink
Terracotta + Hunter Green + Yellow
Blush Pink + Hot Pink
Navy Blue + White + Gold
Royal Blue + Yellow
Best Jewelry For A Bold Minimalist Look
Following in the footsteps of the garments, you want it easy. You can wear the same delicate pieces over and over again, like a simple gold collection of a stud, simple necklace, bracelet and ring; or just sport a statement earring, or strong ring. As you can see, I am pictured wearing only a pair of earrings. There is something about a bold earring that says you are correctly accessorized. A lone bracelet seems odd and a necklace begs for a stud, but an earring says you are simply fabulous, and a lone ring says you are effortless.
Best Shoes For A Bold Minimalist Wardrobe
The shoe needs to be just as bright as the rest of the outfit, as pictured with my deep pink suede sandals, or it needs to be a neutral. My favorite neutrals for the bold minimalist is a blushy beige, gold, silver or, perhaps, a white. Never black. The color black does not belong in a bold minimalist wardrobe.
How To Use Print In A Bold Minimalist Outfit
If the bold minimalist wardrobe is based in solid colors, it goes without saying that this look does not involve printed garments.  Prints can take too much thought, which is why this look avoids them, but print is more than welcome at your feet and hands. You know all those fabulous printed shoes, bags and clutches you don't know how to wear? This is how you wear them: pair them with these bold solid-colored garments. Víola.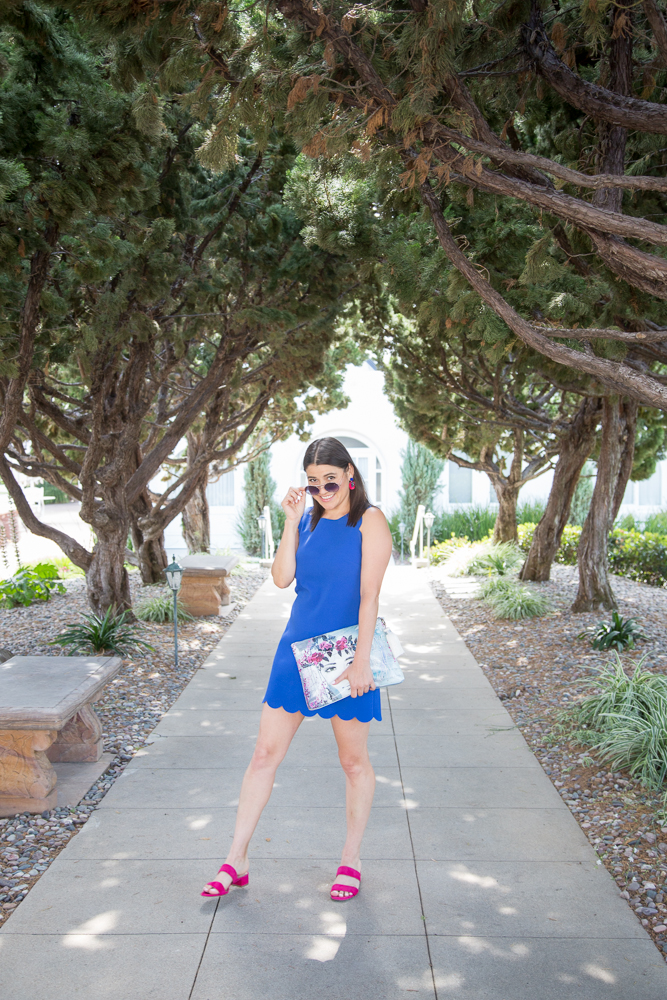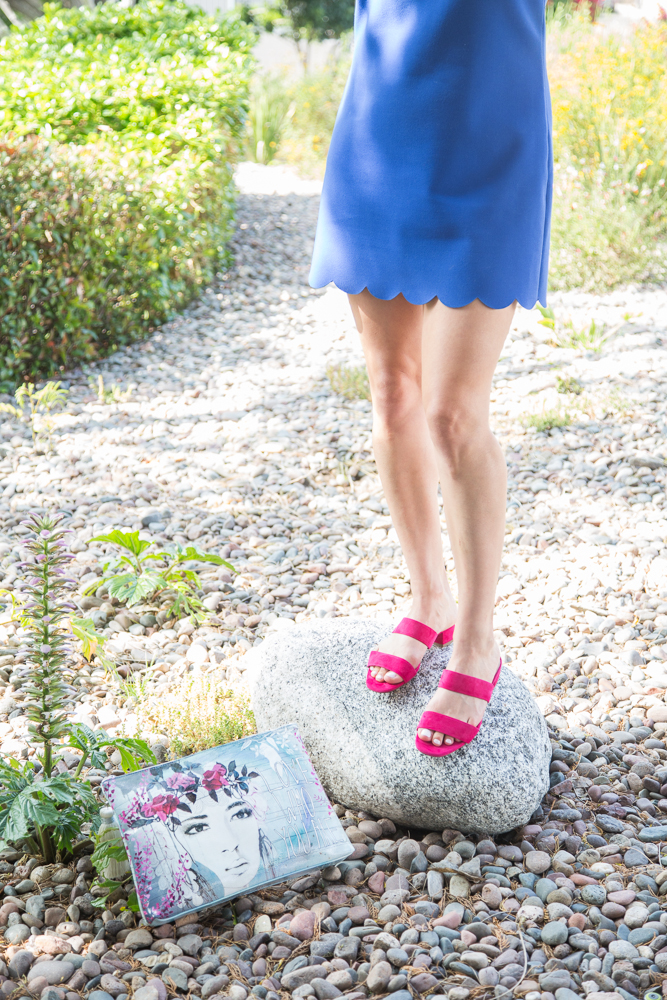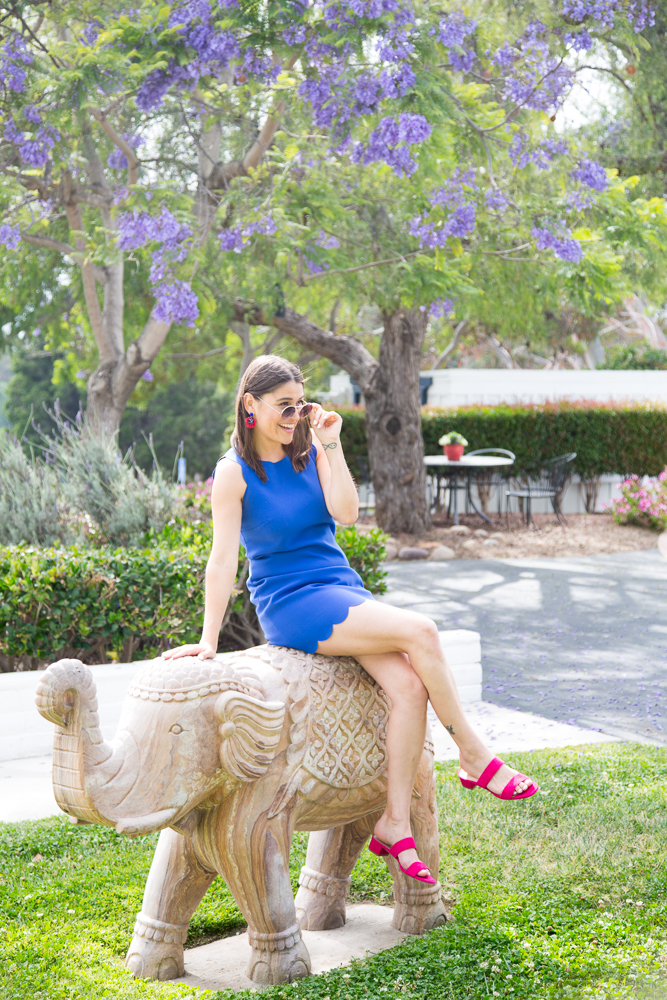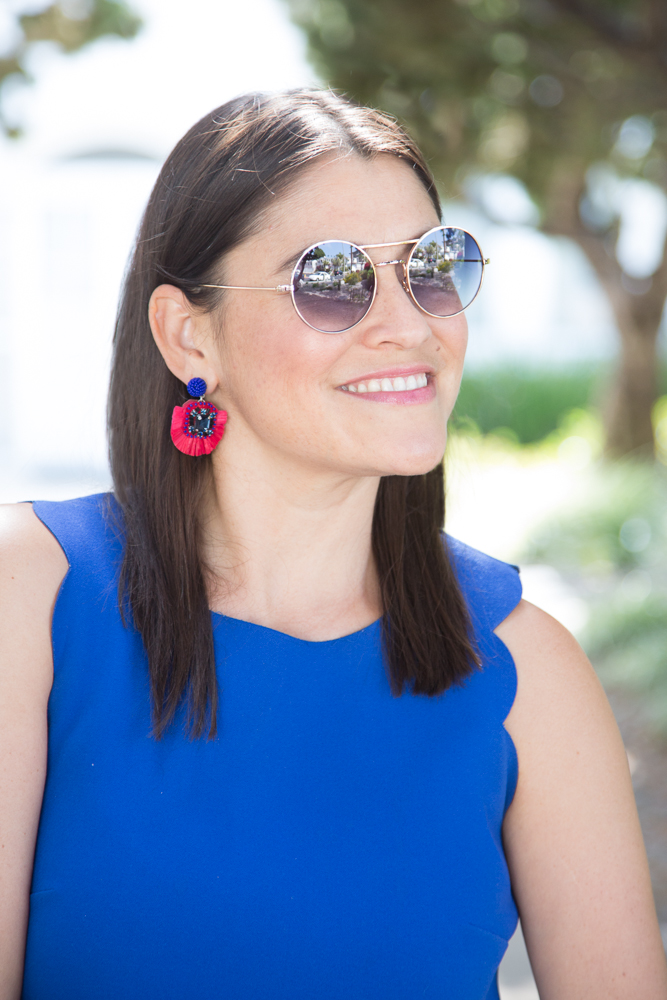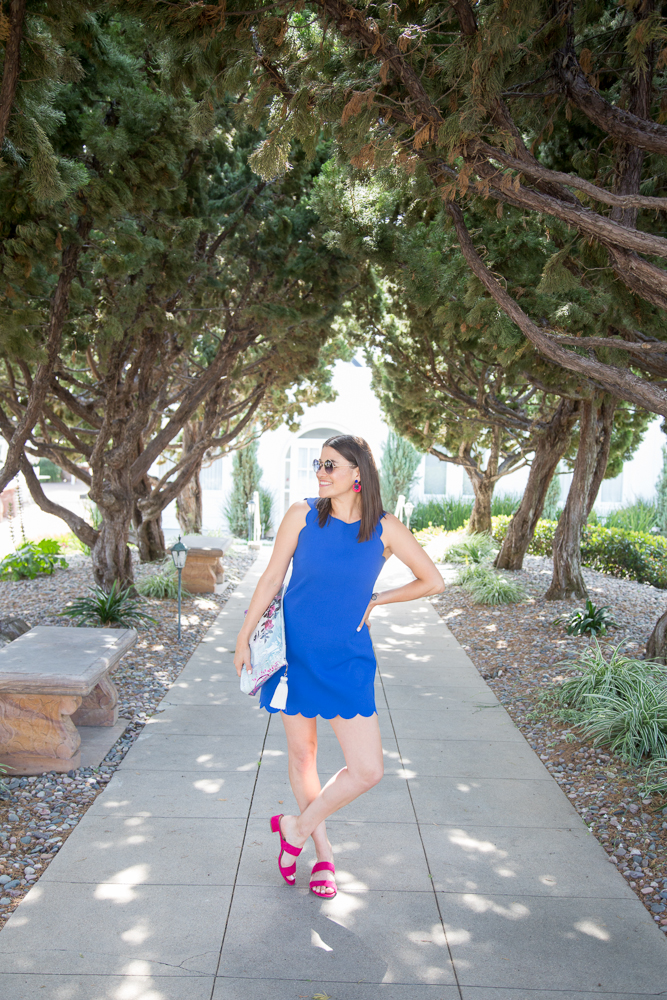 Photos by Dayley Photography