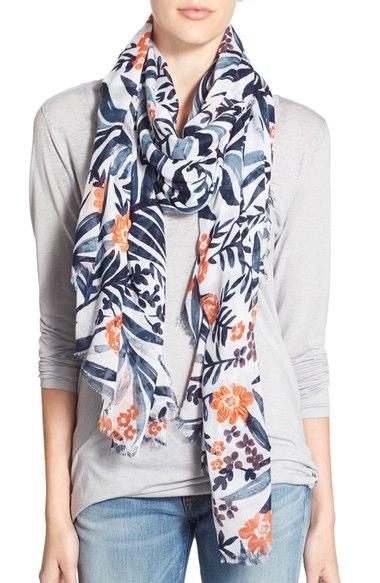 Large oblong scarves are genius. Let me explain, during the summer the outdoors is hot, but the indoors is cold. (Damn you overzealous air conditioning!) Here ensues the jacket conundrum. No one wants to carry around a jacket, plus jackets tend to really disrupt the lines of a yummy summer outfit. A cardigan could step in for the job, but it can be difficult to find the perfect shaped cardigan in the perfect length for summer looks that involve dresses and shorts. This is where large oblong scarves kick ass. Not only will the right oblong scarf keep you warm in air conditioning, it enhances your entire outfit and personal style. You can also use the scarf to protect your skin from the sun without overheating. Plus the scarf can be folded up easily and stowed in your purse when you're over it.
The Best Size For Summer Oblong Scarves
The best oblong scarves to be used as jackets for summer are large. I like it anywhere from 38 inches wide to 53 inches wide and 60-inches long to 80-inches long, give or take an inch or two.
The Best Fabric For Summer Oblong Scarves
The best oblong scarves for summer are either a linen, cotton or a rayon blend. I like cashmere too, but it can feel too fall for me sometimes. I don't recommend a large 100% silk scarf for summer because it will stain and ruin quickly. The whole point of large oblong scarves is to beat it up. It will get sweat, food and sunscreen on it guaranteed, and then you're going to shove it into your purse. It's okay to have some percentage of silk, but 50% – 100% silk can't handle that abuse, but cotton, rayon and linen blends can take it and still ask for more. Certain viscose, modals and polyester blends can also be a good option when they are able to mimic a linen blend well.
Where To Buy The Best Oblong Scarves
Pictured below are some of my favorite oblong scarves. You will notice, its all about the printed oblong scarves, but solid colored scarves are essential too. If you want to play it safe, you want to pair a printed scarf with a solid colored garment, and a solid colored scarf with a printed garment, but I often mix prints when using oblong scarves. I will have another post about that in a couple weeks.