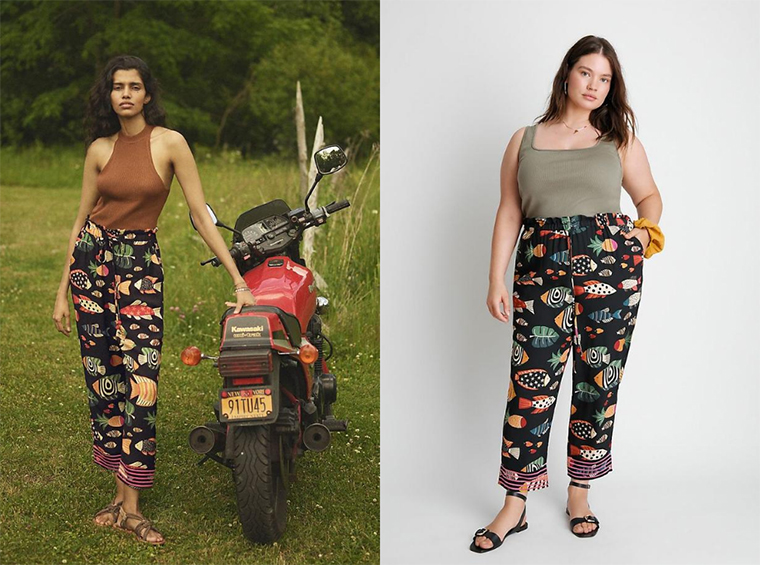 Anthropologie Plus Size
Anthropologie has always been my go-to store for unique pieces, boho style, off-white jeans, and casual dresses. As of last year, I can now add plus size clothing to the list. Anthropologie plus size clothing has changed my life as a personal stylist. As a personal stylist, I am only as good as the selection of retailers available. I used to feel fear if a plus-size client had an edgier or more bohemian aesthetic because I knew I wouldn't be able to wow them. Help them, yes, but impress them, no. While my 0-16 sized clients with a bohemian aesthetic walked away like I performed magic, my plus-size clients would just be satisfied. They were more impressed that they didn't have a negative experience, than impressed with a positive one. I know, I know, you can find edgier and bohemian plus size pieces at ModCloth, Torrid, and Forever 21, but the ambiance and quality of products are far better suited for my clients at Anthropologie. Plus, pun intended, Anthropologie is just better. The selection is incredible, diverse, and there are simply more physical Anthropologie stores that allow for easier shopping and easy returns.
Best of Anthropologie For Everyone!
My favorite part about the Anthropologie plus size line is no one is left out. All plus size clothing also comes in sizes 0-14. As you can see in the pictures below, we have the same pants on the usual model as well as a plus size model. You all know how intoxicating the Anthropologie vibe is. Even women who hate the clothing in there, love going to an Anthropologie store. Their ambiance is that incredible, and now everyone can have the opportunity to wear the vibe. Below you will find a whole gambit of goodies from fun tees to super-soft Pilcro jeans (my favorite!), summer dresses and crazy pants you basically can't get anywhere but Anthropologie.
Pilcro Ultra High-Rise Skinny Jeans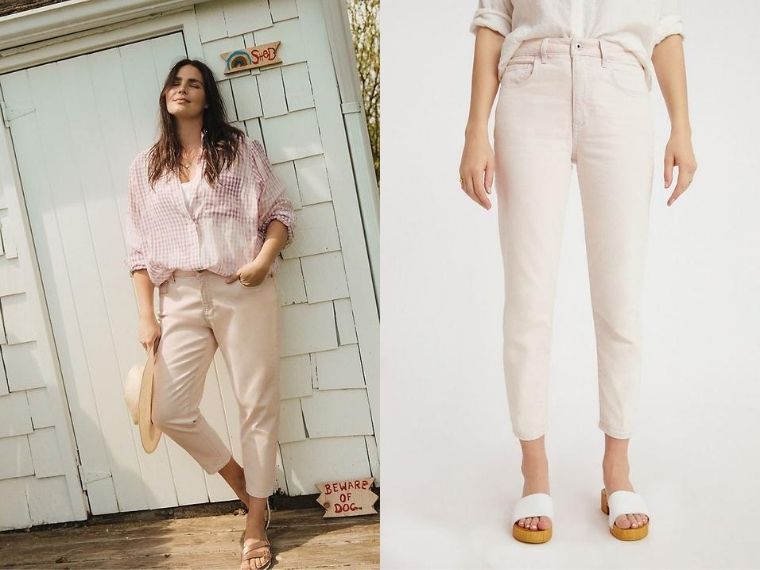 The Pilcro Ultra High-Rise Skinny Jeans are my favorite line of pants at Anthropologie. They always have extremely comfortable off-white jeans that I can't live without.
Zuly Paint-Splattered Tee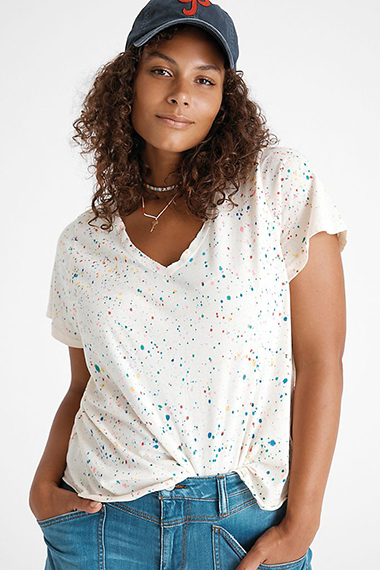 I have been obsessed with splatter paint since the '90s. Thank you Anthro, for this Zuly Paint-Splattered Tee. Notice the angled v-neck — an essential look for a plus size, busty, or wide-shouldered woman.
Bl-nk Averio Ruffled Tank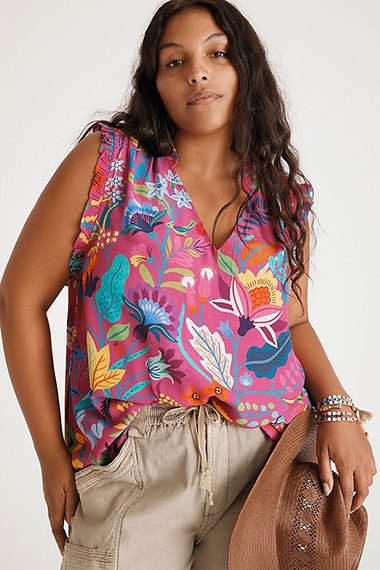 I adore this Bl-nk Averio Ruffled Tank for my bold gals. Pair it with navy slacks, blue jeans, forest green pants, or a yellow skirt.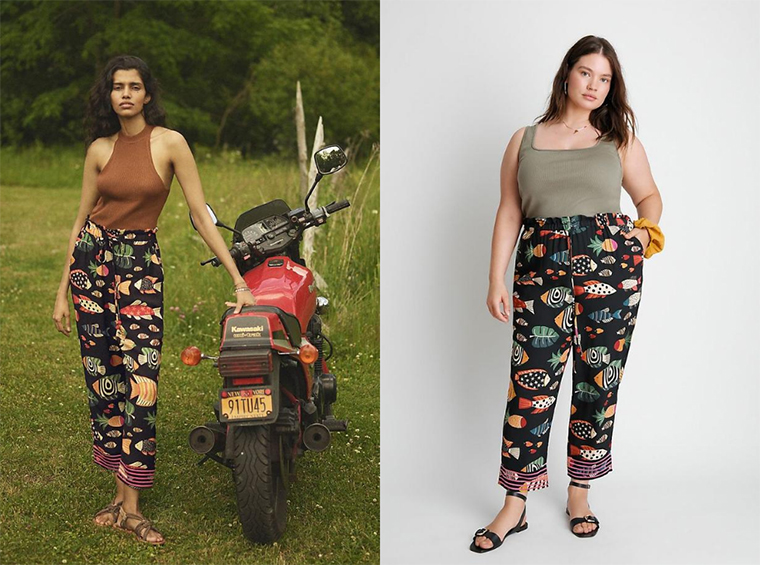 I don't know why they call these joggers, but these Farm Rio Sealife pants are too much fun. Pair them with a crop top and sandals this summer.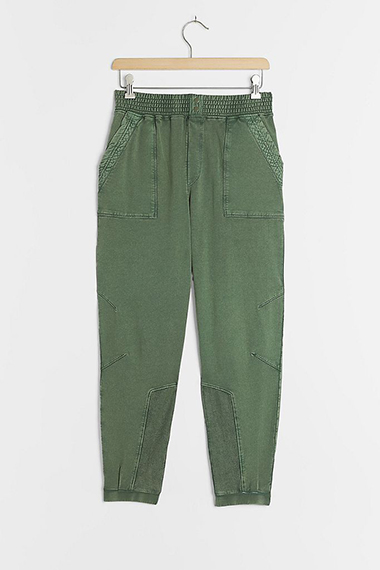 I am sure you didn't forget, but we're still in a pandemic, and I know you all need another pair of lounge pants. Enjoy these Saturday/Sunday Theo Utility Joggers.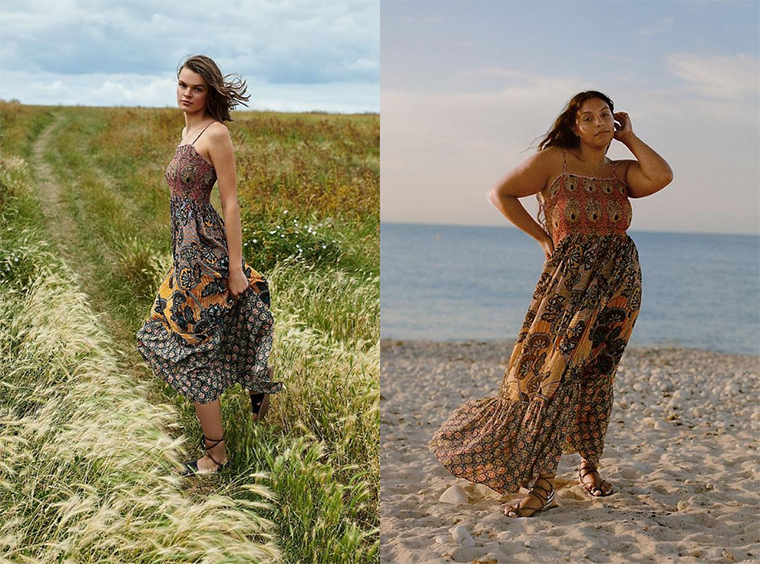 This Anthropologie Jamila Smocked Maxi Dress is the ultimate bohemian dress for the summer. Throw on your brown sandals and head to the beach, the farm, or wherever the heat takes you.
Maeve Nikoleta Maxi Dress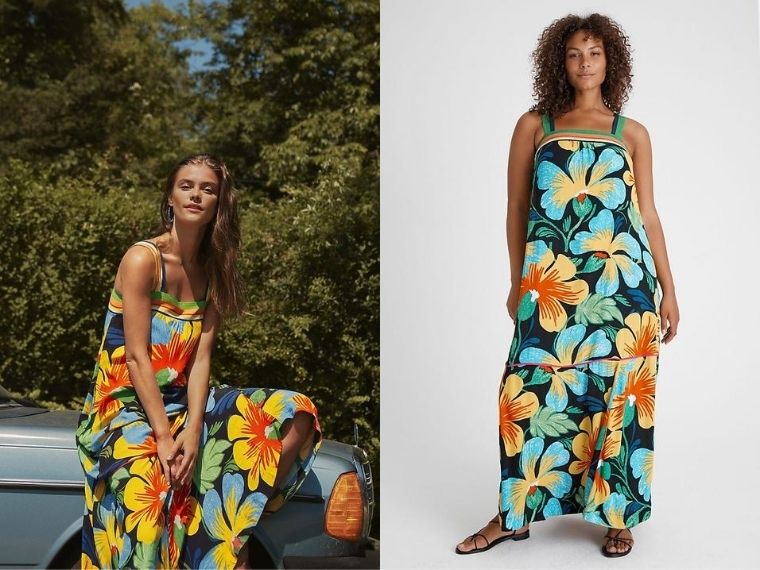 You may not be allowed in Hawaii, but you will feel like you're there in this Maeve Nikoleta Maxi Dress.
Bl-nk Miranda Peasant Blouse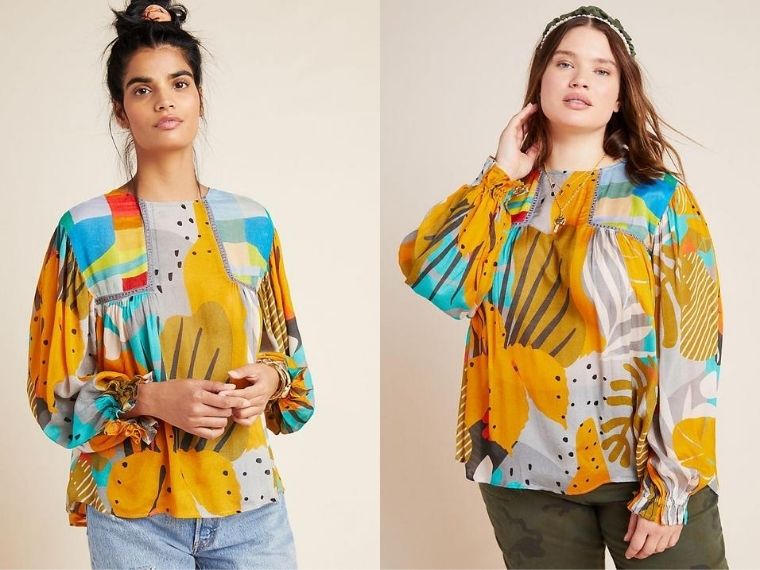 This Bl-nk Miranda Peasant Blouse is an easy way to make a statement. You don't tuck it in and you can pair it with basically any pant or short.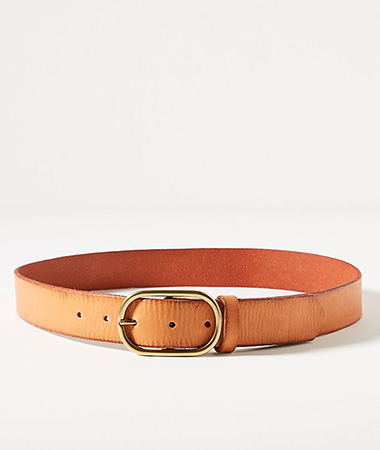 The Anthropologie Mabel Belt is the epitome of the bohemian tan belt that every belt-loving, boho woman needs.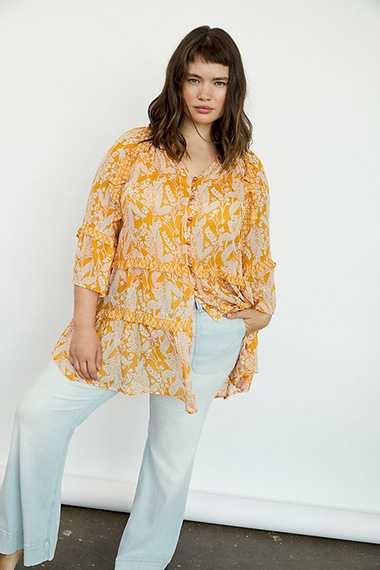 I love this Anthropologie Mia Printed Tiered Tunic with leggings, skinny jeans, or short shorts.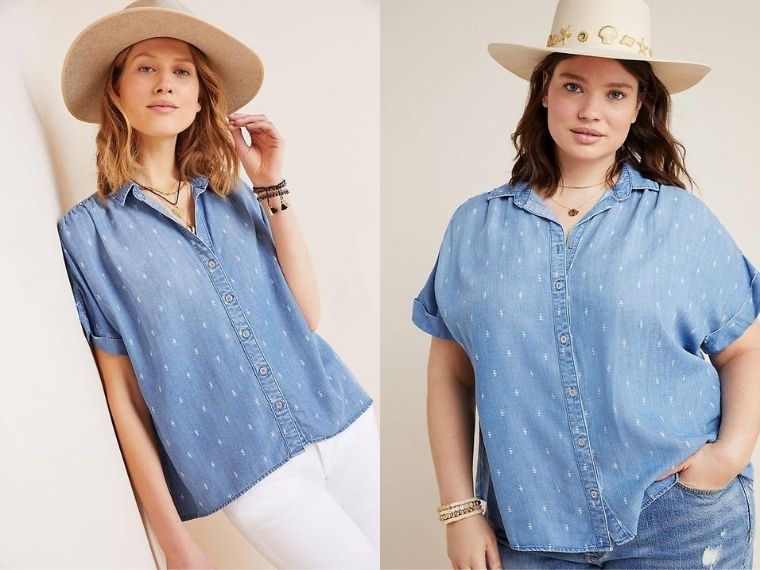 Cloth and Stone is a go-to line at Anthropologie. They always make yummy dresses and tops like this Cloth & Stone Lace Buttondown in the softest fabrics and cutest cuts. Tuck this top into a high-waisted piece for the most flattering look.
Dolan Anna Double-Breasted Blazer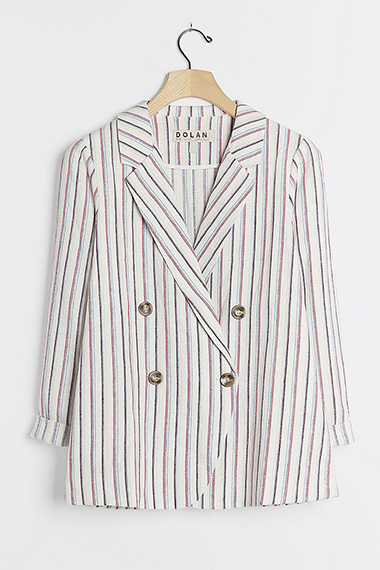 I love this Dolan Anna Double-Breasted Blazer year-round, but this summer it is especially fresh. Pair it with light colored blue jeans.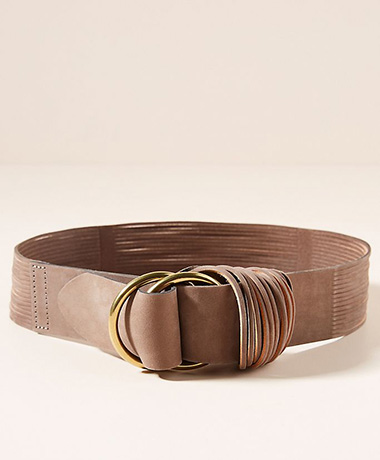 I adore this funky Anthropologie Tonya Double O-Ring Belt. Wear it at your high waist with loose dresses.
Anthropologie The Essential Slim Trousers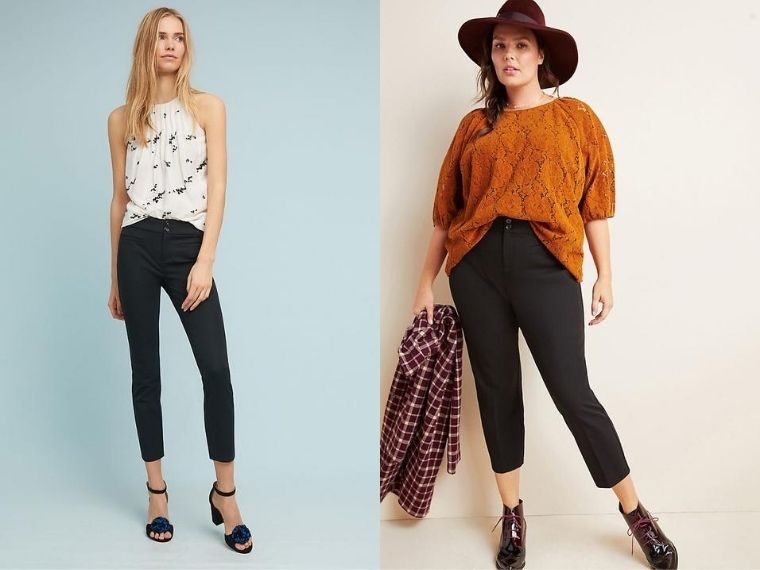 These Anthropologie The Essential Slim Trousers are a fantastic and flattering work pant. Something we always love.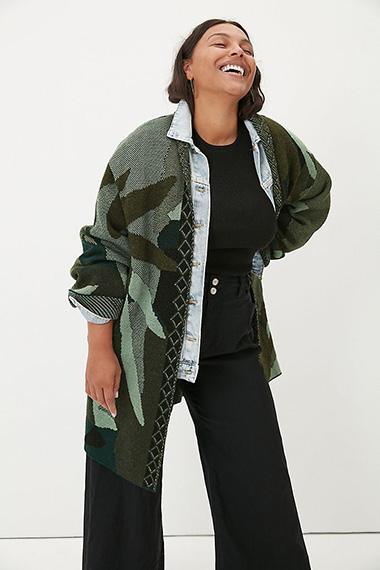 I love this Aldomartins Damita Cardigan for the fall. Pair it with dark brown, green pants. or olive jeans for an earthy look at work or for play.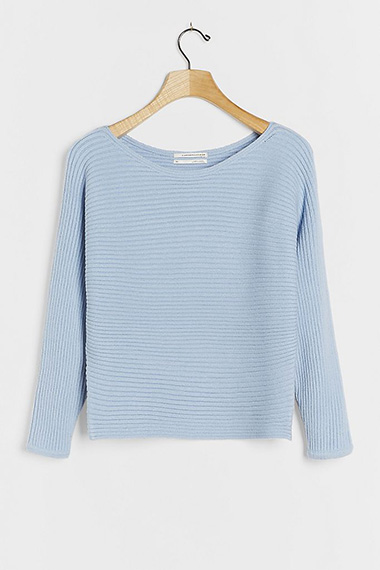 You know I am obsessed with pastel winter outfits, and although it's as hot as Hades, you will want this Anthropologie Kendall Cropped Pullover in baby blue come October.