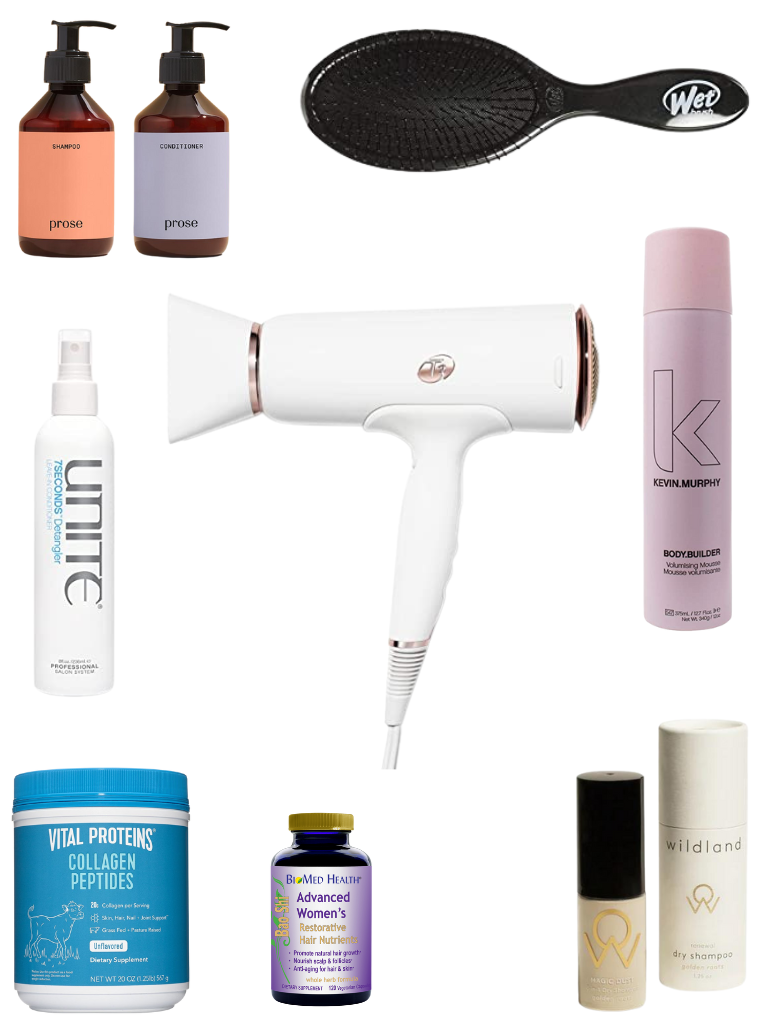 I have long fine straight hair and have spent most of my adult life looking for the best products for fine limp hair. We are a neglected bunch, I tell you. At 40 years old, I finally figured out what to do with these limp locks that love to jump ship. It is so funny that I have never had less hair, yet my hair has never looked better. It's all in the products, girl. I will update this post regularly as my research leads to more gems.
One last thing before we get into the best products for fine limp hair: if a hair stylist claims fine hair is the easiest to cut, run fast from them. Thinning fine hair is some of the hardest hair to cut because every single hair counts. You can hide nothing. I have a nice handful of hair stylists who know what they are doing, but I am really favoring Amber Mullen at The Lab Salon right now. She is a truly timeless talent.
Best Shampoo + Conditioner For Long Fine Straight Hair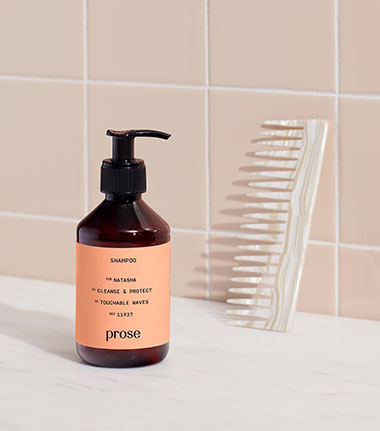 I am obsessed with Prose, a hair care line that is customizable to your personal needs. Founded in France, Prose operates out of Brooklyn now, but their lab remains in the heart of Paris. I have been using their products for over a year now, and am beyond thrilled. So thrilled, I even have a subscription, which gives you a discount and other benefits. Each time before my shampoo and conditioner run out, Prose sends an intuitive questionnaire to ensure that the products are working for me. If not, they tweak the formulas as needed to cater to my every complaint and preference. The shampoo and conditioner address my hair loss, my limpness, my dandruff, the level of shine I desire, and more. Their customer service is excellent as well. They even offer one-on-one consulting if you have a subscription. Seriously, check this shampoo out if you are not thrilled with your current hair wash.
A few other eco-friendly things I like about Prose:
They use natural and sustainable ingredients and list all the ingredients they work with here. Since the formulas are customizable you can request that your formula is vegan, gluten-free, silicone-free, dye-free, or fragrance-free, if desired.
It's a certified B Corporation, which means the company meets certain environmental and social standards.
Prose has reduced its carbon emissions by 67%, and offsets the emissions they weren't able to reduce.
How I Use It: I shampoo/condition every other day. I use a large coin-size amount of shampoo and mainly focus on washing my scalp. I tend not to really bother with washing the ends of my hair. The shampoo ends up going down the strands when I rinse. I then condition my hair from the neck down. Basically, I wash the top and condition the bottom. In my experience, if I wash two days in a row, my hair gets oily faster, so I personally recommend sticking to washing every other day if you can.
Best Heat Protectant Cream For Fine Hair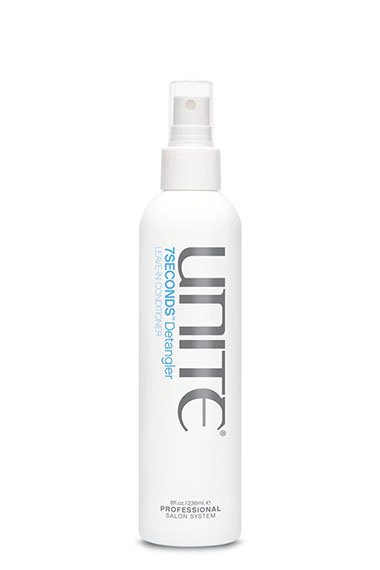 You will thank me so much for this information. The best heat protectant cream for fine hair is…drumroll, please…Unite 7Seconds Detangler. It detangles, eliminates static, smooths, and protects your hair with a protein-based formula. Yes, it seals the cuticle and protects hair from heat and UV. And yes, any hair type can use it, but oh my god, it is a miracle for fine hair! A godsend! I can't emphasize enough that this is the best hair product I have ever discovered in my entire life. I am truly blown away by how perfect this product is. It's effective, lightweight, and WORKS WITH FINE LIMP HAIR. Your fine hair will look perky, smooth, and super soft. I feel like it makes my hair come alive.
You can find Unite 7Seconds Detangler at numerous places, including:
How I use it: I spray it 3-5 times onto my wet hair. A little goes a long way. If you spray too much your hair can get heavy, a teensy bit sticky, and lose its bounce. I spray once on top of my head. Then holding the bottle in my right hand, I throw all my hair to the left side, tilt my head to the left so my hair tumbles like a waterfall, and spray the front side once higher up on the hair, more towards the scalp, and once towards the ends of my hair. Still holding the bottle in my right hand, I then toss my hair to the right side of my face, tilt my head to the right to create the waterfall of locks, and spray the back side of the hair once higher up on the hair towards the scalp, and then once on the backside towards the ends of my hair. Done.
Best Vitamins For Hair Growth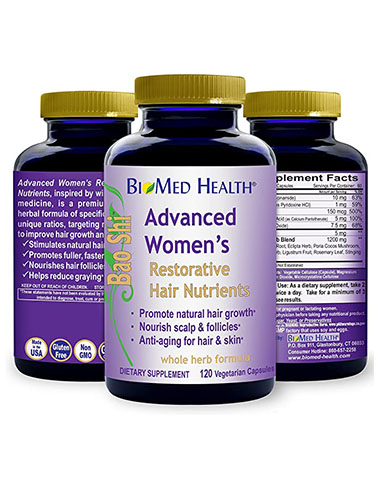 I have always had fine hair and not very much of it, so some years ago I started taking Phyto hair supplement pills and had absolutely amazing results. I literally doubled my head of hair. After six years of taking that supplement religiously, I took a break, had some life stress, and all the extra hair fell out — it was bad. I had never had less hair and my scalp really started to show. I rededicated myself to taking the Phyto supplements, but they never seemed to work for me again. So, I took about 6 months off from all hair pills and started up a few months ago with a hair supplement a fellow wardrobe stylist told me about, BioMed Health Advanced Women's Restorative Hair Nutrients. I am so excited! I have hit the 3-month mark of using this supplement, and just like I experienced with Phyto all those years ago, my new hairs are growing in like cute little sprouts. And my existing hair is growing longer so fast. I will update this post as the new hair progresses.
I also put a scoop of collagen peptides in my morning glass of water every day. This mainly helps with my skin, but it supposedly helps with hair as well. I can definitely tell a difference in my skin's softness, but I honestly can't tell if it is helping my hair. I would assume so.
Best Dry Shampoo For Fine Limp Hair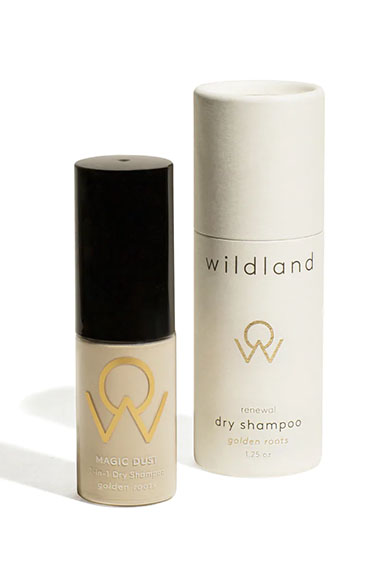 Here's another bomb product you are going to thank me for. Anyone reading this knows exactly how hard it is to find a good dry shampoo for fine limp hair. The best we can hope for with a good dry shampoo is a nice ponytail look, am I right? Forget about helping two-day-old hair you want to wear down — until now. Magic Dust by Wildland Organics is absolutely incredible. I can't believe how effective this green beauty powder is. And the application experience is so much better than the "salt shaker" style of packaging typically used to house organic dry shampoo. Instead, it has a fine mist pump.
The dry shampoo also comes in four different shades for dark brown hair, light brown hair, redheads, and blondes/silver foxes. It has a fragrance made of lavender, clary sage, and cedarwood. And since you know I love brands committed to sustainability, I should add that Wildland Organics also commits to using organic, locally-sourced, and fair trade ingredients, along with eco-friendly packaging. And, they're based in Idyllwild, California.
Best Hair Brush For Hair Loss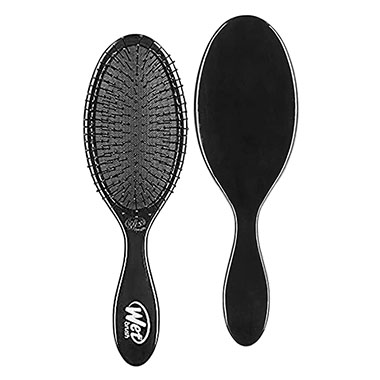 When you have fine limp hair or hair loss, you cannot afford to lose one extra hair and the only brush that is up to the challenge is the Wet Brush. It is the best brush in all the land, and I cannot rave enough! I have been using this hair brush exclusively for over 10 years. It can detangle and gently comb out just about anything (although you still want to begin brushing your ends first and then make your way up). You can read my original review of this brush from 2011 — proof I have been using it for a solid decade. It weighs nothing and doesn't look like much, but it is the best brush for wet or dry fine hair.
Best Product To Give Your Fine Hair Volume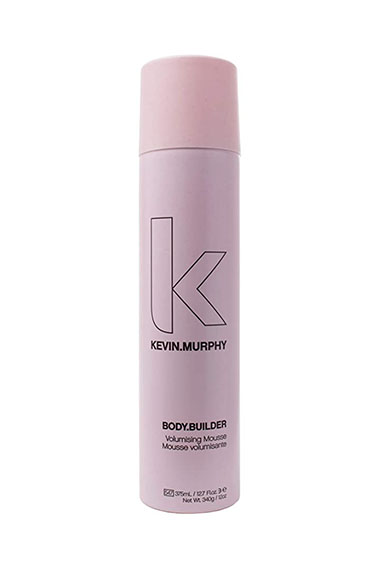 The best product to give your hair volume is Kevin Murphy's Body Builder Volumizing Mousse. I have used a lot of volumizing products and this one truly takes the cake. It is lightweight and does not make your hair sticky, dry, or heavy unless you over-apply it.
How I Use It: A little goes a long way. I spray half a fistful into my palm and apply it to the hair around my face and the top of my scalp only.
Best Hair Dryer For Fine Limp Hair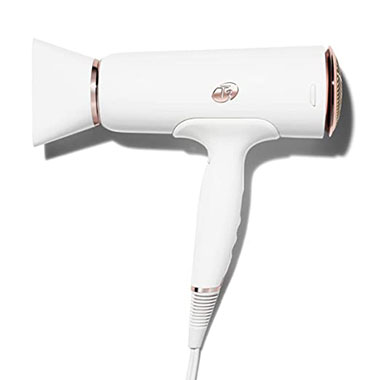 I have not done extensive research on the best blow dryer for fine hair. I've only used five or so, but the one I have now I am absolutely loving so I am confident in recommending it to you. I am also far from a blow-drying expert, but here is what I'm doing these days…
How I Use It: I grab a chunk of my hair at the top of my scalp and lift it up like I am a troll doll and point the blow dryer at the roots for about 1 minute. I then bend over and flip my head over and blow dry the rest of my hair, focusing on the roots for 3 minutes. Once it is mostly dry, I flip my head back up and blow-dry the ends, or whatever bits are still wet.
For even more check out my Instagram video about my favorite products for my thin hair:
View this post on Instagram