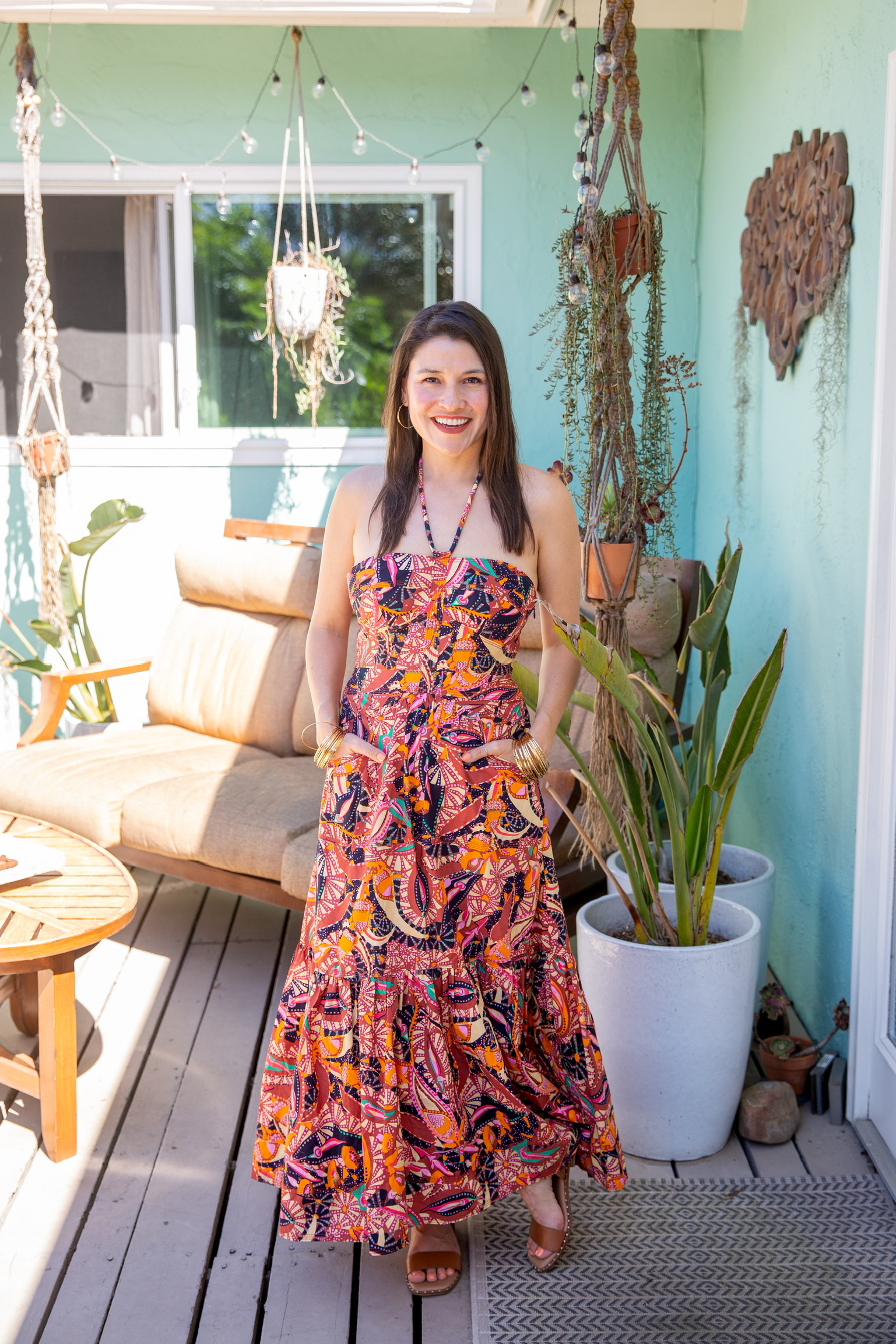 One of my favorite brands for myself and my clients is A.L.C. The clothing is unique, fresh, and flattering — my three favorite things. A.L.C. does an incredible job of producing two categories of clothing I need: uniquely detailed basics, like their knits and solid colored blouses, and bold pieces like this stun gun of a frock pictured above.
Who's The Designer Behind A.L.C.?
Andrea Lieberman is the woman behind A.L.C. She was born and raised in Manhattan and went on to study fashion at the Parson's School of Design. Lieberman then lived abroad in France and Africa, before becoming a personal stylist for celebrities, dressing folks like Gwen Stefani and Cameron Diaz for the red carpet and other events. She was the one who put J.Lo in that iconic green Versace dress for the Grammys. Yes, that dress.
After about a decade of styling, she launched her own brand, A.L.C., in 2009. "I was ready to start my own collection, comprised of styles I felt were missing in the market," Lieberman told Forbes in an interview. She describes the A.L.C. brand as "versatile, beautifully crafted staples," and "classics with a modern twist."
Lieberman says a lot of her inspiration comes from the "laid-back luxury" lifestyle of LA where she's based, and from all of her travels and time spent abroad.
Best of A.L.C. Clothing: What To Buy From A.L.C.
I basically spoiled it in my intro, but let's get into more details. I go crazy for A.L.C.'s bold prints that they usually utilize in multiple styles of garments. Not all the prints are phenomenal, but every single season there is a print that I MUST HAVE for myself or my clients. Right now, their stellar prints are "north sea multi," "sangria multi," and "russet multi" — you'll see them featured in the Shop This Post above.
A.L.C. items and sizes can sell out fast all over the place, so I often google "ALC" plus the new beloved print (example: "ALC north sea multi") and I will be able to see each item made in that print or find that top or dress I must get for a client who is "late to the season."
They also make scrumptious knit tops and dresses. I am still missing a series of chocolate brown ruched knits they made last year, but they do have some great sweater tanks right now, including this gorgeous chocolate brown sweater tank. A.L.C. really knows how to make the right color brown.
The line definitely has a specific vibe, but it has a relatively diverse selection that can please both a minimalist and a maximalist. I dare say just about everyone can find a piece they like from A.L.C. But if I had to provide a short answer to the question "What To Buy From A.L.C.", I would say, you have to buy a printed dress. A bold dress is my favorite thing in the whole wide world. You can see all the Best of A.L.C. clothing right now in the Shop This Post.
Where To Buy A.L.C.
You can buy A.L.C. through their own website or at their stores in LA and New York. The big department stores like Nordstrom, Bloomingdale's, Saks 5th Avenue, Neiman Marcus, and Shopbop all carry A.L.C. And you can find A.L.C. on Rent-the-Runway if you want to get a feel for the brand before splurging on a dress.
Is A.L.C. worth the splurge? Short answer, yes. I have no issue dropping big bucks on quality pieces that I will wear and wear, and that is what A.L.C. makes. And the best pieces of A.L.C. clothing that I personally select will never go out of style. The only issue with an A.L.C. piece, or any investment piece, is if you get bored of clothing quickly, in which case, I recommend buying A.L.C. on sale or using Rent The Runway so you can part with the garments with peace of mind when you tire of them.
If you do buy new knowing you will be over it fast, but want to be more financially responsible, you can always rent it out via Wardrobe.com, or consign it on The Real Real.
Just keep in mind, those A.L.C. items do sell out fast, so if you see an A.L.C. garment that you love don't wait!
Photos by Dayley Photography