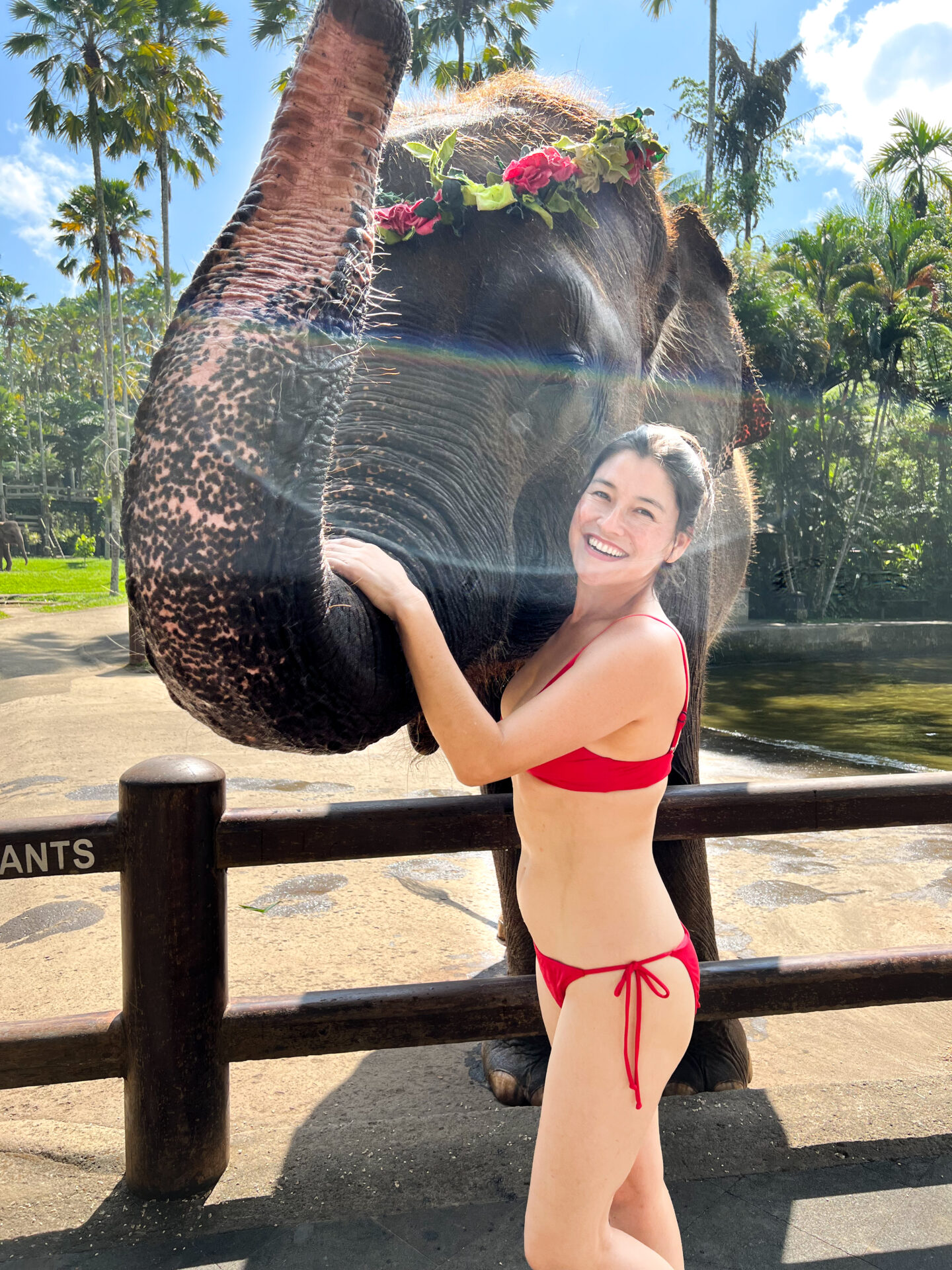 Let's start from the beginning! In 1997, my Dad took me and my little brother to Asia. In Malaysia, we met a fun girl from the Netherlands who was also named Vanessa. She taught me Vanessa means butterfly, which delighted me to no end. At the end of the trip, we exchanged addresses and became pen pals. After I went to college in 2000, we lost touch. In October 2015, I found a stray letter from Vanessa while cleaning out my mom's garage. I believe it was the last letter that was sent between us and I sensed I had left her hanging. I decided to write back despite the 17 years of silence with no realistic hope of her actually getting it. Of course, Vanessa's family no longer lived at that address, but the person who did live there knew where to find her mom. Her mom then took that letter with her to visit Vanessa in Indonesia where she now lives. In April 2016, I received a reply from Vanessa. I actually yelled when I saw her letter with that unmistakable handwriting in the mail. Our correspondence continued and in June 2017, she brought her family to visit me in San Diego. It had been 20 years since we had seen each other, but as they say, it was like no time had passed. I planned to return the visit in 2020, but — you know — the pandemic happened. Finally, in March, Indonesia terminated its quarantine requirements and I booked the trip.
Below are many details about my trip I think you will find valuable. I know this post is titled "What to Pack for Bali," but I also wanted to include tips for how to prepare, what to do there, where to stay, and so much more.  I took an absurd amount of notes during my trip to include as many details as possible, so this post is looong. It's broken down by subhead, so you can click the part most relevant to you to jump there and skip the rest if you want: 
What To Do Before You Leave For Bali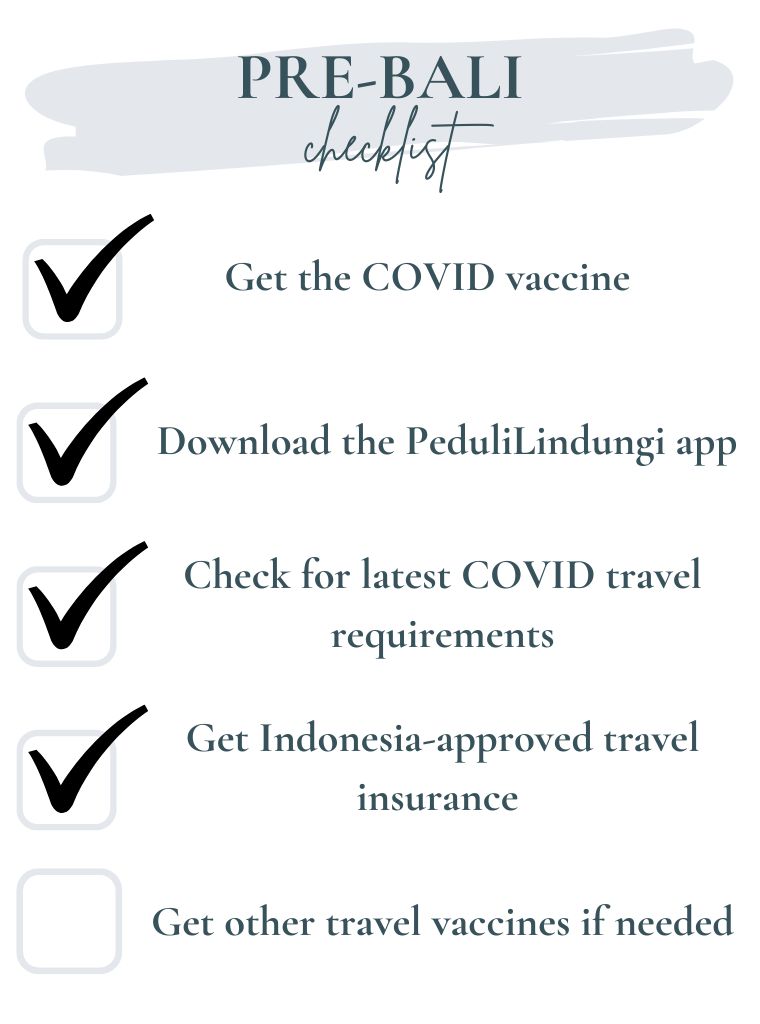 How To Get From San Diego to Bali

It ended up being cheaper and more straightforward for me to fly out of LAX rather than the San Diego Airport. Instead of driving to LAX, I used the train. I had my honey pie drop me off at the Santa Fe Amtrak station about 15 minutes before the Amtrak Surfliner train departed. You want to sit on the left side of the train so you can see the ocean view on the way up to LA. I recommend sitting where the window is expansive (not in between windows with curtains in your way). Each chair has an outlet, a footrest, and a fold-down table for eating and working — just check to make sure these all work before selecting your seat. After you are seated, keep your train ticket handy. An Amtrak employee will ask to see it and then put a little piece of paper above your seat to confirm you've been checked in and no one will bother you for the rest of your ride.
Once you get to Union Station in Los Angeles, go to the right down the tunnel towards the subway. Follow signs for the LAX Flyaway Bus until you see the ticket booth. The bus costs $9.75 and departs every 30 minutes. My bus left promptly at 5:30 pm and arrived at LAX by 6:15 pm. 
Singapore Airlines is at Terminal B at LAX. The line was minimal and everyone working there was super friendly. I did have to show my passport and vaccination card to get my boarding passes. TSA pre-check is located by a different escalator entirely than standard security. I was initially sent in the wrong direction, but it was worth the extra walk because the TSA pre-approved line was way faster than the standard security line. I arrived at my gate over 2 hours before the flight took off and for some reason, many of the stores and restaurants were already closed at 6:30pm. 
Once on the plane, I thoroughly enjoyed my alone time and lack of Internet. I tried buying it so I could work, but it never connected. Not to worry, after I sent a short email to Singapore Airlines about my troubles, I was refunded within 24 hours. I eventually went to sleep at 1 am PST (see below for my comfy plane attire) and was up at 7:30 am PST. 
I had a layover in the Singapore Changi Airport before heading to Jakarta. This would be a similar plane change if you were going to Bali. The security at the Changi airport was a breeze and it took me about 30 minutes to deplane, go through a very simple security station, and get to my next gate.
How To Get A Travel Visa For Bali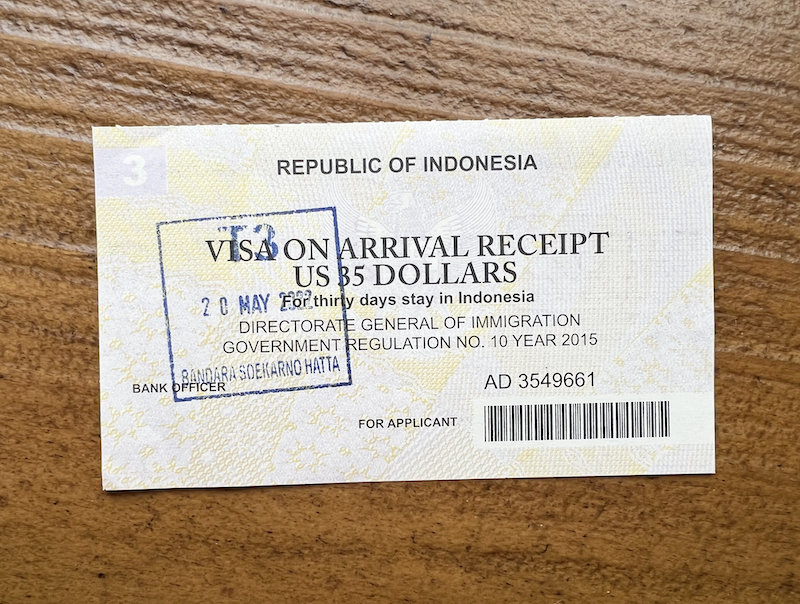 U.S. Citizens need a travel visa for Indonesia, but no stress – there is no need to apply ahead of time. You just get it upon arrival at the airport. After you download the PeduliLindungi app and fail the check-in (well, hopefully, this won't happen to you!), you have to go to wait in a line to show an official your vaccination card. This was very fast and easy.
You then need to wait in line to pay 500,000 rupiahs, which was $36 US dollars for me despite the receipt saying $35. Bring the $36 US dollars in cash, since they do not accept credit cards. Then you have to wait in the actual Visa on Arrival line, which was the only slow line I encountered on this journey. They asked to see my return plane ticket and required proof of travel insurance. You no longer need proof of a negative Covid test. This changed the day I left for the trip, so I had my Covid test proof ready to go despite not needing it. It was all so easy. No one seemed to really care that much about me, compared to the line for locals which was much longer.
How To Get From Bali to San Diego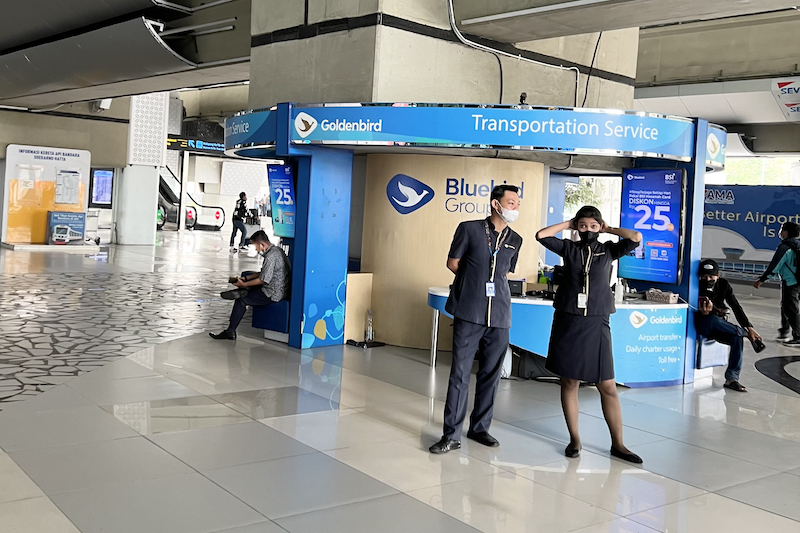 The main taxi cab company in Indonesia is called Bluebird. The service and the drivers are kind, reliable, and affordable. Goldenbird is technically the nicer cab company, but I took both and the only difference I could see was the color of the car and the price. Bluebird is baby blue, Goldenbird is black. The drivers seem exactly the same, and neither spoke English. Maybe I am missing something? Have your hotel call whichever cab you like. Your distance from the airport determines the cost. From Seminyak, it was about 150,000 rupiahs. From Ubud, the cost is about 250,000 rupiahs. They only accept rupiah cash, so have that ready.
Once at Denpasar Bali, Ngurah Rai Intl, checking our bags was super easy. That was followed by two easy rounds of security. There wasn't a place to purchase water or snacks once we were past the second security though, so don't arrive hungry or thirsty. The gate is also not obvious if you are early. When it's time to board, they have portable signs they break out for the order of boarding the plane. It was about a 3-hour flight to Singapore, followed by a 3-hour layover before boarding our 16-hour flight back to the states.
Since we arrived at LAX in the evening, I booked a United Airlines flight back to San Diego instead of taking the Surfliner. The walk from Singapore Airlines to the United flight was painful with 1 roller, 1 duffle bag, and my heavy carry-on tote bag. I recommend finding a shuttle to get there if you don't want the sweaty pain of lugging your baggage.
I arrived at customs where I had arranged to do a Global Entry interview upon arrival back in the country. It took a little extra time, but I'm happy that I got that done. I selected this option because the wait for a Global Entry interview in most major cities is about a year right now. Between waiting in line for re-entry into the country, waiting in line for the global entry interview, and walking from Singapore airlines to United Airlines, I had just enough time to grab and eat a sandwich before boarding my plane to San Diego. I am delighted with how perfectly I planned the entire trip. It was practically flawless from beginning to end.
Note: You do not need Global Entry for a trip to Bali. Global Entry is a way to expedite re-entering the country if you travel internationally often, which I plan on doing now that the pandemic is entering the endemic phase.
What To Wear On A Long Flight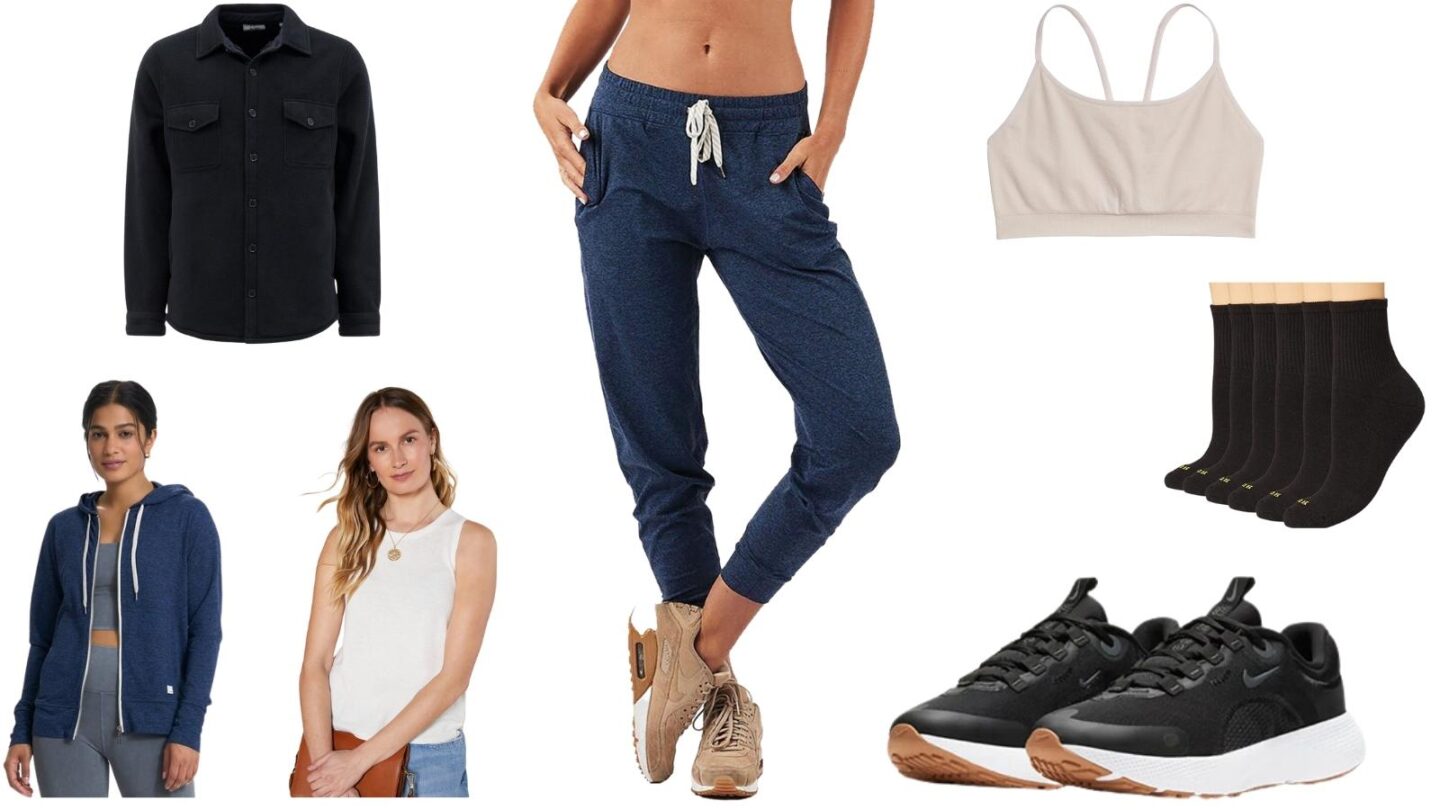 Total travel time to Indonesia is about 25 hours so you need to dress comfortably and wear layers for temperature changes. Here is what I wore on the plane that was absolute perfection…
Items for the long flight that I couldn't live without:
What To Pack For Bali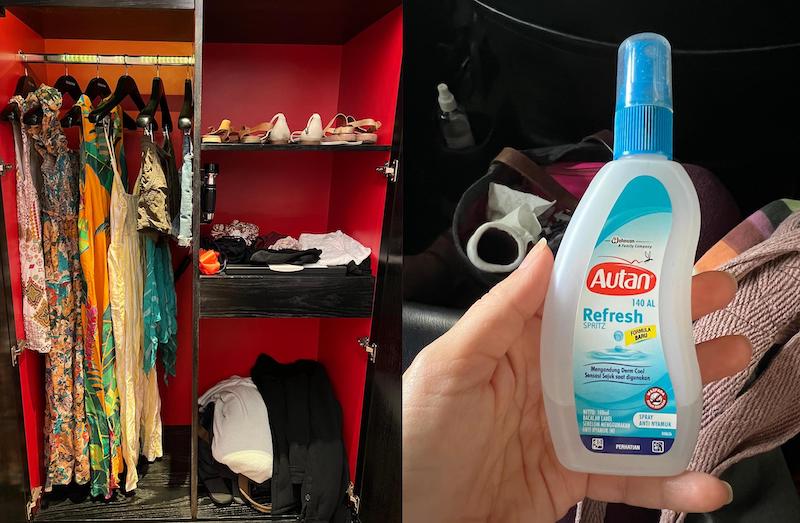 Bali (and Jakarta) are humid and hot. And humid. Did I mention the humidity? We experienced mostly comfortably warm temperatures and overcast weather, but the moisture was still prevalent. It's all about those soft, thin, and breezy fabrics. Think rayon. Think linen. Think wicking. Denim is gross. I packed a denim jacket and denim shorts for the trip and just looking at them grossed me out. What a waste of precious luggage space. I also packed an underwire bra — ew. Only bralettes make sense here. Do not pack lace bras, or lace anything really. Here are the items I packed that were perfect for the trip…
What To Pack For Bali – Accessories:
What To Pack For Bali – Sandals:
What To Pack For Bali – Dresses + Jumpsuits:
What To Pack For Bali – Tops:
What To Pack For Bali – Bottoms:
What To Pack For Bali – Undergarments:
What To Pack For Bali – Swimsuits:
Things I packed that I didn't use:
What To Do In Jakarta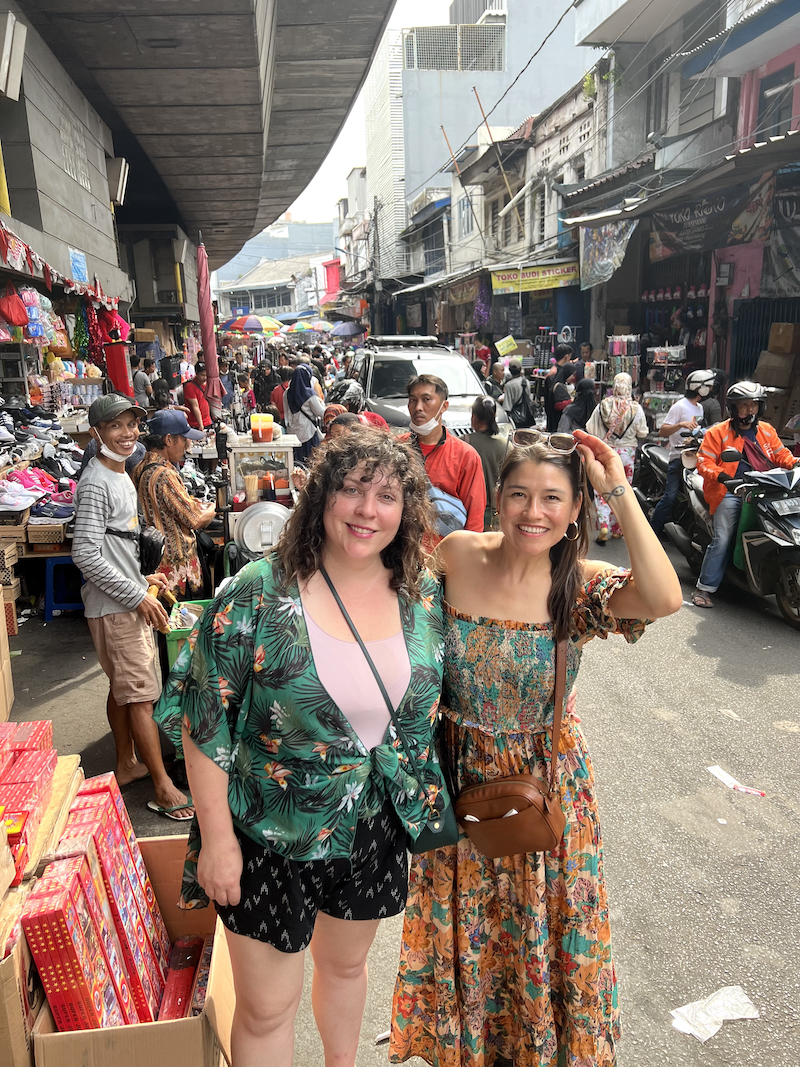 Jakarta is where my pen pal lives and I thoroughly enjoyed seeing her way of life and learning about the culture. But I don't think any of you need to plan a jaunt there unless you have a similar incentive for going. More than 10 million people reside in Jakarta and it's famous for its traffic, air-conditioned malls, flip-flops, and babies riding dangerously on scooters.
With that said, I enjoyed myself thoroughly and had one of the best adventures of my life at the Taman Safari Bogor, two hours outside Jakarta (three hours with traffic). And the narrow drive through the mountains is part of the adventure! Bring small value change and dollars to tip the men in the streets directing traffic. Just stick your hand out the window and hand it to them. This is completely optional, but a fun cultural experience, and much-needed money for the residents.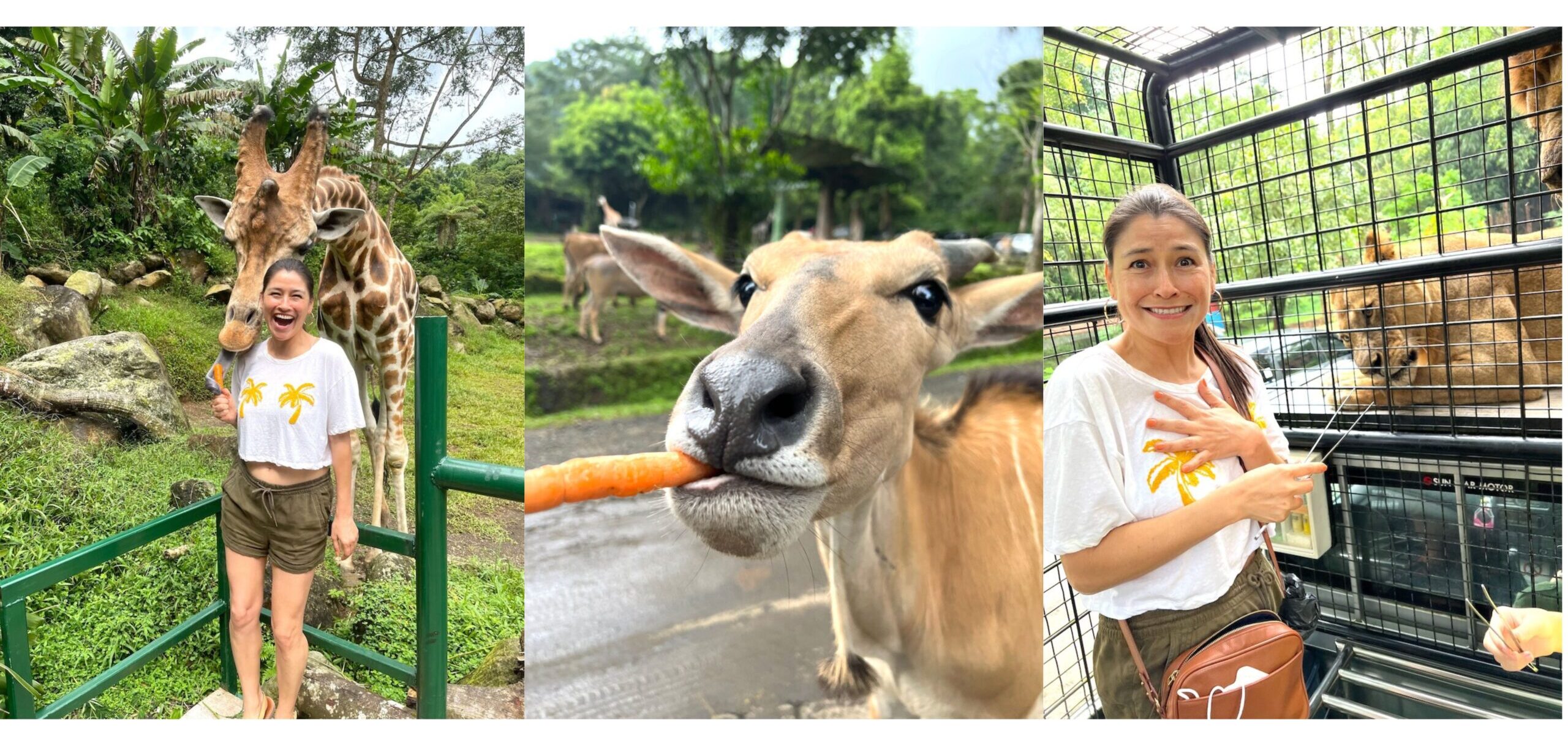 Before getting to the park entrance you will start to see stands of folks selling carrots. This goes on for quite a bit, so wait until the halfway point or towards the end to purchase at least 10 bushels of carrots.  You get to feed these carrots to elephants, antelopes, camels, llamas, deer, bison, giraffes, and more once you are inside the park. It was one of the most incredible experiences of my life. And for just 25,000 rupiahs ($15) you can be put in a cage and driven out to the lions' expansive area where you can get up close and feed these gorgeous predators. Check out my Instagram highlight titled "Indonesia" to see what that was like. The park also has one of the most diverse aviaries. I can keep going on! I didn't even see half the park and I had been soaked to the soul with incredible experiences to last me a lifetime. Plus, my jet lag kicked in and I had to call it a day after four hours there.  
I should note, you must have a car to do this adventure. You get to drive through the park. So either rent a car for this or go with a local friend. I did see some tourist buses, but I can't imagine that would be as amazing as leaning out a smaller car window to feed the animals. If you can, get a car with a sunroof.
What To Do In Bali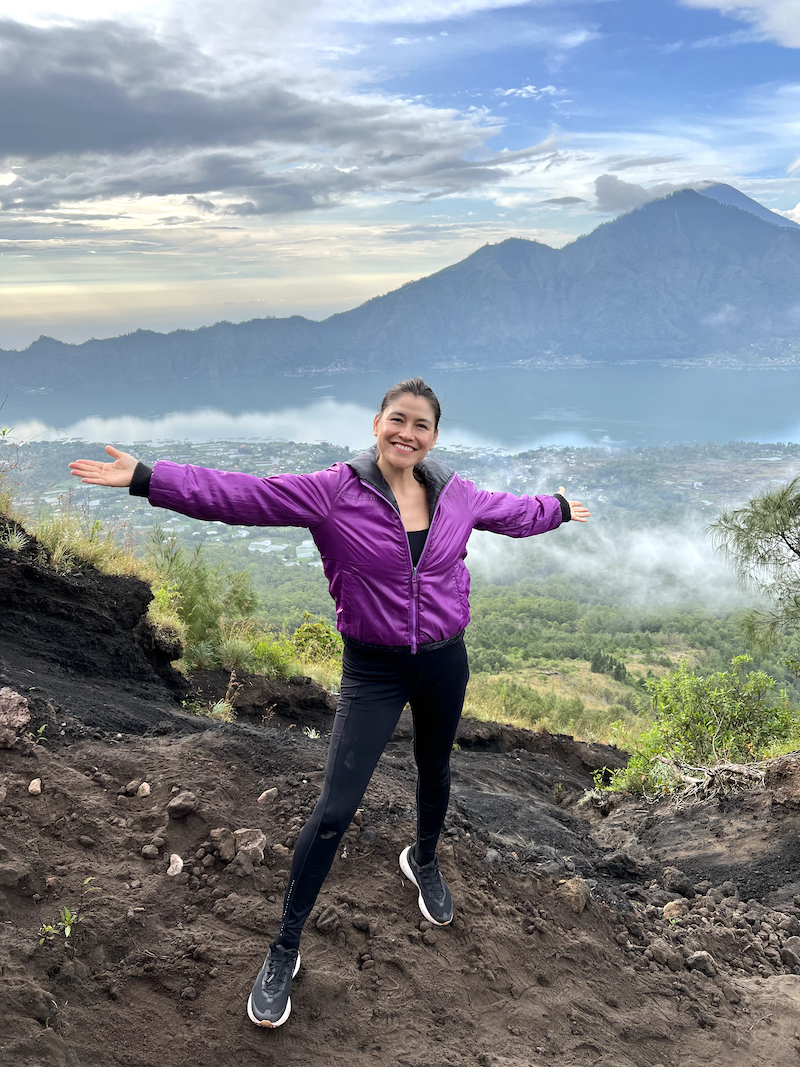 Balinese culture is one of the most amiable cultures I have ever experienced. Bali is also so much bigger than you think. And the winding roads are not meant for quick travel. Given the long flight and the time it takes to get around once there, I recommend staying in Bali for at least two weeks if you can. 
Definitely stay in Ubud and hire a driver for a day or two, or more. I highly recommend and trust the quiet and respectful Denik Astawan (denikastawan@gmail.com). We hired him for two days. Each day we paid 500,000 rupiahs, plus we tipped him an extra 50,000 each day. Below you'll see the excursions we did from Ubud.
Visit Tegallalang Rice Terrace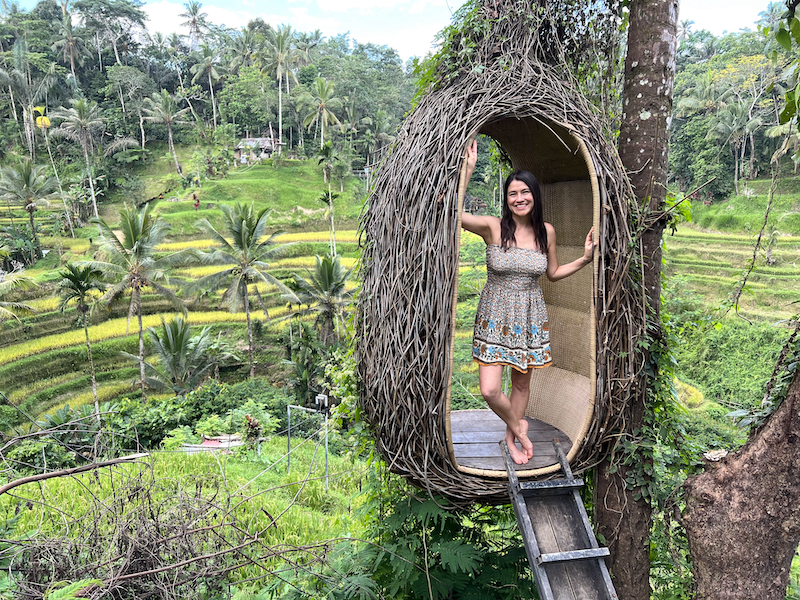 This is a spectacular terraced hillside with rice paddies. It costs 10,000 rupiah cash to enter (60 US cents). If you like to hike, get ready! If not, you can just walk around the top level in sandals and enjoy the sights. On your walk, try to find and chat with the charming farmer there, Baliajer, who manages and farms the rice paddies. You also MUST do the zipline for 300,000 rupiahs. And don't forget they have some great swings that you can pay to have your picture taken in. In my opinion, these swings are better for a photo opportunity than the famous Bali swing that seems to have taken over Instagram.
Note: We did pop by the famous Bali swing and it was overcrowded and touristy. We didn't even do it. We were haggard from our earlier adventures and unaware it was a professional photo opportunity. We were in no shape to have our image captured and it cost 300,000 rupiahs for 5 minutes of swinging — it just wasn't our scene.
Hike Mount Batur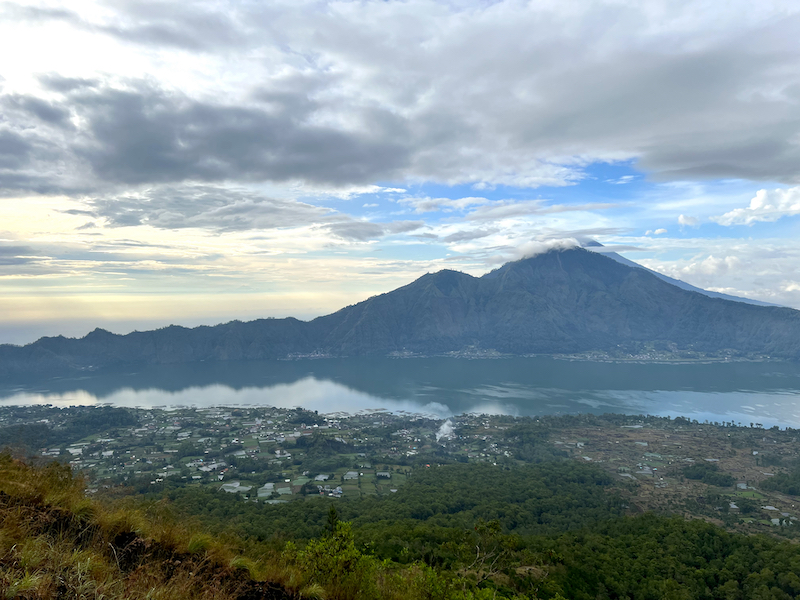 Mount Batur is a steep volcano you can hike with a sensational view. The front desk gentleman at my hotel said the sunrise trek is the best thing to do in Bali, and I agree! He is the one who arranged this excursion for me, so unfortunately I can't recall the company I used, but I imagine all the companies and guides are good because it's Bali and that's just how it goes.
I paid rupiah cash when they picked me up in their van at the hotel at 2:10 am. We picked up a few others and then we were given a banana crepe — at least I think it was a crepe — as our complimentary breakfast. They then gave us snacks when we arrived at the base of the hike. The snacks consisted of a single slice of white bread, a hard-boiled egg, and a Bali banana (these are the best bananas I have ever had). I found the collection of food so weird that I stared at it too long saying nothing, and the guide asked me if I was alright. I said yes and asked what I was supposed to do with this food, simply out of curiosity since it was too early for me to understand how to be polite. He said I could eat it now, or at the top of the mountain. It turned out to be a much needed and enjoyed snack.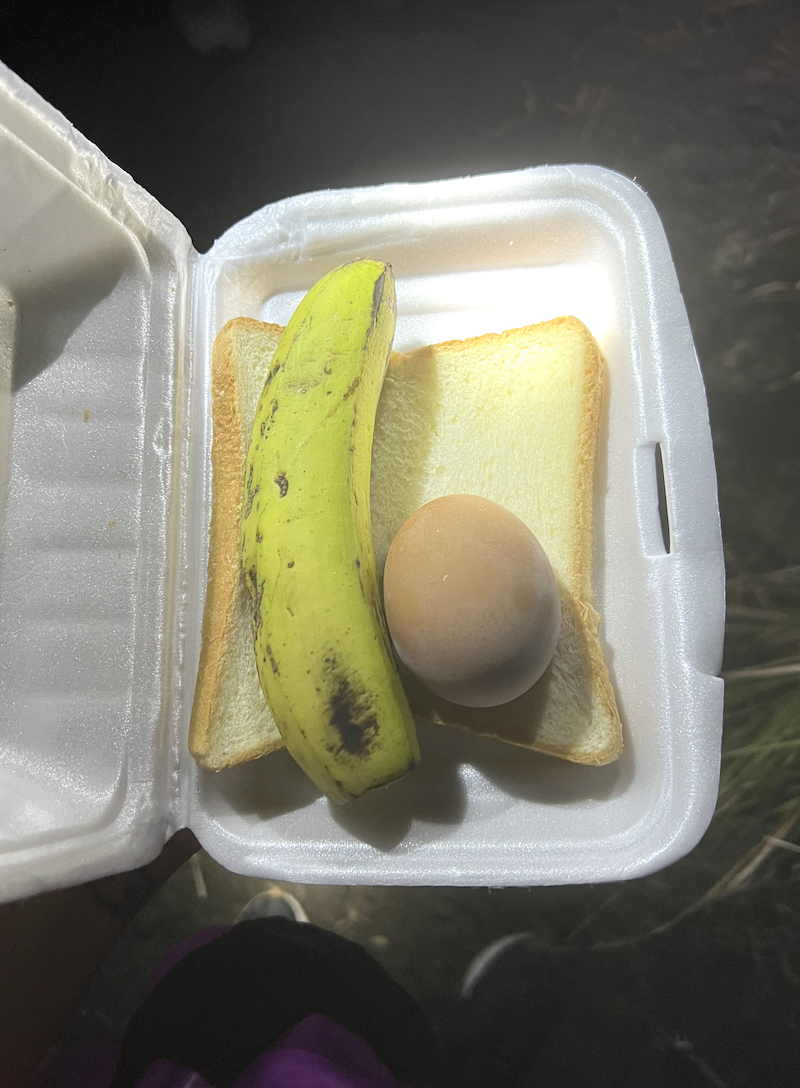 There are reviews of this sunrise hike that say it is not that busy. I would disagree. Although Bali was noticeably half-empty on my visit having just opened up post-pandemic, it seemed everyone on the island was hiking this mountain the morning I went. I felt like I was at a rave at one point with all those flashlights shaking up the mountain path.
I hike pretty regularly and this sunrise hike was one of the most strenuous hikes of my life. And I wasn't the only one who was surprised by the difficulty. Someone was openly weeping at one point, a few people got left behind, and at least one man took a tumble that cut up his arm pretty badly. The terrain was rough and often crumbling. It was also steep. And dark. You couldn't look away for a second it seemed. I stumbled a few times myself.
Overall though, it was a highlight of my trip for sure. It tested me physically and emotionally, I met some new friends (not one other American), chatted with the local guides, and enjoyed the best view on the island.
If you do decide to Hike Mount Batur, here's what you should bring:
A jacket: It's cold in the morning at the top of the mountain, but you also need a jacket that ties easily around your waist when it gets warm during strenuous hiking portions. I ended up renting a jacket from a woman for 50,000 rupiahs ($3) at the base of the mountain when I arrived. Her small business was renting unwashed jackets to silly beans like me who had no idea I was going to hike a volcano at 4 am on my trip. It was actually colder at the base of the mountain than at the top, but I was glad I had that jacket many times. Besides my germaphobia at wearing a random, used jacket that was rented to me in the dark in a dirt field, I actually thought later that I was glad I had rented the jacket instead of packing and dealing with a puffer jacket in my suitcase.
A headlamp: This would have been amazing to have. Some companies that do this sunrise hike provide a headlamp, but mine did not.
Extra snacks: If a slice of white bread and a hard-boiled egg is not enough for you…
Sneakers with some good grip
Get Massages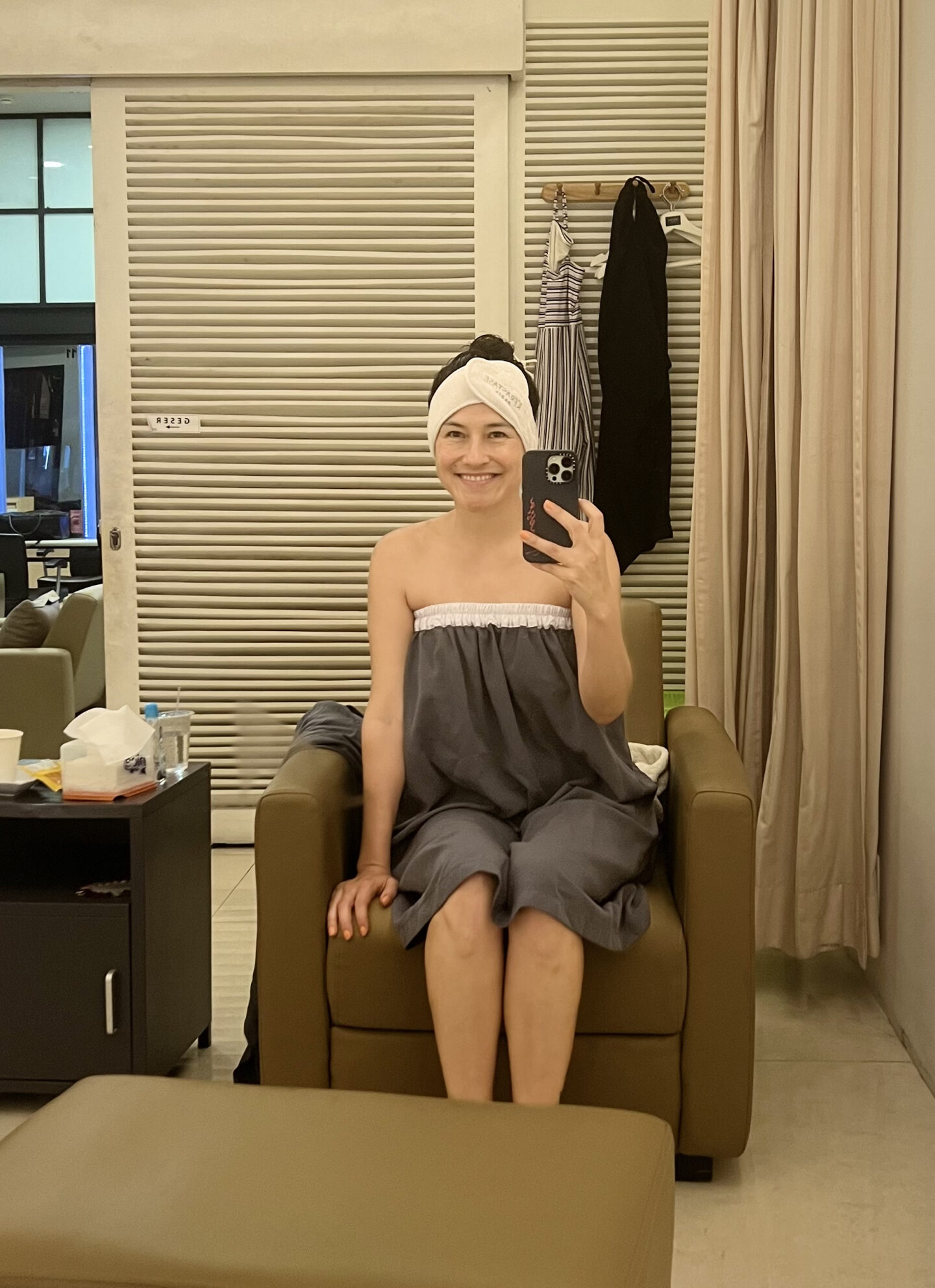 Massages are everywhere in Bali and I got at least three on the trip. I had both expensive ones where the masseuse comes to your hotel and cheaper ones in the salons that speckle the main streets. I couldn't tell that much of a difference. The hotel masseuse was about 500,000 rupiahs, while the cheap ones were around 150,000 rupiahs. A traditional Balinese massage is very hard and can be painful if you are sensitive like me, so let them know if you want a "medium" massage instead. Or ask for the Swedish massage if they offer it, which is basically a softer Balinese massage. 
As for other spa services, while the $10 massages are similar to the $30 massages, cream hair baths and body scrubs are not created equally. I had a fantastic experience getting a cream hair bath at a salon in a mall in Jakarta, so I recommended my friend get a cream bath at a low-cost "street" salon vouched for by a nice man who worked at our hotel. The woman ended up ripping out a good portion of my friend's hair. At the same salon, I got a body scrub that gave me hives. We received fantastic massages from this salon earlier, so the lesson is: massages are basically good everywhere, but go to the well-rated, reputable establishments for hair, skin, and face services.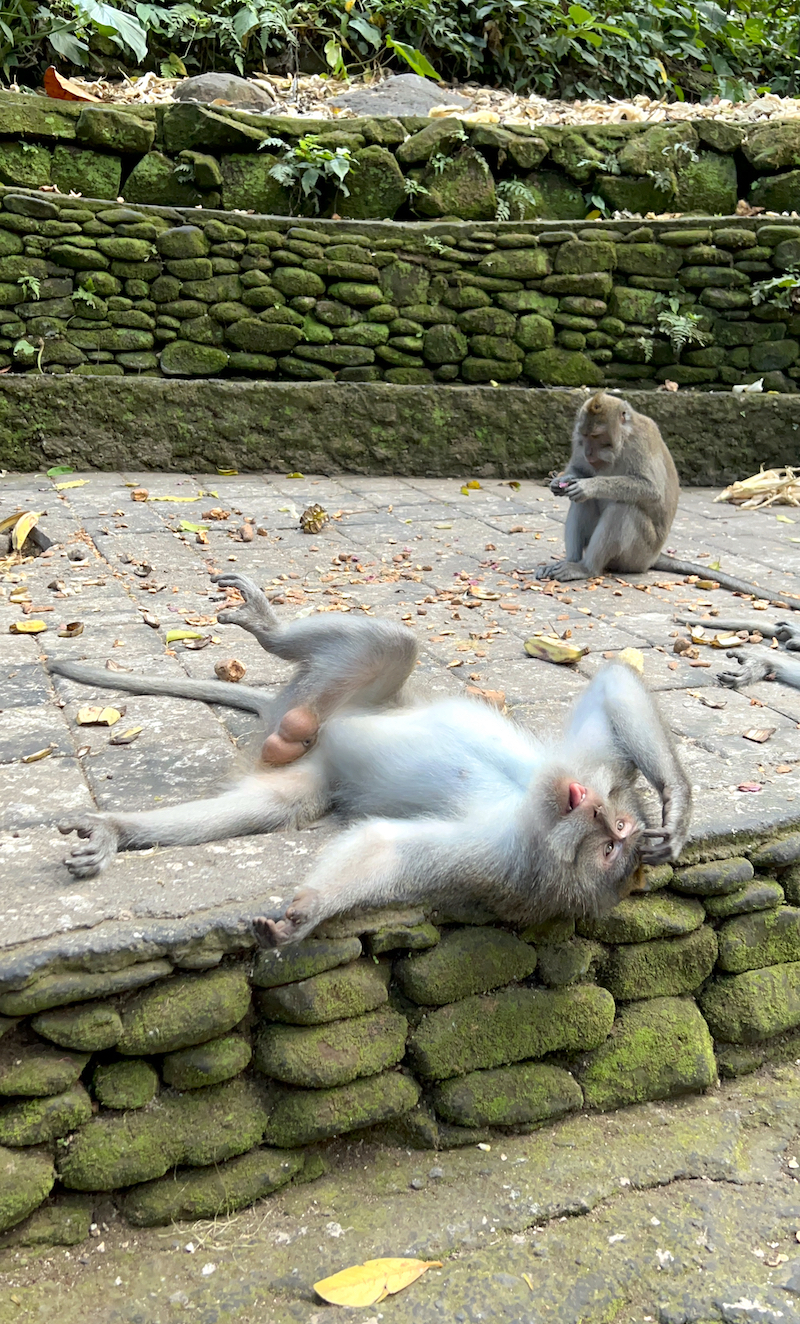 Our hotel was practically next door to the Monkey Forest so we actually got to see tons monkeys in the streets. Apparently, pre-pandemic the monkeys would not leave the forest, but the lack of crowds during the pandemic inspired them to explore their neighborhood and they continue to enjoy this perusal despite humans coming back. I felt like I got the monkey forest experience without having to go to the monkey forest, so I personally could have skipped the actual forest. But if you're not staying next to the monkey forest and you haven't gotten to interact with any of these adorable and delightful monkeys, then you should definitely go. The Monkey Forest takes credit card and is great for walking around and feeding monkeys with the appropriate provided food.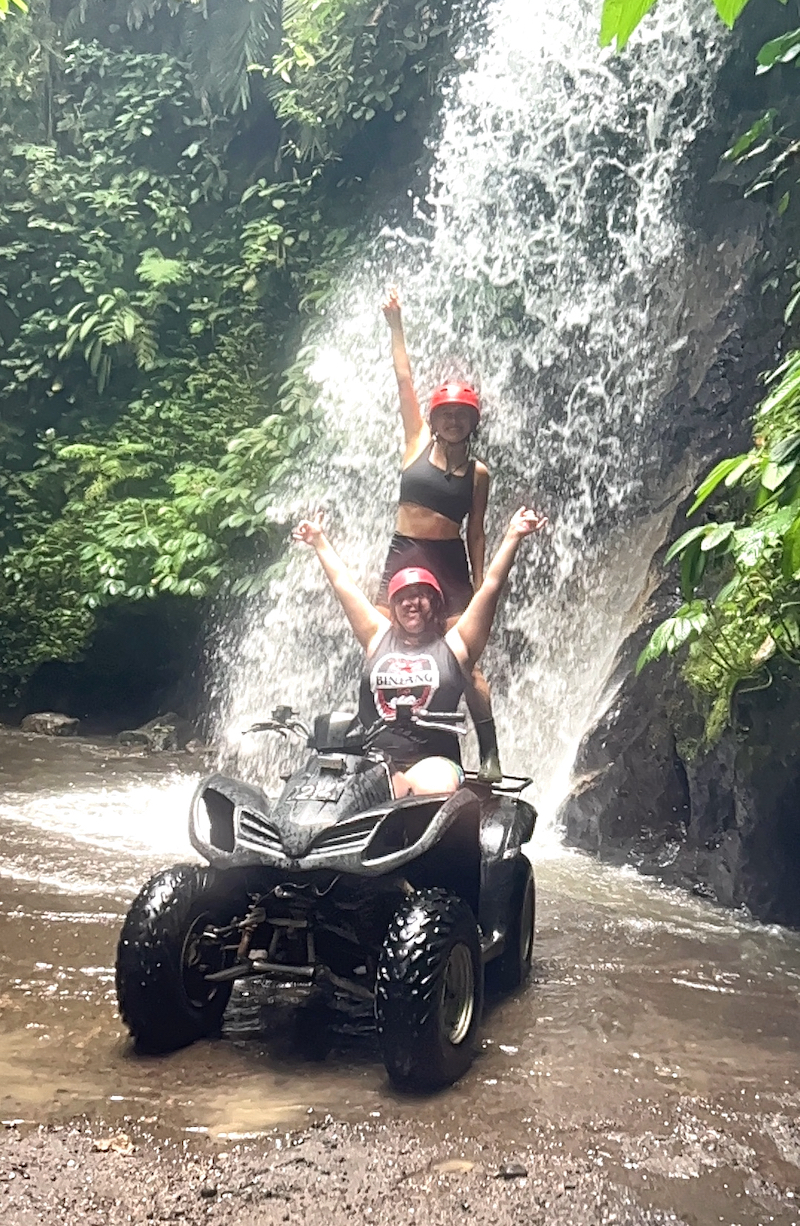 This was our favorite thing we did in Bali. Like most things in Bali, this is not your average ATV experience. We went through caves, we went through waterfalls, we went through the jungle. And once again someone hurt themselves — a gal fell off her ATV because the trail was so steep and curvy. Do not do this unless you are an active and brave person.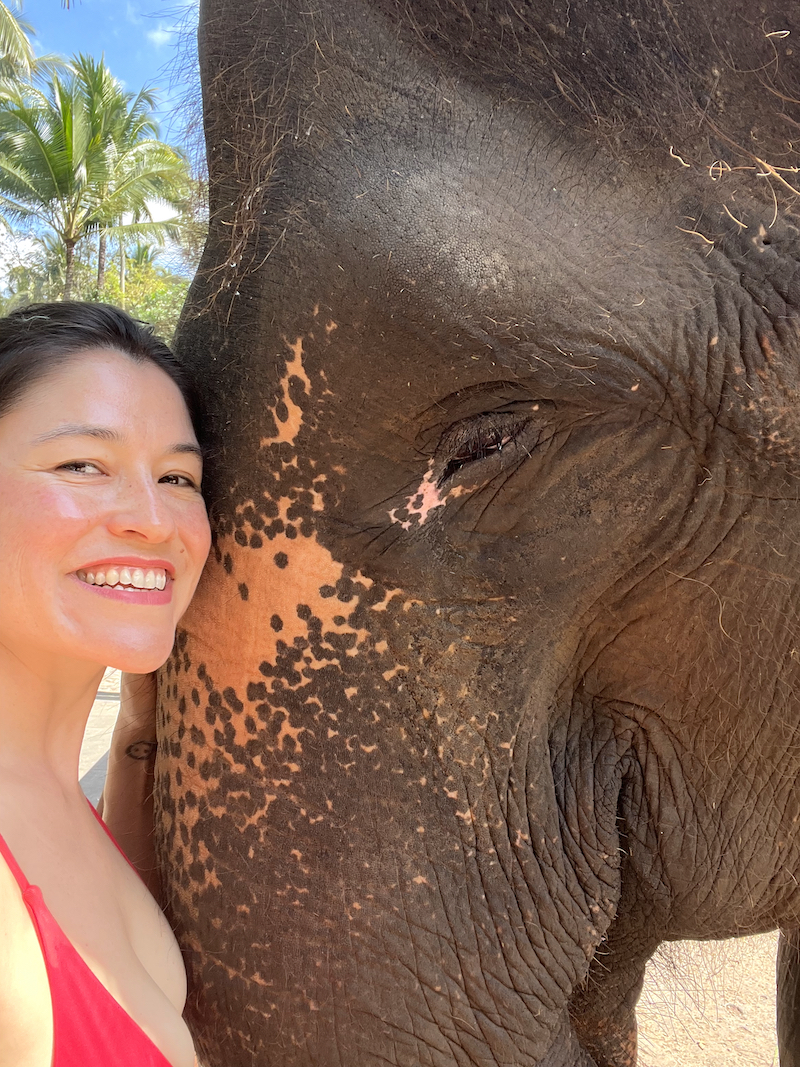 This is a must. Founded in 1997 and set within the misty hinterlands of Ubud, the Mason Elephant Park was created in response to Sumatra's deforestation and poaching of the native elephant population. Their award-winning park is Bali's only dedicated elephant rescue facility. It's home to 32 critically-endangered Sumatran elephants, six of which were born naturally there. Apparently, elephants only breed naturally when they are comfortable and happy, but that's just what I read. Definitely pay to either wash the elephant or take a ride on it, but you don't need to do both in my opinion. This was another incredible experience that blew me away. Keep in mind, if you ride the elephant in the lake, you are literally swimming in elephant shit. I thoroughly enjoyed this experience, but I don't think a lot of you would.
If you like drinking in a pool while overlooking the ocean among a lovely, diverse community of partiers, you must go. We got a locker to store all of our items, including our shoes, and then just had many, many drinks in the pool while chatting with wonderful humans. I ended up getting hives on my legs from the hours of being in chlorine (I am allergic to choline), but every time I scratched my legs, I would say out loud, "Worth it."
Take A Surfing Lesson
I didn't actually do this, but wished I had. There were vendors lined up on Seminyak Beach right outside our hotel and the waves were perfect for a beginner surfer. Plus, the water is a refreshing temperature. The only negative was the plastic pollution on this beach. Every five feet or so there was some sort of plastic speck or large plastic bag. I literally had plastic touch me while I swam in the ocean. I was pretty horrified. 
Where To Stay In Bali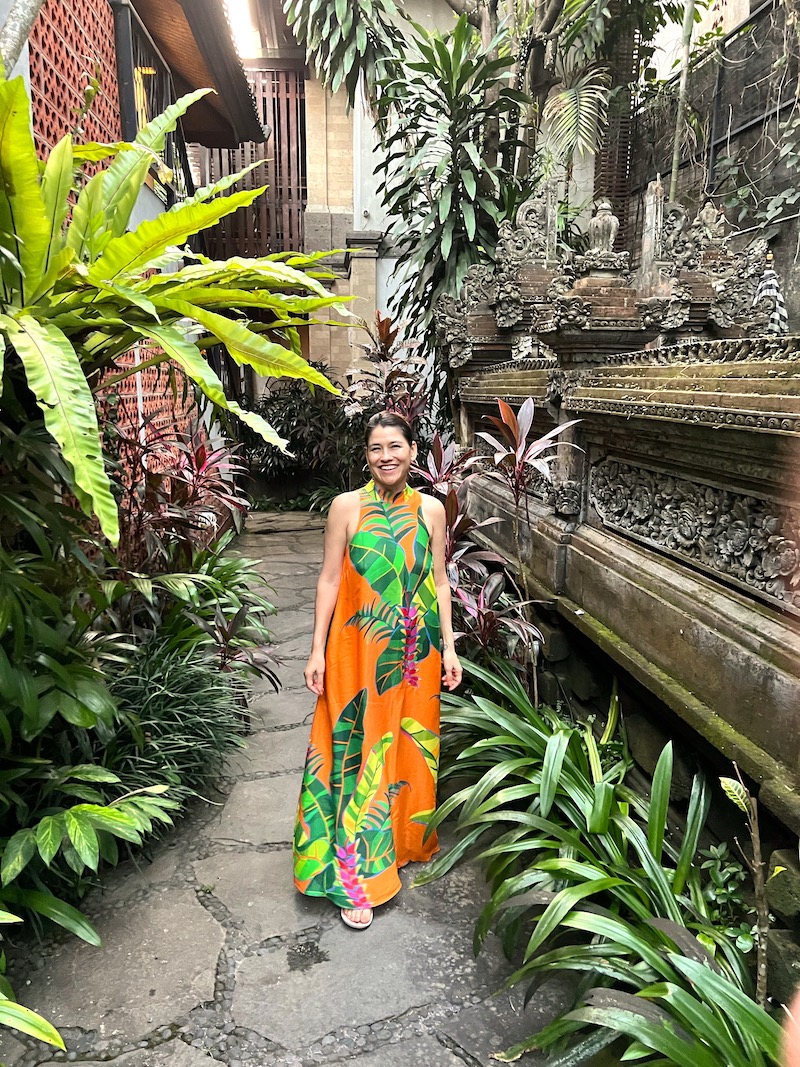 Where To Stay In Ubud
We stayed in Ubud for two nights, but took full advantage of our arrival and departure days, so it felt like we were there for four days. We stayed at the Adiwana Monkey Forest Hotel. It's a very small boutique hotel with incredible service, a stylish ambiance, and a delightful breakfast in the morning. It had a small room for massages and a small wading pool we never actually went into. It was perfect for what we needed: a place to rest after our daily adventures. And the fact that it is located right by shops, restaurants, and the Monkey Forest made it the perfect place to stay from my perspective. I talked to some other folks who stayed in more remote places, and although everywhere you stay has its charm, they did wish they were within walking distance to more things.
Where To Stay In Seminyak
We stayed in Seminyak for four nights at the Double-Six Luxury Hotel. I cannot rave enough about this stylish, luxurious establishment. The service, the view, the aesthetics, and the complimentary breakfast feast were phenomenal. The pool and cocktails were also divine. The location is wonderful for casual beach bars, beach runs, and surf lessons. But we were so pooped from our Ubud adventures and so impressed with the luxury of our hotel, that we spent most of our time there.
Tips For Traveling In Bali & Jakarta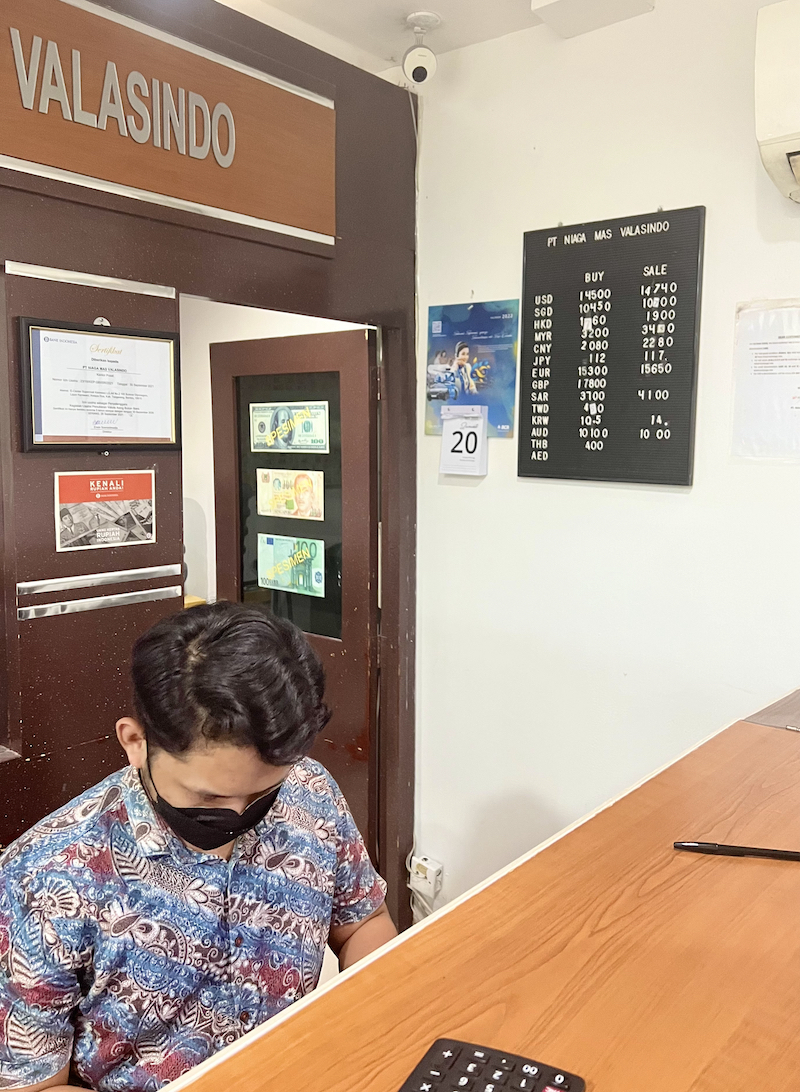 You have to pay rupiah cash almost everywhere you go in Bali. There are very few places that accept credit card. On that note, I

wish I had exchanged all my money in the mall in Jakarta when I had the chance at the rate of 14.5. The exchange rate dropped from there, and Bali is famous for money changers with "magic fingers." And the money changers that are reliable had a less beneficial exchange rate compared to the mall in Jakarta. The rate got as low as 13.9 when I left Bali. A local recommended only changing money at locations with doors that have CCTVs, as you can see in the picture above. Do not go to those flimsy Money Changer stands that are prevalent all around Bali.

You must have bug spray!!! Do not ever go outside without bug spray. The CDC recommends putting it on after sunscreen, which I followed to a T. I ended up with only four bug bites by the end of the trip, each on parts of my body I knew I had missed. I highly recommend using Autan Refresh Spritz by Johnson and Johnson, also known as "Spray anti-nyamuk." You can get this at most convenience stores and every pharmacy in Indonesia.

No pants or shorts are allowed in temples. Everyone had to wear a skirt or sarong, including the men. 

Handwashing items while traveling in Indonesia can be difficult. The air conditioning indoors can be too cold for items to dry, while the humidity outside can be too wet to dry items. Make sure you give items ample time to dry or use a dryer/iron.

You cannot drink the tap water, so get large bottles of water from a mini-mart or grocery as soon as possible. I even brushed my teeth with bottled water to ensure no health ailments, so we were constantly looking for enough water throughout the trip. 

Every family house and every hotel has its own temple. Every store and home also puts out daily offerings that you need to step over and make sure you don't trample.
Indonesia LOVES its malls. Why? The air conditioning. The main mall in Jakarta is beautiful and stylish with traditional dresses and exotic prints and fabrics available for sale. It's worth popping into one for some shopping and respite from the heat.