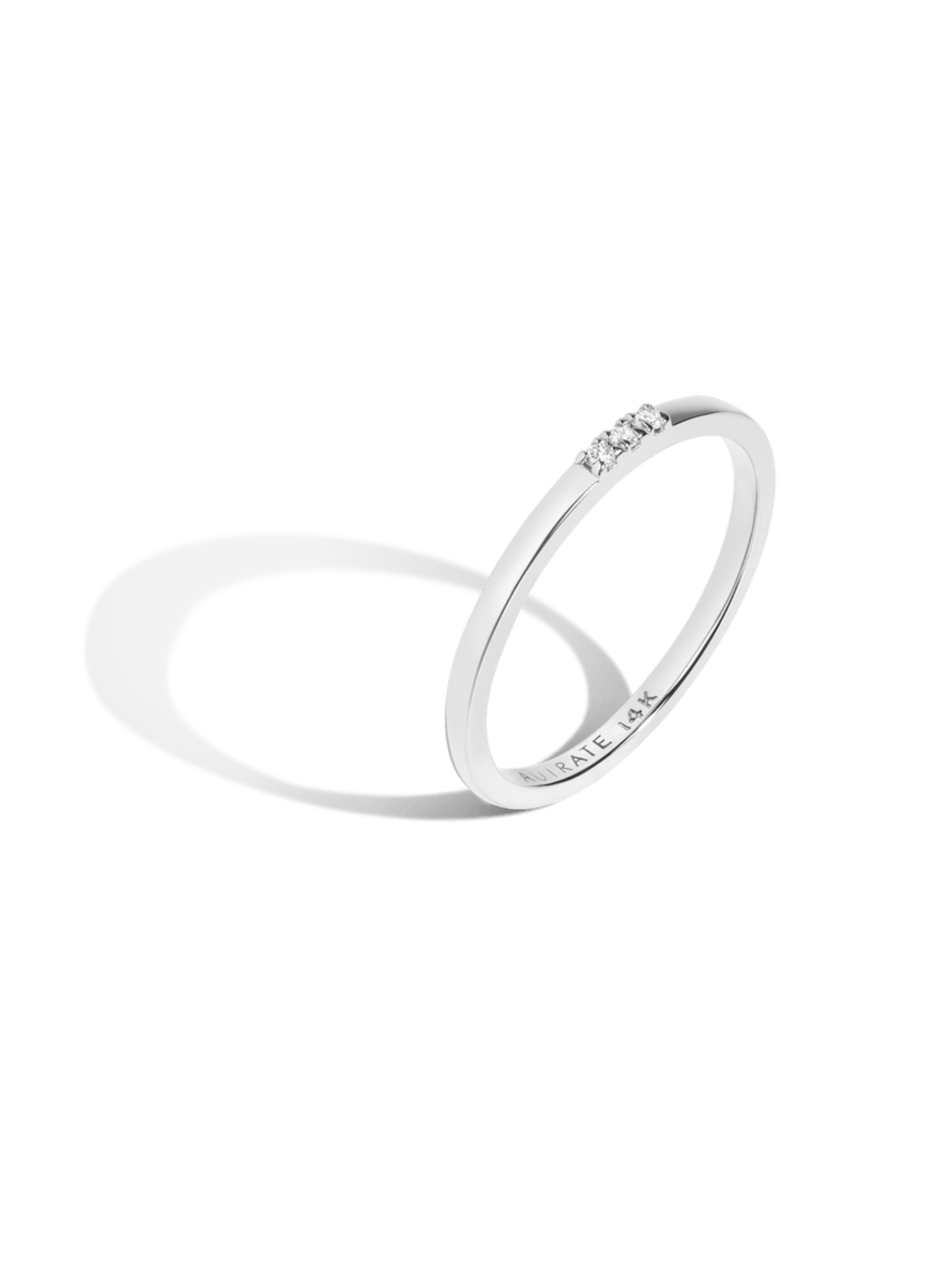 Silver stacking rings need a moment of attention too. Yellow gold is obviously more popular, but many outfits require a silver cluster, and a lot of folks are lacking when it comes to silver rings. But it's not your fault. Stores are not providing plentiful options of silver-colored or white-gold stacking rings. Sometimes it feels like I am actually mining for precious metals to find Vanessa-Approved options. Obviously, that is what I am here for, and it is my pleasure to mine the stores for you. Scroll down past my ramblings for the best white gold and silver stacking rings to complement your silver earrings, necklaces, and bracelets.
White Gold vs Silver Stacking Rings
White gold and silver are both popular choices for stacking rings. Though similar in color, they do have some key differences. Here's what to keep in mind if you're trying to decide between purchasing white gold or silver stacking rings:
Composition: White gold is created by combining pure gold with other metals such as silver, nickel, and palladium. The addition of these other metals is what gives white gold its silvery hue. Silver stacking rings, on the other hand, are usually made from sterling silver, which is an alloy containing 92.5% silver and 7.5% other metals like copper.
Color and Appearance: White gold has a bright, silvery-white color with a subtle hint of yellow due to its gold content. It often undergoes a rhodium plating process to make it whiter and shinier. Meanwhile, silver has a naturally bright and shiny appearance, but it tends to tarnish over time. Regularly wearing and cleaning your sterling silver can help maintain its shine.
Durability and Maintenance: White gold is more durable than silver. The addition of other metals in the alloy improves its strength and makes it more resistant to scratches and wear. But over time, the rhodium plating on white gold may wear off, and you'll need to get it re-plated to maintain its appearance. Silver is softer and more prone to scratches and dents, but it can be easily polished to remove minor imperfections.
Price: White gold tends to be more expensive than silver because silver is much more abundant than gold, making it more affordable.
Allergies: Some individuals may have allergies or sensitivities to certain metals. Nickel, which is commonly used in white gold alloys, can cause allergic reactions in some people. If you have a nickel allergy, you may need to opt for nickel-free white gold or consider sterling silver, which is generally hypoallergenic.
How To Wear Silver Stacking Rings
Ultimately, the choice between white gold and silver stacking rings depends on the items you are pairing your silver stacking rings with. If you have a white gold wedding ring and earrings, then you want white gold stacking rings, which brings me to my tips on how to wear silver stacking rings.
Always pair your silver stacking rings with other jewelry of a similar tone and texture.
You can mix silver stacking rings of different textures if they are the same color.
Don't mix different-colored silver rings together. The exception to this is if you're wearing a jewelry piece that mixes different shades of silver. Then you can stack silver rings of different shades if they are featured in that piece.
If you wear a gold wedding ring, wear the silver stacking rings on the opposite hand.
You can stack your silver rings across all your fingers or divide multiple rings between only two fingers. There are no real rules for stacking — just stack away however you prefer.
For tips on how to wear silver and gold stacking rings together see my post on How To Wear Silver And Gold Rings Together. 
How To Care For Your Silver Stacking Rings
When purchasing silver stacking rings, it's important to consider the quality of the metal. Sterling silver, composed of 92.5% pure silver and 7.5% other metals, is the most common alloy used in jewelry making. Care for your silver stacking rings by avoiding exposure to harsh chemicals and storing them properly to prevent tarnishing. If the jewelry cluster you're creating is made from sterling silver, make sure you have a jewelry cleaning cloth to prevent patina that happens over time. Ironically, regularly wearing your sterling silver will help keep it from tarnishing more than storing it away for special occasions — ladies, this is your sign to break out your silver rings more regularly!
Aurate Diamond Stacking Ring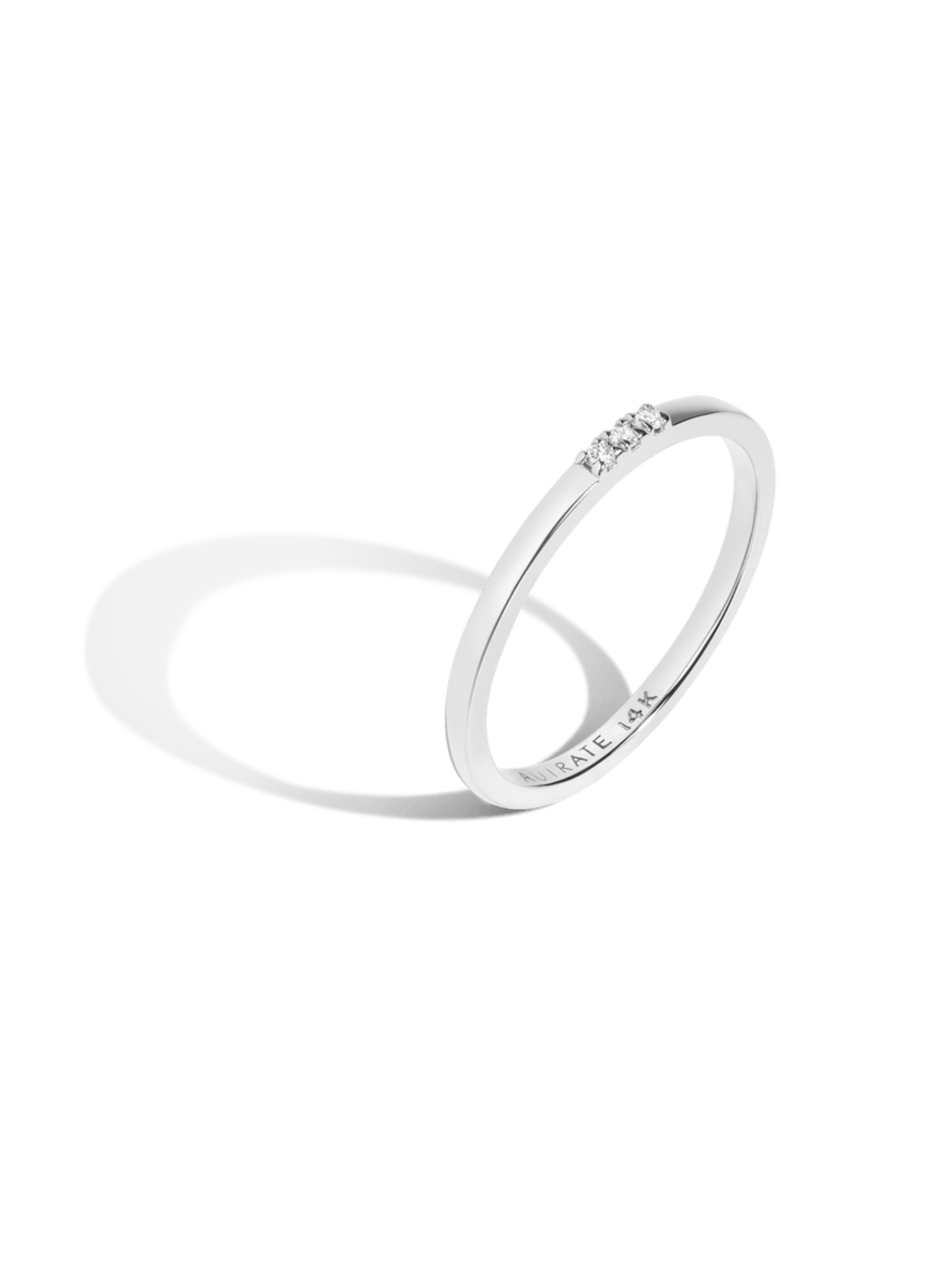 This is my favorite white gold stacking ring of all time. It is absolutely beautiful.
Metal Content: 14k and 18k solid recycled gold and natural diamonds
Pair with: Aurate paperclip necklace ($150)
Aurate Stackable Ring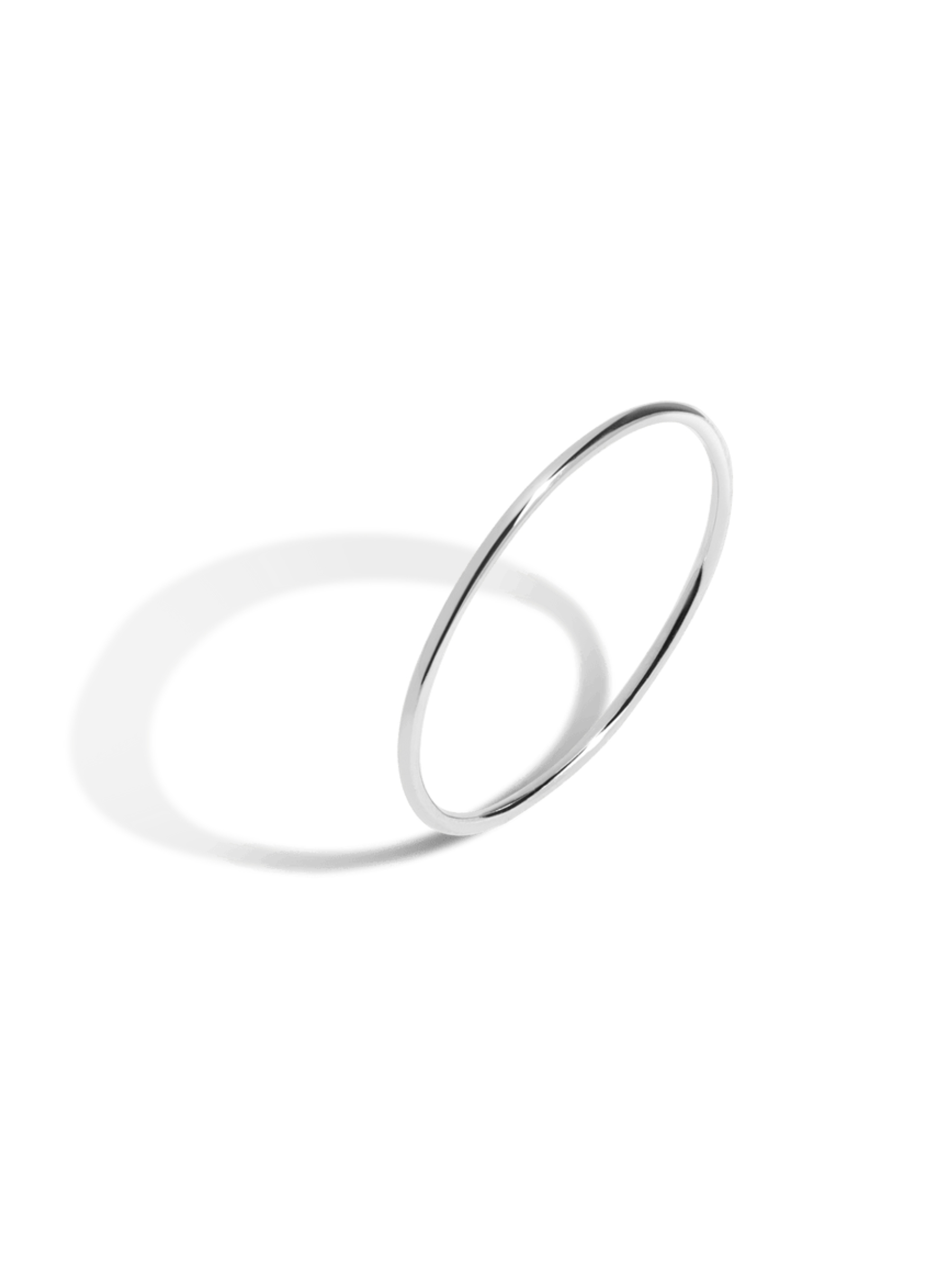 Metal Content: 14k and 18k recycled solid gold
Nadri Pave the Way Stacking Rings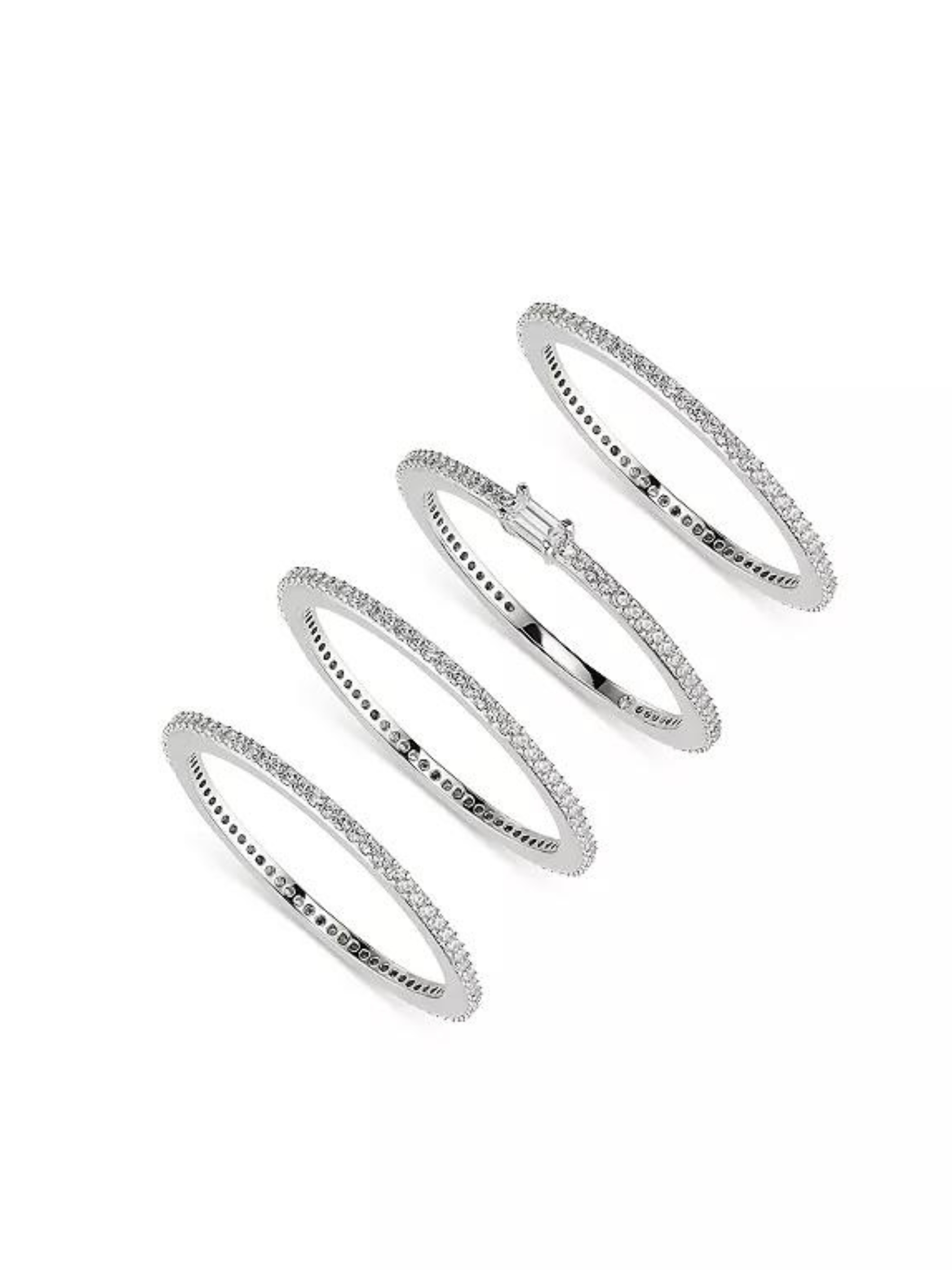 These stacking rings are available at Bloomingdale's and Nordstrom.
Metal Content: Rhodium-plated brass; cubic zirconia
Pair with: Miranda Frye bracelet ($116) and Aqua necklace ($115 $86.25)
Madewell Delicate Collection Demi-Fine Skinny Ring Set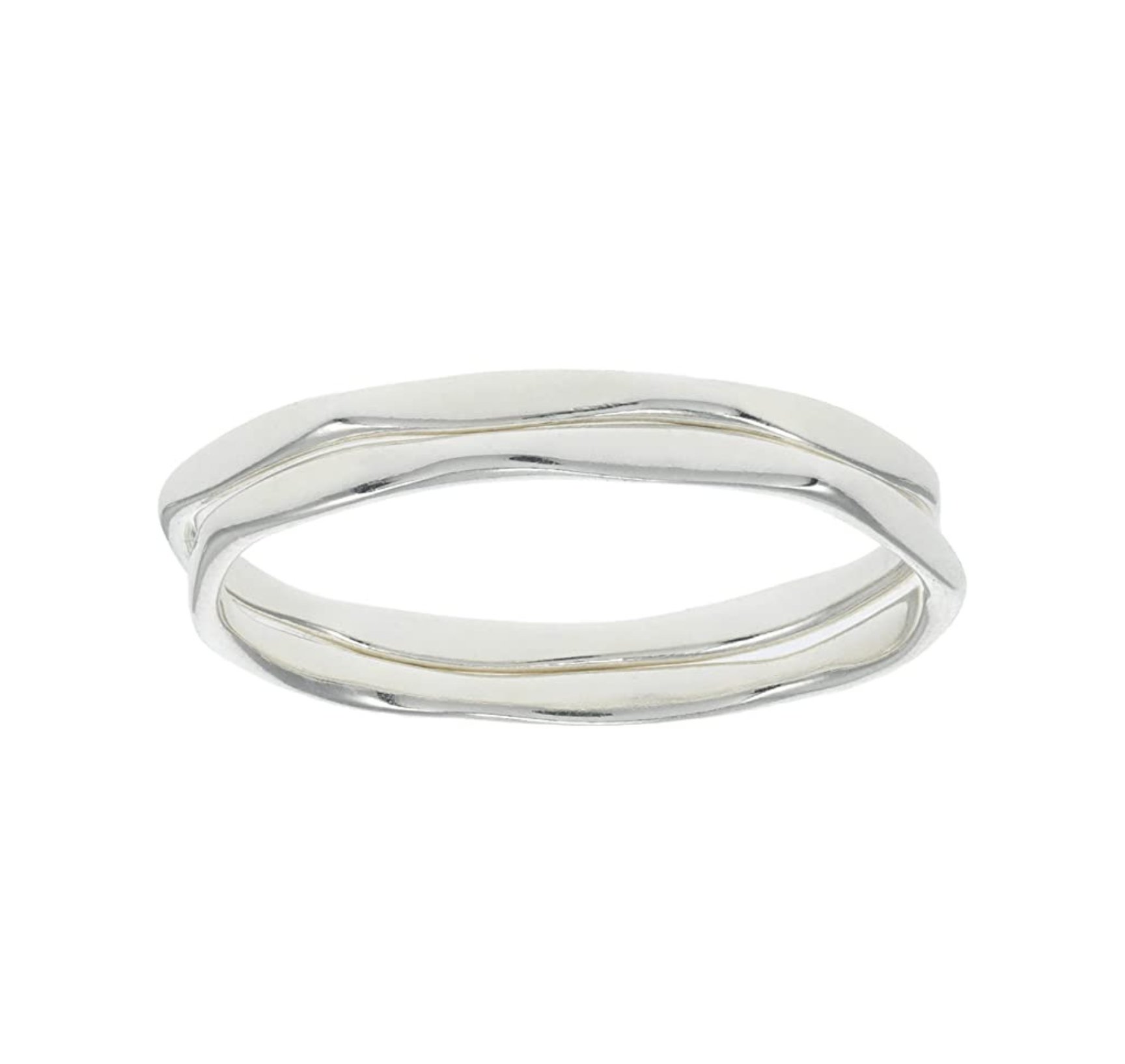 This sterling silver stackable ring set is available at Madewell and Zappos.
Metal Content: 14k gold over sterling silver
Pair with: Madewell small hoop earrings ($52)
Madewell Delicate Collection Demi-Fine Rope Stacking Rings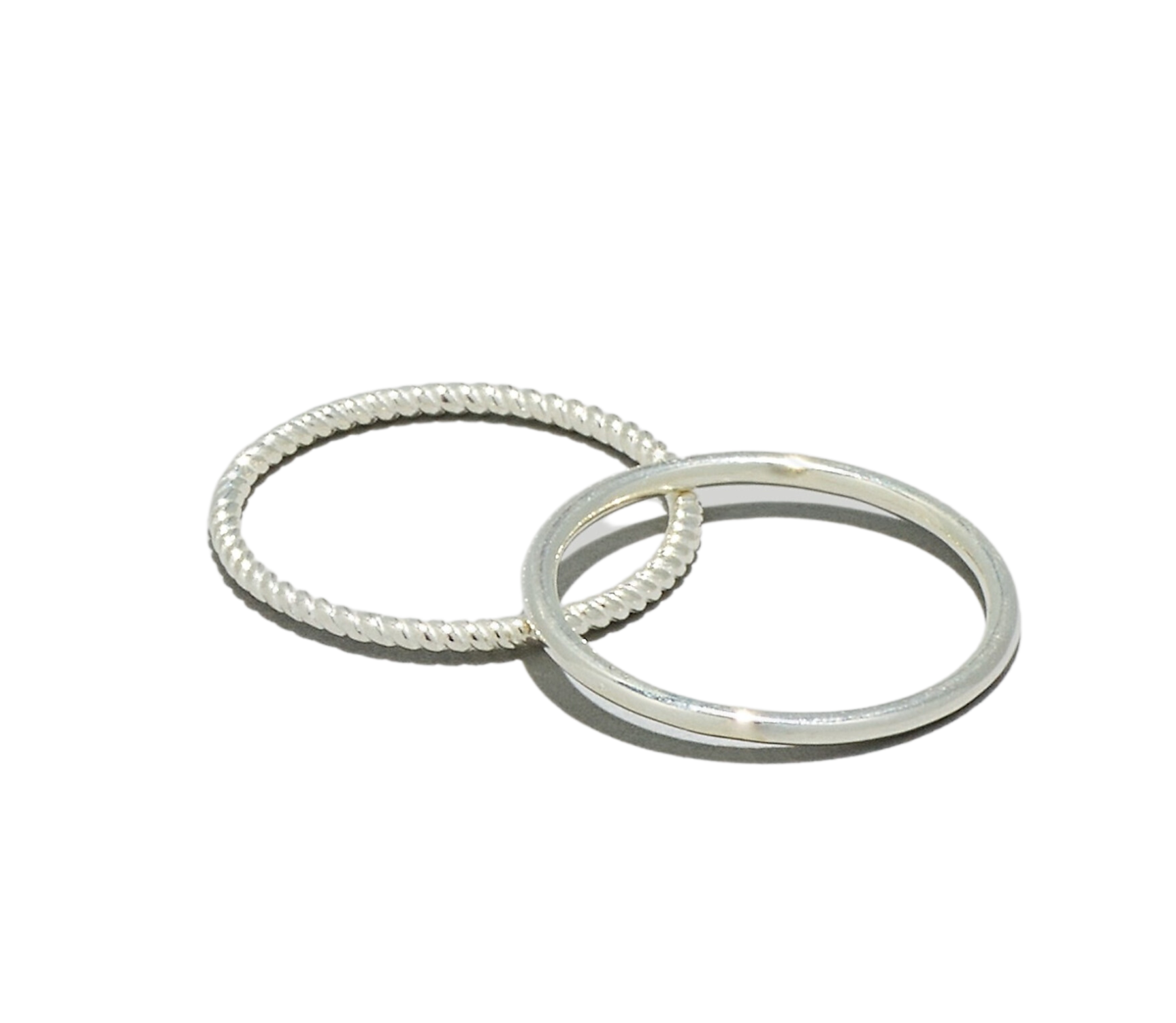 Metal Content: 14k gold over sterling silver
Pair with: Madewell small hoop earrings ($52)
Bloomingdale's Diamond Princess Cut Stacking Band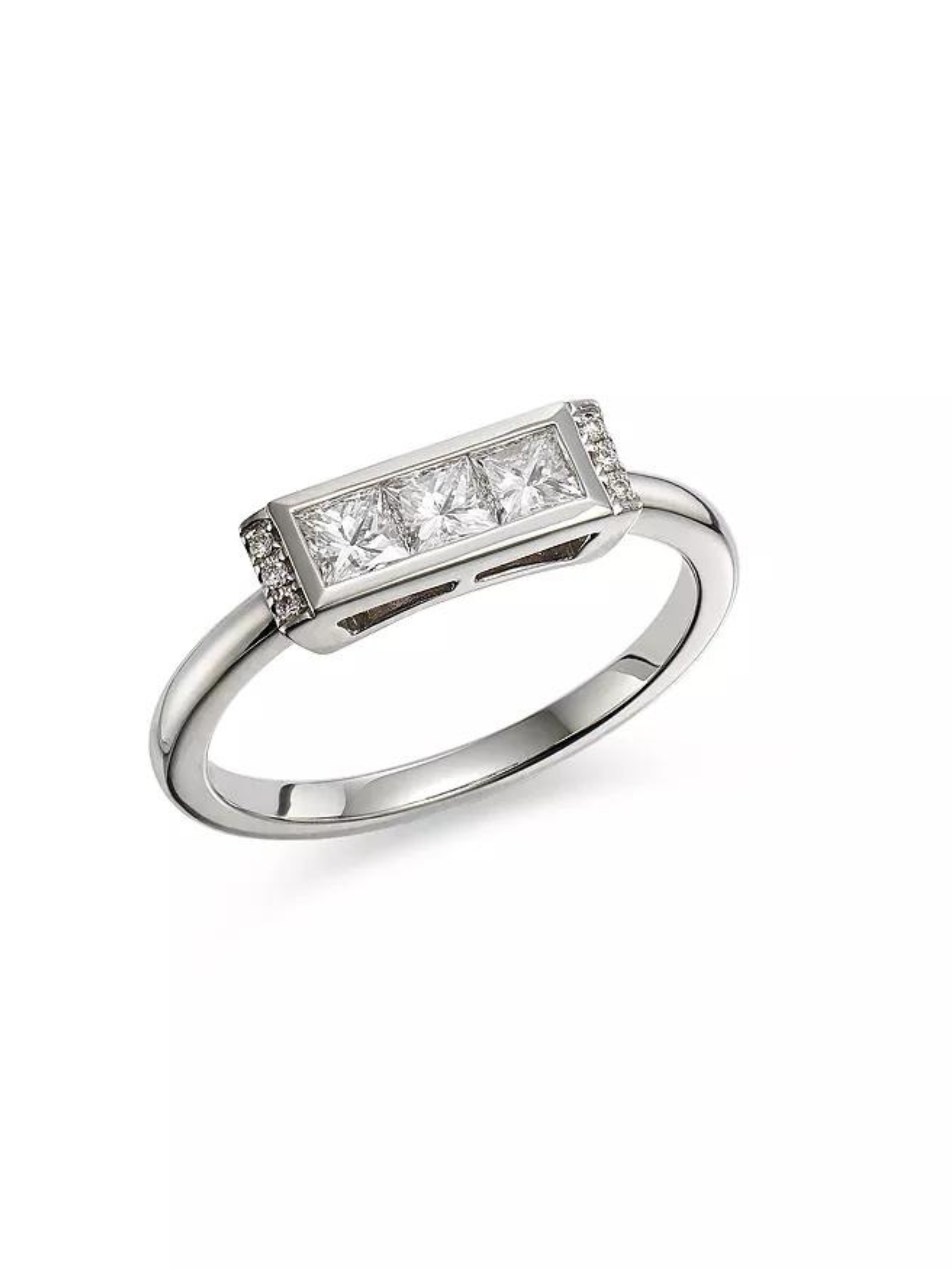 Made of: Diamonds: 0.5 ct. t.w.; color/clarity: HI/I1I2, 14K white gold
Pair with: Bloomingdale's Diamond Wave Drop Earrings ($3,000)