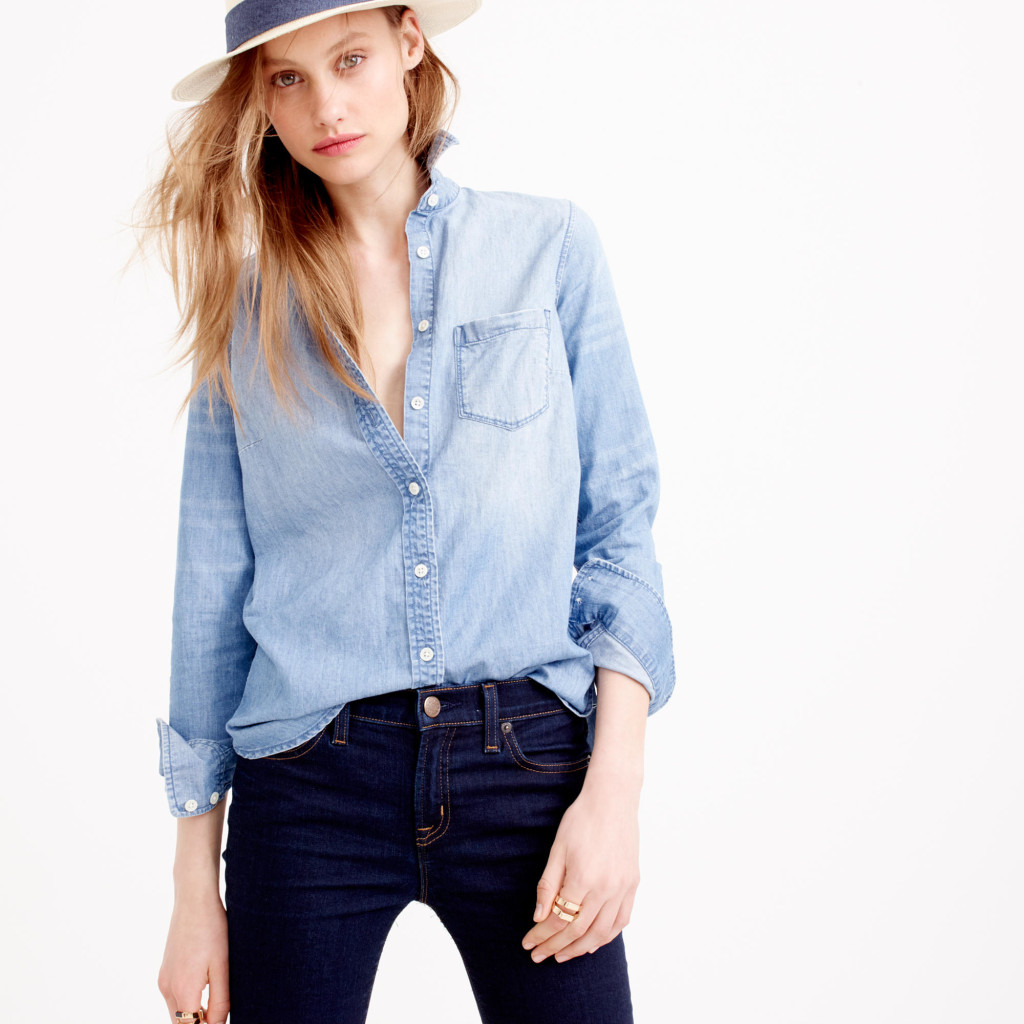 The chambray shirt (aka the denim shirt) is officially one of those basic garments on a stylish lady's list. It really comes to life when you pair it with dark jeans (yes, jeans), white jeans, leather skirts, leggings and khaki colored bottoms. If you are missing the key ingredient to create these combos, here are the softest, fabulous chambray shirts available right now. Why are they so soft? Most of these chambray shirts are made from tencel lyocell, which is one of the softest fabrics in existence. I can't wait for you to feel it for yourself if you have not already.
J.Crew Always Chambray Shirt
The J.Crew Always chambray shirt is very popular for a reason. It runs true to size and it is the prefect color. I also like that it only has one pocket on the chest versus two.
Softness Rating: 7 (Cotton)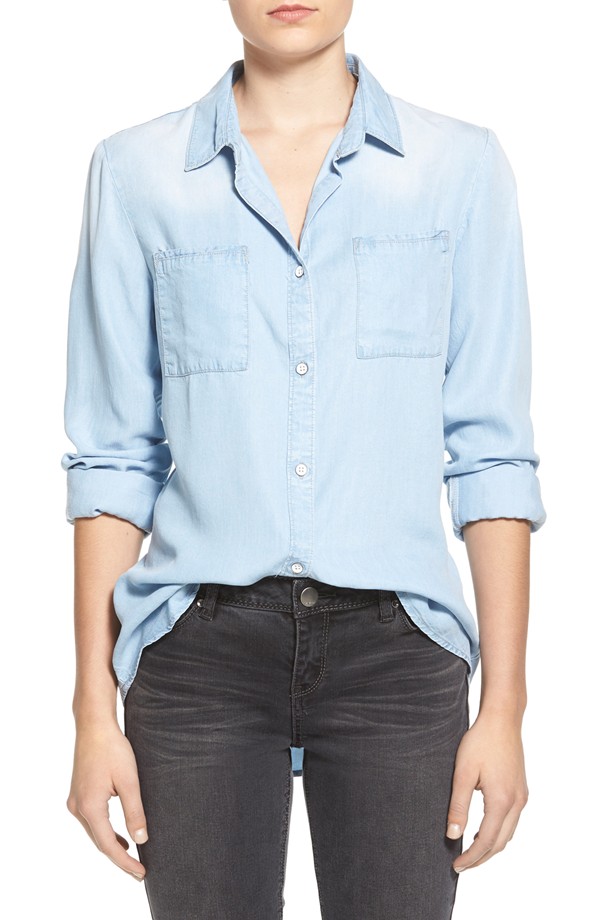 Thread & Supply Chambray Shirt
Despite it being in the juniors section, it runs true to size  – I ordered the medium thinking it would run small and it was big, especially in the shoulders. I suspect this will be good for the wider shoulder gals.
Softness Rating: 9 (100% Lyocell)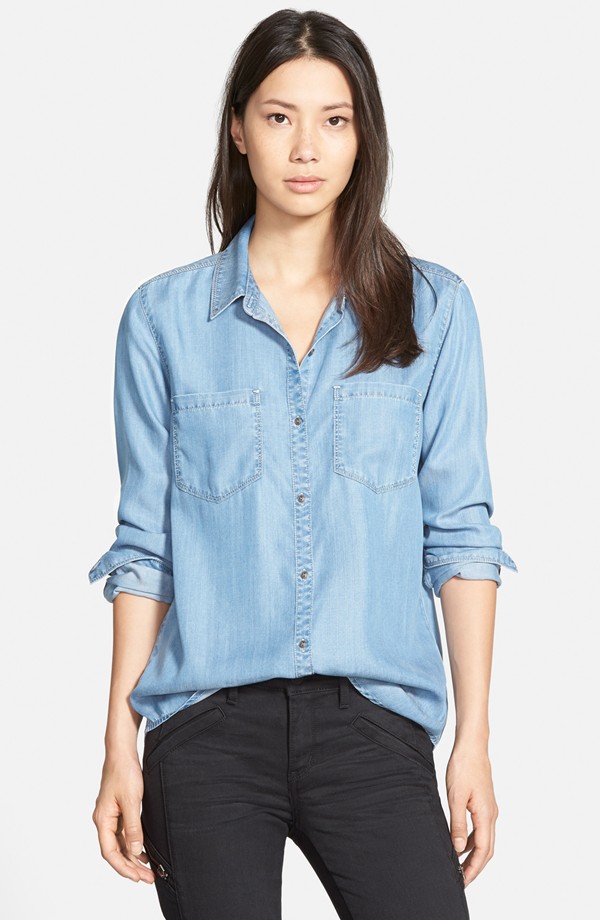 Hinge Chambray Shirt
The Hinge chambray shirt runs true to size, but it has a bit of room in the shoulders and has good stretch. For women 5'4″ and under this chambray is great with leggings. One of the highlights is the tiny silver hardware-like buttons and the buttons in the back. It adds a bit of flare.
Softness Level: 9 (100% Tencel Lyocell)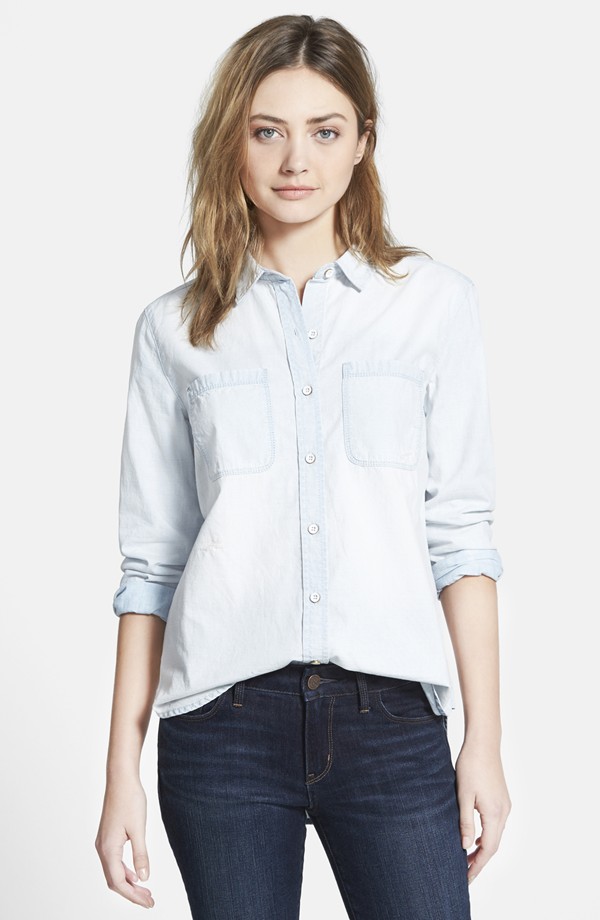 Treasure & Bond Chambray Shirt
The Treasure & Bond chambray shirt is the most fitted of the bunch, but has great stretch. It doesn't quite cover your crotch so it probably won't go over leggings. It will be best with shorts and pants. It will also be really cute tucked into or tied at the waist with a skirt, which is why I got this one for myself. I will be pairing it with this pleated navy faux leather skirt from J.Crew. I also love the metal white buttons on this one.
Softness Level: 8 (Cotton)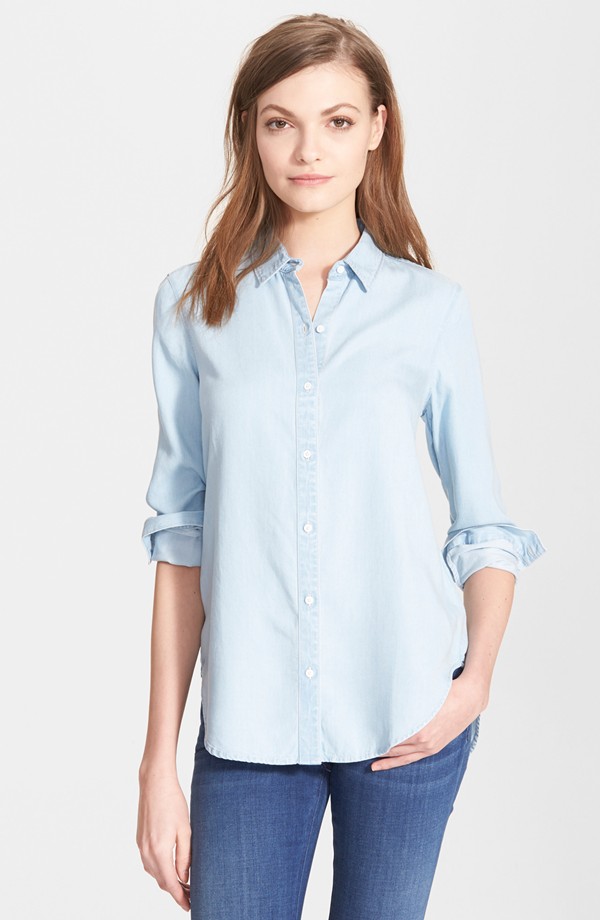 Ayr Chambray Shirt
The arms and shoulders are very narrow, but it has a lovely silhouette. It also doesn't have pockets on the chest which is preferred by alot of my clients. It is long enough to go over leggings and it is utterly yummy when it comes to softness. All of these shirts are awesomely soft, but this one is just a smidgen softer.
Softness Level: 10 (100% Tencel Lyocell)