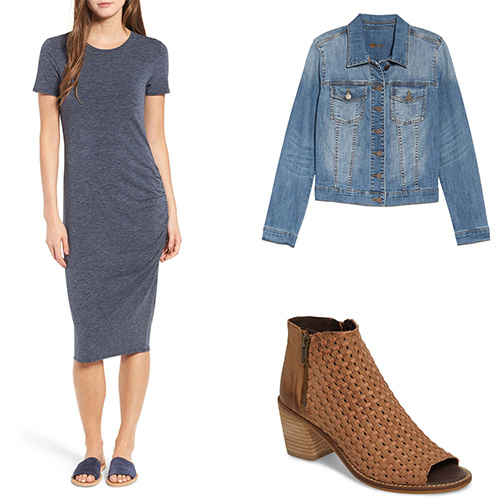 Casual dress outfits are a constant request from clients for two reasons. One, dresses are comfortable. And two, dresses are efficient. The right casual dress can be dressed up with heels and dressed down with flats. They also save time since they are basically two garments in one: a top and a bottom. Below are my six favorite casual dress outfits I have put on clients lately. You are going to love them. There is nothing more fabulous than a casual dress with the perfect outerwear and comfortable shoes.
Jackets To Wear With Casual Dress Outfits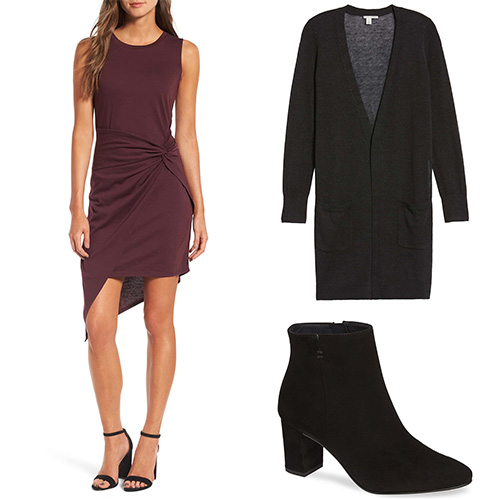 A casual dress needs a shorter, fitted jacket or a much longer jacket. People often lose the sharp look of their casual dress by pairing the wrong outerwear with it. For reference, the best jackets for dresses hit around your waist, or around your thighs. The Chelsea28 Twist Front dress above looks best with a longer sweater because of its lengthy asymmetrical hem. If you are not loving a longer cardigan, go with a black shawl instead.
Shoes To Wear With Casual Dress Outfits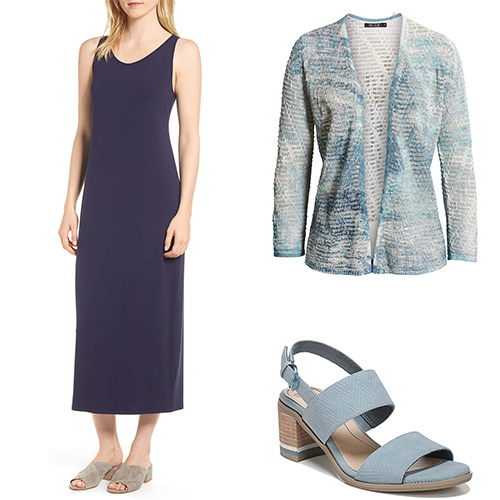 The best casual dresses can be paired with pointy toe flats, sandals, pointy toe or open toe booties, or a "casual" heel. I define a casual heel as an open toe with a thicker heel. I never pair stilettos or pumps with a casual dress, no matter its versatility. However, for this Eileen Fisher Midi Tank dress, and other midi length dresses, you will generally skip all closed toe shoes and stick with anything open toe. But what it lacks in versatility in footwear, it makes up for in versatility in outerwear. This solid-colored navy dress can be paired with so many different colored shoes, jackets, and scarves. Keep it simple with a denim jacket or have a blast with the many printed shawls you can pair with it.
The Best Long Sleeve Casual Dress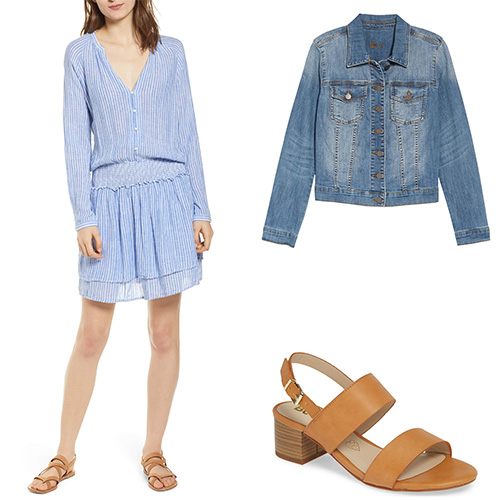 Look, there is that denim jacket again! But you already know about that. Let's talk about the dress. For those thinking your shoulders are too narrow or too wide for shirt dresses, worry no more. This Rails Jasmine dress has raglan sleeves, which are the most versatile (and flattering!) sleeves for everyone.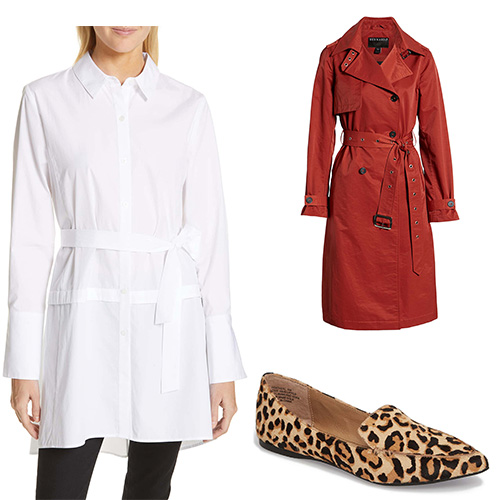 This "dress" is pitched as a tunic, but if you are 5′ 4″ and under, it is a fabulously fun dress that you can also pair with leggings when it gets chilly. If it feels too short for you, pop on some boy shorts and move on. As for outerwear, the tie at the waist always gets interrupted by shorter jackets, so I went long with this utterly fabulous Halogen trench coat. My clients are loving this thing. They are also loving this physically flexible Steve Madden flat.
Leather Jackets & Casual Dresses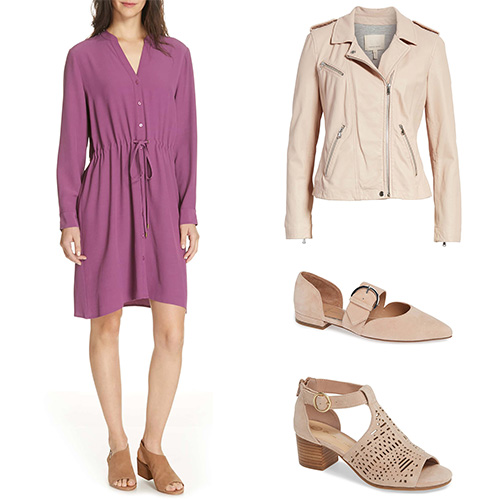 A leather jacket is the best way to fancy up a casual dress outfit, although it won't make it too dressy that you can't wear the pairing during the day as well. You'll notice this jacket is a bit longer than I would usually recommend for a dress – it works because it is fitted and doesn't sit too far past the waist. I will also point out that this blush colored jacket can be tough to pair with shoes, so I added a second shoe in the image for you to try out.
Here are the other blushy shoes I love with this jacket: Bernardo Izzy Bootie (if you are cold or feeling cool); Paul Green Nicki Asymmetrical Pump (for work looks – yes you can wear a leather jacket to work); Bernardo Belinda Ankle Strap Sandal (for dates, brunch, or dressing up); Eileen Fisher Slingback Pump (for work and dressing up). Once you have the right shoe for an unusual jacket, the outfits you can make with it are endless.
Note: This Eileen Fisher dress looks awful in the image, but is fabulous in person. It is also great for women with longer arms. For those who don't have long arms, it will need a quick hem.
Denim Jackets Were Made For Casual Dresses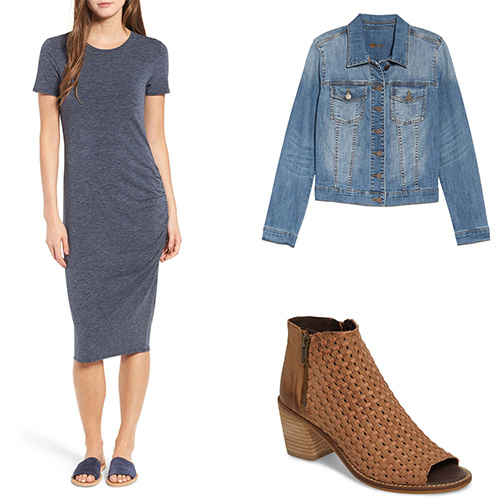 The denim jacket is without a doubt the most versatile outerwear to complete casual dress outfits. Even when I went through a phase of not liking denim jackets, I still liked them for dresses. If you want to keep your outerwear collection to a minimum when it comes to casual dresses, I recommend a denim jacket and a pile of scarves. (See my post on How To Wear A Shawl for tips on wearing them.)