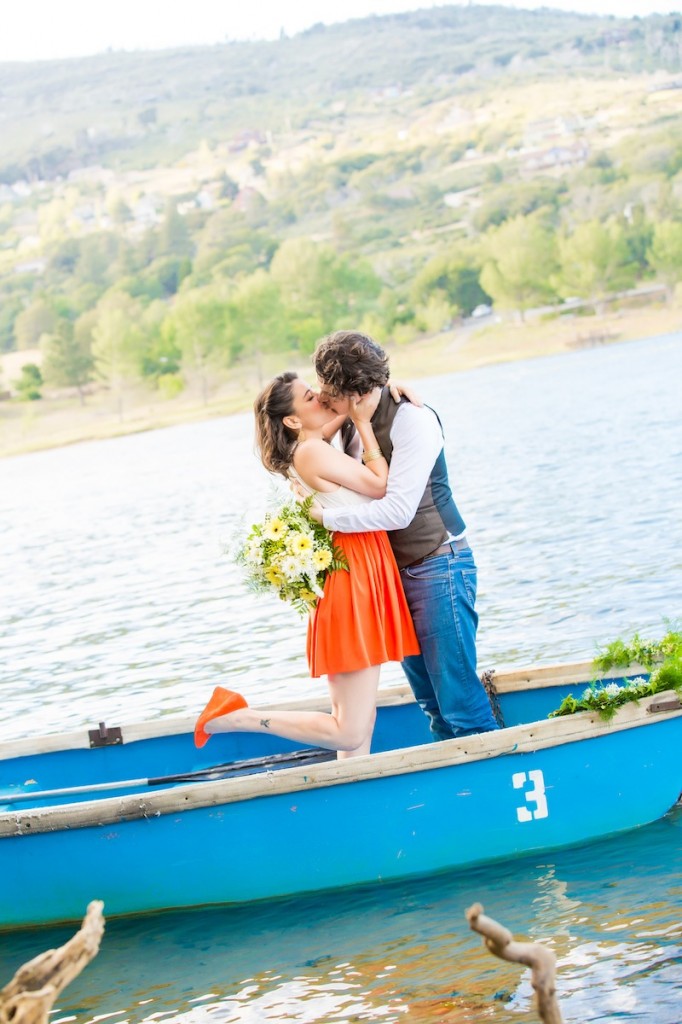 On Vanessa… dress: Anthropologie, shoes: J.Crew, earrings: Miriam Jewels, bracelets: Forever 21. On David… vest: The Kooples, jeans: Levi's, belt: American Eagle Outfitters. 
Engagement photos can be simple shots of you and your partner dressed in matching white shirts, or you can take creative engagement photos. Wedding photographer, Robin Dayley, prefers the latter. When Robin Dayley approached me about modeling for an idea for an engagement shoot, I immediately said yes and offered up my London lover to pose with me. Her vision was a vintage one, but without historical accuracy – an important note as any engaged couple can create an ambience, but not everyone can get ahold of a vintage costume. Here is a step by step process on how to recreate these faux vintage engagement photos…
Be Inspired
There are so many modern items sold today that were made to emulate the past. From props to clothing, you can skip the vintage stores if you want, and buy new. It's easy, it fits, they're clean and ready to go.
Popularity That Lasts
My London lover wore nothing vintage, yet we created a vintage feel by selecting modern day items with a vintage twist… his driving cap, The Kooples vest with faux watch chain, and Levi jeans all speak of times past. For example, the flat cap first became popular in 1571 when the Act of Parliament decreed all men over 6 years of age, except nobility, were to wear woolen caps on sundays and holidays. Britain's hopes to stimulate domestic wool consumption turned the flat cap into a prominent fashion piece for numerous years. It's popularity finally declined in the 1930's after stylish American men donned the cap in the 1920's. The flat cap's 3oo-something year of prominence in fashion gives that hat the air of old school without any real source. The vest has a similar story, while Levi's origins begin in the 20's. Long story short, pick garments that were popular for numerous decades. You will create that vintage feel without being noticeably traceable. Plus, you will be able to find them easily as garments that were popular for that long are often sitting in your closet already or readily available in stores.
Mix Your Decades
My orange Anthropologie dress was inspired by the 50's, and my pants in the bike and picnic photos were inspired by the 70's. My hat and coat are actually vintage, I believe from the 1940's. Keeping within the same color tones, I have mixed four decades, if I count today's, and come up with that vintage feel without singling one out. I find, if you try to do embody one decade, it becomes obvious when you miss a detail. If you are not well researched on the nuances of the decade you want to emulate, consult a professional, or mix your decades to greater success. Mixing your decades also makes more creative engagement photos.
Get A Make Up Artist
Make-up and hair is the corner stone of any vintage look. You can look vintage in a t-shirt as long as your hair and make-up nod to the correct decade. For this shoot, I chose wedding make-up artist, Antonella Annibale. She gave me a cat eye and 40's inspired curling half-up do to complete my mishmash of decades.
Creative Photographer Makes Creative Engagement Photos
Robin Dayely is amazing for creative engagement photos. She crafted the entire idea from the boating and picnic, to the vintage bike ride. If you don't have any interesting ideas for your engagement photos, she will. She location scouted both Lake Cuyamaca and Lake Jennings before deciding on Lake Cuyamaca. Prior to the shoot, she set up the time table, collected our props, choreographed the lighting, provided maps for our boat drive, and tracked the weather. I was in awe.
Have Fun
Most importantly,  relax and have fun. David and I had a blast taking these photos, despite the wind chill. All our smiles are real and the kissing was good. If you enjoy your partner during your shoot you'll get the best shots and the most creative engagement photos. For behind the scene shots of us having fun, go to my facebook page.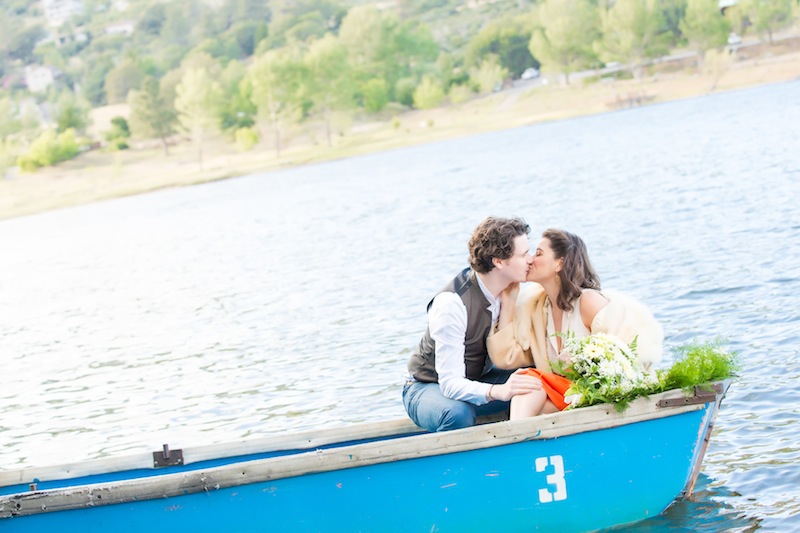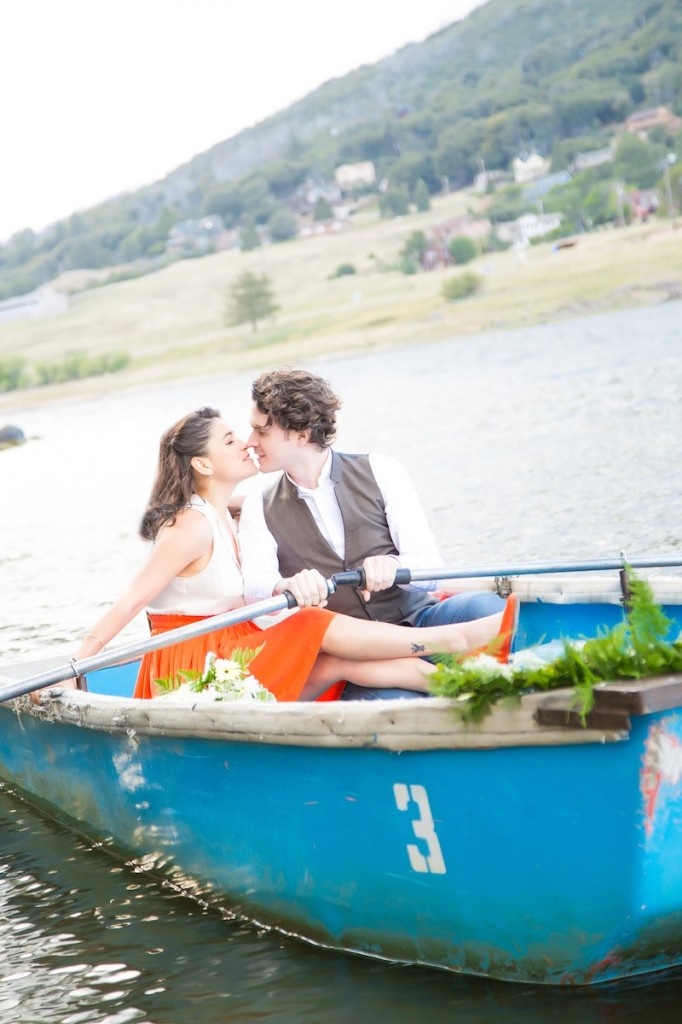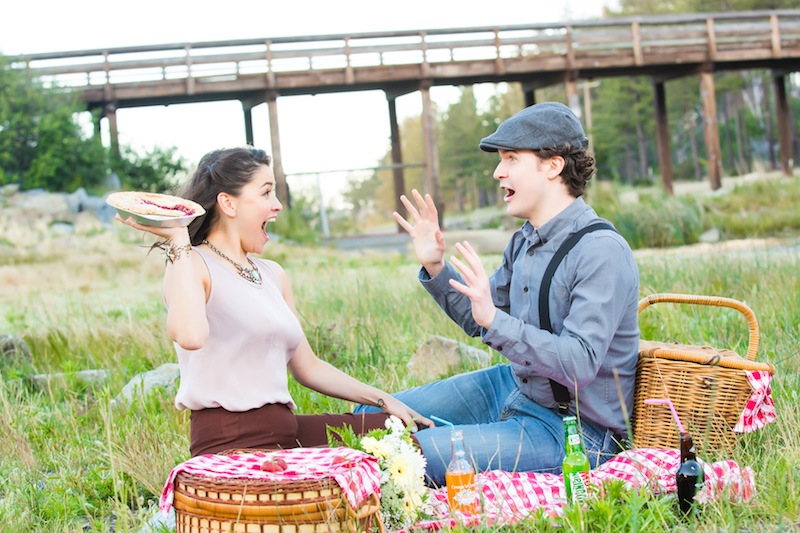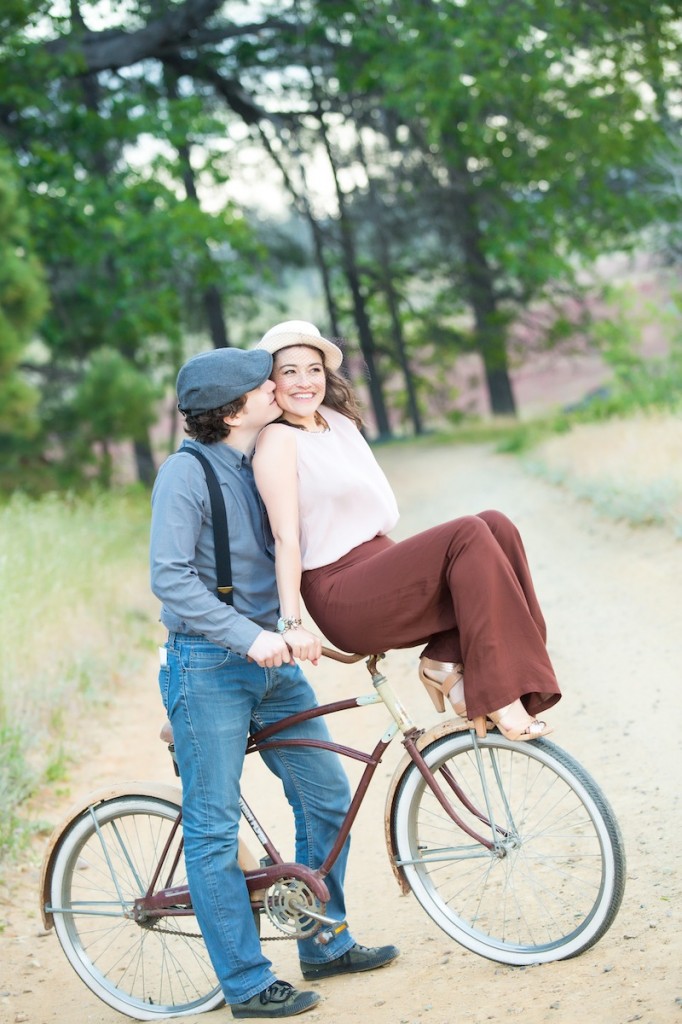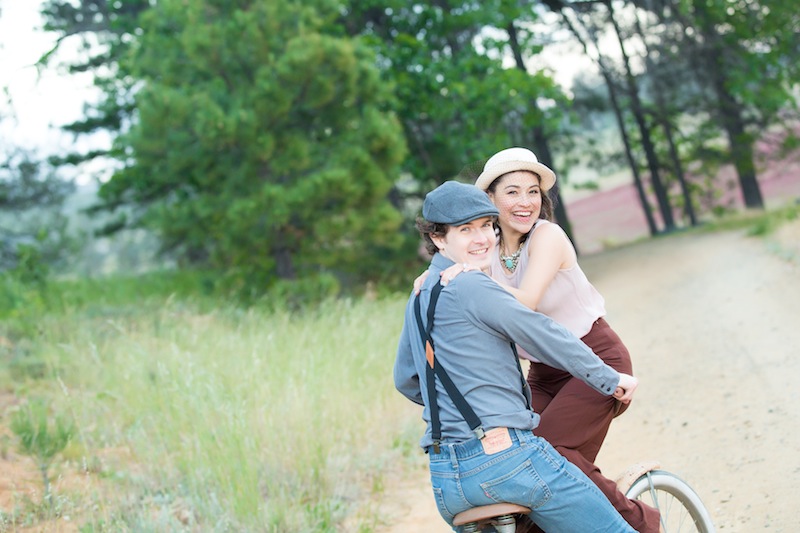 On Vanessa… top: Joie, pants: Forever 21, shoes: Seychelles, jewels: J.Crew, hat: vintage. On David… shirt: 1901, suspenders: mine, jeans: Levi's, shoes: Diesel, flat cap: unknown.
Photo Credit: Robin Dayley/Dayley Photography
Make-up: Antonella Annibale
Flowers: Heavenly Gift and Florist