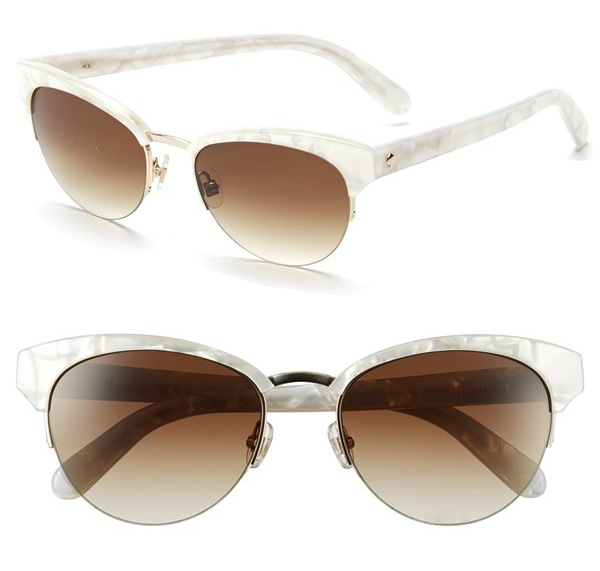 Kate Spade $138
The right cat eye sunglasses can be incredibly flattering and inevitably sexy. It is also a more unique alternative to aviators or other highly popular shades like the big Jackie O's or chunky wayfarer. They key to chic cat eye sunglasses is to avoid a retro look and exaggerated shape. The uber pointy shape isn't bad, but I am talking timeless style, not throw back Thursday. We want to nod to the past, not jump into a time machine. Although even if you did select a vintage pair of cat eye sunglasses, you can create an untraceable look by pairing the sunnies with a minimalist outfit based around pants or a sleek dress. Not sweet or flouncy skirts a la Greece Lighting. By pairing a retro piece with highly modern items, you can't help but be timeless.
My favorite cat eyes this season is Kate Spade's 53 mm sunglasses in White Mop or Speckled Tortoise. The other hue, Geranium, is also delightful, but it's a bit bright and creeps into trendy.  Beyond the color, the shape is what sells me. The subtle curves and points of these shades make it a go-to for all face shapes, especially oblong, round and rectangle faces. The angles of cat eye sunglasses add dimension to a round, long or square face, while complimenting the angles of other face shapes like the oval or heart shaped.
I took my own advice and acquired these Kate Spade after scouring hundreds of wayfarers and cat eyes. The price is right, the quality spot on, and the fit is divine. I feel like they were made for my face, but my favorite part, besides its wonderful ability to block out sun at all angles, is the way it makes me feel. Cat eye sunglasses just make ya feel cool.