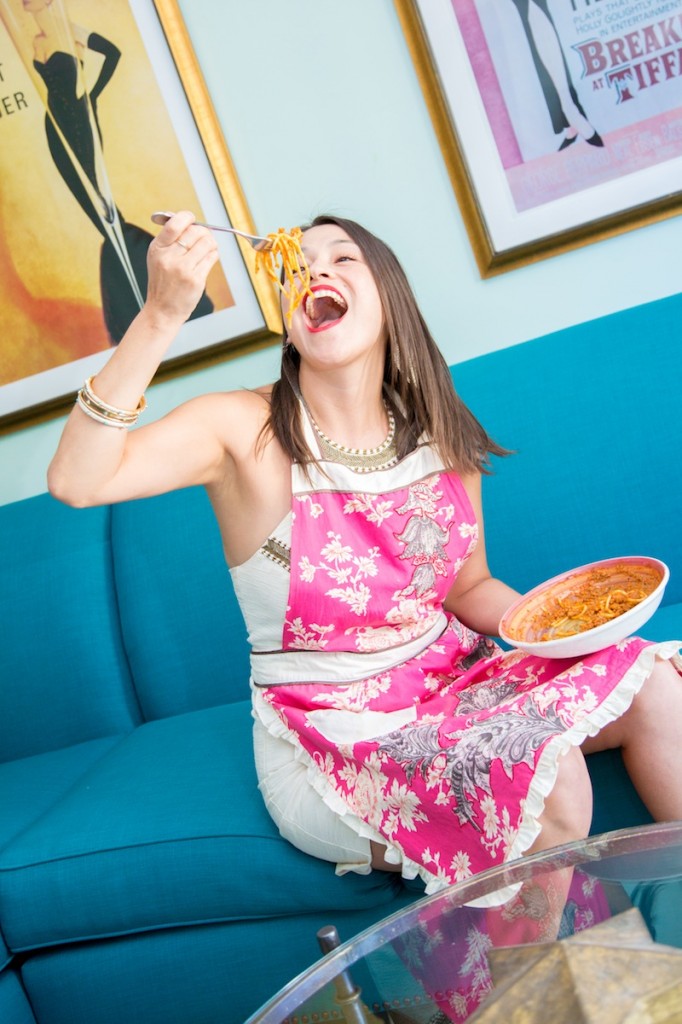 dress: Trina Turk, apron: Anthropologie, bracelets: Ralph Lauren, shoes: Jeffrey Campbell
I eat a lot of Spaghetti Bolognese. I eat fried egg rolls while driving. And I am also a messy, sloppy, ungraceful toro of a woman that always seems to splash what-have-you on myself during every eating experience, especially in those pasta situations and driving escapades. I battle these habits by wearing lots of prints. A lovely rich print always hides red wine teardrops and grease stains the dry cleaner couldn't get out. But I am not one to be inhibited. I love the color white, as well as other light colored shades like mint. I also have an affinity for silks. I can't get enough silk. For social eating engagements, I just don't wear pale hues and silks anymore, but I have a solution for eating at home and on the go: don an apron.
If I am dressed in my precious white silk "Joie" blouse and about to head out to a client or drinks with friends, I slip into my fabulous apron, neglect my lovely dinning table, sit down on my energy-colored couch and go to town on my eats. If I am driving, I reach behind my front passenger seat and whip out my traveling apron. It's so easy and obvious, I'm surprised it took me so long to start covering up. I am tempted to carry an apron in my purse for every dinning situation, especially since my aprons are so darn cute. Why avoid, skip and damn white clothing when you can just add more style to your look?
My go-to for stylish aprons is Anthropologie, but many little boutiques and stores carry a few stylish aprons. There is also a multitude of fun aprons online at stores like Creative Chics, a source for handmade aprons. What a darling solution for how to eat in white clothing.
Photo Credit: Robin Dayley/Dayley Photography