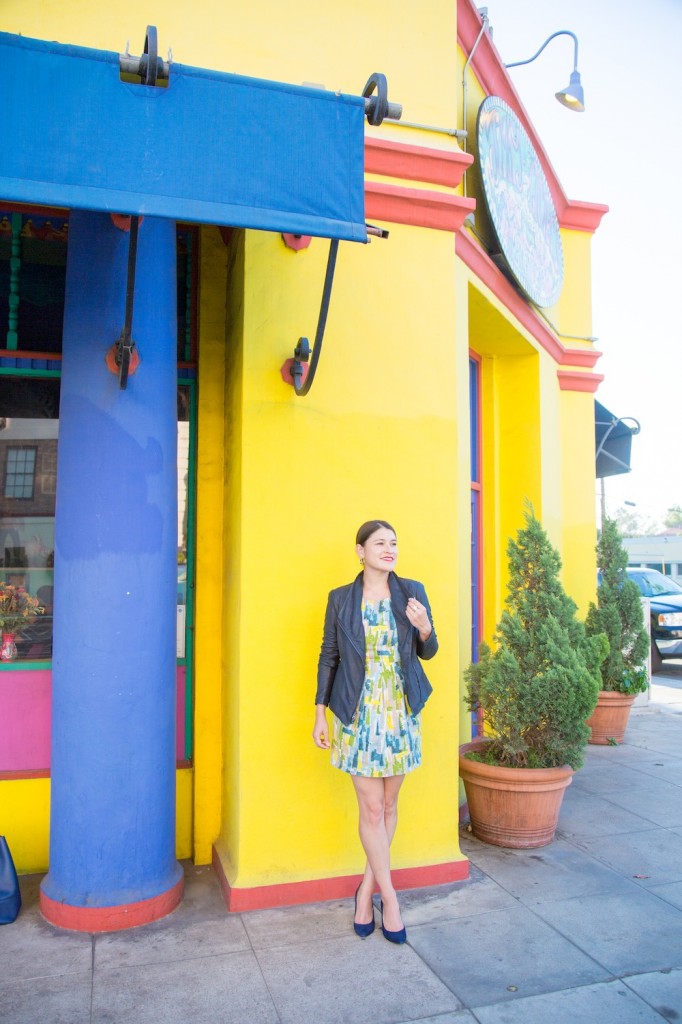 dress: Adele Laden London, jacket: Vince, shoes: INC, bag: j.crew
The Best Leather Jacket
Before I go into how to wear a leather jacket, let's talk about the best leather jacket. My favorite, absolute best, most amazing leather jacket we can get is by Vince. Every year and every season Vince puts out fabulous, sexy and stylish leather jackets that puts me face to face with my fantasy self – a sexy, cool edgy gal that doesn't take any shit and does this non-shit-taking with grace and femininity. I am not sure if all my clients agree with this metamorphosis (I know at least one does!), but they do agree it is an amazing leather jacket. Beyond the butter soft leather, the Vince Scuba leather jacket is the best because it always hangs right – always. There is no awkward moment with this leather jacket like other leather jackets. It zips up, zips down, zips half-way down and it still looks sexy, slick and amazing. You can also pull up the sleeves. That seems silly to mention, but most jackets fall down or feel weird pushed up. You see this sleeve push-up in catalogues, in magazine and on mannequins, but it rarely actually works on me. It falls down or is uncomfortable, but not with this Vince leather jacket. The sleeves stay where you put them and they do it comfortably. The jacket is also light weight, but warm. Flexible, but sturdy and it comes in navy. You rarely see a navy leather jacket. Vince calls it coastal.
How To Wear A Leather Jacket
As for how to wear a leather jacket, the versatility is endless with the slim look of the Vince leather. You can pair it with dresses, with jeans, with ankle pants, with maxi skirts, with t-shirts, with unfussy blouses, and wider leg pants. Just coordinate your leather jacket with complimentary colors and you are good. As you can see from my images, I styled two lean looks with the jacket, but feel free to create a more boho look by pairing the leather jacket with a flowy frock like Free People's trapeze dress. The only real restriction with this leather jacket is your dress or shirt should be not too frilly with 3-D embellishments.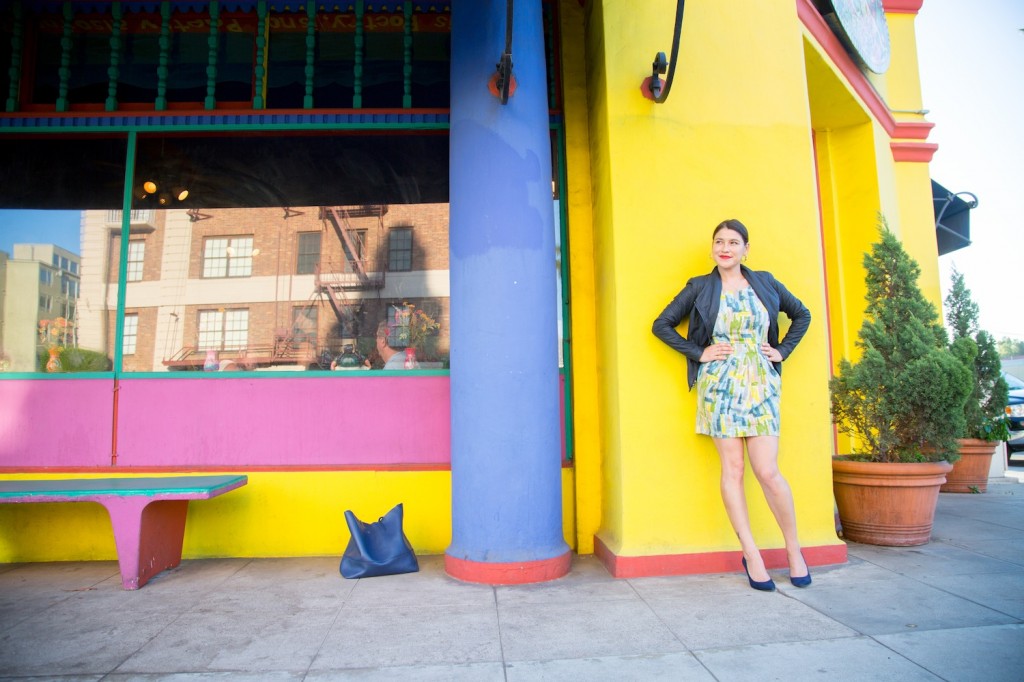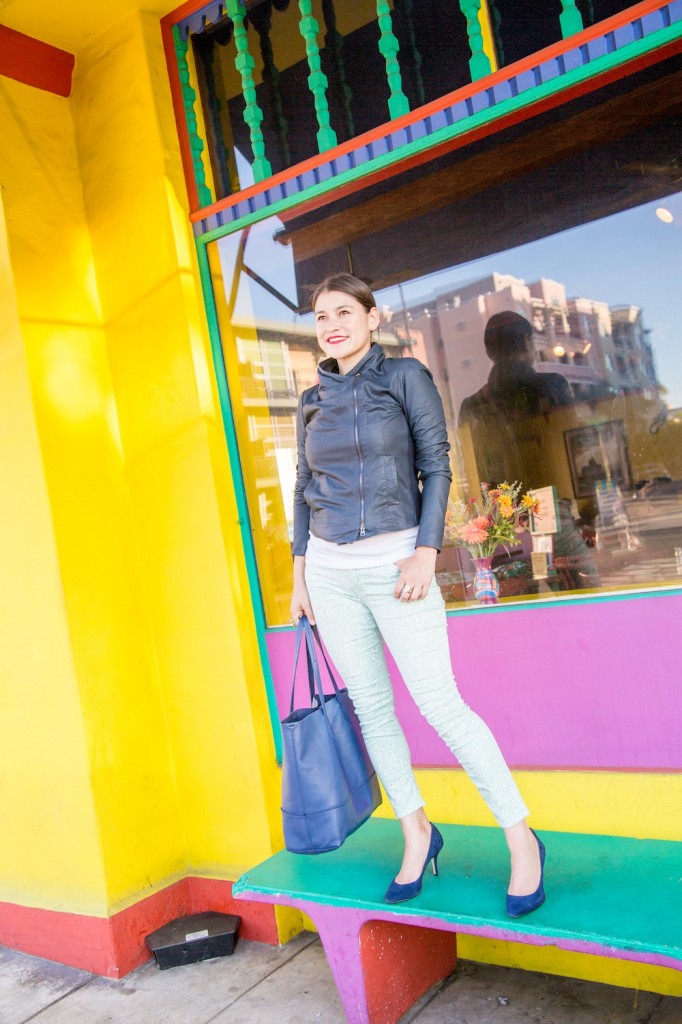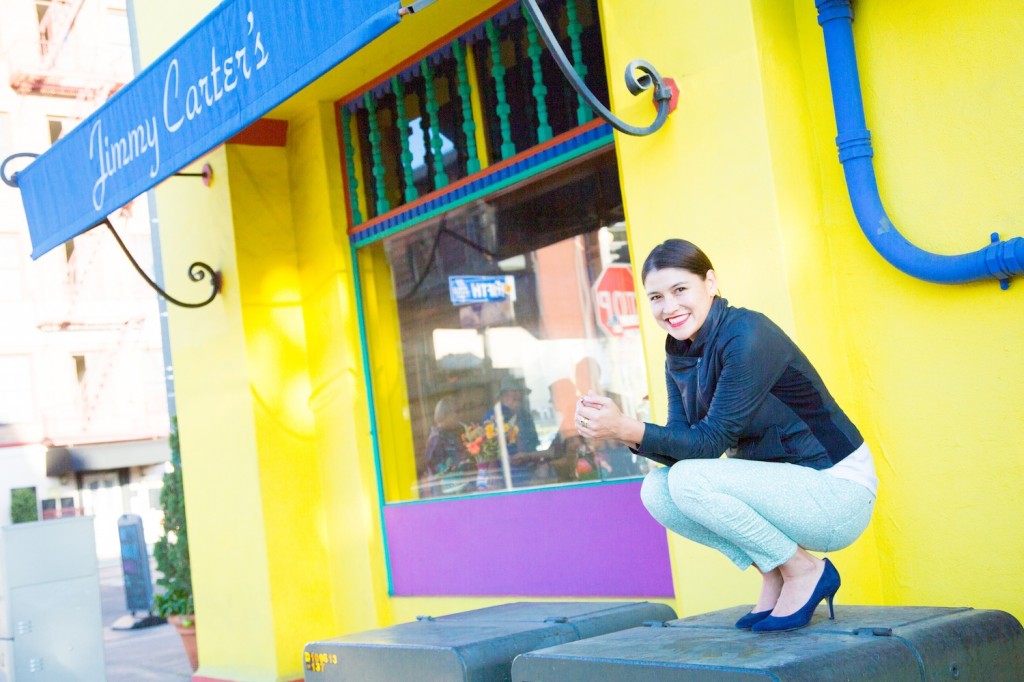 tank: J.Crew, pants: 7 For All Mankind shoes: INC, bag: J.Crew, ring: Madewell
Photo Credit: Robin Dayley/Dayley Photography