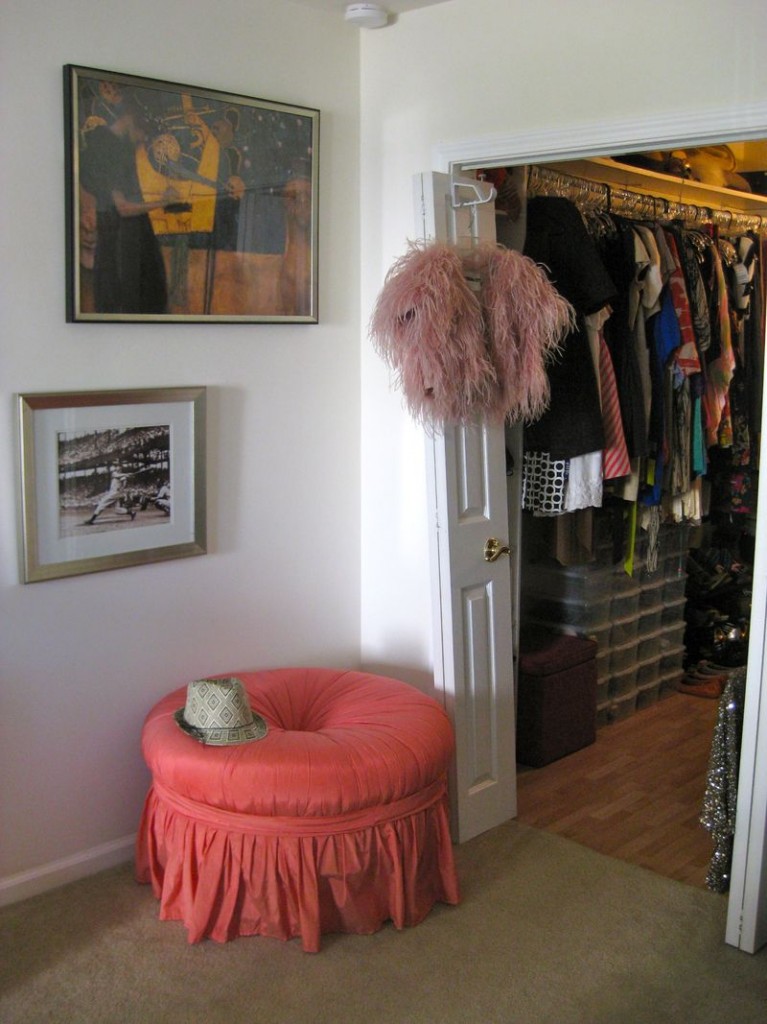 In giving you advice on how to organize your closet, I will tell you how I organize mine. On the left side of my closet is a rack of dresses. The dresses are organized by work, evenings, and then dresses not suitable for clients or evenings out. Within each category, the dresses are sorted by sleeves: strapless, spaghetti, thicker straps, sleeveless, short sleeves, three-quarter sleeves, long sleeves, etc. This way you don't lose sight of that fabulous spaghetti strap dress buried between two long-sleeved dresses. After the dresses are pants and my one maxi skirt. The maxi skirt is first, followed by the lightest weight pants to the heaviest, keeping similar styles together… slacks with slacks, capris with capris, etc.
On the top right, I have my tops. It starts with under tanks, then moves on to leotards, strapless, spaghetti straps, sleeveless, and so on. After that are my lighter weight and stylish jackets. They are divided by weight. Lighter jackets first, heaviest in the back. On the bottom right it starts with vests, then moves on to tunics, and tops suitable for leggings. Shorts come next, followed by skirts. The skirts begin with skirts suitable for work staring with the pencil skirt, then they are organized by length — longer skirts first, ending with the shortest sequined mini you have ever seen.
My most used shoes are lined up on a Container Store shoe rack and the rest are placed in clear plastic shoe boxes. Boots are lined up against the closet wall and behind the clothing on the right side of the closet. As for jeans, tees, belts, hats, bathing suits, and purses, I have them on shelves organized by accessibility. The highest and lowest shelves have the items that I use the least. Outside my closet, I have six drawers for sweaters, leggings, lingerie, bras, socks, and underwear. My jewelry is organized in the silver jewelry chest next to my closet with some placed in a jewelry storage hanger inside my closet. My rings are placed in a vintage serving platter on my mirrored dresser. My vintage coats and heftier jackets are in my hall closet.
I organize my closet like this because this is how my mind works when I get dressed. Some people organize by color, but that never really works into my thought process when dressing myself. You have to organize according to your own preferences and space available. When organizing my clients' closets, I always ask, "what do you think of first when you go to get dressed?" We move on from there.