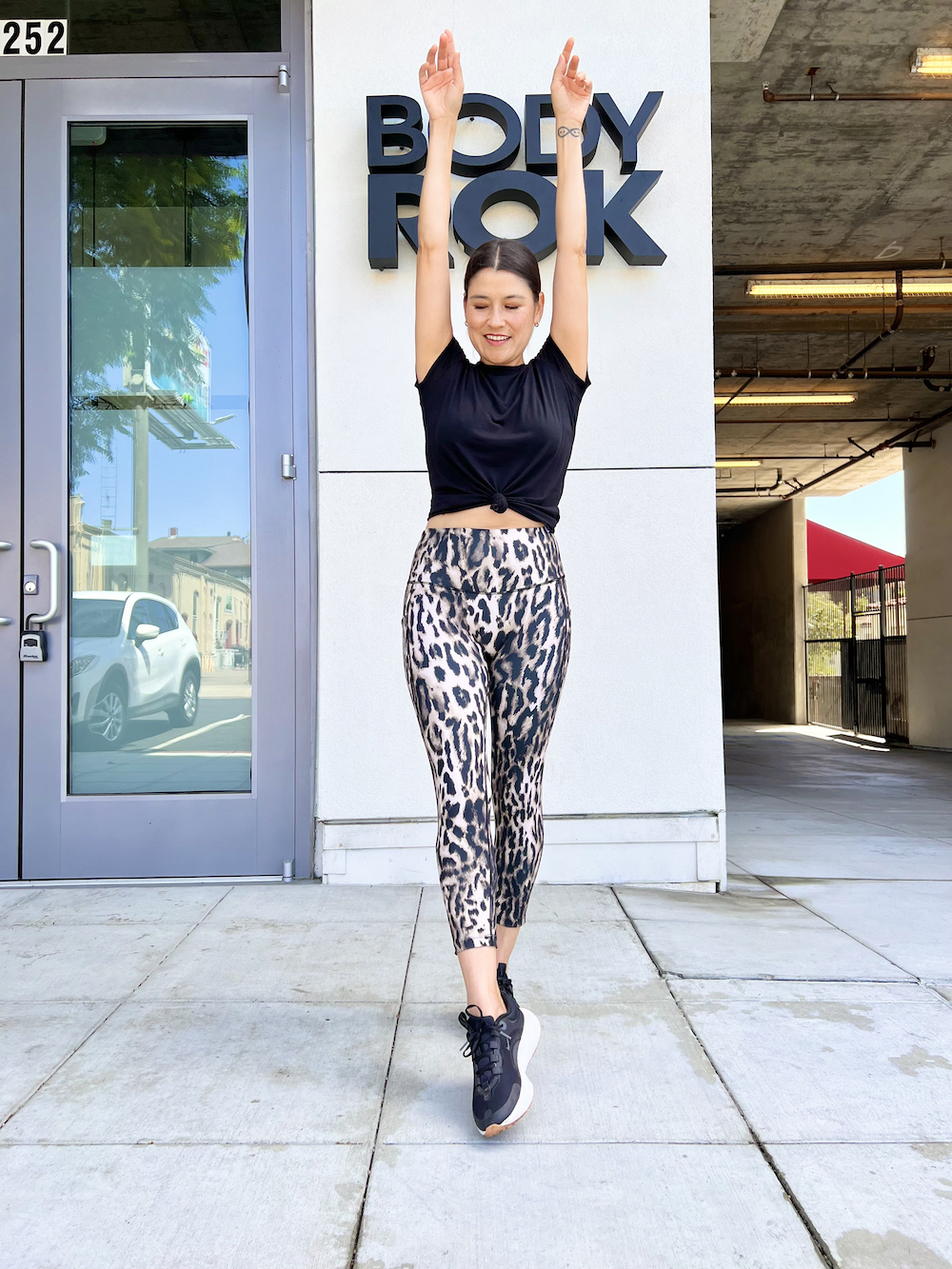 My Baleaf review is a long time coming. I have been wearing Baleaf leggings and shorts, almost exclusively for two years now. (Proof in the pictures below!) I have featured Baleaf in many blog posts, like My Favorite Workout Clothes, How To Style Sweatpants, What To Pack For Bali, and The Most Flattering Women's Shorts. But you may not have noticed them, and I can't have you miss out on these inexpensive, high-quality goodies. I know, I know, I am not particularly budget conscious with my recommendations. I am all about the best, but sometimes the best just happens to be inexpensive. And that requires some hoopla.
What is Baleaf Sportswear?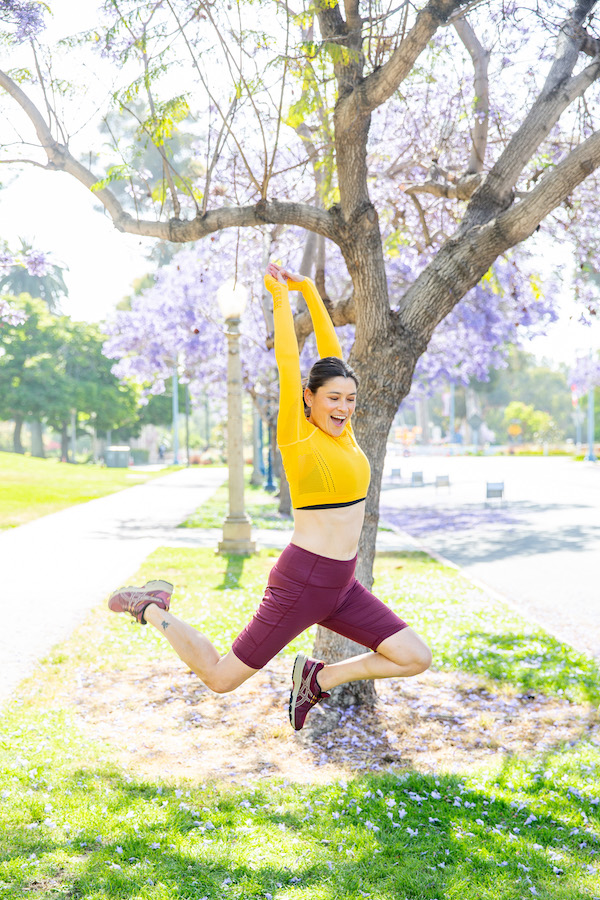 Baleaf creates simple, yet versatile workout wear at insanely low prices (most everything is under $40) that can be worn for numerous sports and activities. It was founded in China, and the creator, Lefee Xu's ethos was and continues to be simple: "meet the needs of the ever changing sports industry with professional yet affordable designs so that everyone has access to quality gear."
Fun fact: Baleaf stands for, Balance Active Life with Ease and Attraction through Free-flowing ideas.
Even more fun, Baleaf has recently made a push towards being more sustainable and lowering its environmental impact. As part of this, they've started using materials made of recyclable and biodegradable materials in some of their products.  Most recently, they launched a line that uses a nylon material made out of recycled fishing nets and a polyester material made out of recycled plastic bottles. For every ton of nets used to make the fabric, Baleaf saves seven barrels of crude oil, while every ton of plastic bottles used saves 8,000 gallons of water, according to the company. To ensure they're meeting international guidelines for recyclable materials, they received the Global Recycle Standard (GRS) certification and work to follow its criteria.
I tried these shorts made from Baleaf's modal wood pulp biodegradable material, and can attest the material is absolutely scrumptious! And this style is so well made. Just size up on these. I got the small, and since they have a lower waist it cuts into my flesh. I will exchange for a medium shortly.
Best Running Shorts with Phone Pocket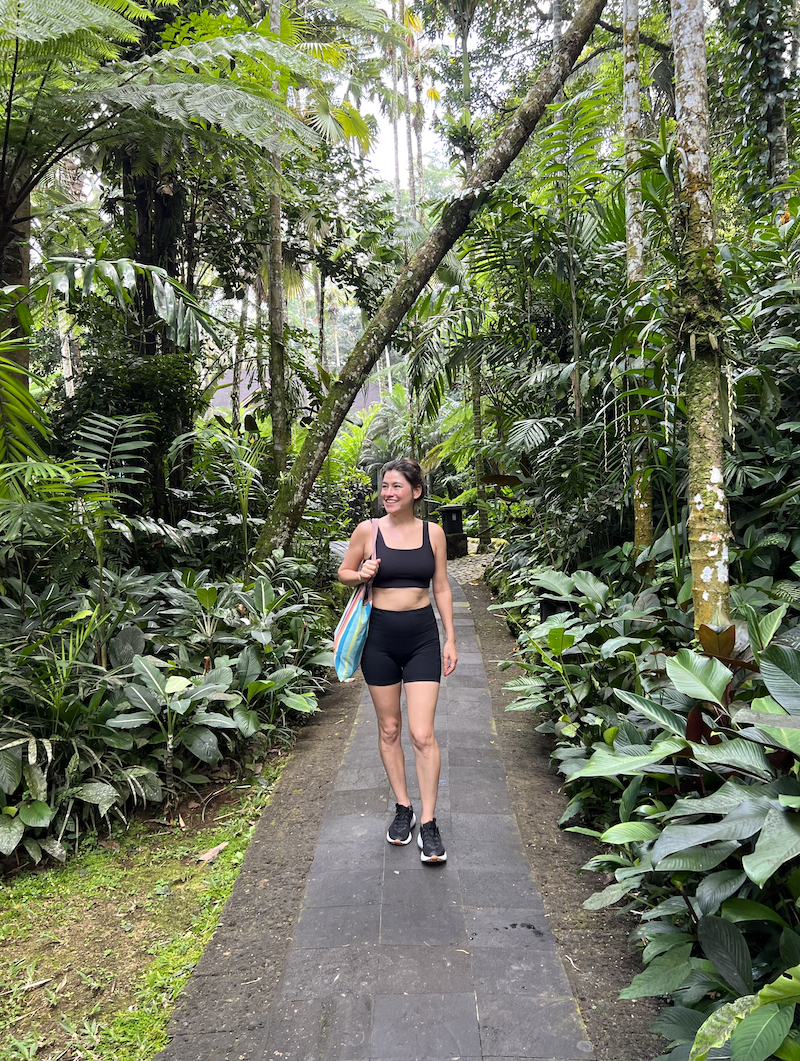 Baleaf makes the best running shorts with a phone pocket. Obviously, the price point is unbeatable, or should I say unbelievable. These shorts are better quality than biker shorts four times their price — seriously. And they are one of the few biker shorts, or in my case, running shorts with pockets that actually hold your phone in place. These shorts are versatile, comfortable, and flattering.  They are super stretchy, but hold you in. They wash beautifully, don't pill, and resist odor. I wear my shorts many times in a row. I just hang them on the door (versus crumbling them up) after a run to prevent bacteria build up and they are good to go for the next day.
I'm not done raving, stay with me. These biker shorts with a phone pocket (I love pockets so much!) come in at least 10 different colors, different hem lengths, and go from XS to XXL. You can choose from a 5, 7, or 8-inch inseam. I believe every single woman should own these, and that includes you. Yes, you. I own five pairs: black, blue, and burgundy in different length inseams.
Best Running Leggings with Phone Pocket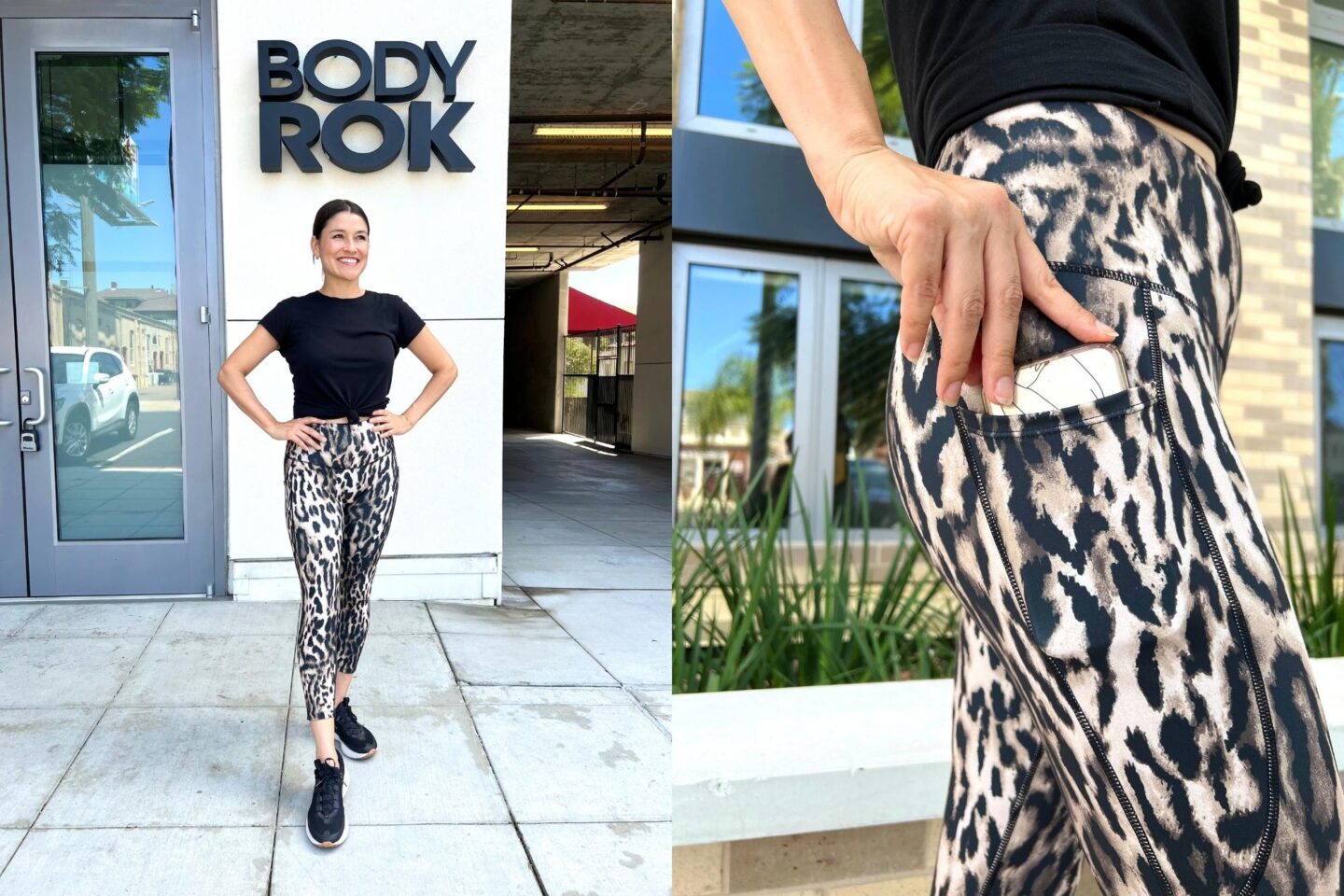 Baleaf has multiple options of running leggings with phone pockets, from thermal leggings for winter wear to lightweight leggings for summer. They are fantastically comfortable and flattering. Also, all 8 pairs of my Baleaf leggings have minimal to no crotch folds, which is essential. Most low-price leggings of any kind, and sometimes even higher-priced leggings, tend to create the dreaded camel toe. Whenever I put any pant on myself or my clients, I zero in on the crotch. As I say to my clients, "It's all about the crotch."
I also wanted to point out that some expensive leggings with pockets, like my beloved Lululemon Fast and Free tights, have flimsy pockets. When I'm on a run in my Lululemon tights, I constantly feel like my heavy-ass new iPhone is going to pop out of the pocket and onto the ground. I never feel this insecurity with Baleaf leggings or shorts. The Baleaf leggings are super stretchy, which sometimes coincides with weak material, but they have strong compression too. This means the pant has a solid hold on my curves and my phone. When you try them on and jump up and down you will understand what I mean. These pants really care about your phone's safety.
Tip: My absolute current favorite Baleaf leggings right now are the lightweight leopard leggings pictured above and below. The combination of comfort, utility, and style makes my fashion heart combust. The crotch is also utter perfection! Perfection I tell you! I am beside myself with delight.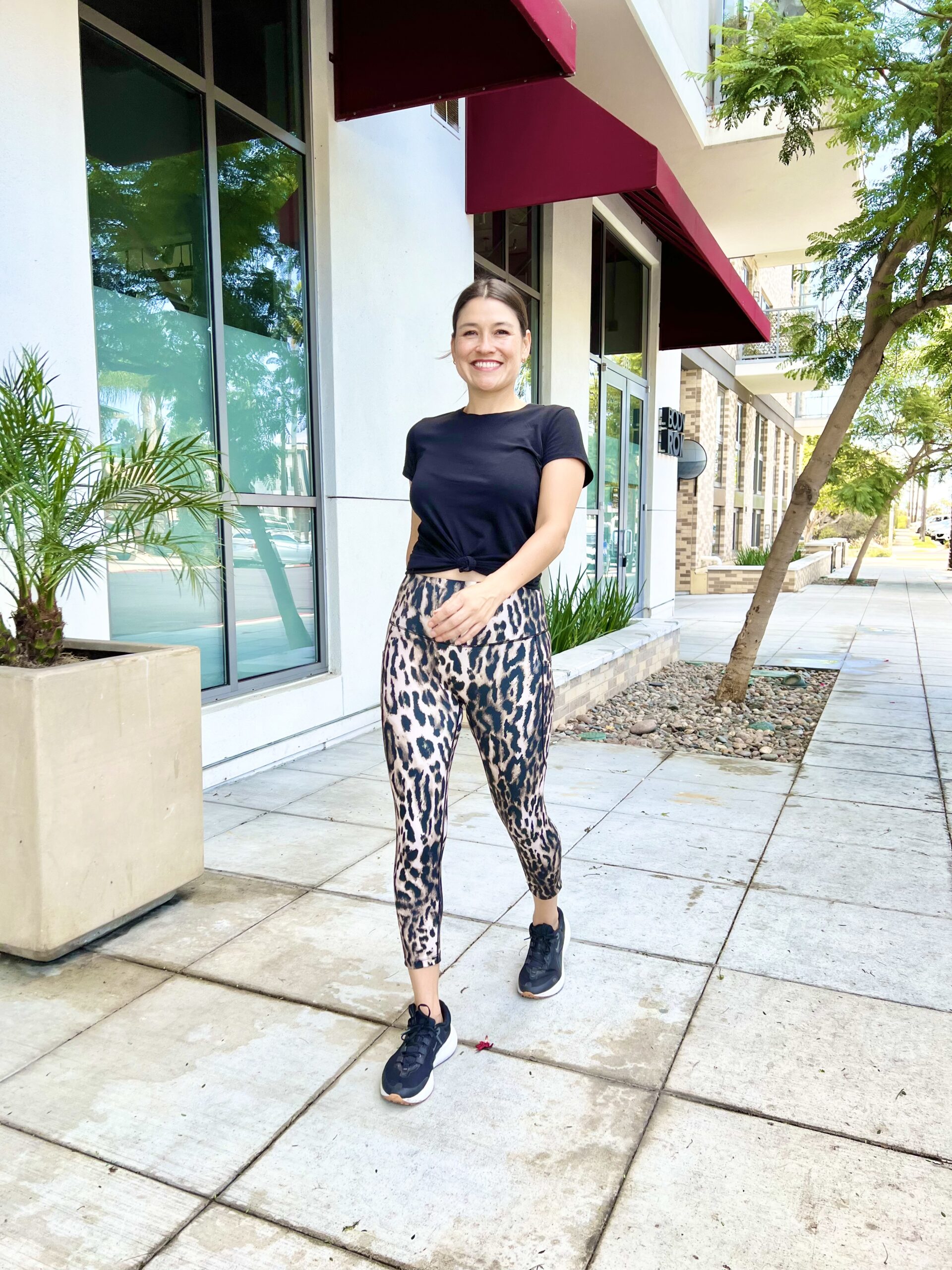 Baleaf Review: Workout Tops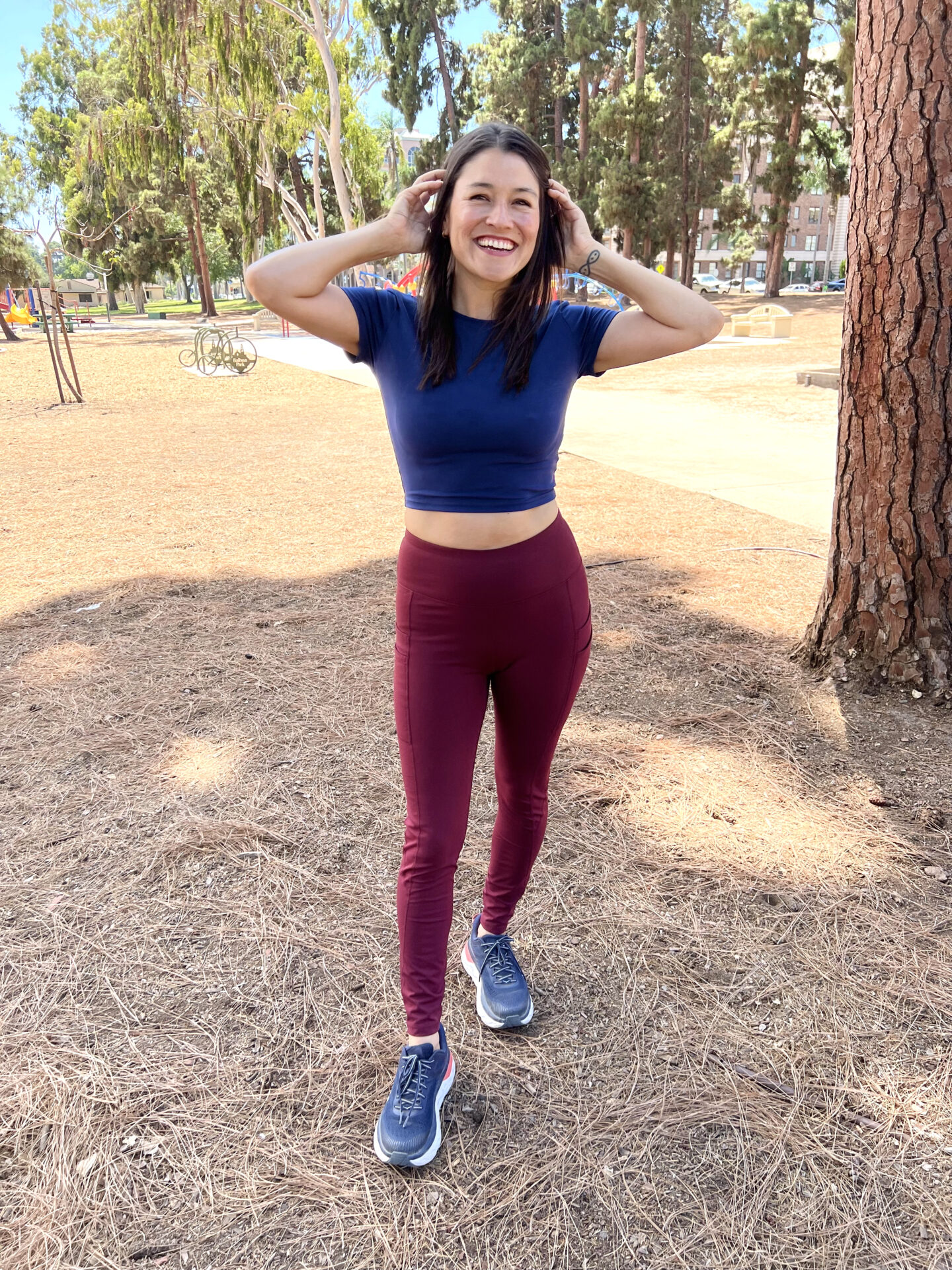 I have handfuls of Baleaf leggings and biker shorts, but I only have one Baleaf top, which I adore: the flyleaf crew neck crop top. Since I have only tried one of their tops, I don't feel comfortable reviewing them yet. I can only tell you what they offer: a lot of basic options in line with their ethos of versatility. In particular, I think you will be interested in their numerous UPF tops in plentiful colors. My fair-skinned clients are always asking for UPF options.
Baleaf Review: Which Size Should I Get?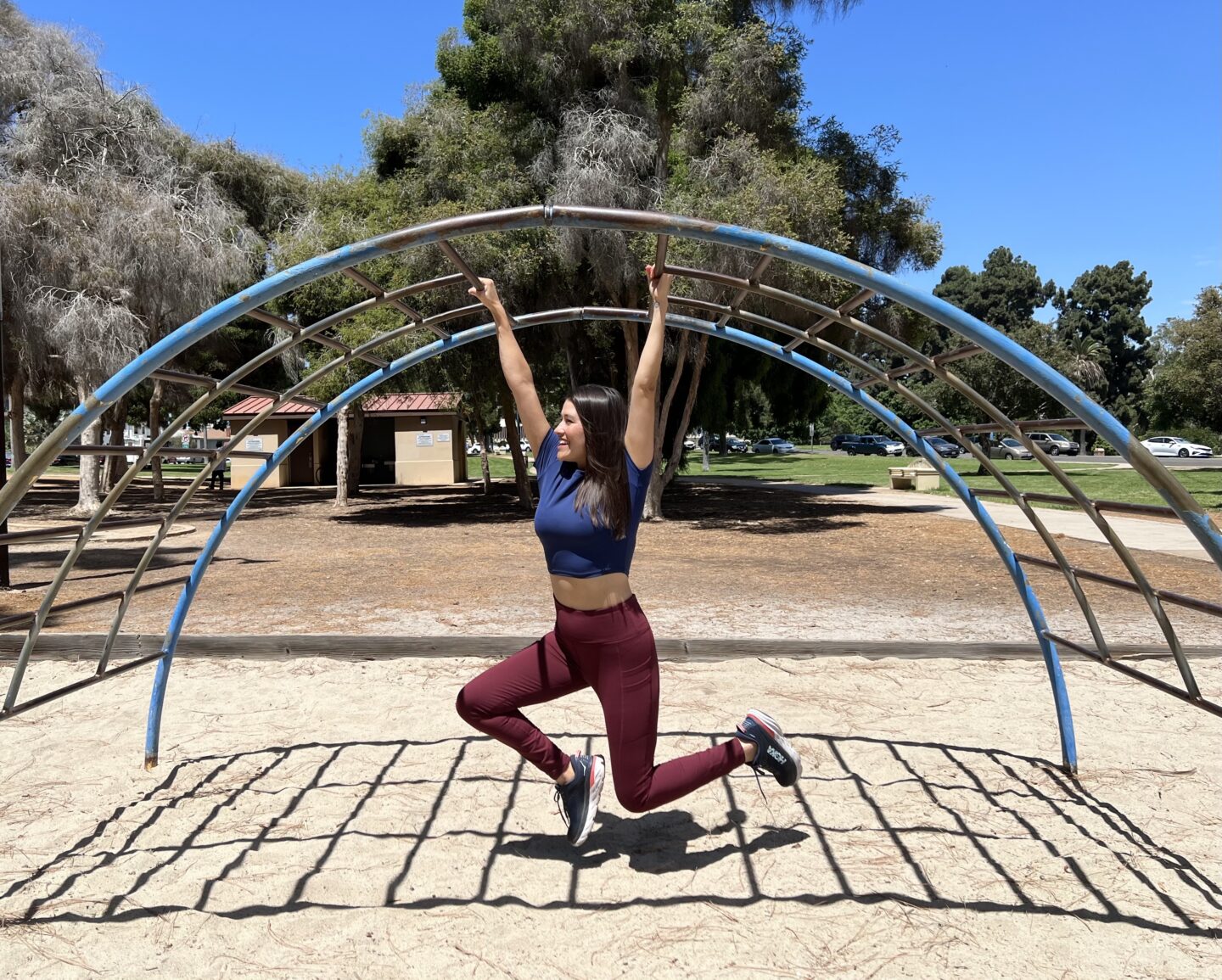 Baleaf pants and shorts run true to size. I am 5'4″, size 4/6, 126 pounds and I wear a size small in all their bottoms. I sized up on the crop top because it looked small on the model, and thank goodness I did. The size medium top fits me like a glove without squeezing my fat. When in doubt, order two sizes. If you don't want to deal with that, just order your usual size. Their items are so stretchy, you should be fine.
This post is sponsored by my beloved Baleaf.
Blue leopard leggings outfit and burgundy biker shorts outfit were photographed by Dayley Photography.