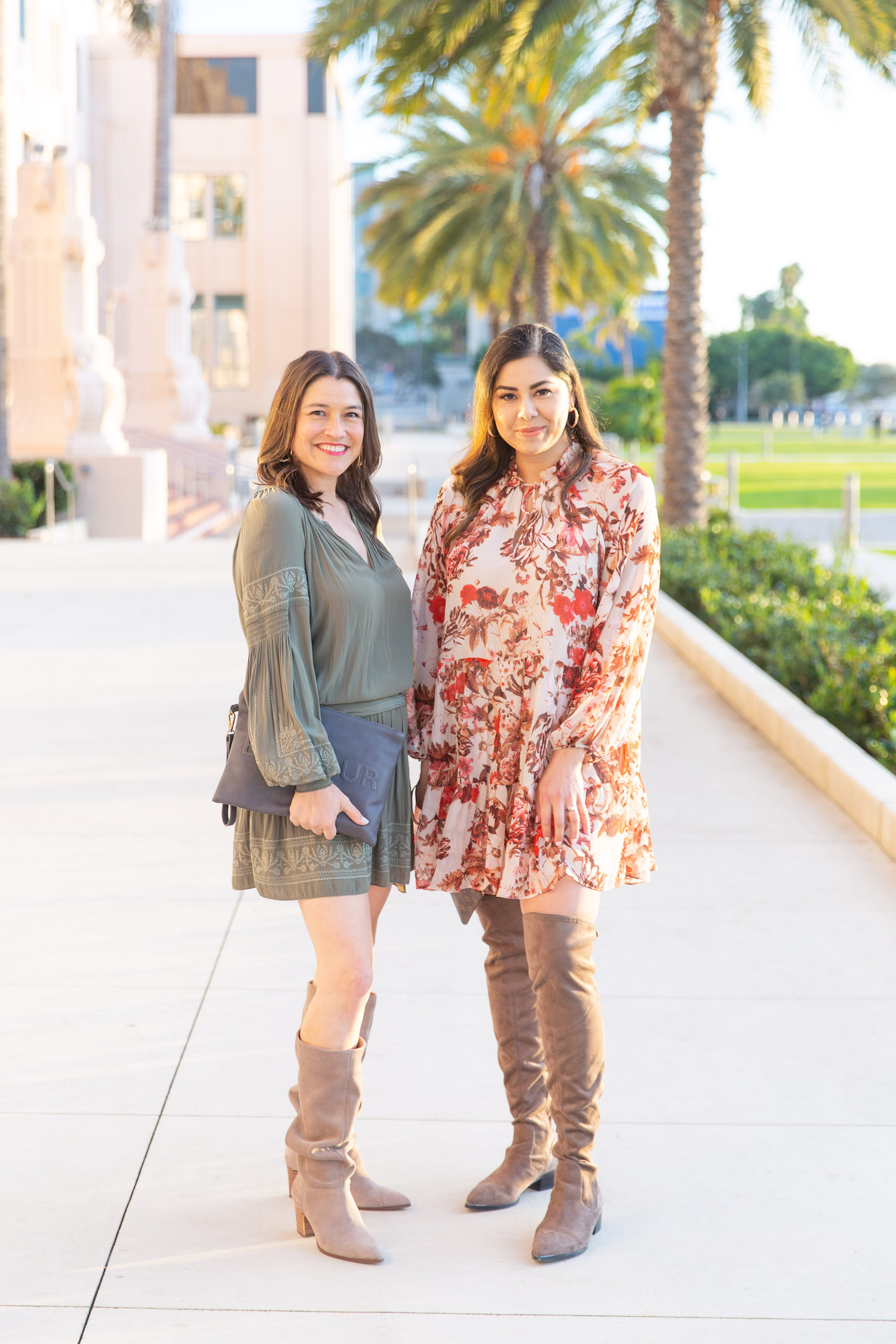 Taupe boots are the worst in the sense that few people know how to wear them. Also, stores use the word "taupe" quite aimlessly. Taupe seems to be used for every earthy color, from olive green and brown to grey and beige. Although, I don't blame them. Someone asked me what color taupe was the other day and I found myself saying, "It's kinda like a warm, light grey or a dirty beige." To give you the best idea of how to wear taupe boots, I invited back Paulina Morales of Lil Bits of Chic to show you more ways than one.
What To Wear With Taupe Boots aka What Colors Go With Taupe Boots
Taupe boots can look dirty and sad if you pair them with bright white, shiny pastels, or any color particularly joyous. All bright colors are a no-no, and you never want to pair them with anything "hot." You know, neon colors. You also want to skip crisp, dark colors like black or navy. And let's not forget to skip highly-saturated colors like deep, dark burgundy. Basically, there are a lot more "no" colors than there are "yes" colors that go with taupe.
Taupe boots look best with earth tones. Think cream, muted neutrals, and sage green. You can pair taupe with colors, but make sure they are "soft" colors. Paulina did a great job of showing you how to pair them with the color red. Do you see how the red in her dress is muted? You can also pair taupe with a soft plum, tan, or medium grey. Although don't pair it with light grey — they are too close in hue. Oops, look there. Another color not to wear with taupe. I should tell you now that taupe boots are not a highly versatile shoe choice. It may not be an efficient purchase for those seeking versatility — unless your whole wardrobe is full of cream, sage green, and soft muted neutrals. Check out the Shop This Post below for my favorite dresses, sweaters, and tops that will pair beautifully with your taupe shoes. And keep reading for more outfit ideas!
How To Wear Taupe Boots – Best Dresses To Wear With Tall Taupe Boots
The best dresses to wear with tall taupe boots are shorter dresses. And as I mentioned, you want these dresses to be in an earth tone palette, like cream, muted burgundy, sage green, and olive green. Here are my favorite dresses to wear with taupe boots this season:
Best Dresses To Wear With Taupe Booties
When wearing taupe booties, aka shorter boots, you can wear a dress of basically any length. I am particularly fond of the midi dress with booties look. Here are my favorite dresses to wear with taupe booties:
Treasure & Bond V-Neck Long Sleeve Shift Minidress in olive green floral
Shirts To Wear With Taupe Boots
Of course, one of the go-to looks with taupe booties are cuffed skinny jeans and a top. Here are my favorite earth tone shirts and sweaters to wear with taupe booties this season:
Photos by Dayley Photography