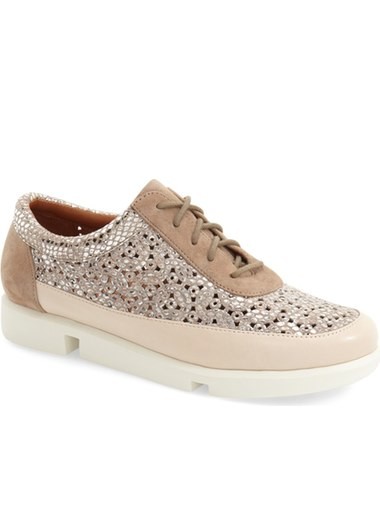 Stylish sneakers (and not so stylish sneakers) are all the rage in the street style scene, but its popularity is not why we want to own them. We want stylish sneakers because sweet, sweet comfort is necessary for traveling, roaming the farmer's market, dog walking and anything else that has our feet moving. I have put in some hefty research to find you some of the most comfortable stylish sneakers right now…
This is one of the most beautiful sneakers I have seen, and helllllloooo comfort. It's so darn smooth inside you don't have to wear socks. Plus you can take out the inner sole and slip in your own insert. As for the style, the blush shades of various textures is absolutely delectable.
Pairings: You can pair this with pale colors like my DL 1961 light-wash blue jeans in whitman, white jeans, and pastel-colored shorts. You can also pair this stylish sneaker with pale colored dresses if you're the edgy sort.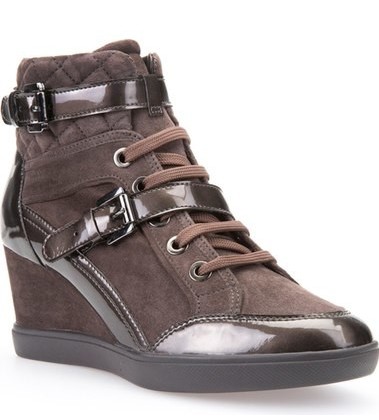 This waterproof heeled sneaker is that kind of grey-espresso color that looks very luxurious and grown up in a sea of 'trendy' heeled sneakers. It is fantastic for the rain and cold, but won't overheat you in San Diego. It is also very comfortable, but I wear socks with this one.
Pairings: I pair this with brown leggings mostly, but can also go with sweater dresses.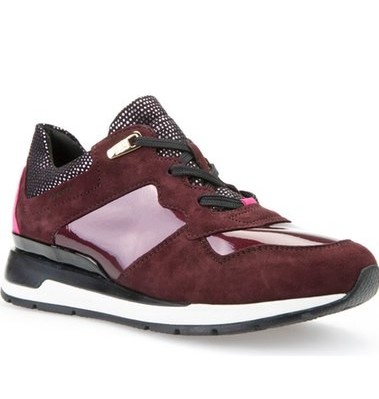 I was so delighted to find this oxblood and blush sneaker. The comfort is solid and can be worn without socks, but I prefer it with no-show black socks.
Pairings: I love this one with Zella's cut-out cropped black leggings, or Zella's slim fit capris.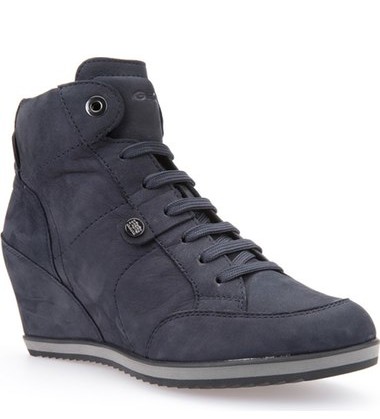 This Geox wedge sneaker in navy is gorgeous. And like the wedge sneaker mentioned previously, it is chic instead of trendy. The comfort is lovely and feels good inside and out.
Pairings: This will go with almost any color skinny jean or legging except dark blue or navy. My favorite colors to pair with it: light grey denim, ox-blood, forest green, light-wash blue denim, and even black leggings if you are doing a navy/black jacket or navy/black top on your upper body. You can also pair it with sweater dresses.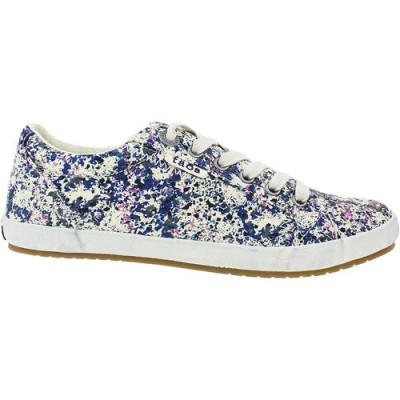 I absolutely adored wearing this Taos 'Star' around London. No need for a sock, it's sleek, utterly comfy and sporty.
Pairings: I pair the Taos 'Star' with shorts and ankle length, light-wash jeans. You can also pair it with J.Crew's 'Sunday Slim' chinos in lilac or white.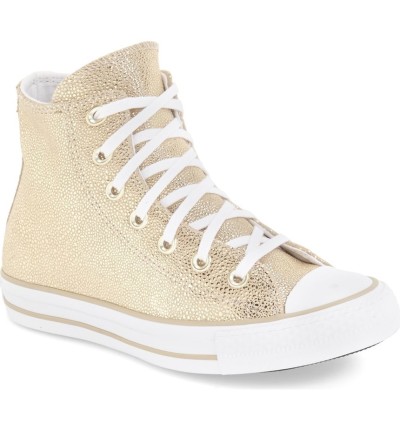 For those feeling the youthful vibe, these gold Chuck Taylors are fabulous, comfortable, and gold. Since it is a high-top, I recommend socks. Also, you should know that this stylish sneaker does not have as much support as the other sneakers on this list.
Pairings: Pair with lighter and pale colors like light-wash denim, white jean shorts, and light grey skinny jeans.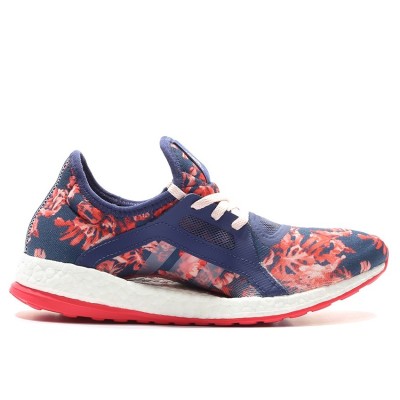 The Adidas 'Pure Boost' is a true running shoe that I approve of for stylish casual wear. It is absurdly comfortable, but I find the laces area rubs the skin a bit so I recommend a white or navy no-show sport sock with this option.
Pairings: The navy is gorgeous and can be paired with medium-to-dark-wash jeans, navy capri pants, and shorts.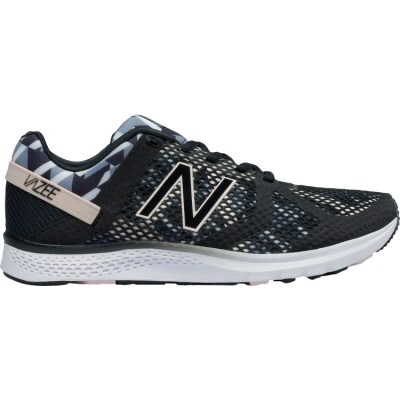 This New Balance trainer is another stylish sneaker that is more workout then casual wear, but it works beautifully with casual sporty looks.  Again, I recommend a no-show black sock.
Pairings: I love this one with Zella's cut-out cropped black leggings, or Zella's slim fit capris.