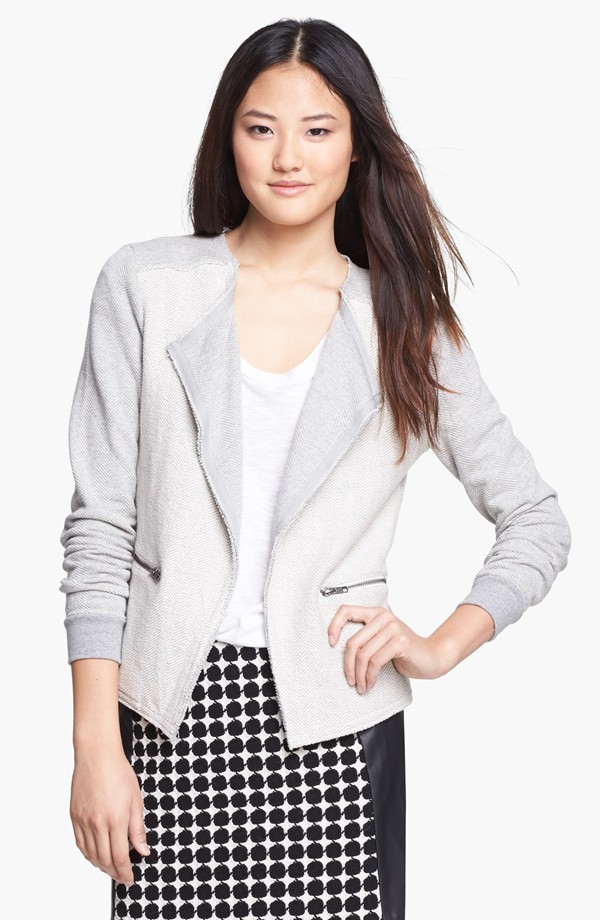 A true client favorite, this Caslon jacket is the softest most comfortable structured knit blazer I have seen this spring, probably longer. It is a super star, working with women in their fifties and their twenties and going everywhere from dog walking, to dinner out. When an item like this comes out, it makes me look so very good to my clients. It is flattering all sorts of body types, and the dressy structure mixed with the casual knit fabric gives that effortlessly stylish essence we all crave. My absolute favorite part about it, is I can firmly tell my client to pass on the hoodie, or zip up what-have-you, and choose this instead. Finally they can be comfortable and look put together as they run their errands or work from home. There is nothing more desired from my clients, and perhaps yourself, to have comfortable stylish clothes that don't make you feel overdressed in your day-to-day.
How to Wear: You can wear this over a t-shirt, a tank top, a silk shell, or any other top with a flat front. A cotton, rayon, wool or any other softer fabric dress is another great item for this knit jacket to cover up. I am not going to love the jacket with a silky dress. If you are not going to wear a dress with it, pair with jeans, shorts, skirts, chinos, slacks and even the right yoga pant will be fabulous. Think of it as a go-to throw on when running out the door in your basic top. As I said to my client on Tuesday, "This is a Chanel-esque dog walking  jacket." To which she replied, "Wow! Now find me Chanel-esqu dog walking shoes." That's for her and I's next session, and a later conversation on V-Style.
What Not To Wear: Don't wear it with a collared shirt, ruffles, or any other overly 3-D embellished blouse. Also, as a light grey jacket, don't pair it with overly bright or dark colors. Stick to neutrals, especially white.
As a side note, the picture on the website really does not do it justice. It looks and feels so much cooler in person. Nordstrom really needs to style their garments better. As well as select their models more carefully. As you can see in the photo, the model is too small to be modeling the brand Caslon, which runs slightly bigger than true to size. She is probably a size 0, and Caslon specifically sates that their extra small is for a size 2, nothing smaller. She looks like she borrowed her Mom's jacket in the photo. It should be much more fitted than it looks on her. Speaking of size, the blazer comes in petites. Success!