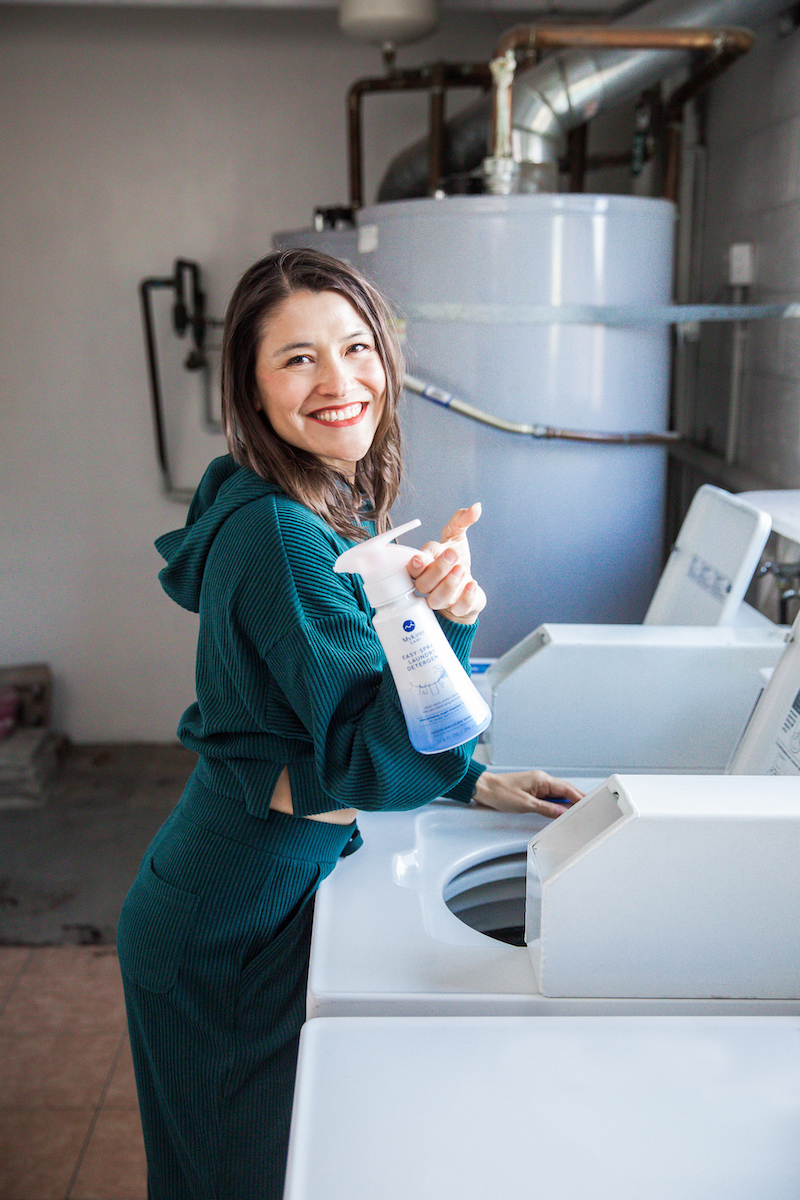 In my pursuit of a more sustainable existence, I am regularly researching new eco-friendly products to replace my less sustainable products. Next on my research docket is MyKirei by Kao. 
What Is MyKirei?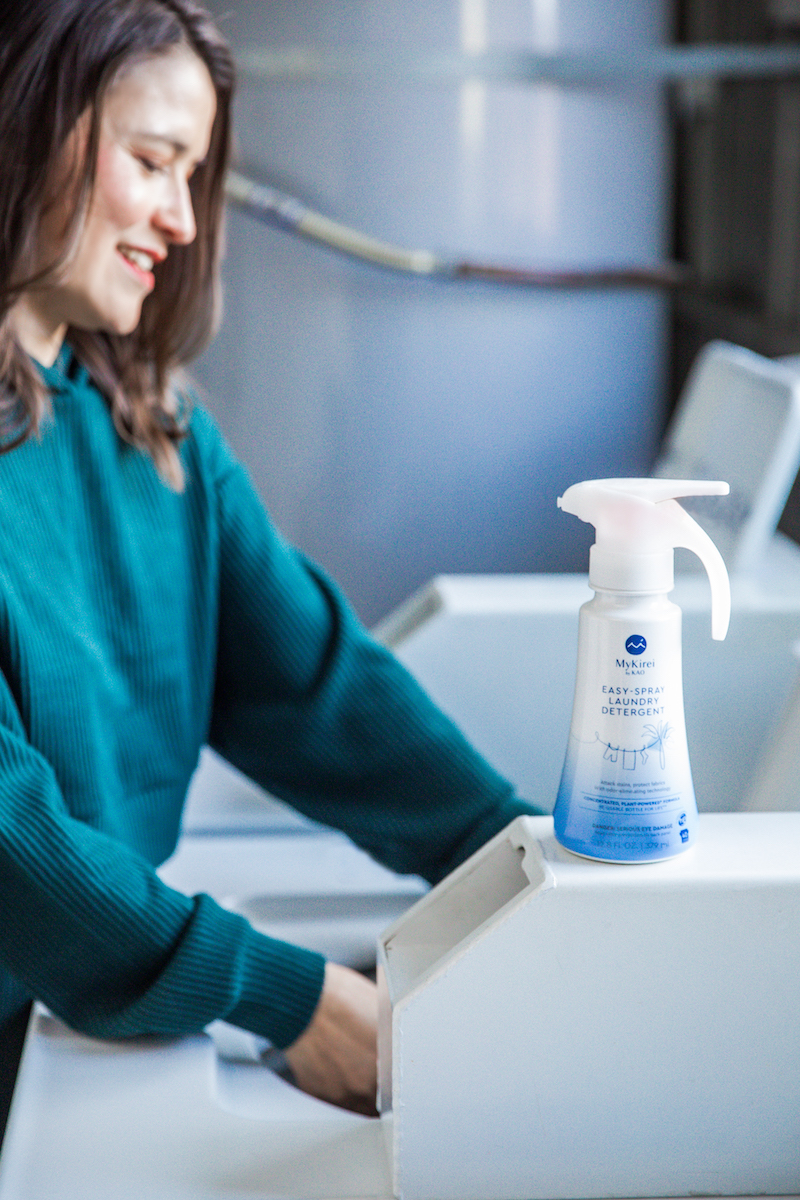 MyKirei is a product collection by Japanese company Kao that focuses on shampoo, soap, and laundry detergent – which I LOVE. The line of products is inspired by the Japanese philosophy of Kirei, which means to live a beautiful life of cleanliness, simplicity, and sustainability. They believe we should never have to compromise efficacy for the future of our family and planet – an ethos I respect. I accepted this collaboration with them for reasons you will read below, but I especially love that all their bottles are recyclable through Terracycle, one of my absolute favorite recycling programs.
MyKirei Handsoap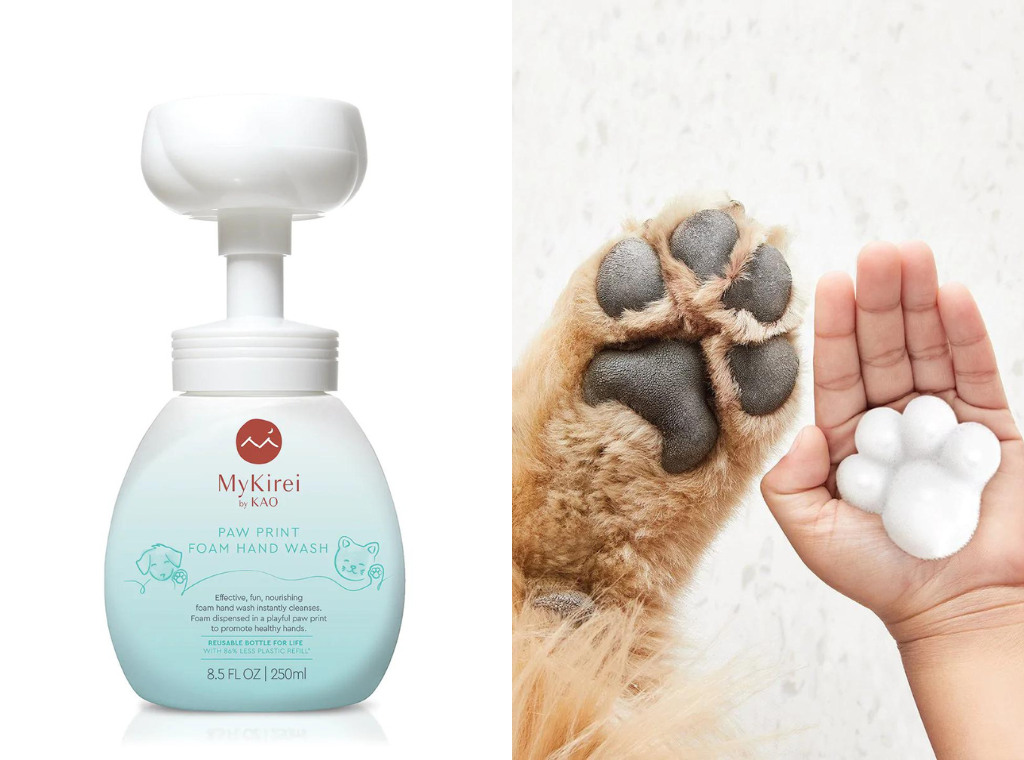 MyKirei's foaming hand soap is 99% biodegradable and infused with Japanese Yuzu fruit extract and rice water. It's free of phthalates, parabens, mineral oil, and artificial dyes. Plus it is vegan-friendly and cruelty-free. 
The soap is packaged in a refillable "bottle for life." It's designed to dispense the perfect amount of soap in the shape of a paw print that is absurdly cute. The goal of the paw print is to encourage frequent hand washing. As a germaphobe, I do not require such encouragement, but after reading my friend Gary Ware's book, "Playful Rebellion" I have been wanting to enjoy the small moments in life more and this should definitely add delight to handwashing. And, of course, kids will adore it.
When it is time to refill your soap, make sure you order the less expensive (and more sustainable!) refill bag versus a new "bottle for life." Obviously, if you already have a soap dispenser that you love and don't need soap paws in your life (what?!), simply buy the refill bag and skip the more expensive dispenser. The refill bag is made from plastic film, but is recyclable through their program with Terracycle that I mentioned above. 
In addition to MyKirei's website, you can also buy the paw print hand soap and refill on Amazon. 
MyKirei Shampoo + Conditioner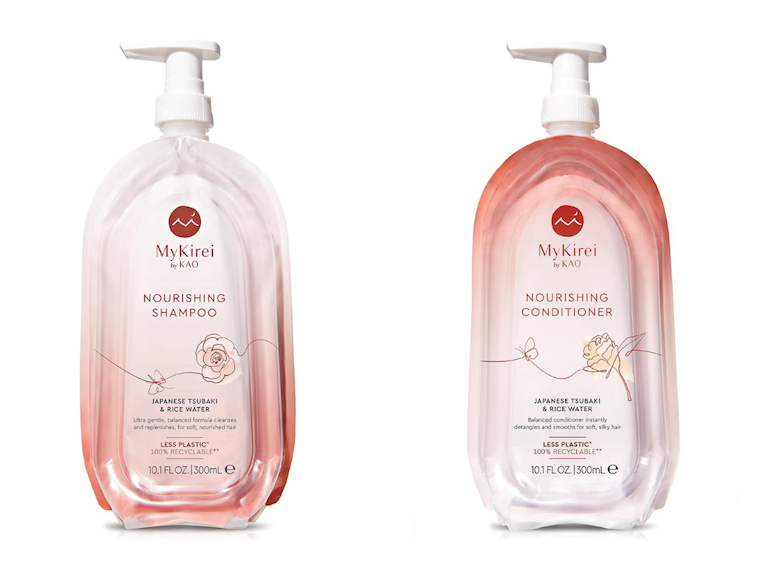 MyKerei's plant-based shampoo is infused with vitamin-rich rice water and moisturizing Japanese Tsubaki extract, which is known to be rich in oleic acid, proteins, and glycerides. You know I'm always on the hunt for the best products for my weak hair and no two ingredients are more revered in the Japanese culture than Tsubaki and rice water, both known as the secret to sleek, strong hair. I have been stalking all the Instagram ads that feature Japanese women washing their gorgeous locks with products made with rice water. Trying a rice water formula on my limp strands has been on my beauty to-do list for about a year now. 
Their conditioner is also infused with Japanese Tsubaki extract and rice water and both products are said to be safe for color-treated hair and are phthalate, paraben, mineral oil, artificial dye-free, vegan-friendly, and cruelty-free. As for their "air bottle" packaging — this special design uses roughly 50% less plastic than traditional bottles by using an air fill to give the bottle shape and hold it upright. Both the shampoo and conditioner are available on Amazon, in addition to MyKirei's website. 
MyKirei Body Care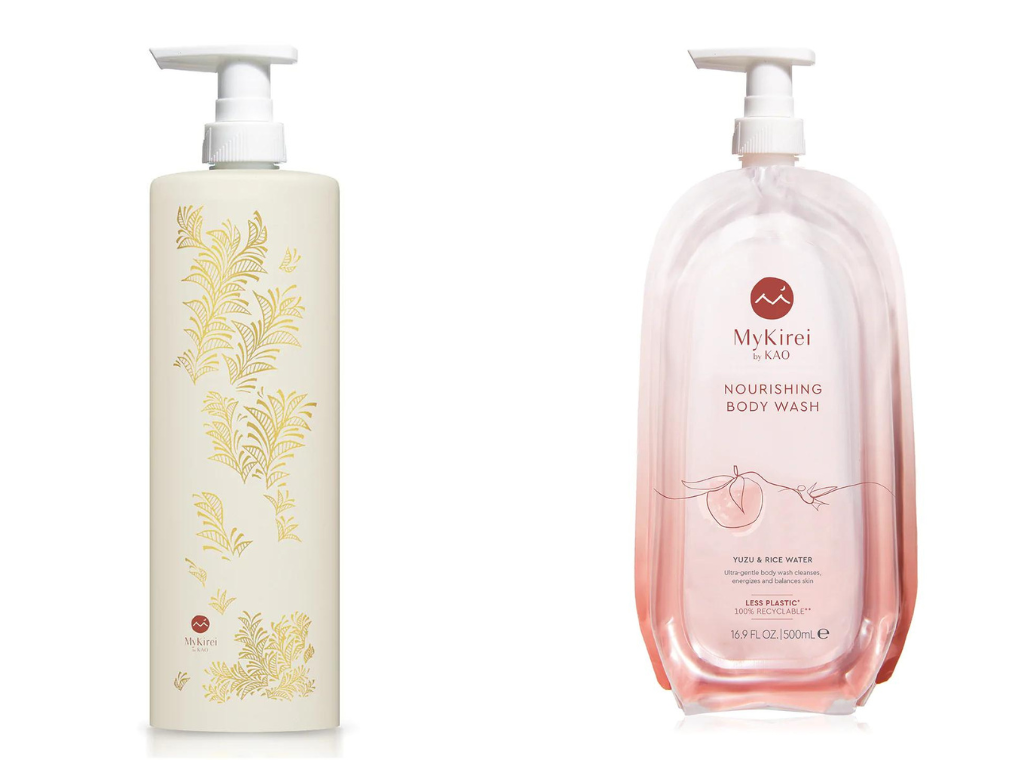 MyKirei also makes body lotion and body wash. The lotion is vegan-friendly, cruelty-free, and phthalate, paraben, and artificial dye free. The 92% biodegradable formula has a milky texture that is said to be lightweight and fast absorbing. It is packaged in a sturdy reusable outer shell, with clip-in pouch refills, so it can be reused again and again. If you don't love the packaging, just buy the refill packaging and load it into your vessel of choice.  
The body wash is made from plant-based cleansers and formulated with Vitamin C-rich Yuzu Extract, known to visibly plump skin, as well as rice water. It is safe for sensitive, eczema-prone skin and designed to rinse off quickly, which means less water is required for rinsing. The body wash also uses their patented Air Bottle packaging, meaning it uses less plastic and is recyclable through Terracycle.
They also have a 99% biodegradable foam body wash made of the same power ingredients, but with refillable packaging. 
All the body lotion and body wash products are available on Amazon as well as MyKirei's website. 
MyKirei Home Care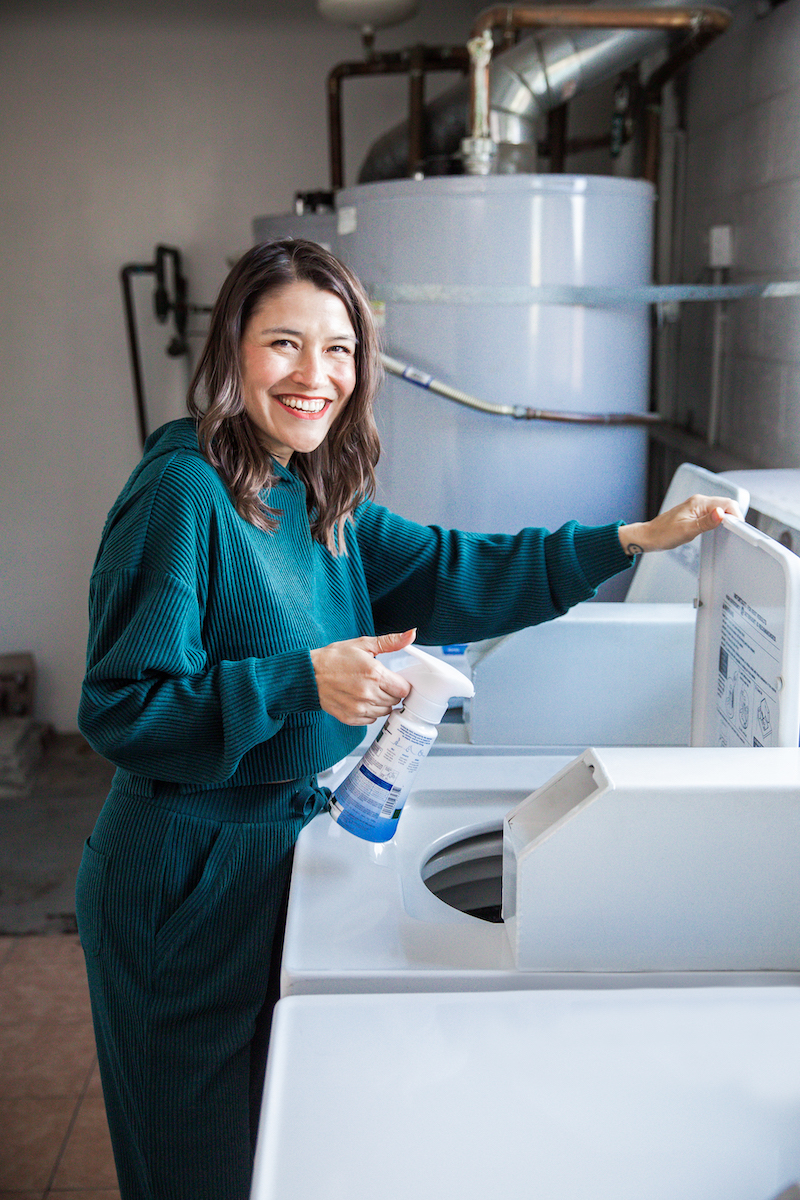 I detest large laundry detergent jugs. They are heavy, cumbersome, ugly, and take up far too much space. They are the opposite of Kirei. Smaller jugs of detergent are expensive and extra wasteful for the environment because you have to buy them more often and use more plastic. These days there are too many fantastic laundry detergent options out there to ever have to buy jugs of detergent again. MyKirei is one of these options.
MyKirei's easy spray laundry detergent is effective on stains, doesn't require measuring, and leaves no drippy mess, which I can attest to! I LOVE their detergent. You just squirt 1-6 pumps into your washing machine, depending on the size of your load. And because it's highly concentrated, the bottle is smaller than typical detergents . I feel absurdly elegant using the bottle and I ADORE the handle aspect so much. Besides the ease of use, I am enamored with the fact I can just hook it on my laundry cart. I leave it there 24/7 because it saves space in the cupboard, the small bottle doesn't get in the way and it is not an eyesore. In fact, its lovely! Just like the subtle fresh scent of my laundry afterwards. 
A few more fun facts: the detergent is formulated with BIO-IOS, a proprietary plant-based surfactant that won't leave behind residues and will rinse out completely, even in cold water. It's also 98% biodegradable, phosphate-free, made from 65% plant-derived cleansers, and safe for sensitive skin like mine. You can also use the spray bottle "for life," so when it is time to buy new laundry detergent, you can just buy the refill bag. The laundry detergent is available on MyKirei's website and Amazon.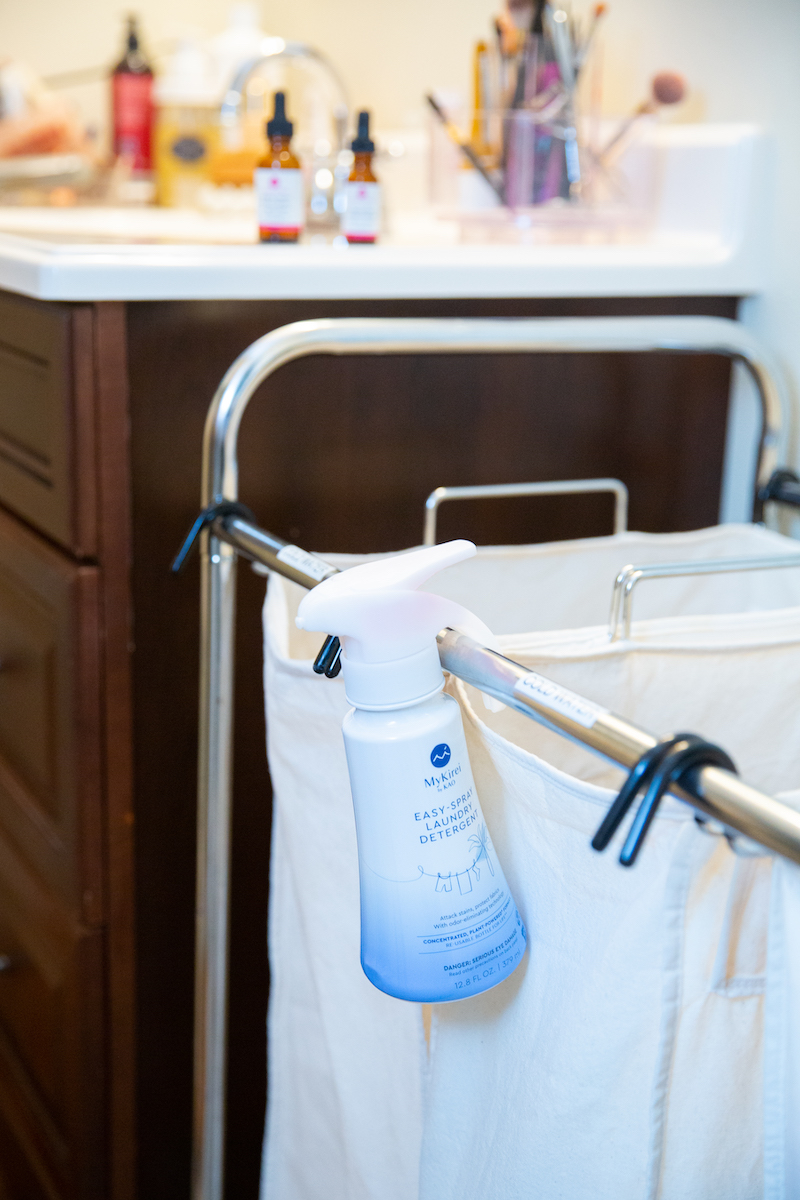 Photography by Dayley Photography. Post sponsored by MyKirei.