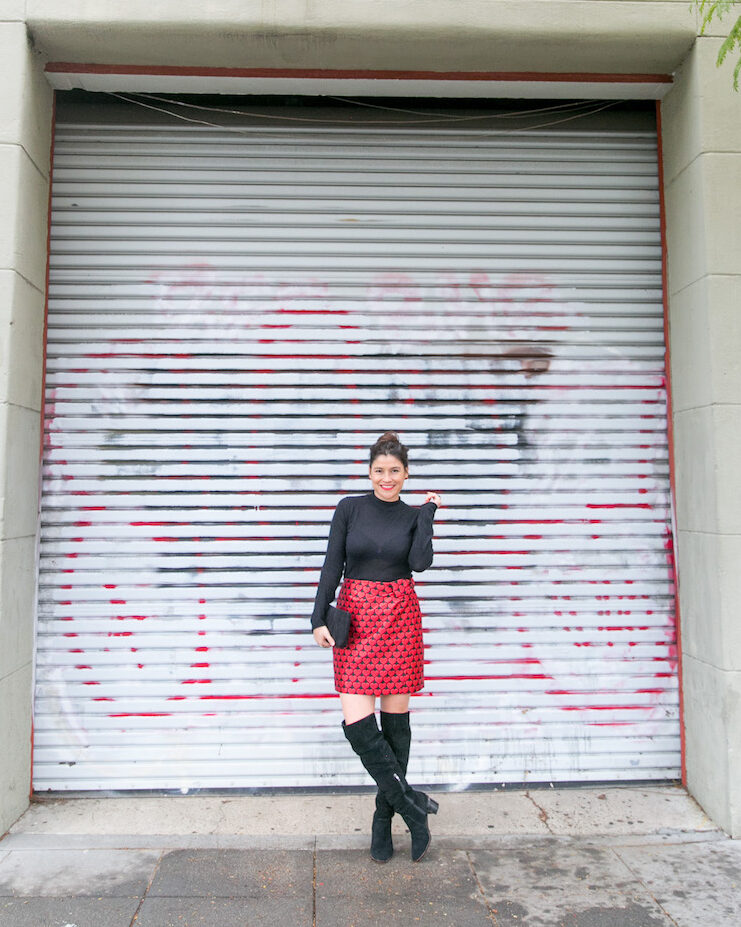 Anyone excited for an outing on February 14th is in need of some Valentine's Day outfit ideas. And if you're not excited, think again. The holiday has some pretty crazy origins. Growing up, I had always heard the story about how St. Valentine was falsely imprisoned by a Roman Emperor. While in jail he fell in love with the jailer's daughter who took pity on him and would bring him food and water. He later wrote her a letter saying thanks and signed it "Your Valentine." But alas, this legend has been debunked, and the actual origins are a bit more debaucherous.
Scholars say back in the day Christian leaders would create saint holidays around the same time as pagan holidays to encourage conversion and stop the scandalous celebrations. In this case, Valentine's Day is suspected to have stemmed from a Roman celebration called Lupercalia, where men would sacrifice a goat and then whip women with the hides with the belief it would make them fertile. There was also a raffle to auction off women. Yes, really. (I recommend this NPR article if you want all the details.) Other historians credit the poet Chaucer as the first to link Valentine's Day to romance, followed by later poets like Shakespeare who continued to popularize it.
Anyways, regardless of how the holiday got its start, I've been thinking a lot about holidays and traditions and how important it is to make it your own, while embracing the mood. Growing up, my Mom laid out pretty little love notes and candies at the breakfast table for me and my brothers. Now, single or committed, I celebrate Valentine's Day every year, even if it's just sending my Mom a cheesy card in the shape of a heart. And of course, for me, embracing the mood of a holiday always begins with the outfit. If you're not sure what to wear on Valentine's Day, I've outlined modern versions of classic Valentine's looks to inspire you, whether you're going out with friends for a Galentine's Day celebration, having a cozy date night at home, or heading out for a fancy evening on the town.
Valentine's Day Outfit Idea: Slip Dress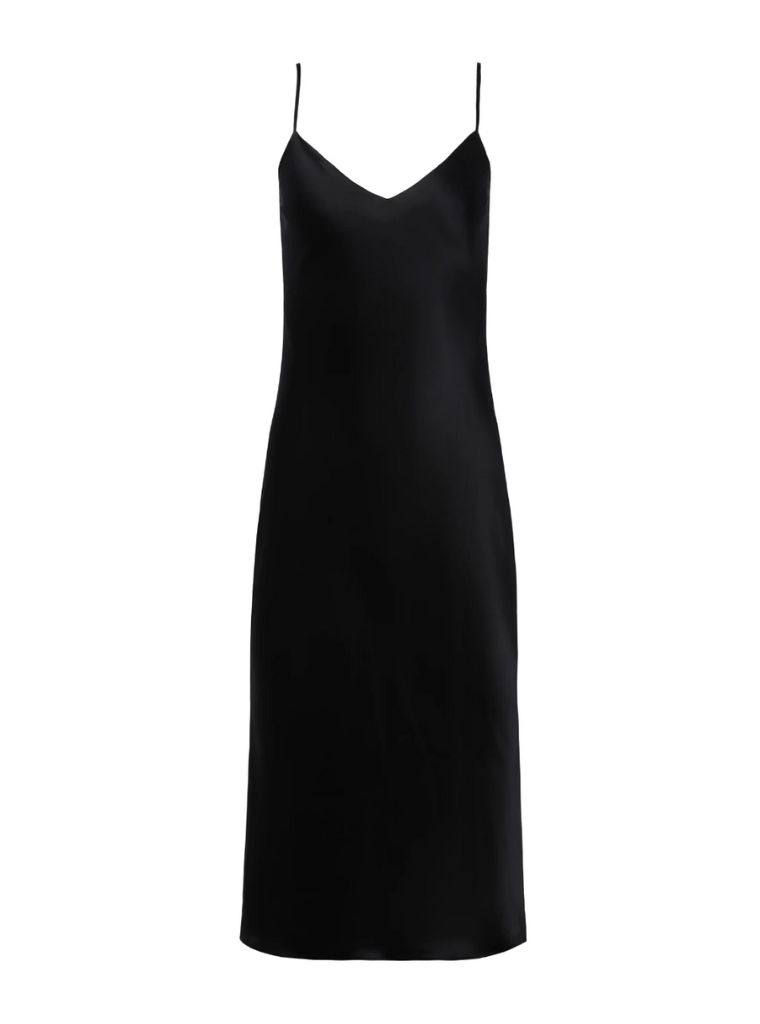 A slip dress on Valentine's Day is always a good outfit idea. The silky fabric tantalizes the wearer as well as your date, both visually and tactilely. Above is one of my favorite silk slip dresses ever made by L'Agence. It's available at L'Agence, Shopbop, Bergdorf Goodman, and Saks 5th Avenue. I'm also loving this budget-friendly satin midi slip dress from Abercrombie. If you need to wear a bra to feel comfortable, select a sexy bra in the same color as the dress and just let it show. If you love to go braless (like meee!) either embrace the fact your nipples will show (like meee!), or try my favorite nipple covers by Fangle Floral, listed under the brand Free Bra on Amazon. If you want a slip dress that is thick enough to hide most nipples, I highly recommend the Left Edit slip dress.
Pair your slip dress with a slim leather jacket and pointed toe booties to cap off this Valentine's Day date night look.
Valentine's Day Outfit Idea: Mini Sweater Dress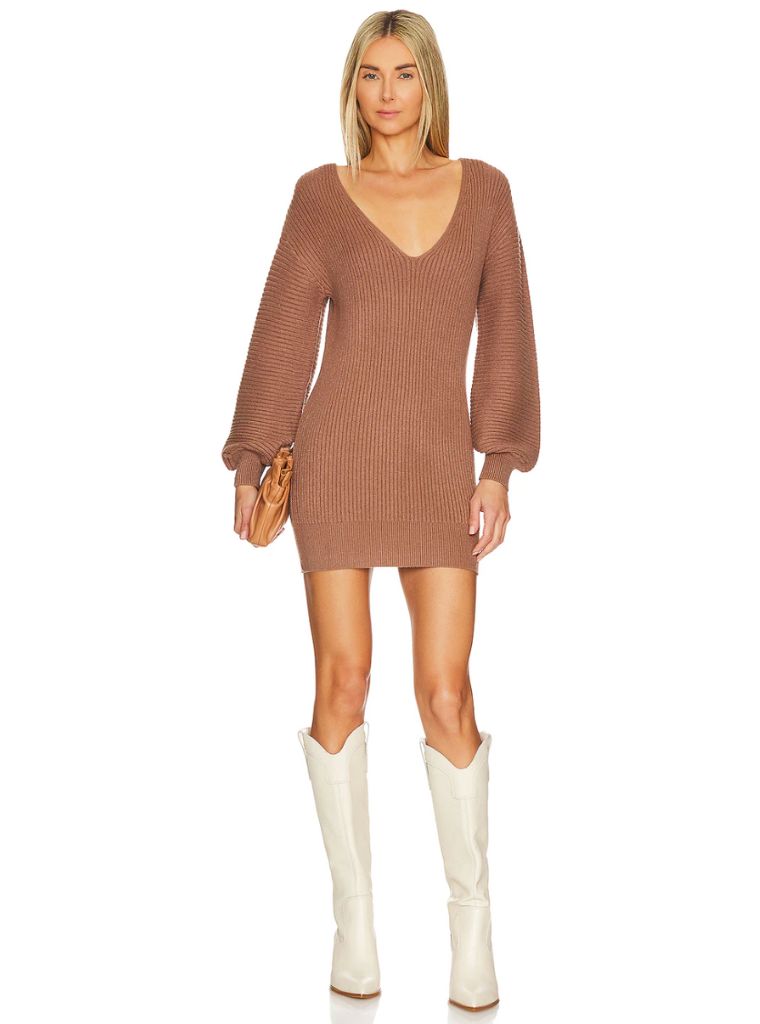 It's cold for most Americans in February! If you are spending a portion of your Valentine's Day outside, a mini sweater dress is my favorite Valentine's outfit idea. You get the sexy vibe of a dress, but the cozy warmth of a sweater.
Pair your sweater dress with thick tights and over-the-knee boots. Top it off with a long coat for serious warmth. You will look sexy as hell, but feel cozy as can be.
What To Wear On Valentine's Day: Lingerie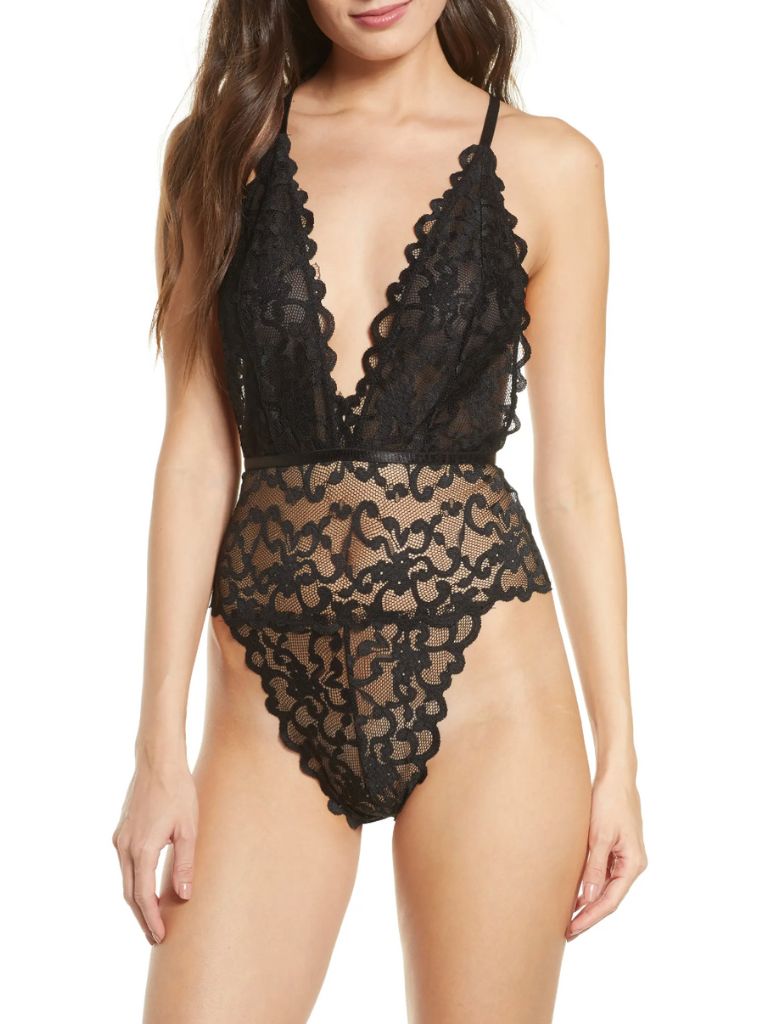 Let's be real. Between the prominence of working from home, the pandemic, the weather, and an aversion to crowds in general, most of you are not going out for V-Day. So let's give you a Valentine's outfit idea that makes staying in feel a little special this year: lingerie! Yes, lingerie can be an outfit. This lace teddy is my favorite flattering lingerie item I have put on myself and some clients. It's also comfortable enough to wear under a sweater and jeans, so you can really surprise your partner when you take off your clothes.
Valentine's Day Outfit Idea: Sheer Blouse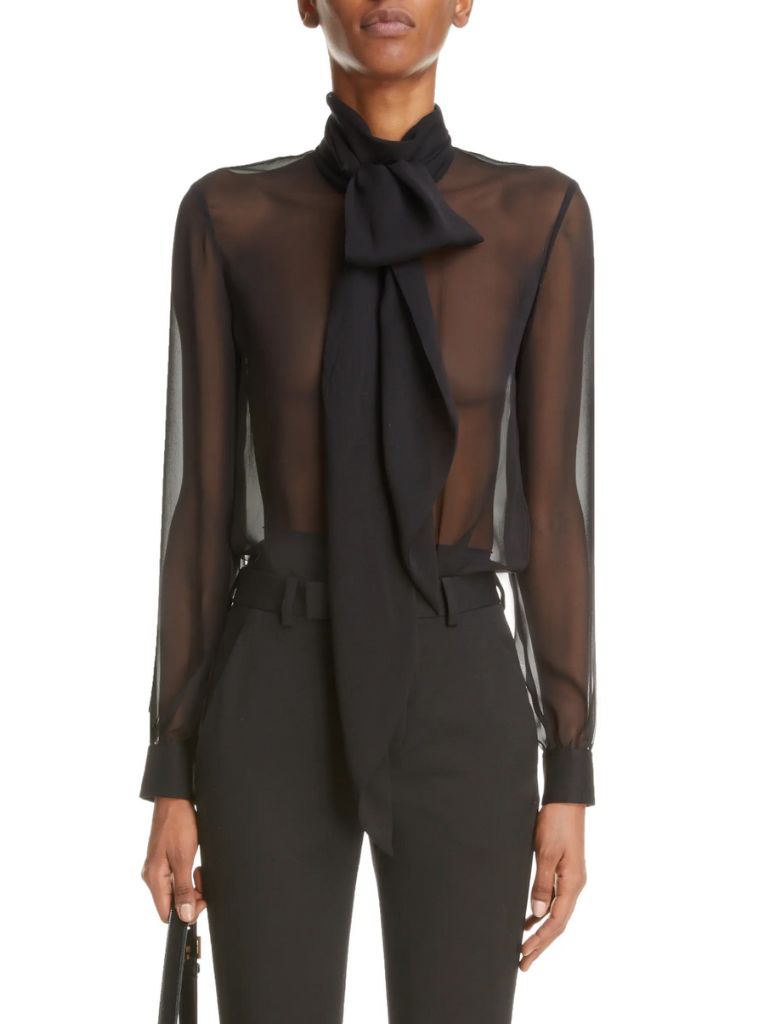 I love a sheer blouse, and you just don't see enough of them. If you're looking for what to wear on Valentine's Day, you can't go wrong with pairing a see-through blouse over your favorite black bra. Tuck it into a high-waisted skirt or high-waisted jeans. Here are my top three sheer blouses right now:
What To Wear on Valentine's Day: Hearts!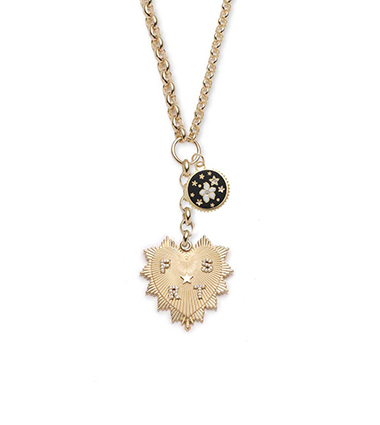 Why not take the holiday literally and embrace the heart of the holiday with some heart-shaped jewelry. Pop on over to my other post literally titled "Heart Shaped Jewelry" to see the entire list of my favorite heart-shaped jewelry. There are so many fun and fresh pieces sporting the symbol of love this year. And all the goodies can be incorporated into your year-round wardrobe — they don't have to live for just this day. Pick your favorite heart piece to build your own love-themed look, and rock it whenever you're feeling cheeky.
Valentine's Day Outfit Idea: Lace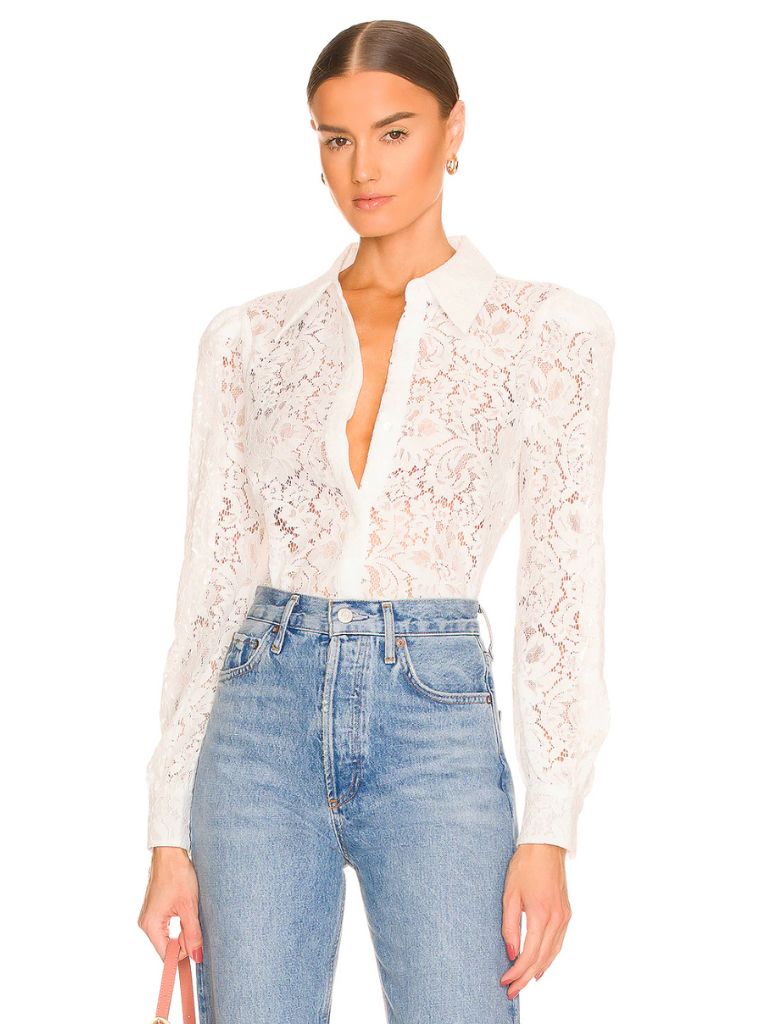 Whether it's a lace top, lace skirt, or lace dress, lace on Valentine's Day is a classic outfit choice. Pair your lace garment with leather, denim, or cashmere for a modern look. Here are the lace tops I'm loving for Valentine's Day outfits this year:
L'Agence Jenica Lace Blouse ($395)
Express Lace Long Sleeve Corset Cropped Top ($78)
Karen Millen All Over Lace Button Through Jersey Blouse ($128 $50)
Valentine's Day Outfit Idea: Sexy Dress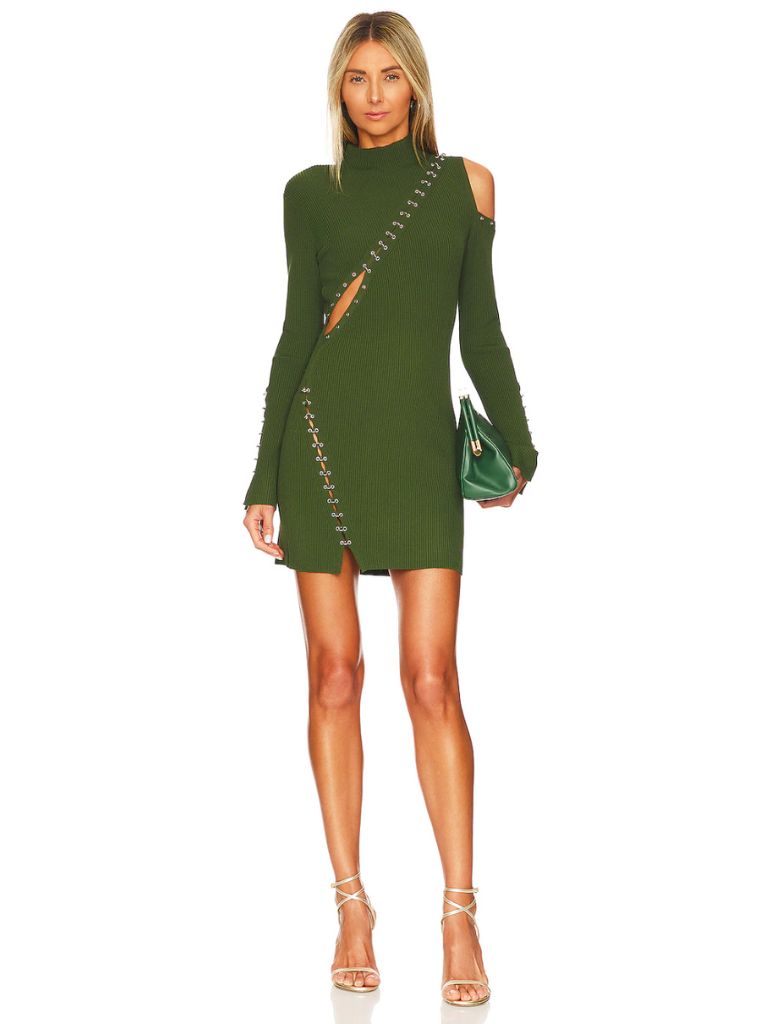 A sexy dress on Valentine's Day is pretty obvious, but how could I not mention it as an outfit option? I know I covered a few of my favorite dress styles for Valentine's Day above — hello, slip dresses and sweater dresses — but whatever dress you feel sexiest in is the dress you should wear on Valentine's Day. For some women that is a barely-there whisper of a frock. For others, a dress in and of itself after wearing athleisure for the past month practically feels pornographic!
What To Wear On Valentine's Day: Happy Pink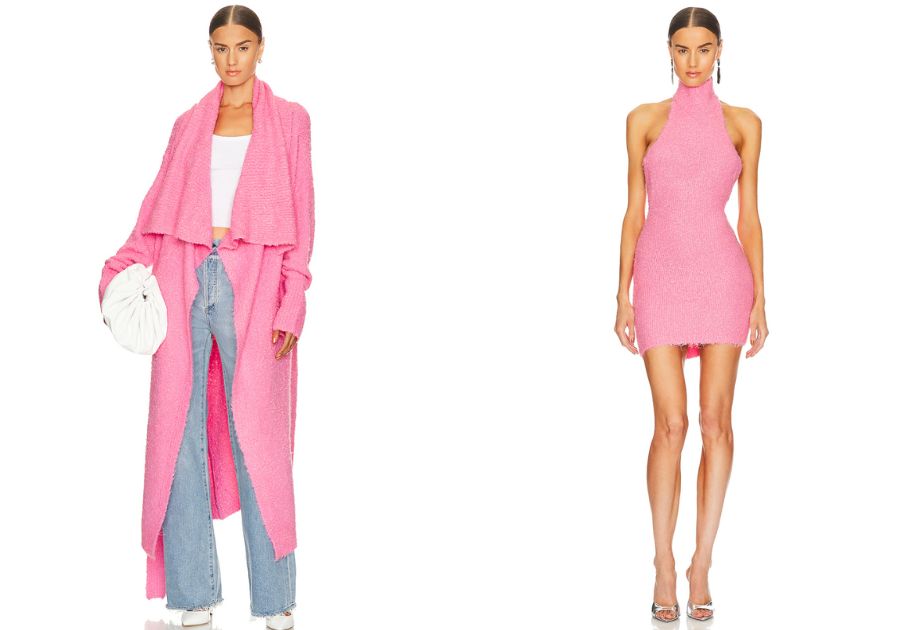 Barbiecore is here darling, and there is no better day to rock this bubble gum shade of happy pink than Valentine's Day. Curb your cynicism and embrace your playful side with this Valentine's outfit idea. Pair this bright bubblegum pink matching set with white booties.
Valentine's Day Outfit Idea: Heart Printed Skirt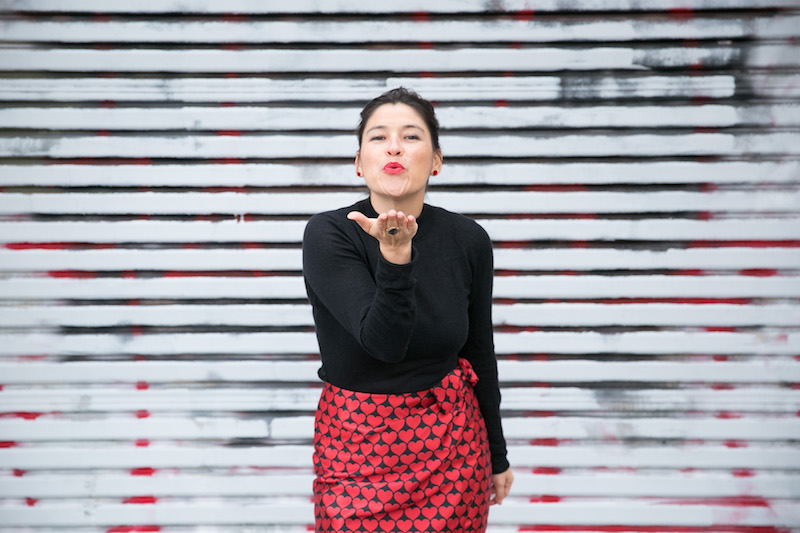 On Valentine's Day, I like to dive into the whimsy of heart prints — who doesn't need a little whimsy during these winter months, amirite? One Valentine's Day outfit idea that I adore is a heart-printed skirt, a black turtleneck, and suede boots. It's warm, fun, and sophisticated and can work for either a casual or fancier Valentine's, depending on the skirt. Below you'll see a few more heart-printed skirt outfit ideas.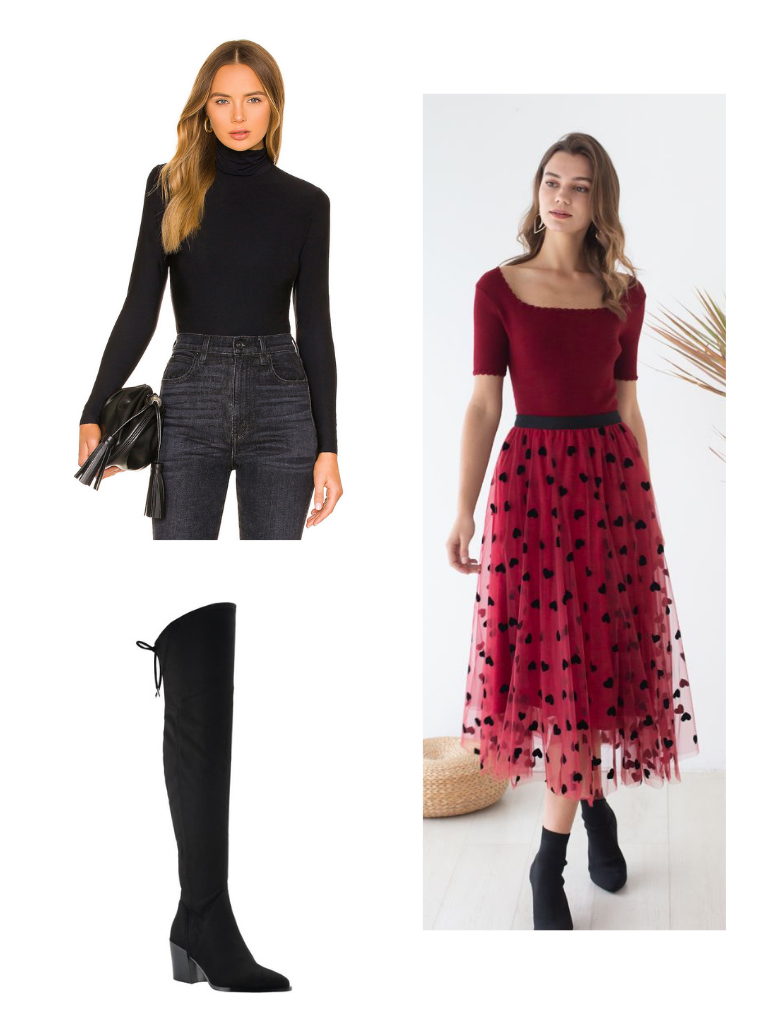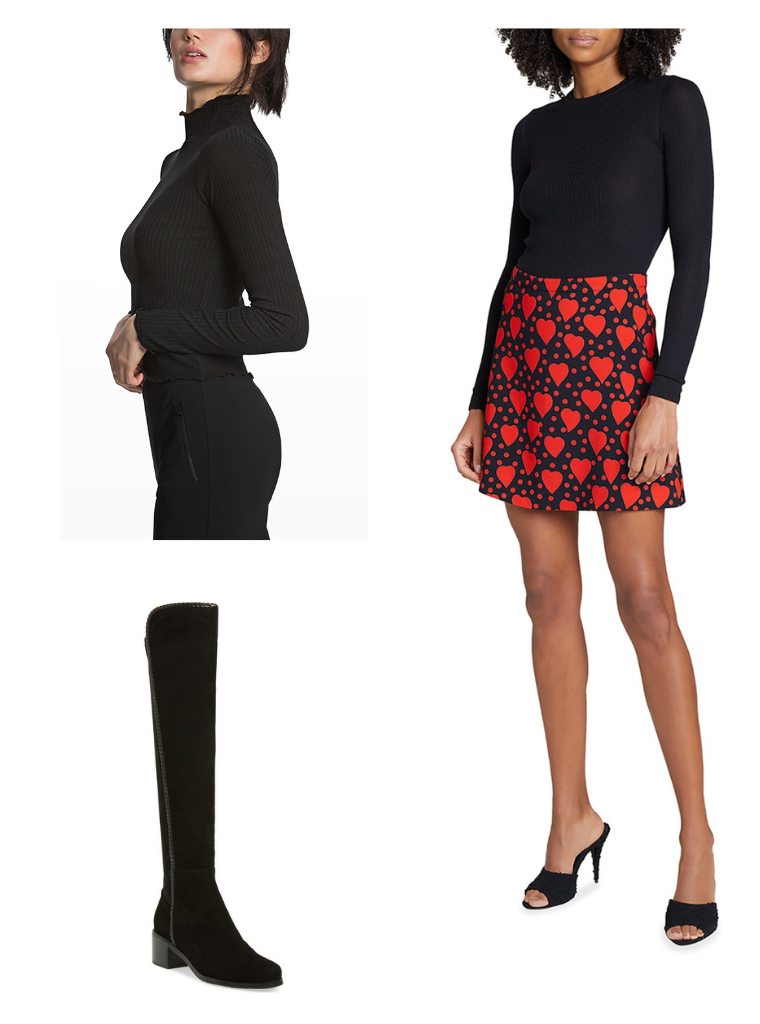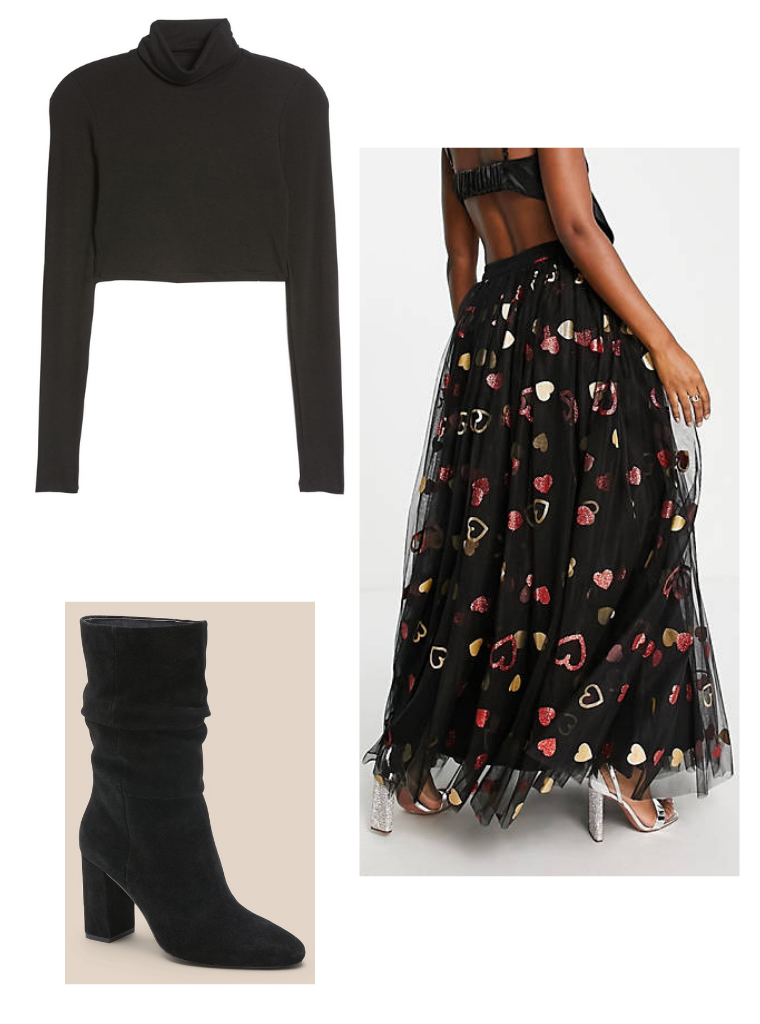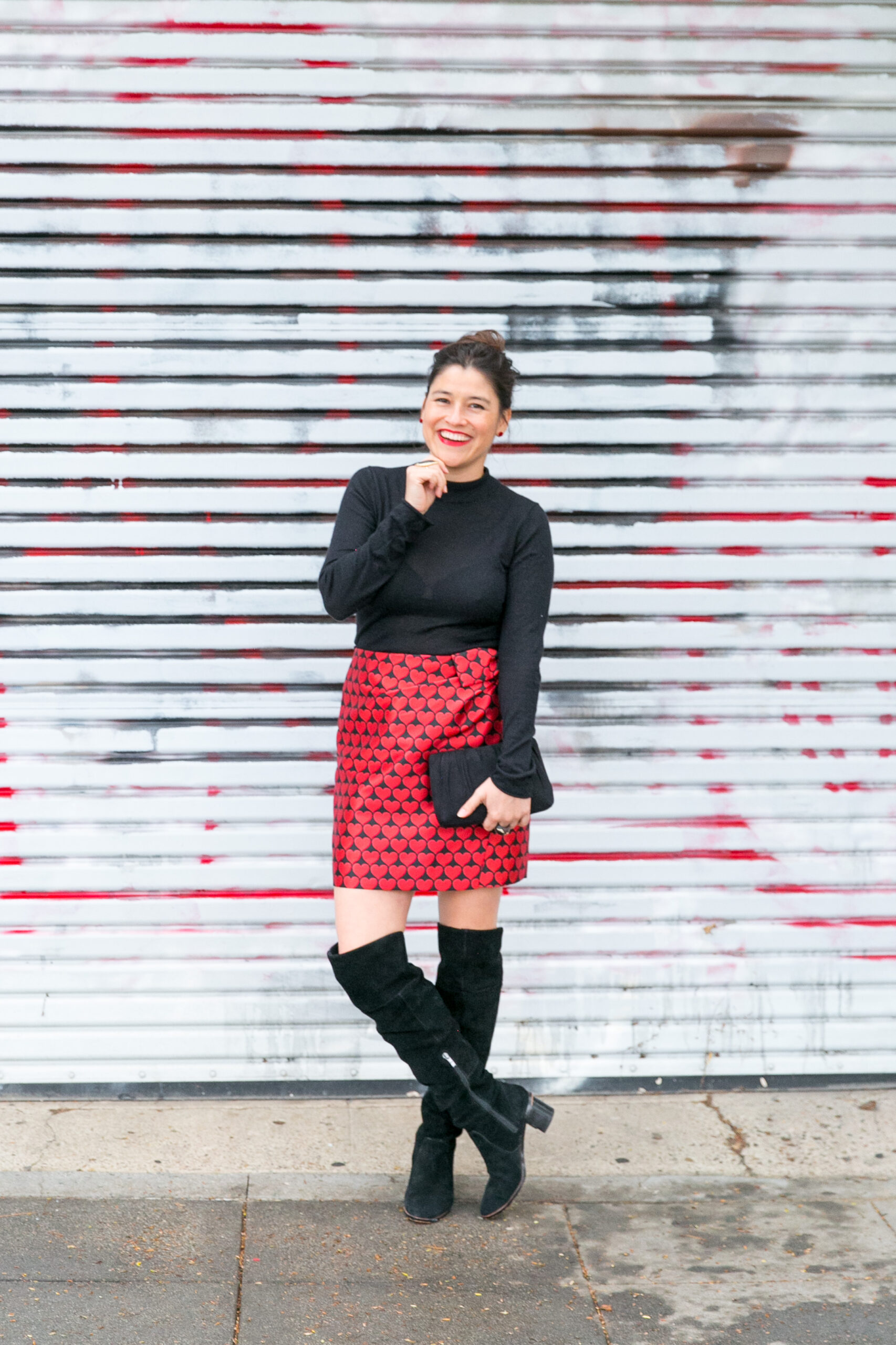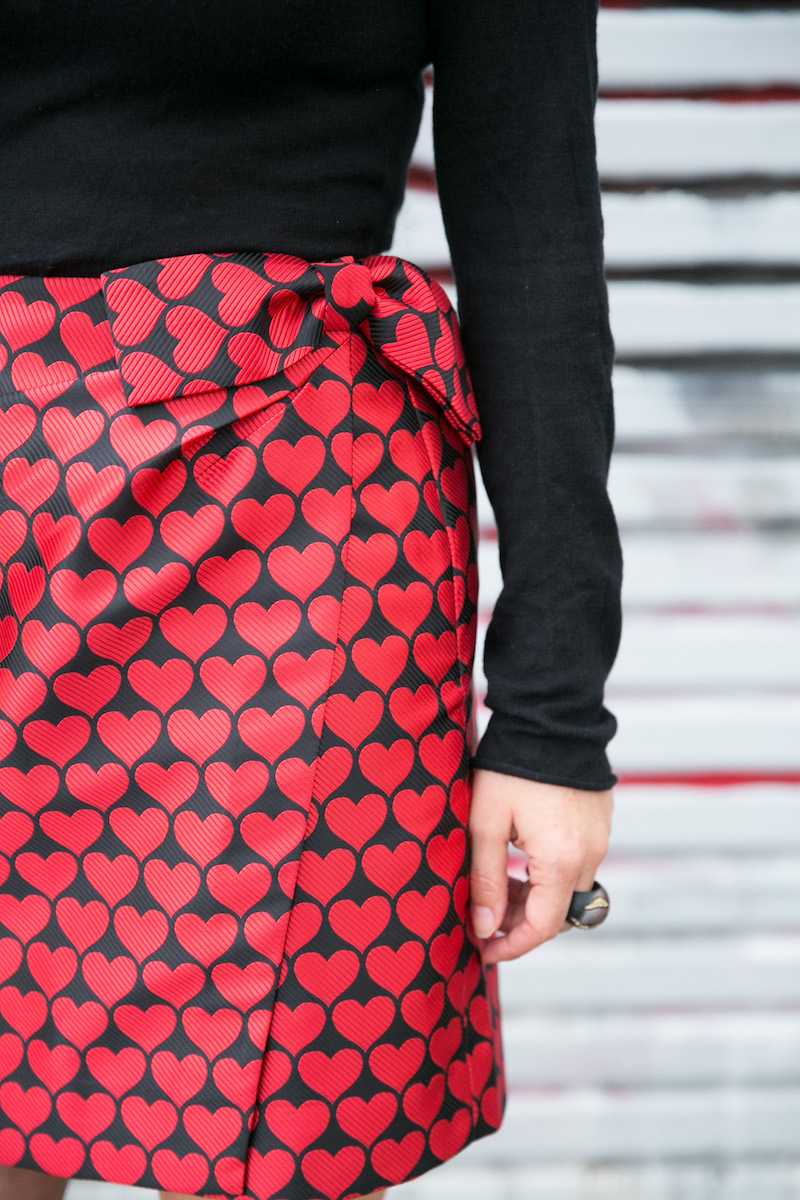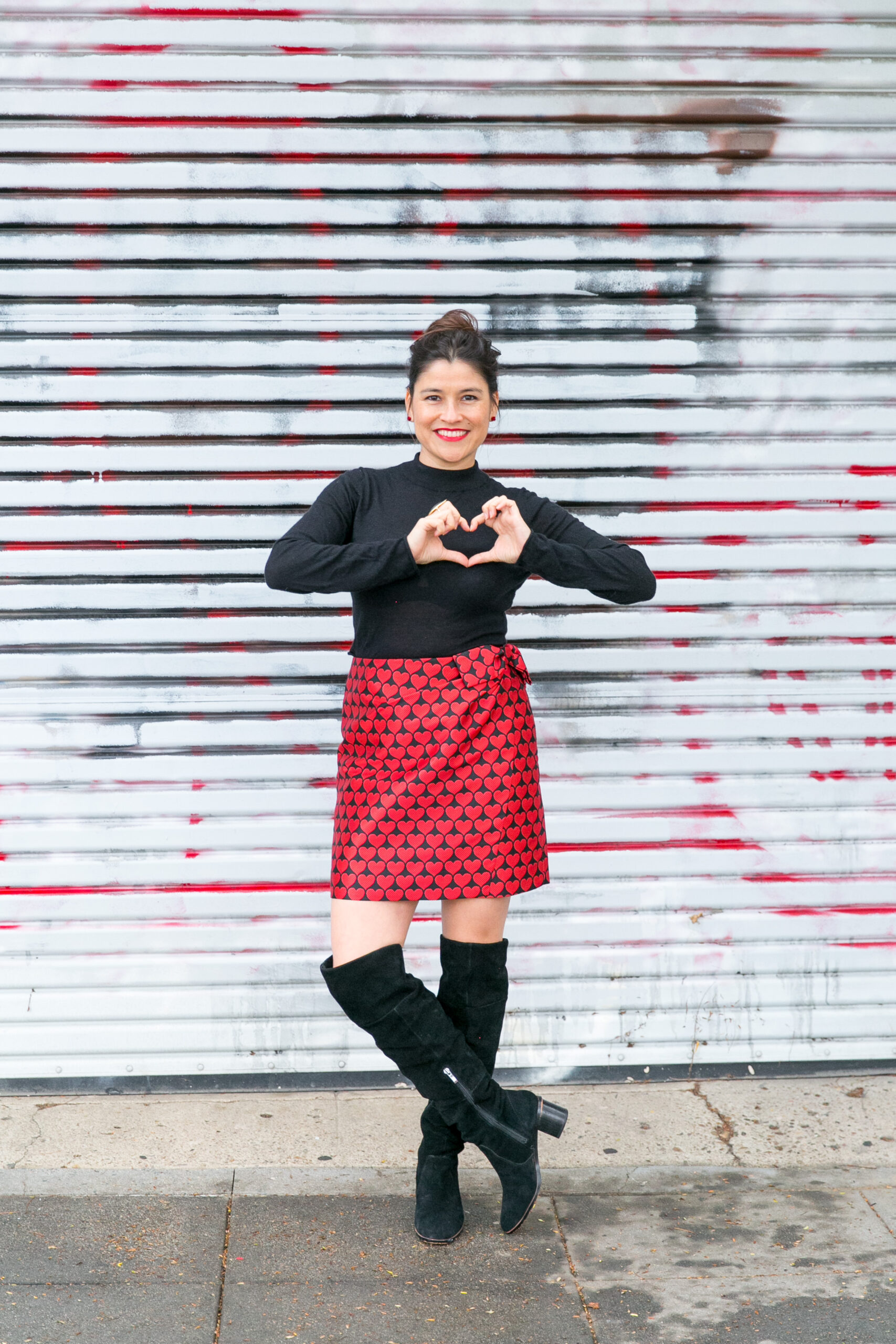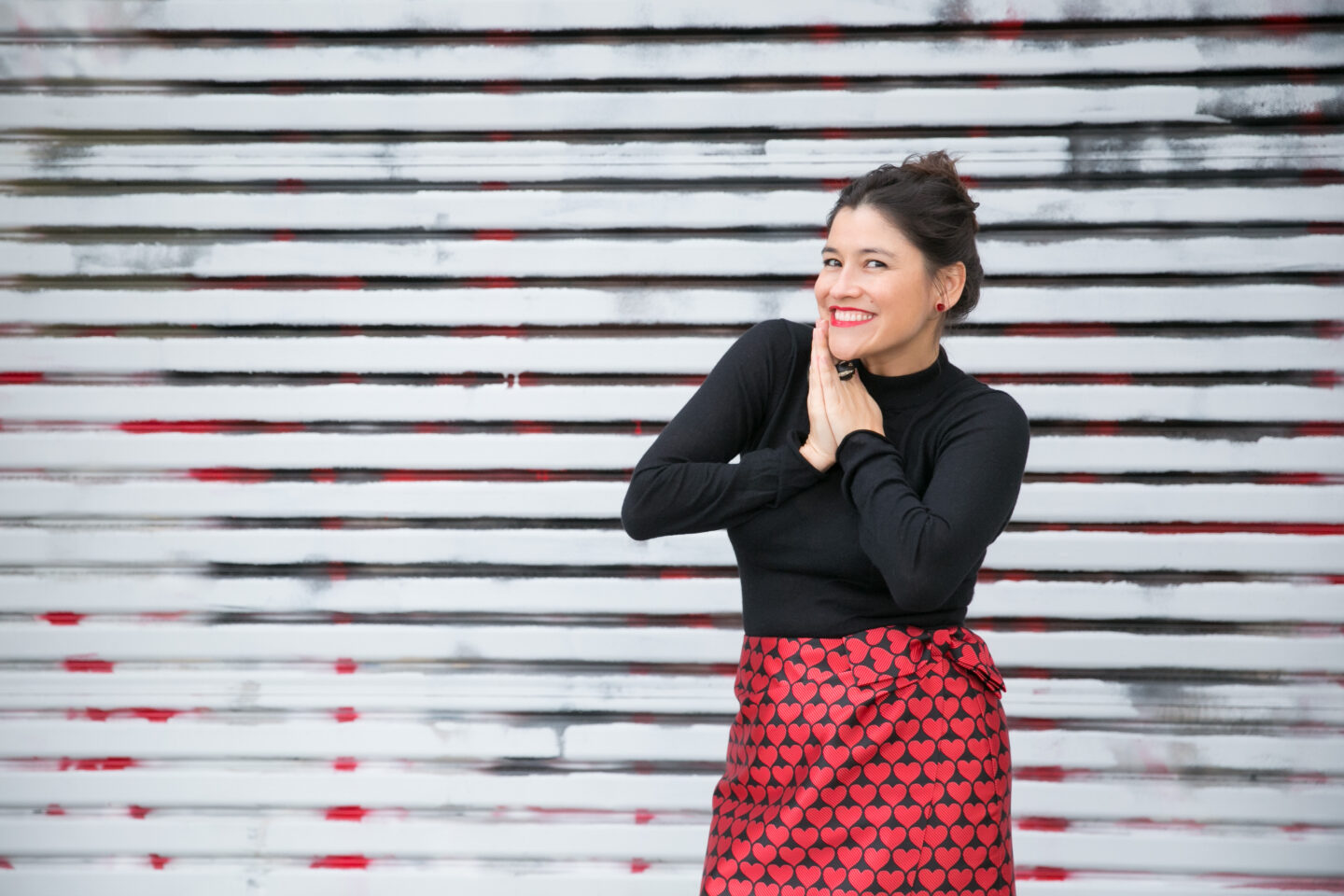 Photos by Dayley Photography