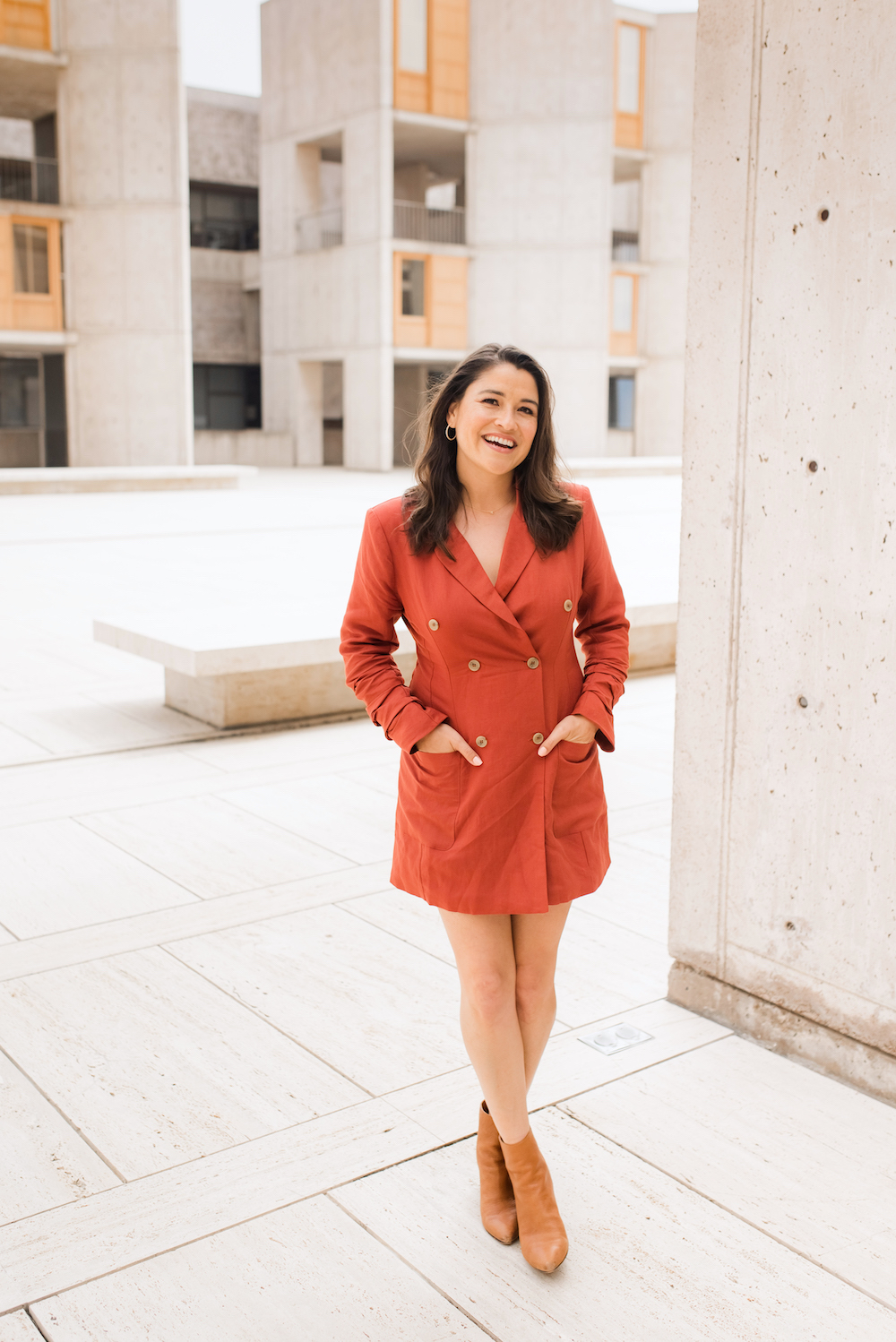 Brand photographer, Meg Marie, recently reached out to me to for some help. She wrote: "I'm looking to collaborate with a stylist for my 13-page style guide I'm creating…. [I've] shared it with a few clients already and they had the feedback that they wish there were a few more specific recommendations for different body types." I immediately agreed to share my knowledge. I have spent 12 years dressing women of all ages and body types for the still image, and I concur that the most asked question from women is what to wear for their body type.
Whether you're posing for a brand shoot or a headshot, below are my top 10 fashion recommendations for what to wear for a photoshoot with an emphasis on body type. You can download my clickable headshot specific style guide with professional-oriented examples for each recommendation HERE. To download Meg Marie's Style Guide CLICK HERE.
What To Wear For A Photoshoot – All
Body

Types

The universal flattering and versatile garment is a ¾ length sleeve top or dress with a scoop neck in a rich color like blue, purple, or red.
What To Wear For A Photoshoot If You Have A Large Bust or Short Neck
Skip high necklines, like a crew or turtle neck for a photoshoot. Instead, go for a scoop neck or soft v-neck. If you really want more coverage, a boatneck or ballet neckline is far more forgiving. I gained about 15 pounds over a few years, and it has started to show in my upper body, so I am on a strict open-neck wardrobe diet when I get photographed — that keeps me looking 10 pounds lighter.
What To Wear For A Photoshoot If You Have Wide Shoulders
Skip square necklines, like a tank top or tank dress, as they will widen and square up your shoulders even more. Instead, interrupt the firm horizontal line of your shoulders by creating diagonal lines with a halter top, raglan sleeves, high cut cap sleeves, or chevron stripes.
What To Wear For A Photoshoot If You Have Large Arms
Even slightly bigger arms can photograph large. To assist with this style-wise, any kind of fitted longer sleeve is flattering, as is a high cut cap sleeve or angled short sleeve. If you are going sleeveless, a strap that sits at an angle slims the arm. If you follow me regularly, you will notice that I rarely wear sleeves, which involves a lot of good dressing and excellent posing to get my arms to look thinner. I am carrying a lot of weight in my upper arms and armpits, so it was a joy to not have to worry about that on this shoot.
What To Wear For A Photoshoot If You Have Wide Hips
A pencil skirt or a slim straight leg pant is very flattering for wider hips. Pair it with a tucked-in blouse to balance out the volume below. If you also have a larger bust, a fit and flare dress can be very flattering.
What To Wear For A Photoshoot If You Have An Apple Body
If you hold your weight in your stomach, a tucked-in blouse camouflages the belly. An a-line skirt or dress is also friendly, as is a flared skirt or dress. For reference, I am an apple body. I know the trench dress I am wearing looks straight, but it actually has a slight a-line silhouette to it that smooths out my belly. Feel free to study all the
Vanessa's Style posts
to see how I consistently slim my delightful belly in all my photoshoots.
What To Wear For A Photoshoot If You Are Short Waisted
If you have a short waist, a dress will create a longer line for your torso versus a pant or skirt. If you want to do separates, skip belts, and go for a medium-rise skirt or pant. Low rise can be flattering for a short waist, but tends to create a muffin top for most ladies.
What To Wear For A Photoshoot If You Have Narrow/Straight Hips
Narrow hips need fabric to fill in the missing curves. Ruching on the side seams of a pencil skirt, a sheath dress, or a 
body
con dress can do this. A flared skirt may also be a good option for you. A printed skirt or dress is also a great way to camouflage the lack of curve. If you want to skip a skirt or dress, slacks and
skinny jeans
/pants look amazing on narrow hips.
What To Wear For A Photoshoot To Make You Look Taller
Heels will always make you look taller and thinner. Also, shorter skirts and garments that have vertical lines will create length. Notice how tall I look in the images that Meg took of me, even though I am only 5′ 3″. It's because of the short skirt, straight lines of the dress, and style of shoes: my shoes have a heel and a pointed toe. Pointed toes always create more length than a round toe. A round toe will always shorten you.
What Jewelry Should You Wear For A Photoshoot
Cohesiveness is everything. Make sure all the jewelry you're wearing is in the same metal tone or material. I generally encourage timeless jewelry looks like hoops, drops, a slim bracelet, and simple rings. I love bold jewelry in an image, but keep in mind trendy jewelry will date the picture faster.
Extra Tip: When wearing bold earrings, skip a necklace. Even the most complementary necklace will crowd a bold earring. Plus, a bare décolletage is slimming.
What To Wear For A Photoshoot When Your Hair Is Up
Hair down tends to be the most celebrated look, but if you are an up-do kinda gal,
like myself (pictured here),
and you are being photographed with your hair up, wear bold drops or statement earrings. Amazing earrings will take the place of flowing locks.