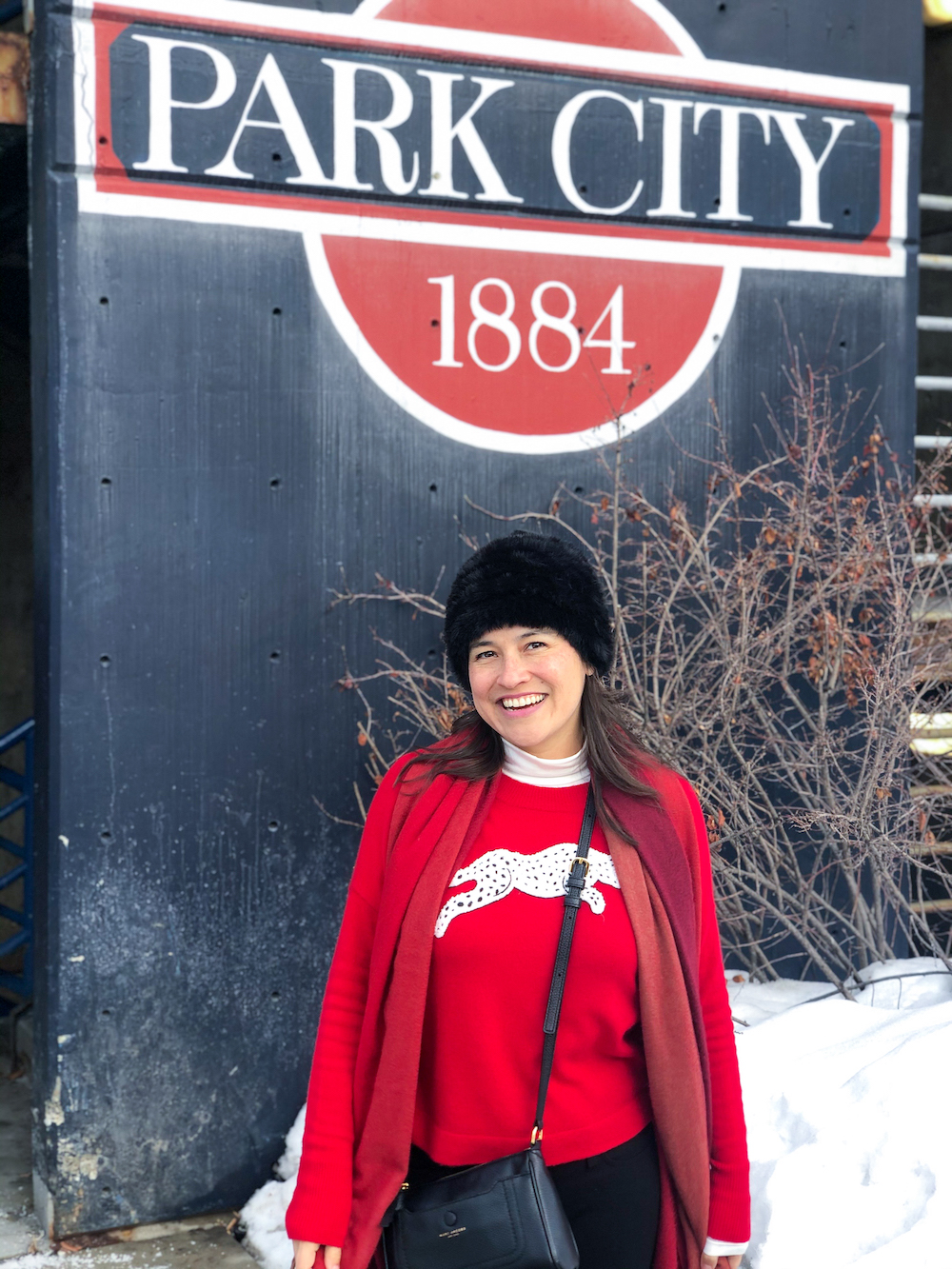 Park City, Utah is famous for the Sundance Film Festival. Held at the end of January, the annual festival is organized by the Sundance Institute, a non-profit organization founded by Robert Redford to actively advance the work of independent storytellers in film and theatre. Some 55,000 people flood the city to watch the films, enjoy the energy —  or both. I chose to do the latter this year. I also snowshoed.
Weather In Park City, Utah In Winter
This year, Sundance took place from Jan 23rd – Feb 2nd. There was a snow storm the week prior to my arrival, so I had the pleasure of being surrounded by fresh snow without the harsh chill. It was gloriously sunny and 44 degrees each day I was there. It dropped to the high 30s at night. We considered ourselves lucky since it is supposed to be a good deal colder this time of year. This week, Park City is in the 20s during the day and getting as low as 7 degrees at night.
What To Wear In Park City, Utah
Park City is an incredible city with a deep charm and unique ambiance. You can literally slide down a mountain into downtown. You just unclip your board or skis when you reach the end of the snow, and walk into one of the hottest bars or "saloons" in town. The town is 500 meters from the slope. This means it's casual, but fabulosity is in no shortage. Here are the five outfits I wore and my recommendations for what to wear in Park City, Utah in the cold winter months…
Apparis Colorblock Lisa Faux Fur Coat (available for rent here, and for purchase in navy here, here and, here. Plus, my tips for finding faux fur, here.) + Madewell Yellow Tee + Light Wash Good American Jeans + Blush FitFlop Sneakers + Kate Spade Baby Blue Crossbody Bag
White Uniqlo turtleneck + Red "Snow Leopard" Cashmere sweater + Black Skinny Ponte Pants + Waterproof Sorel Black Boots + Ted Baker Red Coat + Red Cashmere Scarf + Marc Jacobs Black Crossbody Bag + Messyweekend Sunglasses
Waterproof Jacket + Sweaty Betty Long Sleeve Workout Top + Eddie Bauer Snow Pants + Lululemon Fast & Free tights (for underneath) + Waterproof Sorel Black Boots + black Eddie Bauer snow Mittens (for snowshoeing), Eddie Bauer Headband + Messyweekend Sunglasses
Fun Fact: Twenty years ago, I went snowboarding for the first time. Before this excursion, my mom took me to Eddie Bauer and got me everything I needed for the snow: a waterproof jacket, inner jacket, waterproof pants, wool socks, gloves, a beanie, a headband, and silk long johns. I looked like an Eddie Bauer ad. On the rare occasion when I go to the snow, I wear the same items and now look like a vintage Eddie Bauer ad. All of Eddie Bauer's snow garments back then were labeled Ebtek. They no longer make these items, but I can attest to their quality and longevity. You can find old school Ebtek allover Ebay and Etsy. To see Eddie Bauer's current waterproof selection, click here.
Boutique Shopping In Park City, Utah
Obviously, there is the film festival, skiing, snowboarding, snowshoeing and other snow-related activities, but I adore Park City for the boutique shopping. I especially love the Southwestern-themed stores, my favorite being Southwest Indian Traders — I have never seen so much turquoise jewelry in one place before. For a more trendy selection, try Alpen Glow Boutique. FYI don't judge a store by its shoddy website. It's like the whole city decided spending time on a website is for suckers — they believe in foot traffic. For a quaint 25-year-old thrift store, go to Changing Hands. That's where I bought the black Marcus Adler faux fur cap in my red outfit pictures.
You also have to visit OC Tanner's fine jewelry store and say hi to Liz Wood. The history of OC Tanner is even more beautiful than its fine jewelry selection. My friend Auco and I were in there for an hour listening to Liz regale us with Obert Clark Tanner philanthropic stories, many of which had impacted her and her family personally — he was passionate about giving single mothers jobs and assistance. My favorite tidbit about OC Tanner is the stipulation he put in his will that the board of directors of his massive estate keep his jewelry store open, even when it doesn't turn a profit, which it often hasn't. He adored beauty and didn't want anyone messing with his pretty things.
Where To Park In Park City During The Sundance Film Festival
With 55,000 extra people in town, knowing where to park is an essential travel tip if you have a car. Once you get to the heart of Park City, go towards Park City Town Hall to park in Swede Alley Garage (325 Swede Alley) — all day for $30. You drive up a hill to get to the entrance at 408 Marsac Avenue (the street turns into UT-224, both are the correct street). Once you park, take the stairs down to Swede Alley to the bustling streets.
Bonus Travel Tip: Park City has a free transit system, but it's crowded during this time of year.