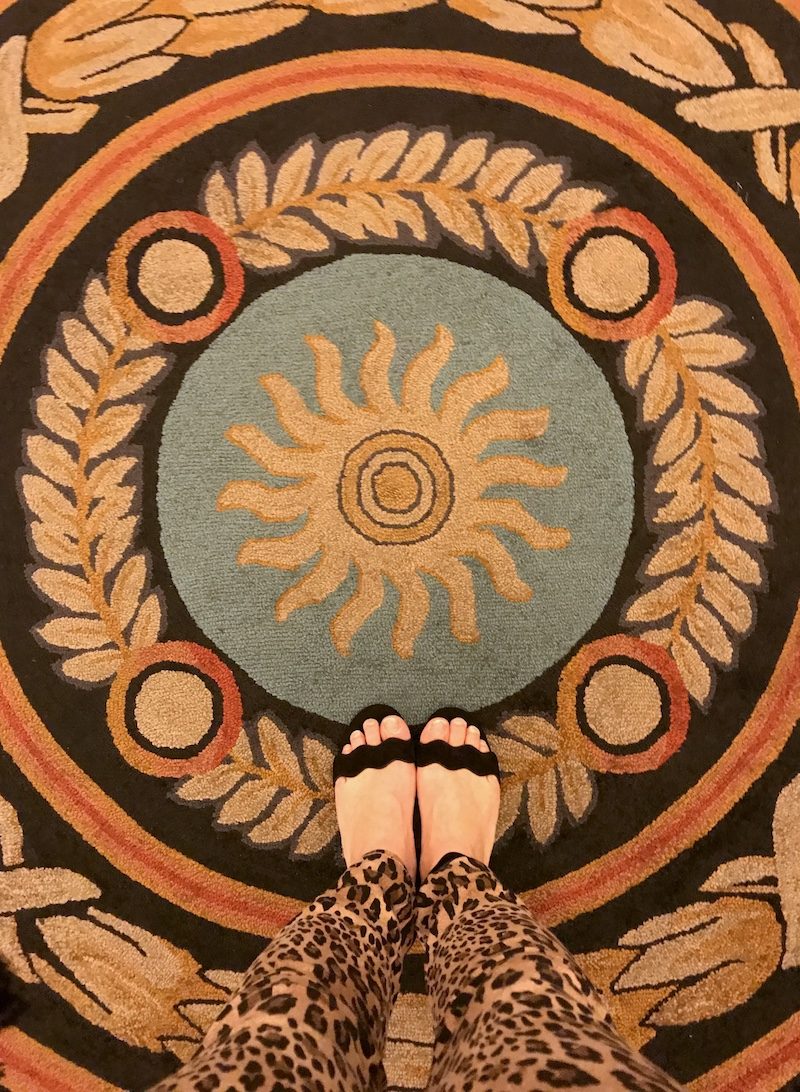 Most people know the vision of what to wear in Vegas during the dry, hot summer, but not everyone knows what to wear in Vegas once it gets cold. (And yes, Las Vegas does get cold!) With its famous heat and pool parties a no-go, packing for Vegas in winter is a little different than usual.
My Go-To Airport Outfit For Winter
My go-to airport outfit right now is Madewell overalls (similar here), a Uniqlo turtleneck, a cheeky J.Crew crewneck sweatshirt, and booties. I love these stretchy Madewell overalls because they are one of the few "pants" that do not cut into my stomach when sitting on a plane for hours. The thin Uniqlo turtlenecks are great because they balance transitions from heat to cold well. As for the booties, they are cuter than sneakers, but often as comfortable. For this trip, I arrived in the navy Uniqlo turtleneck with the tan Dolce Vita booties, and left in the white Uniqlo turtleneck and grey booties. I used the same overalls and navy horse graphic sweatshirt for both flights.
What To Wear In Vegas During The Day In Winter
Come January, Las Vegas can drop into the low 40s — ouch. The indoors is heated to the low 70s though, so you will need lightweight casual clothes for inside, as well as heavier or layered clothing for outside. It's very easy to be too hot inside and too cold outside if you pack wrong. My favorite casuals outfits for this kind of trip…
A cute tee and comfortable pants with a stylish sweatshirt or jacket to throw on when you go outside. Pair with casual sandals for popping down for breakfast, but then switch to booties when you go out.
Leggings, a longer v-neck sweater with a scarf, and booties are another indoor meets outdoor look.
What To Wear In Vegas At Night In Winter
If you are staying at one of the massive hotels and plan to spend your evenings there, your skin may never experience the chill of the night. In this case, wear whatever you like, from a skimpy frock to simply skipping a jacket. If you plan on venturing out into the night at some point, I recommend wearing something that can keep you comfortable through the cold, but won't suffocate you or your style once you arrive at your club, show, or restaurant. Here are my 3 favorite winter evening looks for Vegas…
What Not To Wear In Vegas In General
There are very few no-nos when it comes to Vegas. It's a true free for all from not-cute sweatpants to gowns, but there are a few things you should know…
Someone or something is going to make you smell like smoke at some point, so don't wear anything you can't wash thoroughly.
Some establishments have dress codes that require heels, so confirm the dress code before going to your scheduled club. Tip: pack those chunk heels (like my INC kicks) if you want to dance and walk comfortably. Vegas involves a lot of walking.
It is very easy to lose a clutch in Las Vegas, so I recommend a wristlet or a dressy crossbody bag for your nights out.
Best Way To Fly To Las Vegas From San Diego
Southwest Airlines is your best bet for an easy and mostly comfortable flight to Las Vegas if you are planning a trip 8+ days in advance. If you're planning a last minute trip to Las Vegas, Spirit Airlines can get you there in an hour for $150, (compared to Southwest's 7-days-or-less flights of $408+). The catch is you can only bring a large purse or small backpack with you. If you want to bring a carry-on suitcase or bag (that's right, I said carry-on), or check a bag, it will cost you anywhere from $21 – $40 dollars each way. That will tack on a total of $42-$80+ to your plane ticket. Still not a bad price, but here is what to expect on a Spirit flight:
You don't get complimentary water or snacks on the plane. Beverages and snacks range from $2-$15
You most likely won't sit next to your companion — you have to pay $5-$18 to choose your seats.
The seats do not recline, and I have never seen so little legroom.
The crew is very young and chill, and the crowd is… interesting.
What To Know About Absinthe Las Vegas
If you can handle (or enjoy) the aggressively raunchy, sexist, and racist humor in between acts, Absinthe is an absolutely fantastic variety show. I don't want to spoil the surprise, but there is singing, incredible acrobatic acts, dancing, and more. Here are the inside tips if you want to check this show out:
Sections 1 and 3, and Rows D-F are the best. If you sit closer, you may get roasted, danced on, doused, or asked to come on stage. Past Row F and you may miss some details of the show.
The show is in a tent outside Caesar's Palace with no indoor lobby. The waiting and bar area for the show is outdoors and COLD. There are no heat lamps, so bring a warm jacket, hot attitude, or arrive 5 minutes before show time.
Drinkers: The designated bar for Absinthe is expensive and doesn't have Prosecco. If you head towards the outside building of bathrooms, you will see a white tent with a bar towards your right. The drinks at this bar are a few dollars cheaper, but more importantly, they serve Prosecco.
Drinkers: You can bring two drinks into the show per person.
Three Things You May Not Know About Vegas
The tap water is amazing.
It is a #shoefie paradise. Check it out on my Instagram.
Everyone is so nice. Including homeless men who try to rob or assault you.