Updated August 2019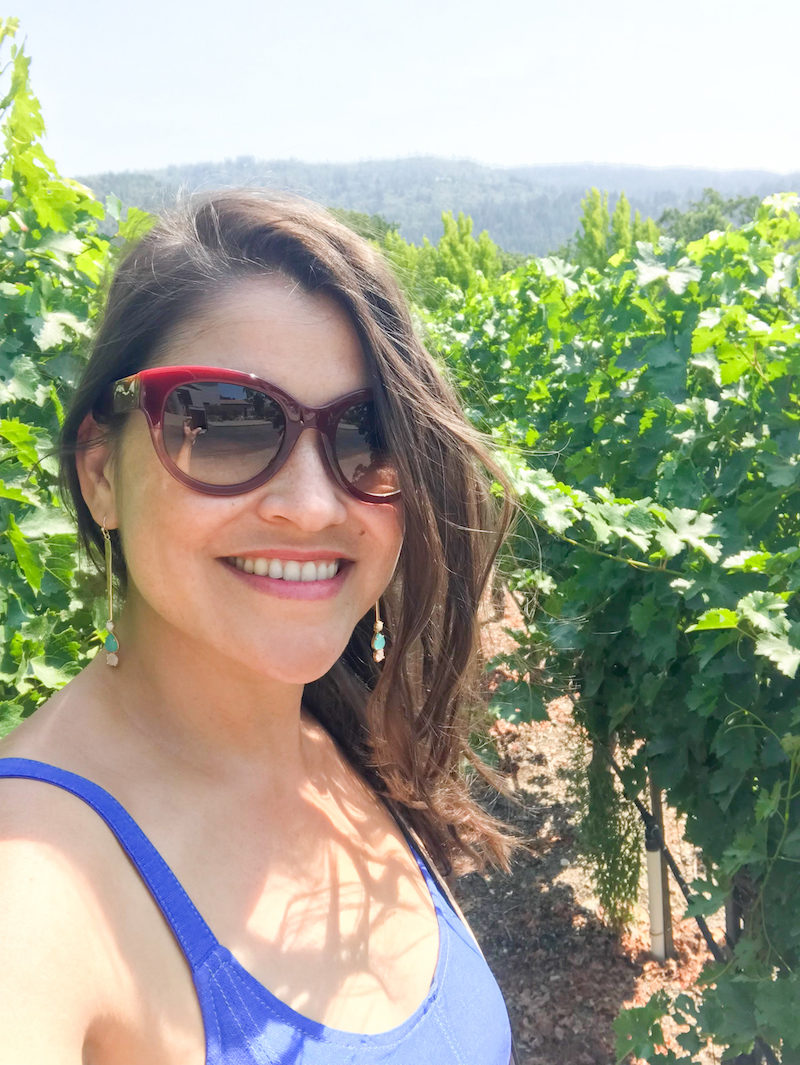 I am the daughter of Gwendolyn Valiente, the woman behind Napa Valley Wine Tours by Gwendolyn, a private tour service that serves the entire Bay Area. Shockingly, I had never been to Napa before so my mom invited me up to discover the glory of the valley that she loves so much. Obviously, I turned the occasion into a blog post on what to wear wine tasting.
What To Wear Wine Tasting
Wine tasting is a wonderful activity that welcomes all styles. The daytime casualness of the experience, mixed with the sophistication of the occasion, enables you to wear anything from a pair of shorts or jeans to a floor-length frock worthy of a high-end brunch. With that said, here are my top 3 outfit choices for wine tasting:
Midi Dress or Shorter Maxi Dress – I prefer a midi dress over a floor length maxi dress because you want something to thoroughly protect your bum and thighs from weird or hot chairs, but you don't want something so long that it drags on the ground when you wander the lovely Napa terrain. I am crazy about the Maeve dress I chose for the day. I've never worn a more comfortable dress. It's a rayon linen blend that is so soft it feels like tencel, a fabric renowned for its baby soft feel. You also don't have to wear a bra and will still feel supported.
Tank Top with Midi Skirt – I say tank instead of a tee to prevent a farmer's tan. The reasoning for a midi skirt is the same as my reasoning for a midi dress.
Ankle Pants & Top – For those averse to dresses, a nice ankle pant or cropped jean is also completely appropriate.
What Shoes To Wear Wine Tasting
Shoes are the most important aspect of wine tasting. To get the full experience, you will want to take a walk along the vineyard and explore the venues and open spaces. In short, you will be walking. My gal pal and I logged almost 6,000 steps during our 24 hours in Napa Valley. Here are the best shoe options to wear wine tasting…
Flat sandals
Low to mid-height chunky heels
Extremely comfortable wedges
Other Items To Wear Wine Tasting
It can get windy, so bring a shawl or sweater. This can also be used to protect your skin when you sit or stand in the sun, which will happen at some point. Napa Valley is stunning. You must take in the land, the sky, and the views. This also means you need sunglasses and should feel free to bring a fabulous hat — the sun can be harsh, even on overcast days.
Also, feel free to play with accessories. If you feel like maxing out with a statement necklace or big bangles, go for it. Wine tasting is all about your taste and pace. Owning your unique style for this experience is half the fun. I loved seeing how every woman brought her own version of what I call, "casually fabulous."
Shawl, sweater or soft jacket
Hat
Bold Accessories
What Not To Wear Wine Tasting
Discussing what to wear wine tasting inevitably involves what not to wear. Here is my list of items to avoid…
Stilettos: Uncomfortable and bad terrain for these babies.
High wedges: Alcohol plus dirt = embarrassing fall.
Short dress or skirt: Depending on the venue, the wind can pick up that hem and show off your bum. Plus, I wouldn't want to put my bare upper thighs on some of those chairs.
Structured garments: This environment is all about relaxing, so skip your bulky jacket, tuxedo blazer, and pencil skirt.
Work out wear: This is not the time to sport your yoga pants.
What Wineries To Visit In Napa Valley
My mom planned the most amazing day for me and my friend Chelsea. I absolutely fell in love with the Napa Valley experience. In fact, we decided to make this an annual Girls Trip for us. Below are the three wineries we visited, but there are over 700 wineries in Napa Valley, hence the need for an annual visit.
Delicious wines (rosé all the way!), five tastings, heavy pours for those who drink faster, and the service was delightful. I also loved that you could really wander around the property.
The tram was beyond charming. When you look down you're treated to a beautiful pond and a herd of sheep. Once you arrive at the main building, the wine is so-so, but the views are awesome. You also get to learn a lot about the history and explore the inner workings of production.
Mumm was my favorite. You get three tasting glasses of bubbles, a rich ambiance with a modern farm feel, a healthy amount of guests, and a stunning view of their vines. The experience was light and refreshing, just like their wine.
Fun Fact: Around closing time (6pm), they have to empty all their tasting bottles, so we got another full glass of the scrumptious Brut Rosé free of charge (Go Mom!).
Where To Eat & Keep Drinking In Napa Valley
For dinner, my mother made a reservation at a delicious Italian restaurant. Bistro Don Giovanni's ambiance was spot on yet again. The bolognese and salmon were absolutely yummy and their table bread was pillowy soft.
I am the random person that chooses to go to Napa Valley on the 4th of July. This meant my mom put a lot of work into tailoring our tour to accommodate holidays hours and special additions like fireworks. After dinner, she dropped us off at Archer's hotel to enjoy their fabulous rooftop, which gave us an amazing view of the firework display above the Napa riverfront. I've never had a better view of a 4th of July fireworks show.
A few doors down from Archer's hotel is the Andaz Hotel Lobby Bar, which turns out to be the bar that stays open the latest on a weekday. If you're still craving some rosé at midnight, this is the place to be.
Note: I booked my mom for a 1pm start due to my flight time, but next time I am going to fly into town the night before so I can get a super early start and see and drink even more. This is going to be a delicious annual tradition.
Where To Stay In Napa Valley
Whenever I travel, location and price are most important to me, so for my standards, I was beyond happy with the 3 Palms Napa Valley Hotel. It sits in the heart of downtown Napa and the rooms are spotless, charming, and comfortable. They don't serve food, but they have coffee in the morning and a pool. I will absolutely stay there again.
Note: If you scroll to the bottom of the post you will see a picture of our full itinerary. My mom is famous for her detailed itineraries.
Thanks Mom for showing me and Chelsea an amazing time!