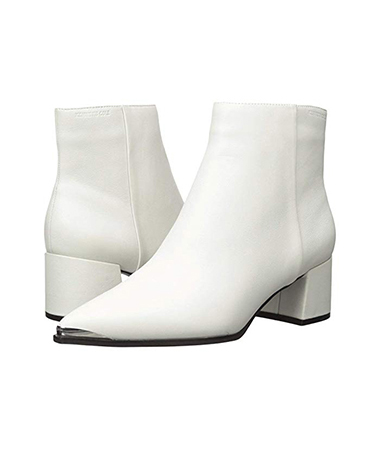 Every season there is one new item I die for. This season, I am dying for white booties and off-white booties — and yes, there is a difference. You have seen them all over my Instagram, and you're going to see more of them. They are unique, charming, and joyous. Of course, I love a sleek black boot, but everyone and their mother, literally, is wearing black boots in the cold months. Try standing out in white booties. Just make sure to thoroughly spray protect them twice before leaving the house. Many of you know I am a maniac with preserving my footwear, and scuffs can show up quickly on white booties if you don't protect them. If you see marks after a wear even though you sprayed them correctly, no worries, a white cloth and saddle soap will take them right off. I will go into this more thoroughly in a couple weeks in a How To Wear White Booties post.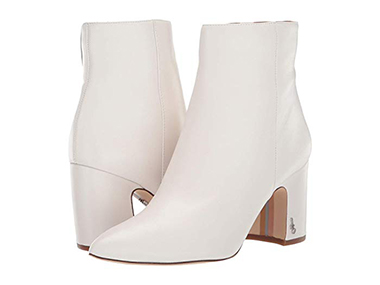 These Sam Edelman Hilty booties are a true white. Pair them with light colors like this Isabel Marant Etoile light blue dress. They are available at Zappos.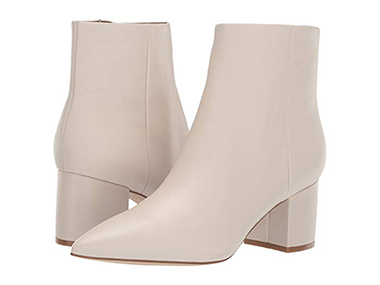 These off-white Marc Fisher LTD Jarli booties are my go-to booties. They are incredibly comfortable. I walked 10,252 steps in them in one day and my feet were only a little achy afterward. They are so muted that you can actually pair them with earth tones. I also pair them with more "earthy" pastels — this Lewittt coat in blue vintage is a perfect example of an "earthy" pastel. These booties are available at Zappos, Nordstrom, and Marc Fisher.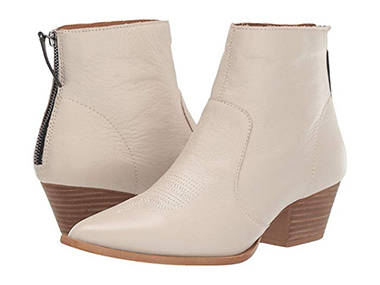 These Dingo Klanton booties are the most comfortable bootie on this list. I'm talking athletic shoe comfort here. They are so off-white, some might call them cream or even taupe. They're available at Zappos and Amazon.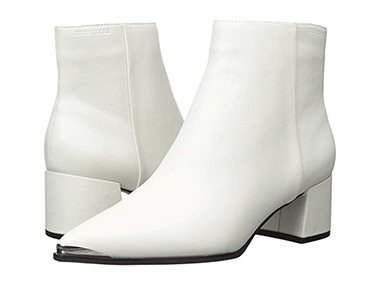 I know you might think it's excessive, but I also own these Kenneth Cole New York Roanne Booties. Yes, I own two white booties, but to be more accurate, I own one off-white bootie and one true white bootie. This is my true white bootie. They are fantastically comfortable, and the tip of the bootie is protected by the metal and rubber tip. It's a genius addition to a white bootie because they do get dirty a helluva lot faster than a dark shoe. These booties are available at Zappos, Bloomingdale's, Macy's, and Amazon.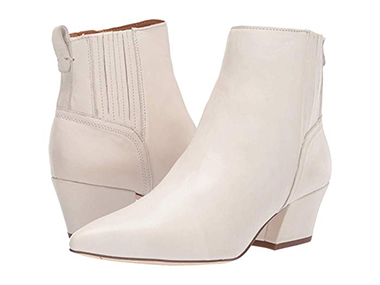 These Franco Sarto Luca by SARTO off-white booties are another great option for a white bootie this season. Like on many of these booties, you'll love the low heel. They are available at Zappos, Nordstrom, and Anthropologie.
Dolce Vita Women's Coltyn Ankle Boot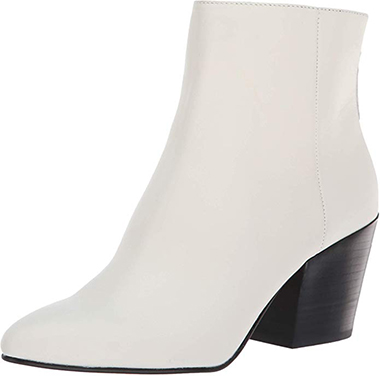 The Dolce Vita Women's Coltyn Ankle Boot I love also comes in white! You may recognize the tan version of this boot from numerous posts like Denim on Denim, What To Wear For A Photo Shoot, and last week's post Time For A Green Dress. The black heel will make it the least versatile of all the white booties on the list, but I couldn't not mention it.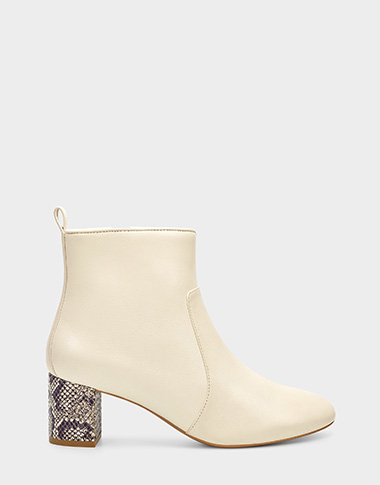 Although the snakeskin heel makes these Aerosoles Clayton booties less versatile, it also spices it up. And you know Aerosoles are all about the comfort. These are off-white, more of a ivory bootie and are available at Aerosoles, Macy's, and DSW.