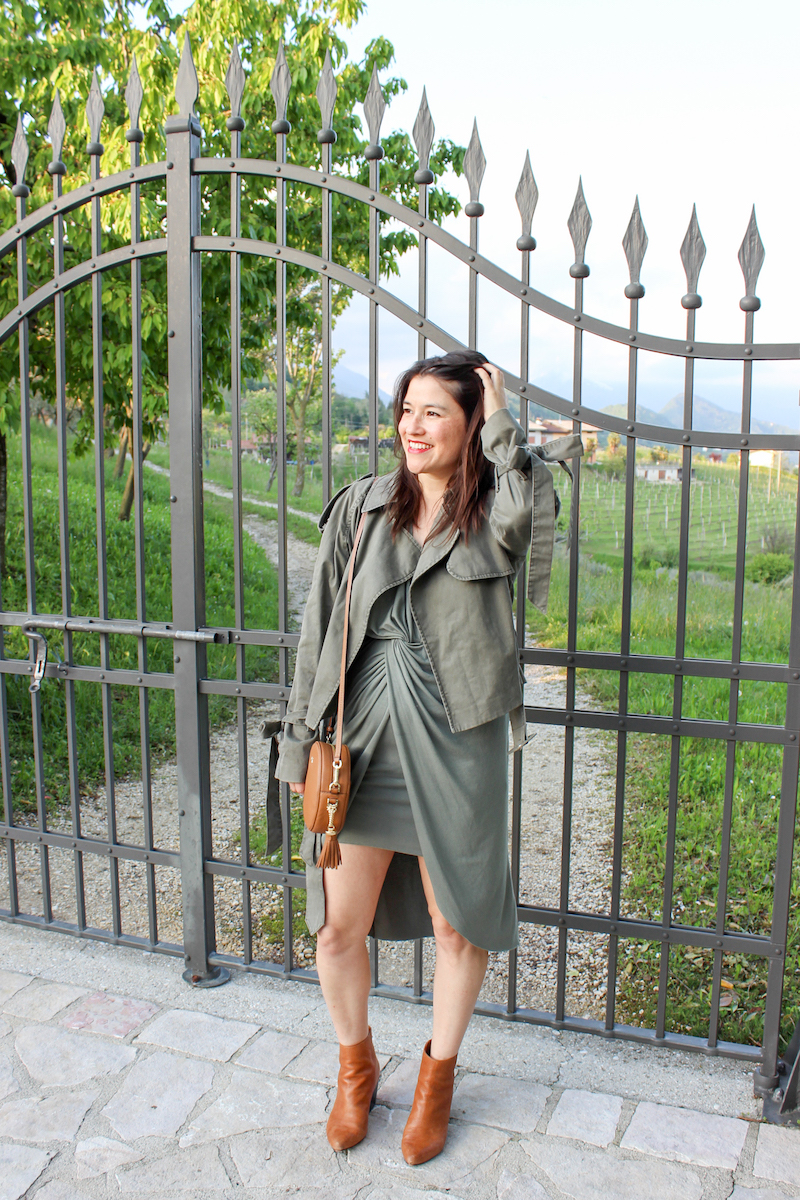 A green dress is a year-round ensemble, but it is particularly perfect for fall. If you're worried about what green will do to your skin tone, don't be. We just need to find the right green for you. Sage green in particular works with most skin tones, including those with yellow undertones. Don't have a yellow undertone? Try forest or olive green. And for those who really want to stand out, an emerald dress is lovely. But I would like to focus on the earthier greens today.
How To Wear A Sage Green Dress
Sage green goes with other earth tones like chocolate brown, beige, tan, mustard yellow, deep rose, muted blacks, and navy. I am sure you noticed from my Most Versatile Jacket Color post that olive and sage green are incredibly versatile colors. You just don't want to pair sage green with bright light colors, like baby blue, bubble gum pink, stark white, or a really saturated black. Ideally, I love to see a sage dress with camel or tan outerwear and a bootie in a brown hue.
If you want a monochromatic look, you can try what I have done and pair a complementary green jacket or sweater with it. For a casual look, pair it with a denim jacket. The versatility of a green dress lends itself as a go-to for travel. It ends up pairing with all your footwear and most outerwear. Just keep in mind, dresses in general look best with longer outwear that skims the body or outerwear that ends at your waist.
How To Find A Green Dress
I am sure you have noticed that if you go to your favorite department store's website, you can filter your search to Women's Dresses, Green, but you end up with 12 pages to look through with 90% of the dresses in the wrong shade. Here is what I do instead: head to the search box. Then, type in these keywords to get the most flattering shades: moss green dress, sage green dress, hunter green dress, forest green dress. Then continue the same thing with olive green, emerald green, jade green, and elm green. If that's too much work, just browse my Shop This Post carousel of items above. Those are the dresses I have been putting on my clients.
Location: Prosecco!