Updated June 2021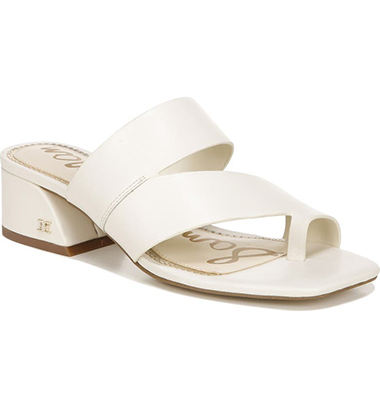 White and/or off-white sandals are an essential part of a summer wardrobe. They pair beautifully with navy, pastels, pink, red, tan, and yellow. For those who don't wear bright-brights and optic white, this year's selection of sandals actually includes a ton of off-white sandals — joy! Now, your cream tees and muted garments can have a versatile friend too. For those who don't understand why this is amazing, have you ever put a white sandal on with an off-white t-shirt? It looks, well, off, and makes the muted tee look dirty. Or, have you ever paired off-white sandals with a bright white tee? The whiteness of the tee makes the shoes look dirty in this scenario. I think you get it. Enjoy.
How To Clean White Shoes
I know some of you hesitate to purchase white or off-white sandals because of how quickly they could become stained or ruined. Not to worry, my stylish friend, I got you. First of all, you need to protect your white sandals with a leather protectant spray while they are brand new and unworn. I cannot recommend this enough. This will make your shoe last ten times longer. Not one shoe of mine hits the road without its protective silicone coat. I personally use Kiwi Boot protector.
To apply, I first lay down some plastic or some cardboard on my outdoor balcony and set my white sandals on it. Then, I spray over them quickly at a few different angles, with an emphasis on the toe and heel area since they get most scuffed from wear. Twenty-four hours later, I spray them again. Don't over spray, and read the full directions on the can before applying the spray. Depending on how much you wear your sandals, you will want to re-spray them a couple of times a year.
Once protected, you rarely have to clean your white shoes. Usually, a moist white cloth will get off superficial dirt and scuffs. If you need something stronger, here are the items I use for cleaning white leather shoes:
Both saddle soap and leather lotion have instructions on their containers. As for Bon Ami, just a dab of Bon Ami on a moist white cloth will do the trick.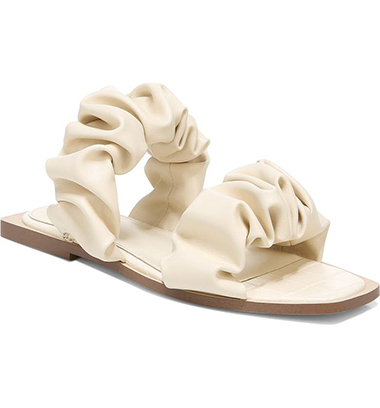 This is one of the good versions of the puffy sandal trend. It's not crazy flattering, but it sure is fun. This off-white sandal is available at Nordstrom, Macy's, Zappos, Saks Off 5th, and Amazon.
Staud Frankie Ruched Slide Sandals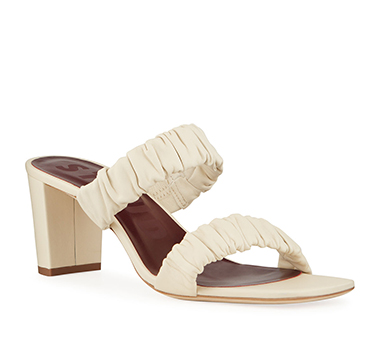 This is actually the best of the puffy sandals that will be in style for ages. It's extremely flattering and well-reviewed. Get it before it sells out. It's available at Bloomingdale's, Saks 5th Avenue, Shopbop, and ModaOperandi.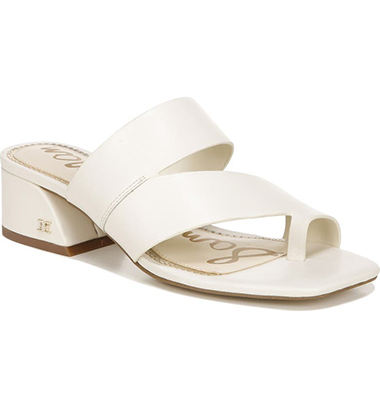 This is my favorite off-white sandal of 2021. It's sophisticated, but can still be casual — you can dress this sandal up or down. It's available at Bloomingdale's, Nordstrom, Sam Edelman, Dillard's, Zappos, and Amazon.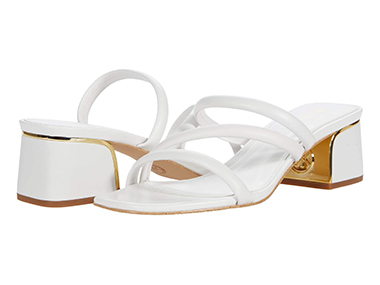 This is one of the most comfortable strappy sandals you can get. Even if you think you have wide or ugly feet, this is a very forgiving sandal. It's available at DSW and Amazon.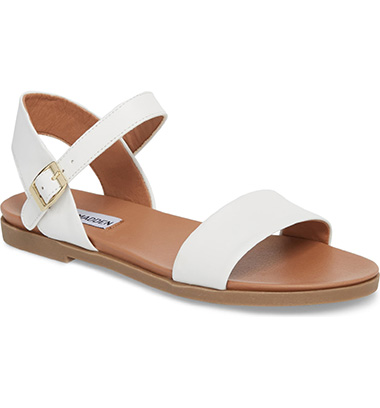 This Steve Madden Dina Sandal is notoriously comfortable, and nice and white to match the white-striped garments you have lying around. Plus, the tan color of this sandal is to die for!
Jack Rogers Rowan True White Flip Flop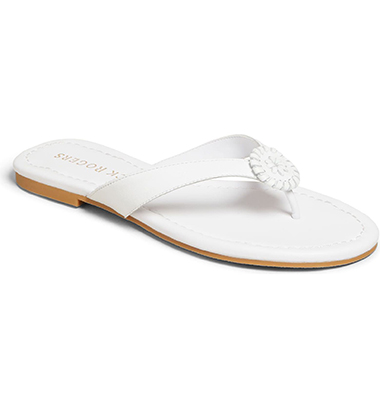 The Jack Rogers Rowan Flip Flop is a versatile, everyday flipflop in a bright white. These sandals are available at  Nordstrom, Bloomingdale's, Jack Rogers, Macy's, and Amazon.
Splendid Michelle Ankle Strap Sandal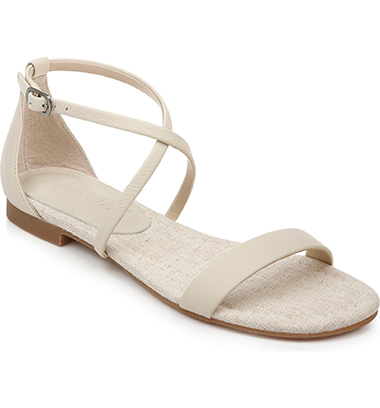 I purchased these off-white sandals by Splendid last month and have been loving them for their versatility and comfort. They can be both dressy and casual. These sandals are available at Nordstrom, Bloomingdale's, and Amazon.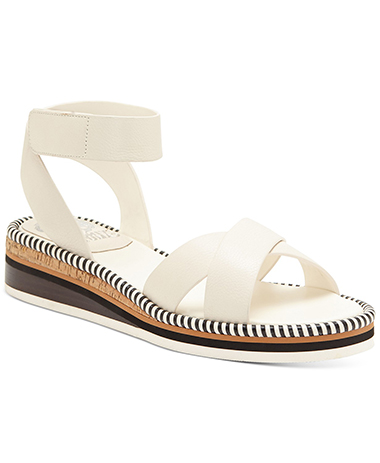 I love the black and white accents and mini espadrille section on these creamy Vince Camuto Miveeria Flat Sandals. They are one of the most interesting sandals I have seen this season. Pair these with a dress and wear them to your next summer backyard party.
Ipanema Breezy Waterproof Sandal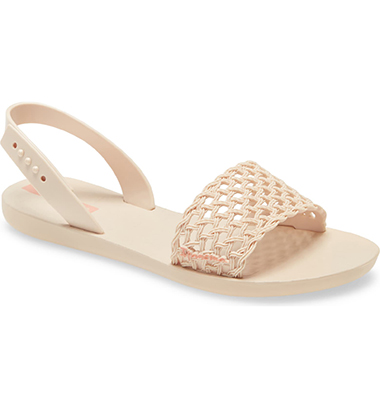 The Ipanema Breezy Waterproof Sandal is kind of a blushy white. You could call it a milky pink. They are waterproof, comfortable, and totally flattering on the foot. They pair beautifully with off-white clothing and muted summer colors.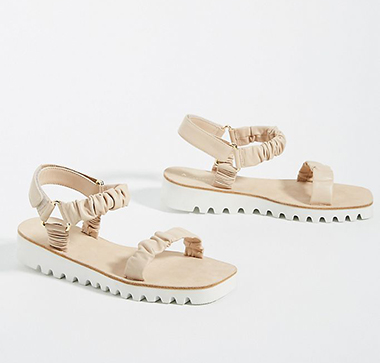 The Anthropologie Fiona Sport Sandals have both beige and white, making them an incredibly versatile sandal. I should note though that they run narrow in the toe box.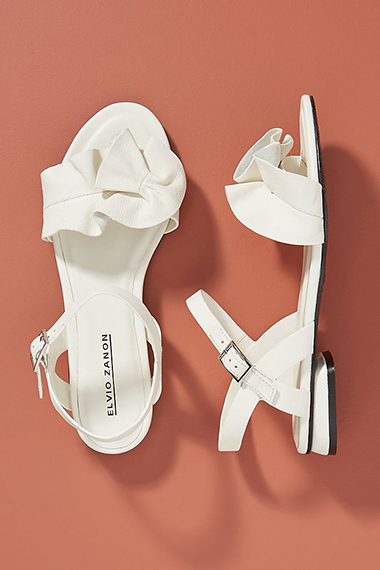 I love the feminine touch of the ruffle on these Elvio Zanon Ruffled Sandals. They are more of a cream than a bright white.
Cole Haan Anica White Sandal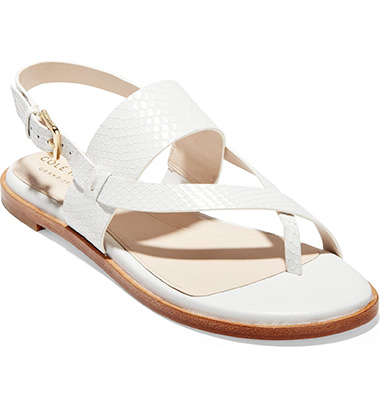 This Cole Haan Anica Sandal is a more true white than an off-white, but it has a versatility to it. It is available at Amazon, Nordstrom, Zappos, and Cole Haan.
Børn Trinity T-Strap White Sandal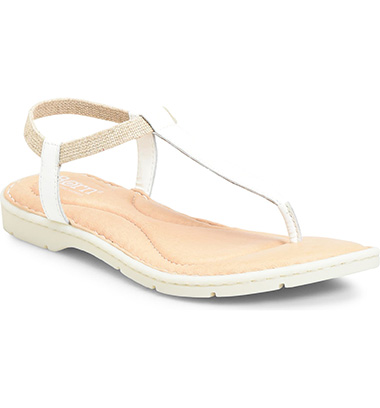 This comfortable Børn Trinity T-Strap Sandal is a true white with off-white and beige accents, so you can wear this casual sandal with all shades of white and other lighter colored summer shades.
Vince Penrose Toe Loop White Sandal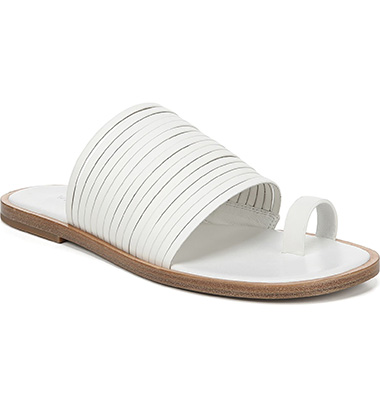 This Vince Penrose Toe Loop Sandal is a beautiful true white and can be worn with anything from dresses to shorts. This sandal is available at Bloomingdale's and Nordstrom.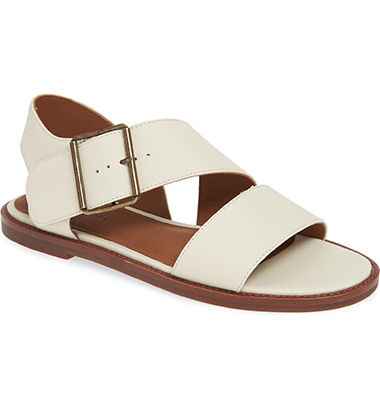 This Nordstrom Signature Aldina Strappy Sandal is practically cream and gorgeous. And don't worry about it making your foot look big. The angle of the wide strap is flattering so it looks intentionally bulky, instead of just bulky.