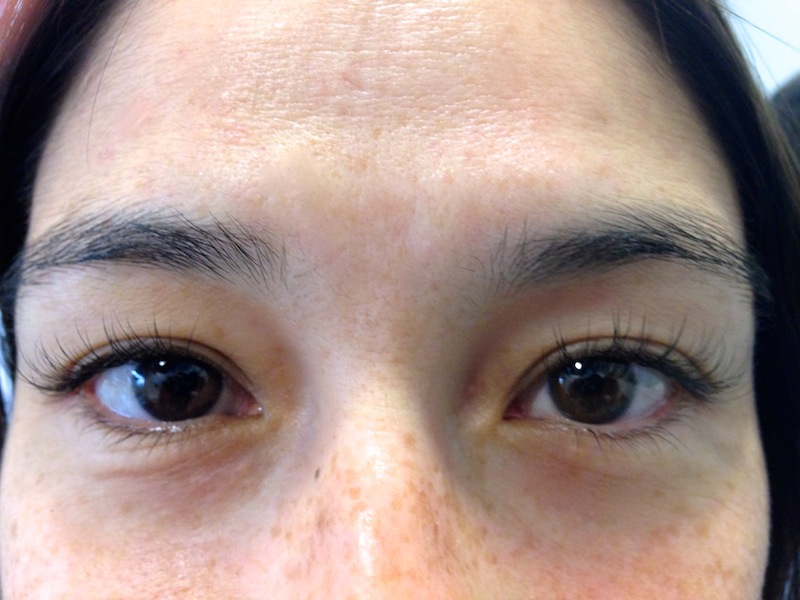 Since I got my skin under control, I try to avoid make-up during my day-to-day life. I like to save my make-up efforts for evenings and weekends. I believe make-up is an accessory to play with as you see fit. It is not something we need. Beyond my philosophical reasons, make-up is often linked to skin issues, eye irritations, and more. I especially had qualms with mascara. If I don't clean my lashes twice with almond oil, mascara seems to leave traces of darkness underneath my lower lashes, which look like under eye shadows. I also hate that mascara makes my lashes fall out more.
I have enjoyed going make-up less, but sometimes when I am with a client I catch a look of myself in the dressing room mirror and I see a washed out little boy wearing a dress. That kid in a dress would be me. Without mascara I tend to look like an Asian boy. Chalk it up to a Pac-Man syndrome. The only difference between him and  Ms. Pac-Man is eyelashes… and a bow. I'm not into bows, so not wearing mascara has been a bit of a downer for me. I find just wearing a bright or lovely shade of lipstick fixes the washed out boy issue, but I still miss lovely lashes and want to avoid mascara. So, begins my eyelash extension experiment.
Researching Eyelash Extensions
First, I researched eyelash extensions. There are some pretty bad articles out there. They are obviously written by people who really want you to get eyelash extensions for one reason or another. These articles often repeat this phrase over and over again: "If applied correctly and properly… [everything is safe and stunning]!" I find the beginning of that sentence infuriating. The main reason I sought out eyelash extension information was to see what happens if they aren't applied correctly. What are the risks then? This article from the Huffington Post is one of the more informative ones.
Where Should You Get Your Eyelash Extensions?
Considering the high price of eyelash extensions and my ignorance on it in general, I decided to check out Groupon for eyelash extension deals. You will be delighted by the rows and rows of options. I picked the three salons closest to me and checked out their reviews on Yelp. Despite my declining respect and trust of Yelp, I still recommend checking out the Yelp reviews of any salon you are considering. I finally decided on Ultimate Lash and Brow in downtown San Diego because many people raved about the eyelash technician, Vickie, by name. I also liked that eyelash extensions and the eye area in general is the salon's specialty. Plus, the receptionist was friendly when I called.
What To Do Before Your Appointment
The Ultimate Lash and Brow has a lot of information on their website as does their confirmation e-mail after you book your appointment online. Read every bit of the information that your salon sends you. The main points are to not wear waterproof mascara three days before your appointment, and wash your eyes and lashes 30 minutes prior to your appointment. I also recommend peeing right before you lay down on the bed as you will not be able to for the next 1-2 hours.
What Happens During The Application of The Eyelash Extensions?
Vickie is in fact a fantastic eyelash stylist. She is incredibly informative, helpful, and calming. Despite her greatness, the application of eyelash extensions is not fun. You have to lay down for 45 minutes – 2 hours without moving, and you cannot open your eyes. If you open your eyes, even a teensy weensy bit, the glue fumes hit your eye balls. This stings and makes your eyes water. I also found the white pads placed underneath my eyes uncomfortable.  Thankfully, Vickie is fast and I was only getting my upper lashes done. I was done in 45 minutes. Interestingly, the discomfort and short duration of the appointment didn't stop me from accomplishing a 15 minute nap.
Types Of Eyelash Extensions
With Vickie's help, I chose mink lashes instead of the synthetic lashes or human hair. The synthetic lashes are the cheapest and would last the longest, but Vicki mentioned she could sometimes "feel" them when she was sleeping at night. They also looked too fake for me. The human hair eyelashes are the most expensive, but didn't seem better than the mink eyelashes. The only issue with mink eyelashes, Vicki warned me, is they start to fall off within a week. She also said they would lose their curl, but you can solve this by using a Heated Eyelash Curler.
How did I like 75 Mink EyeLash Extensions On Each Eye?
After the discomfort of the eyelash application, I was shocked when I opened my eyes and the pads came off. I couldn't feel the extensions at all. Then I looked in the mirror and became obsessed with my image. The mink eyelash extensions really feel and look real. Fabulous, but real. I suddenly felt 12 years old again with freshly pierced ears. I couldn't stop staring in the mirror. I couldn't get enough of my face. I am pretty sure Vickie had to escort me away from the mirror in order for me to leave.
Eyelash Extension Aftercare
For the first 24-48hrs after having the eyelashes applied, do not wear eye make-up or get your eyelashes wet. Be careful in the shower and when you wash your face. Besides that, you must avoid any oils on your eyes. Oil breaks down the glue. They also recommend you brush your eyelashes everyday with a clean eyelash brush (looks like a mascara wand) so they don't tangle. To prevent germs and dust mite build up between your real eyelashes and the extension, Vickie recommended washing my eyelashes with Sterilid everyday. I personally didn't like it. I felt like it dried out my skin, and found my Kiehls face wash was just as effective. I am annoyed I bought the Sterilid because now I have one more product taking up space on my bathroom shelves. If you want to use Sterilid, Amazon has it for $10 cheaper than the salon.
Update: Someone mentioned in a comment below that Kiehls face wash has oil in it (as mentioned, oil is not good for eyelash extensions). To clarify, I didn't use my face wash on my eyelash extensions until after most of the eyelashes fell out, about three weeks later. Once I started using it, it didn't seem to speed up the falling out process of the 10-20 lashes that were left. I still have four super strong stragglers 6 weeks later. Still, I wanted to let you know that I did not use my face wash the first two weeks of having lashes, so maybe, you shouldn't either.
Problems With The Eyelash Extensions
It turns out Vickie was correct, the lashes started to fall out after a week. Currently, I still have four or so mink eyelash extensions after 5+ weeks, but the full effect was gone in less than two weeks. I don't think 1-2 weeks of eyelash extensions are worth the full $250+ dollars, and 1 hour of discomfort. Also, when I cried with my eyelash extensions, my eyes got very puffy, very quickly. I am aware I don't cry single perfect tears like Demi Moore in Ghost, I do tend to puff up, but the puffiness felt and looked far more drastic than usual. If you have any weeping on your schedule, best to put off those eyelash extensions. They really mess with your angst.
As for blindness and infections, none happened to me. Everyones says nothing in the process would ever have you go blind. Infections and irritations are possible though. I would avoid this by choosing a salon with sterile practices. This includes using gloves on their hands, freshly sterilized tweezers and brand new lashes. Ask your salon about the sterile practices they use. As for irritations, I recommend keeping your eyes shut tight when they work on you, and speak up if something stings or is uncomfortable.
Would I Get Eyelash Extensions Again?
I don't think I would pay full price for eyelash extensions. It just doesn't feel worth it to me. Plus, the hassles involved with eyelash extensions are no less than my hassles with mascara. I don't see eyelash extensions in my near future, but as soon as I forget the annoyance of them, I see myself pursuing them again on Groupon. They are just too fabulous looking to not do again. I think I may try synthetic eyelashes next, just to compare.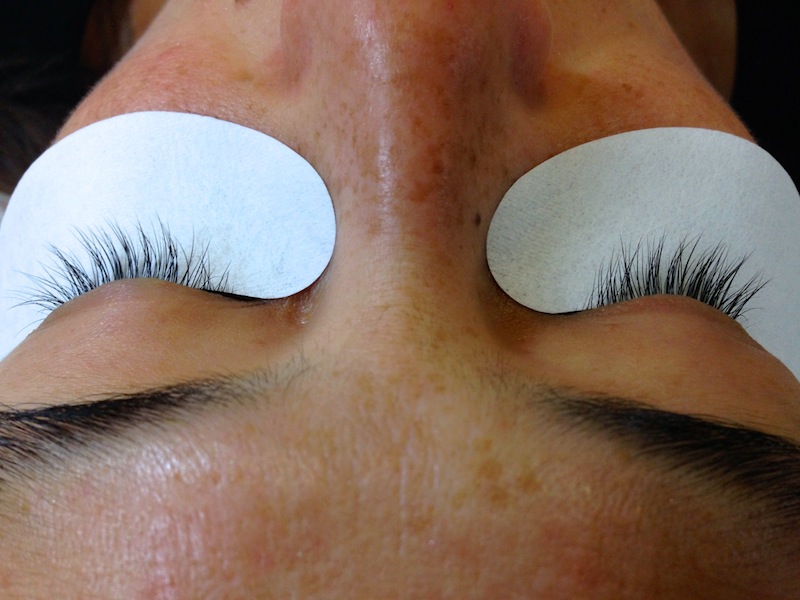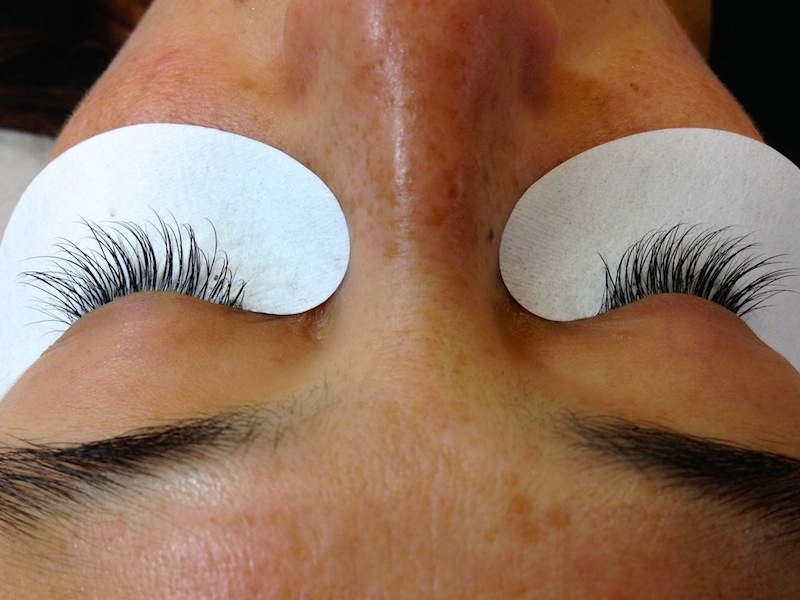 Ultimate Lash and Brow did not pay me to write this article, nor did they service me for free. The discount I obtained was via Groupon. The salon had no idea I would write a blog post about them.