Updated Dec. 2019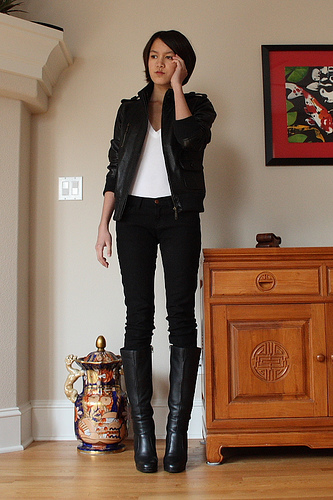 I've told you how to wear tall boots. You pair them dresses, skinny jeans, and leggings. That seems simple enough, but there are many "no-nos" that can come up. I introduced tall boots to one of my clients this week and she had lots of questions, which inspired this post. Here's how not to wear tall boots…
Don't Wear Tall Boots With White or Light Jeans/Pants
I don't believe there are items that can only be worn in one particular season. I say dress for the weather, not the season. But I am a big believer in having the pieces of your outfit fit within the same weather pattern. White jeans say sunshine, tall boots say cold, rain, chilly. Putting a heavy boot with a light-colored pant doesn't flow. There are few exceptions to this no-no.
Don't Wear Tall Boots With Capri Pants
Boots have very little fabric to grip with a Capri pant, making the pant prone to riding up and out of the boot, and creating a sloppy, squishy appearance.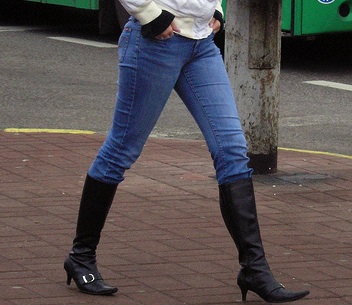 Don't Wear Tall Boots With Boot-Cut Jeans
Here is another good rule for how not to wear tall boots. Boot-cut jeans were made to be worn over ankle boots. Not to be stuffed into tall boots or pushed over tall boots. The jeans will overflow out of the boot, or create odd angles from within the jean.
Summer Dresses Don't Go With Tall Boots
Basically don't put a lightweight, spaghetti strap dress in a light color with tall boots. They are dueling styles. Instead, pair those tall boots with a textured or thicker skirt or dress. Sweater dresses also look fantastic with tall boots. Note: it is best to wear a heeled boot with a pencil skirt. For a sweater dress, if the tone is elegant, a heel is best, but a slouchy sweater dress can go with a flat boot.
If You Can Fit Your Hand Inside Your Boot, Skip It
After you put your boot on, you don't want to be able to fit a small kitten inside there. You want your leg and your pants to fit inside your boot and nothing more. You want to have the circumference of your boot be 1-1.5 inches wider than your calf. To get this perfect fit, I measure the calf at its widest part and then use Zappos' advanced search to look for boots using those measurements. For instance, my calf measures 13.25 inches, so I click on the 13-15 inch options.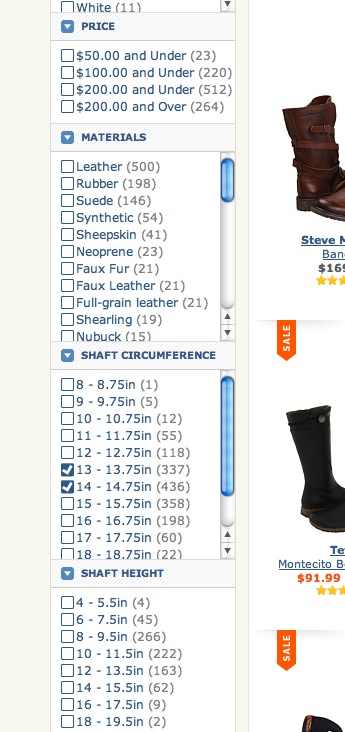 Update: It appears Zappos no longer offers this search option, which is extremely disappointing.  They were the only online retailer that did this, but alas, we must move on until they bring it back. To get around this, figure out your ideal circumference and then plug it into the online store's search box. My calf measures 13.25 inches, so my ideal tall boot circumference is 14 inches, so I type "14-inch circumference" into the search box and it populates all boots with a 14-inch calf circumference.
To read my ultimate guide on how to wear booties, Click Here.