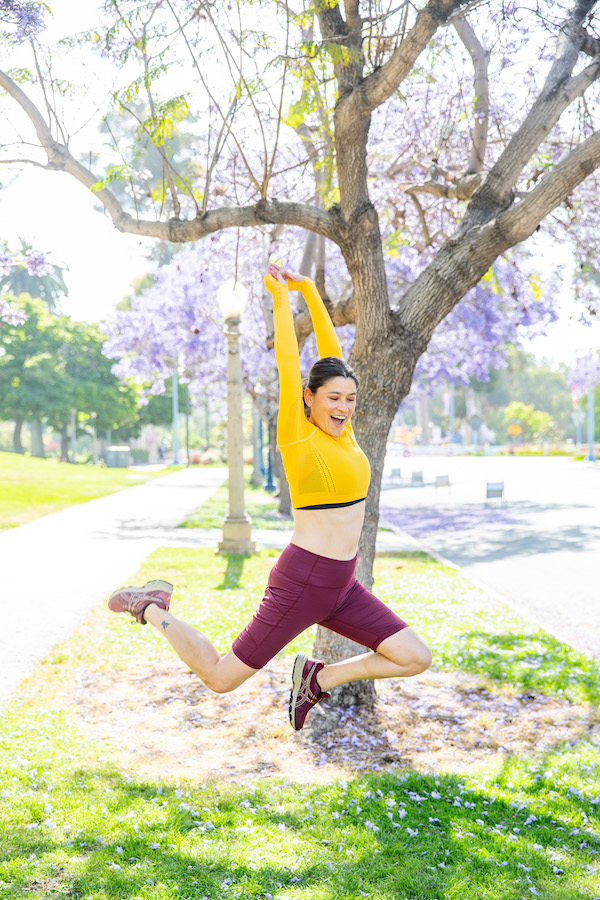 Most of you know I love to work out, from pilates and barre to Zumba and strength training. But my true love is running. I have been running most days for the past 23 years. This means I have been testing out workout clothes for over two decades. I know what works and what sucks. I know what is cute, but useless, and what is useful, but boring. And I love putting my extensive experience to use. When a client asks me to curate their athletic wardrobe I get giddy! Each client has different needs and color palettes when it comes to workout clothes. But no matter who I am dressing, every workout wardrobe I create includes at least one of the items listed below. Today, I am sharing my favorite workout clothes of all time. (Check out this post for at-home workout recommendations.)
My Favorite Sports Bra of All Time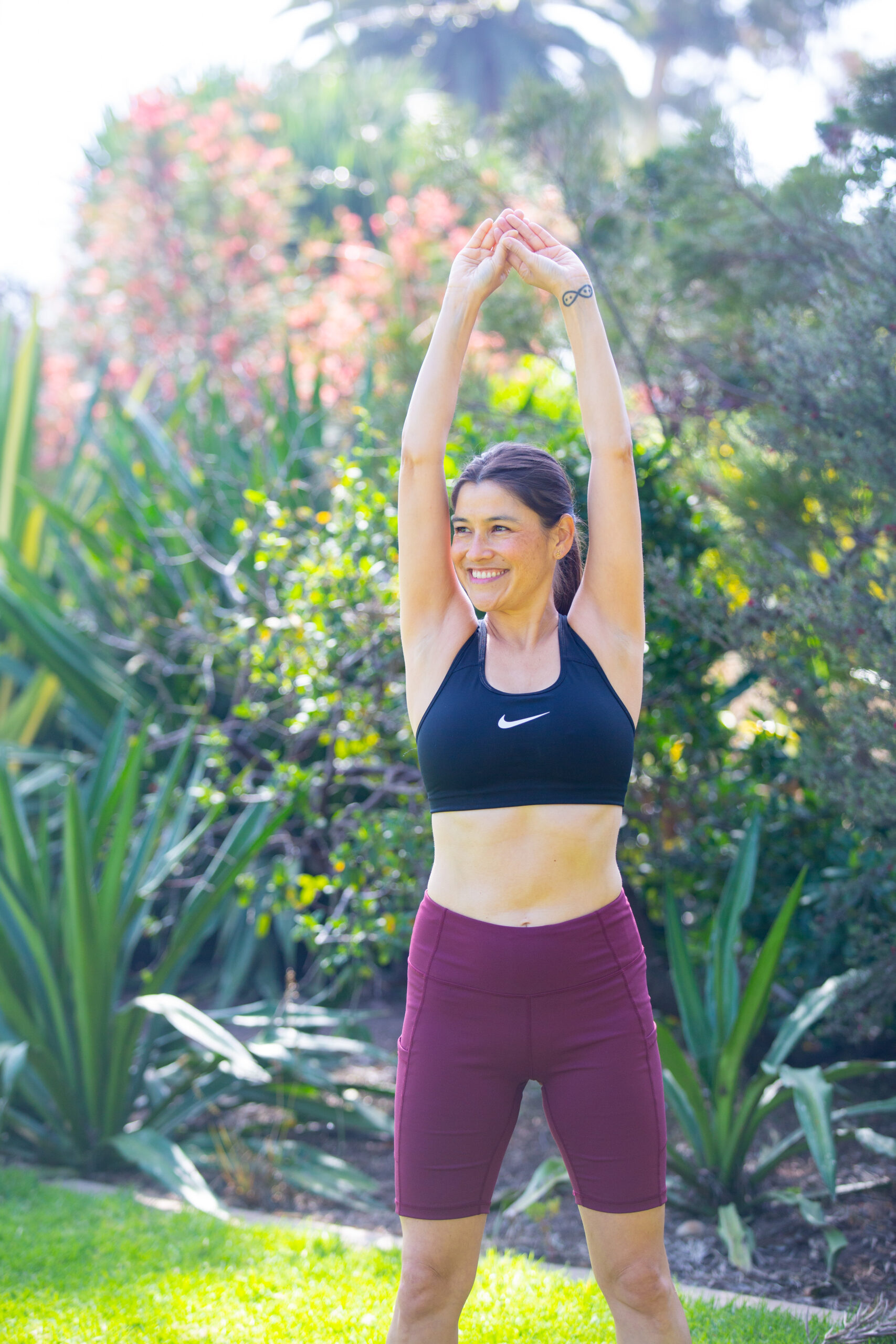 For 23 years, I have worn Nike sports bras. They are comfortable, supportive, flattering, and it takes years —sometimes even a decade — to wear them out. I love that they are snug without squeezing my ever-present armpit fat. I've tried many, many sports bras and they either don't support my breasts or they strangle my body, or both — it's infuriating. I don't even test other sports bras anymore. This is the only sports bra I wear.
The Nike sports bras are made of a recycled polyester and spandex blend. They're available at Zappos, Nike, Amazon, Nordstrom, and REI. Plus sizes available at Zappos and Nike.
My Favorite Workout Shorts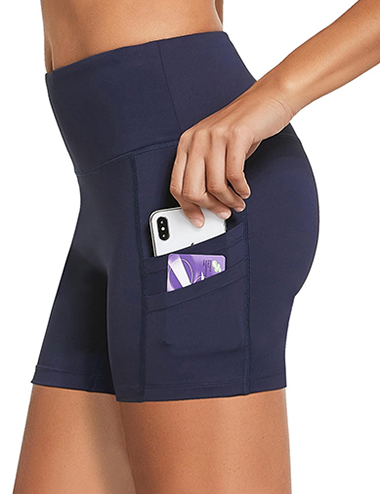 I am obsessed with Baleaf shorts. Obsessed! I adore them, love them, and own six pairs of them so I can wear them all week. They have life-saving pockets, really flatter my body, feel absolutely amazing, and the price is a godsend for anyone tired of the high price of workout clothes. (You can read my full review of Baleaf, here.) These are the three Baleaf shorts I currently own:
5″ High Rise Butt Lifting Pocketed Yoga & Workout Shorts — with 4 pockets this time! ($25.99)
Baleaf shorts are generally made of a cotton, polyester, and spandex blend, though it can vary slightly by style and color. They're available at Baleaf and Amazon.
Sizing Tip: The shorts runs true to size, but I have worn both mediums and smalls and I like both fits. The small is just a little snugger.
My Favorite Style of Workout Tops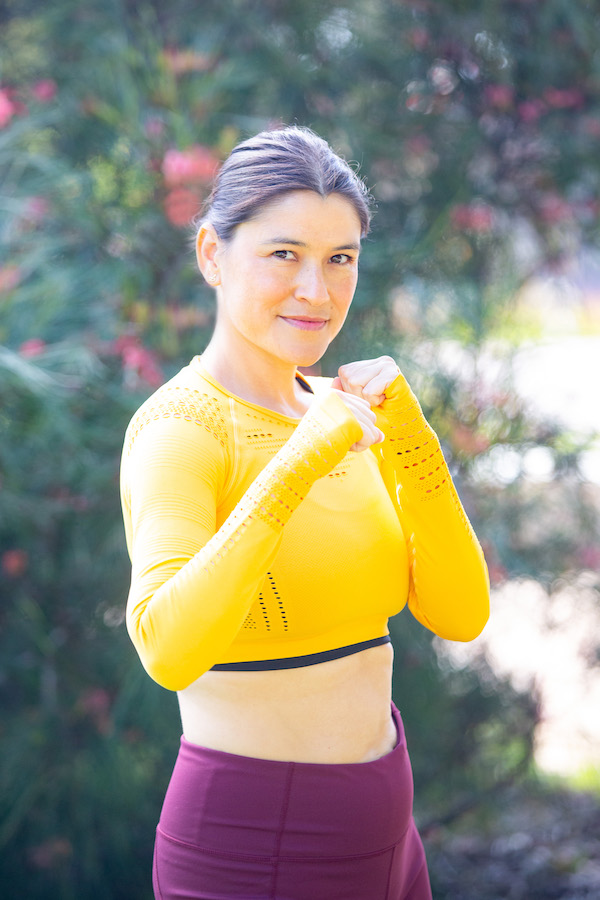 Since I run outside year-round, as long as it's not too cold or too hot, I like to wear crew neck cropped long sleeve tops, like the Alo Double Take Pullover or the Ever Elated Cropped Long Sleeve Lululemon Top. The long sleeves and higher neck saves me the time and effort needed to apply sunscreen to my arms and chest. Using less sunscreen also saves me money since I use only the best, aka expensive sunscreens on my body, like Think Baby and La Roche-Posay. And although I'm a strong advocate for sunscreen, I'd rather limit the non-organic products I put on my skin. Why such a short length of top? This is my attempt to bring color to my pale stomach.
My Actual Favorite Workout Tops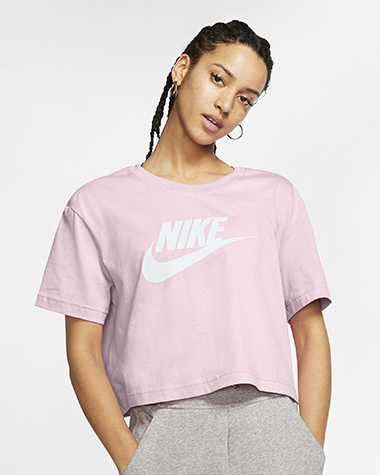 Unless I'm cold, I actually don't love sleeves. In fact, I would prefer to not wear a shirt at all when I work out, but I loathe the resulting sports bra tan, so here we are. The shirt that makes me feel closest to being topless is the Nike essential cropped t-shirt, with its lightweight boxiness. I also like the short, form-fitting Nike Sportswear Mock Neck Crop Tank. I have a wonderful supply of randomly acquired short sleeve cotton promotional t-shirts that I cut into crop tops. The cropped boxy fit makes me feel almost naked without being exposed, and I can easily tuck the hem up into my sports bra when I want to shine some light on my poor pale belly.
The Nike Essential Cropped Top is 100% cotton. It's available at Nike, Amazon, Revolve, and Macy's. The Nike Sportswear Mock Neck Crop Tank is a cotton, polyester, and spandex blend. It's available at Nordstrom and Nike.
Note: I'll tell you about my winter workout tops in a few months.
My Favorite Year-Round Workout Leggings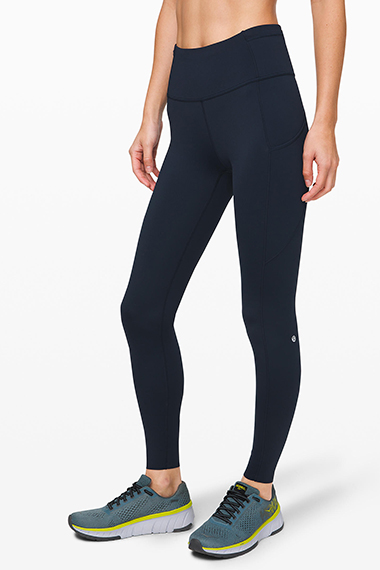 Lululemon's Fast & Free Tight is without a doubt the best workout legging on the market. It's made of 84% nylon and 16% lycra elastane, and feels like nothing, yet supports your body and hides cellulite. I particularly adore the seamless hem — it makes you feel like you are slipping into a second skin. Unironically, I really do feel fast and free in these leggings. Plus, they have this way of staying cool in the summer, and keeping me warm in the winter. They are magic, which is why they're a staple of my workout clothes — and why I own six pairs of the 28-inch length. You've probably seen them in several of my posts, including What To Wear In Park City Utah, Stylish Outdoor Clothing – A Hiking Capsule Collection, and What To Wear In Barbados.
They also have a 25-inch length Fast & Free tight, but with my 30-inch legs, it exposes a lot of skin so I prefer the 28-inch length to avoid over tanning my ankles. You may notice, I hate weird tan lines.
Sizing Tip: Runs small. Order a size up. I wear a size 8.
My Favorite Budget Friendly Workout Leggings (New Discovery!)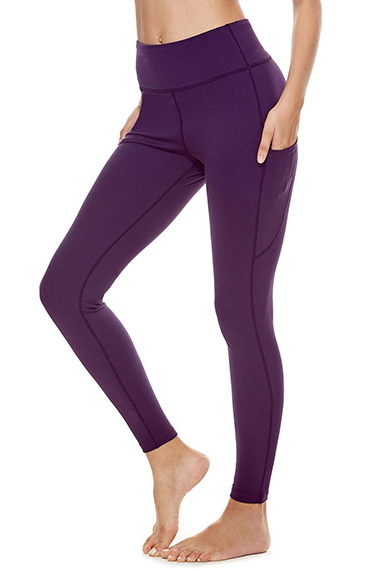 I work out almost every day yet rarely do laundry, so it's vital I have an endless supply of workout clothes, including pants. You know I don't mind spending the big bucks on quality, but Baleaf reached out to me to try more of their products after seeing me rave about their shorts on one of my Instagram posts. I am so grateful they did! I am head over sneakers in love with their High Waisted Casual Leggings. And at $22.99 a pop, I have no issue stockpiling these babies so I don't have to do laundry for weeks on end. They are extremely comfortable and, of course, they have glorious pockets — I detest a workout pant without pockets. I'm still glowing from this discovery. They are made of 87% nylon, 13% spandex, and are available at Amazon.
Sizing Tip: Runs large. Order a size down. The mediums are definitely too big on me.
My Favorite Running Shoes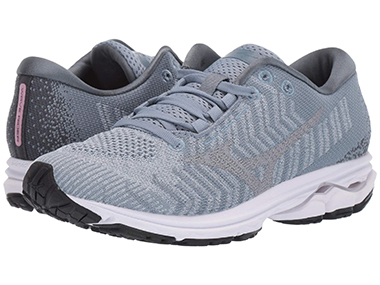 I take my running shoes seriously because serious issues can occur when you run every day in the wrong running shoe. When I was younger, I had major pain on the top of my foot that limited my ability to walk, let alone run, because of my choice of athletic shoes. Now, every year, I devour various running blogs' recommendations (I love Runner's World) for the best running shoe of the year. Of the top-rated shoes, I order the five most stylish pairs, and then try them all on before deciding on my newest running shoe for the year. These days I try to alternate between shoes to give them time to "refresh." Right now, I am switching between the Mizuno Wave Rider 23 Waveknit and the New Balance Fresh Foam 1080v8.
Y the way, I don't do this research each year by choice. I am forced to research new shoes every year because whenever I find a running shoe I absolutely adore, the company either stops making it or changes it. I am sad to say the New Balance Fresh Foam 1080v8 is my favorite running shoe of all time, but cannot be found in most sizes anymore. Boo.
Sizing Tip: Runs true to size.
My Workout Hat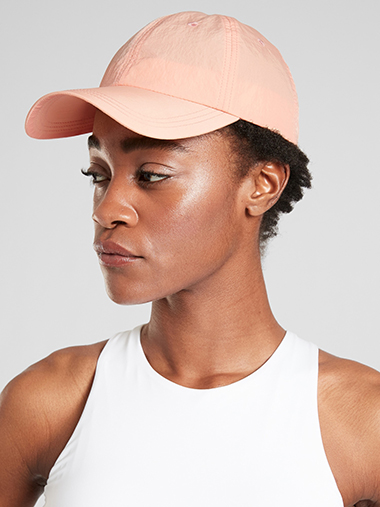 I use soft cotton hats or a nylon cap that is easy to adjust, like this Athleta SPF 50+ cap. They are comfortable, minimal, and protect my face from the sun. Despite the ease of use, wearing a hat for every workout messes up my hair. This is no big deal of course, but at one point I was trying to wash my hair less and still achieve glamorous locks, so I went without a hat for a few months to preserve my blowout. Big mistake! The result was gnarly sunspots on my forehead. Now I never go without a hat — I just put my hair in a slick ponytail on the days I don't wash it.
My Year-Round Workout Socks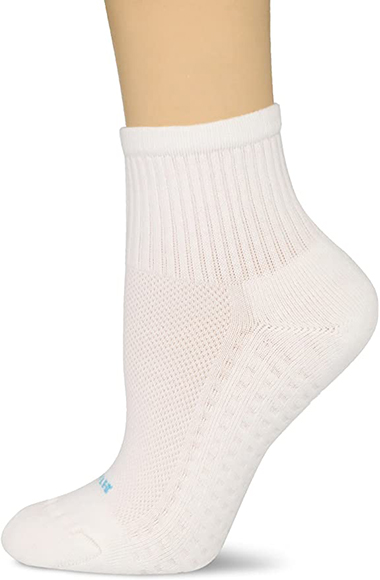 I adore my Hue Air Sport crew socks. They are so comfortable, stay put, and fit wonderfully. They are not too thick or too thin, and they really seem to deter moisture. I use the white version with my lighter color running shoes, and the black version with my darker running shoes. They're 37% cotton, 37% rayon, 24% nylon, 1% spandex, and 1% polyester.
My Favorite Athletic Jackets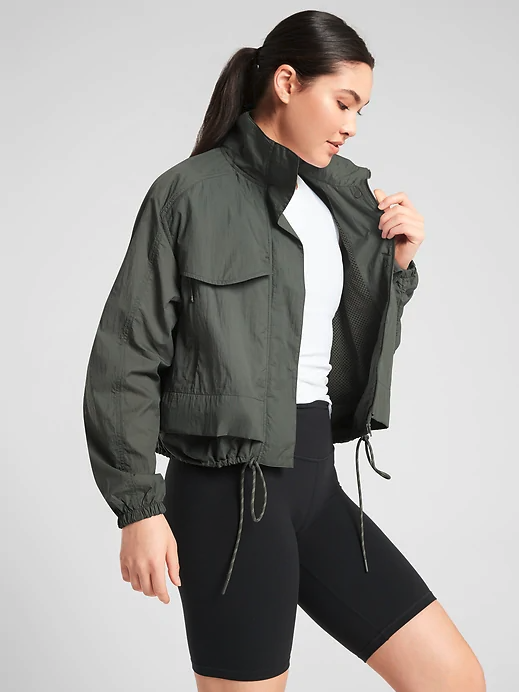 I love Sweaty Betty and Athleta's outerwear. Right now I am hysterical about the Athleta Canopy Parachute Jacket — it is absurdly chic for sportswear and made of recycled nylon. I am also enjoying the Expedition Hike Shell in periwinkle (also made of recycled nylon). I use both of these jackets for walking, hiking, or casual wear. I don't actually run or do vigorous workouts in them — that seems a bit odd to me.
My Year-Round Workout Underwear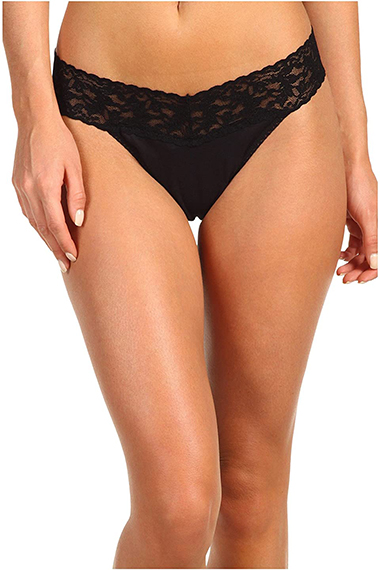 I don't shut up about Hanky Panky's original rise organic cotton thongs. I wear them all the time and love working out in them as well. (See my full Hanky Panky review, here). If I don't feel like wearing a thong for some reason, I wear my Gap cotton bikini briefs. Both of these styles of underwear absorb all my sweat, leaving my skin relatively dry, which oddly enough is the exact opposite of panties intended for sports. I am flabbergasted how companies advertise sports underwear as a "wicking" garment when they seem to create and hold in more moisture. It's gross and I don't understand it.
Sizing Tip: Only comes in one size. If you are very petite, get the low rise Hanky Panky.
My blog posts are my honest and personal opinion. Sometimes my content includes products sent from brands or PR firms. In this case, Baleaf and Body Complex Rx gifted me workout clothes. If I am sent something that is unimpressive or boring I don't write about it.