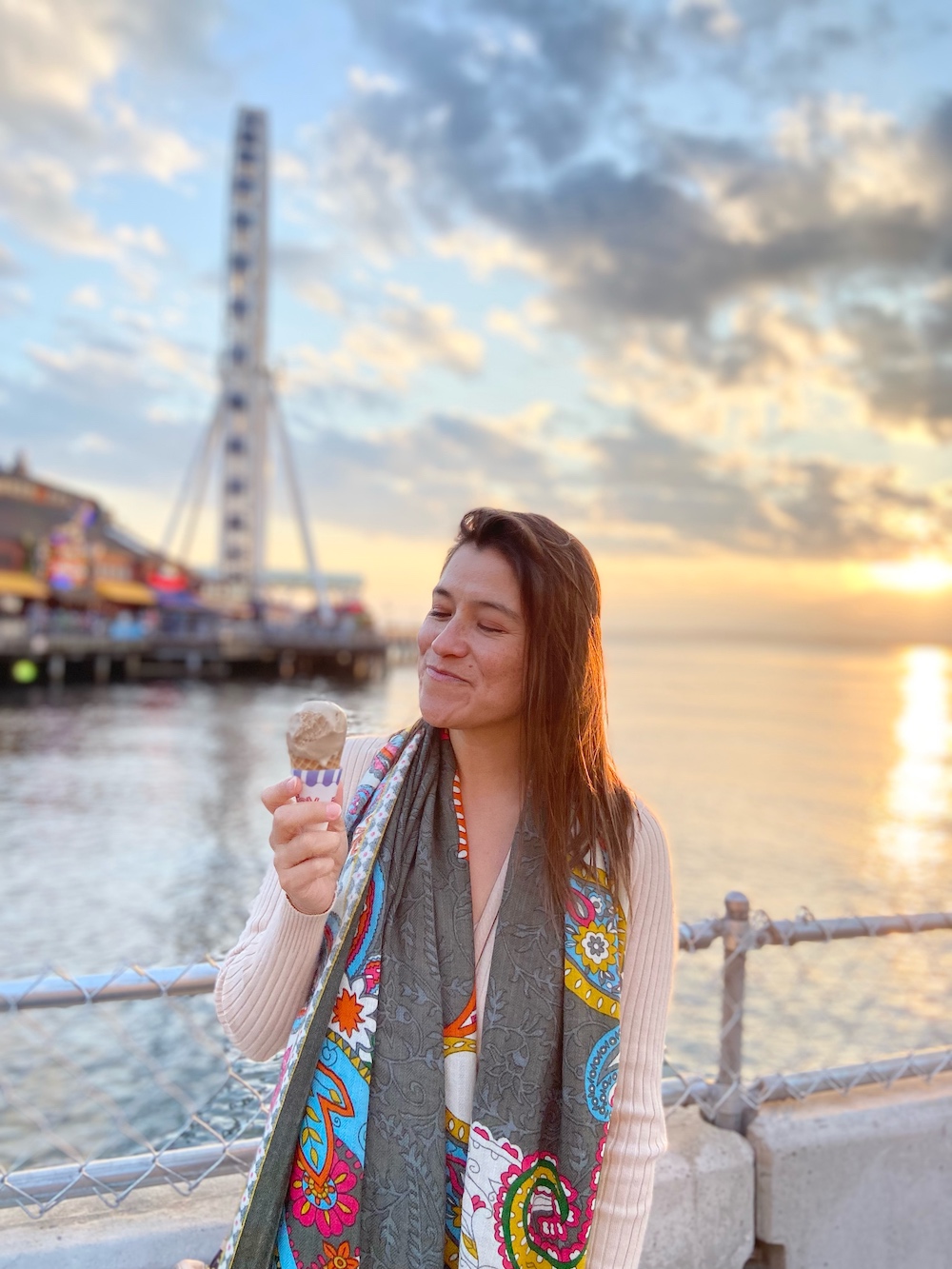 My best childhood girlfriends and I used to regularly meet up in cities all over the world before the pandemic. That is what I missed the most over the past year, so the moment we were fully vaccinated we started plotting our next adventure. We decided on Seattle, a city I'd never been to and neither friend had fully explored. Below I'll go over what to pack for Seattle, where to stay, what to eat, and what to do post-pandemic. Follow me on Instagram to see all my travels.
What To Pack For Seattle In August
As I always tell my clients, let's check the weather before we pack. With climate change, weather averages in Seattle are different from the past, so although you can look up past weather averages for the month you're going, it's vital to check the weather for the days you are staying the day before you leave. I always shop a month or so in advance for any trip, but confirm the weather before I start packing.
My trip was from Aug 20th – Aug 23rd. The week before I arrived it was a resorty 80° in Seattle. All week I was checking the weather and preparing for a Barbados-esque experience. The day before I left, I checked my Apple weather app and it said the nights would get down to the 50s. Oops. Time to change what I was thinking. My official recommendation on what to pack for Seattle in mid-to-late August is a combination of warm and cold weather outfits.
A nicer, thicker jacket for the cooler evenings, boats, and high-rise rooftop experiences.
Tops for your jeans and shorts
Long sleeve dresses for those chilly rooftop bars
Day dress
Very comfortable chunk heel booties for evenings
A bathing suit, waterproof flip-flops*
*If you luck out with some warm weather, you will want the bathing suit for the water activities at Alki Beach.
Bonus Tip: Sexy/dressy suiting is all the rage for evenings out in Seattle right now. The most stylish women I saw all wore suits or a blazer. It is warmer than a sexy dress and refreshing after a year of working from home.
Where To Stay In Seattle
We stayed at the Motif Seattle by Hyatt Hotel ($200/night) on 5th Ave and Pike Street, where a friend of mine had stayed for her first time in Seattle in July 2019. The location was terrific, the layout and vibe were lovely, and the outdoor rooftop bar, Frolick, was delightful. I also liked that there was a Starbucks next to it so I could get my bell pepper egg bites in the morning — my travel breakfast of choice. (I start every single day with an egg.)
I would absolutely stay there again, but after exploring the city further, I would prefer to stay at the Thompson Seattle ($233/night) which is situated closer to Pike Market and popular restaurants and has an outdoor rooftop bar with west-facing views of Elliott Bay and the sunset if you go at the right time. The view at Motif's bar Froclick is east facing, so you get to look at buildings, which is not nearly as interesting as the gorgeous expanse of the water and islands.
Where To Eat In Seattle
This is very important information for post-pandemic travel to Seattle: almost every restaurant and bar will require you to present a copy or picture of your vaccination card along with identification. Your driver's license or a picture of your driver's license will work. In a pinch, you can use anything that has your name on it. Also, reservations are very important, even at bars. With that said, you can only eat at so many places in four days. All the places we went to were lovely, but here are the must-eats I had:
The Pink Door (Downtown Seattle): Great pasta, incredible ambiance, and an authentic candlelight dining experience with live music that even people who hate live music will enjoy. The Pappardelle al Ragú Bolognese is terrific. The restaurant is located in an alleyway, called Post Alley, so it can be tricky to find. It's open for lunch and dinner Wednesday-Sunday.
Salty's (Alki Beach): Sit outside and enjoy the view of the water. The food is absolutely incredible. Get the Essential Baking Co. Grilled Fremont Sourdough bread ($11) and the pasta dish, Lobster and Prawn Bucatini ($44). OMG, so good.
Honorable Mention: Get the salmon bisque ($10) at the Soundview Cafe in Pike Place Market, but do not get their clam chowder.
View this post on Instagram
What To Do In Seattle Post Pandemic
When I arrived in downtown Seattle I noticed pretty quickly that there were many boarded-up buildings, closed restaurants, and deserted storefronts. My friend who visited Seattle 3 years ago said it was not like that then. The effects of the pandemic are evident, but don't let that stop you from visiting. There is still plenty of life, bustle, and style. Once you get over the sight of all the closures, you start appreciating the lack of sardine crowds.
Honorable Mention: Karaoke at Hula Hula on Capitol Hill. Dirty yet delightful. They don't serve prosecco, but there are some incredible singers here!