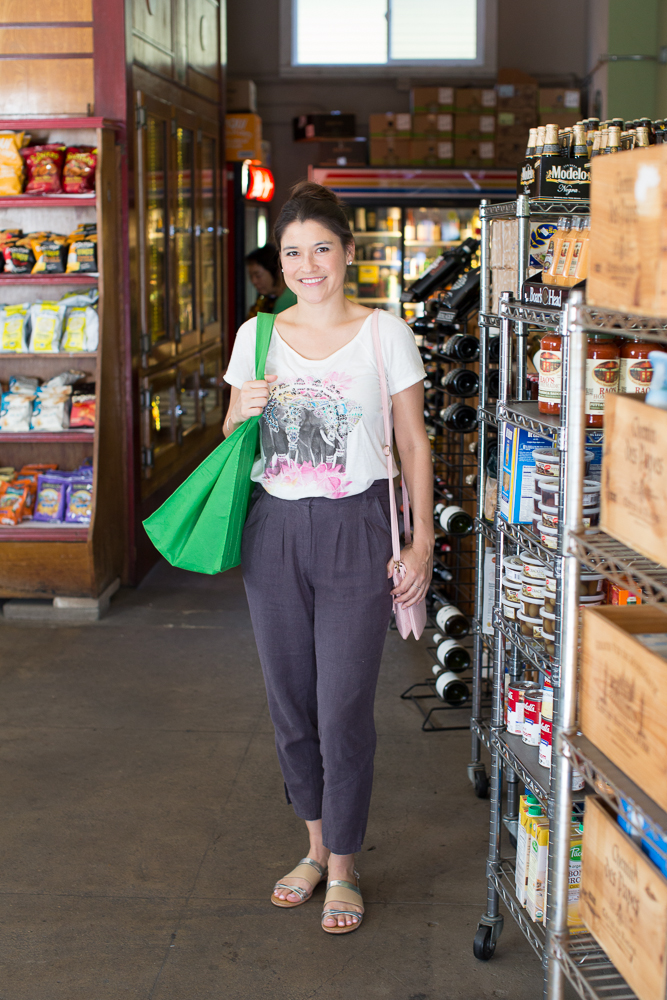 'Grocery Chic' is one of my many terms I use with clients to explain fashion. I use 'Grocery Chic' to reference the occasions one leaves the house for nothing important. "You know, just going to the grocery." For many of my clients, nothing is more frustrating than the outfits that fit between an evening social outing and sitting on the couch. They often end up leaving the house in 'Couch Clothing' or get stuck in the jeans and t-shirt cycle and feel frumpy or bored. Here is the grocery chic advice I give my clients…
Don't Own Anything Unattractive
If you don't own ugly sweats, you can't leave the house in ugly sweats. I make my clients purge, purge, and purge some more. There is no need to own garments that don't make you feel good.
Master The Jeans & T-Shirt Look
If jeans and tees are your thing, take the above advice and ditch all your dated denim and derelict t-shirts, and buy the freshest comfortable jeans and cute tees. Click here for a list of stylish t-shirts, and below is a list of denim styles I recommended for a grocery chic look.
Easy, Comfortable, Stylish Shoes
Did you notice all the denim listed above are slim fits? A slim leg is the best silhouette for flats and grocery chic is all about the comfortable flats. Pictured, I wear the French Connection 'Hallie' sandal, which isn't the best option for a 20,000 step day (it doesn't have a ton of support), but perfectly fabulous and utterly comfortable for an hour of running errands. Besides cute sandals, you must have a fabulous flat, and a stylish sneaker.
Stylish Sandals: I love Vaneli's studded cork sandal right now.
Fabulous Flat: Nine West's 'Simly' Tassel Flat soft flexibility creates a really comfortable fit.
Stylish Sneakers: Click here for 8 'Vanessa Approved' sneakers.
Cute Comfy Casual Pants
My clients are always requesting comfortable casual pants that are not jeans. When the pictured Brochu Walker linen pants came out, my clients were beyond elated. Unfortunately the Brochu Walker's are sold out now, but here is a list of my favorite casual non-jean pants that are available…
J.Crew's Sunday Slim Chino (make sure to roll up the pant hem 2-3 times for the best look)
Kobi Halperin Double-Knit Alexandra Pant (can also be used in the workplace)
Throw On Dresses
Nothing beats a comfy dress you can just throw on with your sandals. My favorites are stretchy with a slight flare at the belly. Here are a few I have put on clients recently…
Can't Be Bothered? Use Instacart.
When you can't be bothered with grocery chic, I recommend Instacart. Instacart is a grocery delivery service that provides delivery within an hour or you can schedule a delivery for a specific date and time. I use it when I am traveling for a week or more. Right before I fly out of town I throw out all the food that will expire. A couple days before my return flight, I go to www.instacart.com and load up my grocery cart. I schedule it to be delivered two hours after my plane lands. There is nothing quite as satisfying as dragging my suitcases in, half crazy from jet lag, and having the doorbell ring with a food delivery. Instead of waking up the next day to an empty fridge, I wake up to fresh eggs and spinach. For $10 off your first Instacart delivery, use promo code VVALIENTE13.
A big thank you to the Royal Food Mart for letting us shoot in their fabulous shop.
Photography by Dayley Photography
This post is sponsored by Instacart.