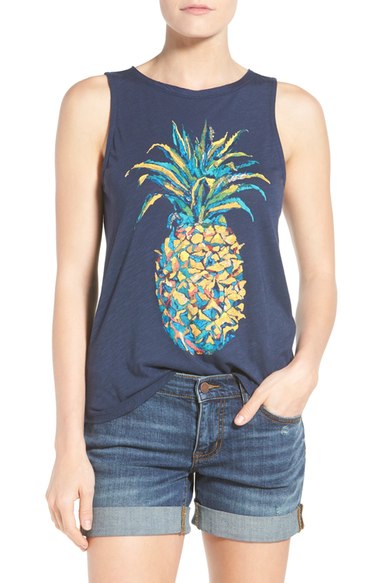 Graphic t-shirts can be a bit of a young thing for the most part. Especially with all the immature or inane slogans and graphics printed out there. The fit alone is enough to make a stylish adult woman turn away. Tight or boxy are not delightful choices. But the right graphic t-shirt that flatters your torso, and charms you with its imagery is such a treat. You still look your age, but feel youthful, fun and, maybe even a little edgy. You'll love paring them with shorts, jeans, and ankle pants this summer.
Below I have listed my favorite brands for flattering graphic t-shirts. As with any designer, keep in mind that no brand bats 100. In fact, when I recommend the brands below, I am referring to a small portion of their selection. So, when I recommend, say, Lucky Brand for their graphic t-shirts, I am saying that each season this brand probably has 1 perfect graphic t-shirt, and at best, 3 amazing graphic t-shirts. We will skip the rest of the graphic t-shirts they made this season because they are too trendy, too cheesy or just not unique enough.
Lucky Brand is my go-to for flattering graphic t-shirts for adult women. The fit is always that flattering a-line silhouette that cups the breasts, nips in at the waist and releases into an a-line at that perfect moment when our belly's need a bit of space. And obviously, the graphics are fun and beautiful. Plus they make most of their graphic t-shirts in Plus Sizes as well. (Get the Pineapple t-shirt in Plus Size here.) Just be careful with some of the overzealous ones and the paisley ones.
Sol Angeles graphic t-shirts are soft, yummy, and often sport charming fonts with simple sayings that don't make me puke. The silhouettes of the graphic t-shirts that I recommended below are not as obviously flattering as the other t-shirts recommended, but still very slimming. When shopping Sol Angeles, steer clear of the boring and cheesy ones like the Walk This Way tee.
Sundry Graphic T-Shirts
Good Sundry graphic t-shirts have a way of being care-free and young without being too trendy. And as you can see below, Sundry also has that fantastic flattering a-line silhouette at the torso as well as that yummy scallop hem that slims our bodies perfectly.  Just steer clear of the really trendy ones like this graphic tee.
Pam & Gela Graphic T-Shirts
Pam & Gela graphic t-shirts are on the 'rock and roll' side for lack of a better definition. These shirts are for my taller clients because they run long, although don't forget we can easily hem them. I have added them to my list because they are quite flattering on the right body type (they hide armpit fat beautifully!), and have some edgier looks that some of my client love. I like them best when tucked into shorts or jeans. I don't love them untucked because they don't have that beautiful a-line we love so much.
Misc. High End Designer Graphic T-Shirts
Every summer some of my favorite designers put out one or a handful of fabulous graphic Tees. They are expensive, not nearly as flattering as the rest of the brands on this list, but they are special. If you have the body and the interest, check out the usual suspects like Kate Spade, Tory Burch (not the logo Tees – ew), Givenchy, Ted Baker, Rodarte, Valentino, Akris, Proenza Schouler (I love their graphic long sleeve tissue tees. More featured here.)
This season, a lot of the high-end designers disappointed me with their graphic t-shirts, but next season we will check back with them. That's basically what you have to do when creating that perfect small collection of graphic tees that fit your personal style; just keep checking back in until you find the ones that call to you.