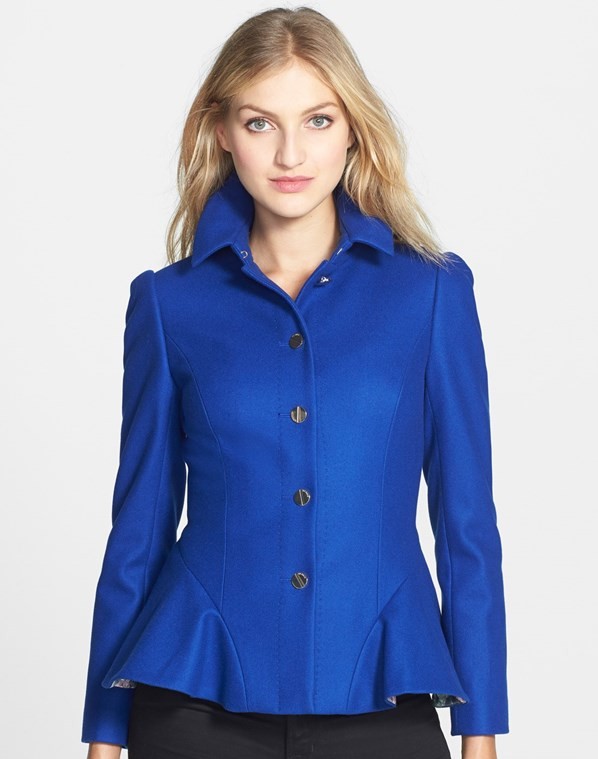 Ted Baker $340
Playing office was one of my beloved childhood games. It's no wonder one of my favorite parts of my job today is stylish office wear, but not for just any office, an office to impress. Currently, I have two female clients that want a modern powerhouse look. Serendipitously, NPR put out an article on the The Look of Power, using the television program, The Good Wife as it's main example of females' current power look. Both of these clients saw the article, and sent me a link to it with excitement that we were creating the exact look the article described. One of these clients had even cited the characters Diane and Alicia from the Good Wife during our initial consultation together.
After polishing up these two clients and peeking at The Good Wife, I wanted to share with you the common denominators of stylish office wear that emulates power…
The Bold Blazer/Jacket
Maybe it's Chanel, but more likely the bold blazer I want for you is by Layfayette, Escada or another line that believes in the power blazer. Besides the powerful drama of the bold blazer, I adore the flexibility of it. There are so many out there in ponte knits, wool blends, tweed, leather or bouclé that have a lovely stretch to it. There is nothing less powerful then being uncomfortable, so you want these fabrics that move with you. One tip with the blazer, you don't want to pair it with the matching skirt that often comes with the blazer. Stylish office wear is not matchy-matchy. You want to mix it up to avoid looking like Bunny MacDougal from Sex and The City.
The drama of your outerwear or bottom half needs to be anchored by a simple, yet flattering blouse. The shell is the compliment to your bold blazer or dynamic pencil skirt. People often forget to add a shell to their stylish office wear, and then feel lost when they try to make outfits out of their bold goodies.
The Collared Silk Blouse
The stiff cotton button front is so elementary. It reminds me of your first job out of college. You may think that a silk collared blouse softens your look, but the femininity and flow accentuates your power. This is the big difference between the old school power concept versus today's image. In the past, women wanted to look like men. This in itself lowers a woman's power. You don't need to hide your womanhood. Hiding is for the weak.
Be done with the overly flared slacks from ten years ago. You want a slack that makes you look tall. You do this by getting a quality slack that graces your hips and bum then falls straight down to your heels. It is imperative that your slacks fit you perfectly and, when possible, are not black. A perfect fitting light grey or camel colored slack is more powerful than the run of the mill black slacks.
Every svelte woman in power needs a short sleeve sheathe. The nod to structure and the female form declares you are a woman in charge. The main photo of The Good Wife is in fact Alicia Florrick in a bright red short sleeve sheathe dress.
Whether it is on a flat or a heel, the point says business. Round toe heels nod to a vintage time, when women were not taken as serious power figures. As for round toe flats, they don't flatter your legs when paired with most dresses and slacks. Round toe flats are best with skinny jeans, and cropped pants, neither of which are great emulations of  a powerful look in the office. If the pointy toe is not the thing for you, the almond toe is just as flattering.
The pencil skirt could be a solid colored anchor for your more bold tops, jackets and heels, or it could be the bold piece. Either way, it flatters almost all body types (except exaggerated apple bodies) and is timeless in its declaration of a woman in power. It is the epitome of stylish office wear.
We discussed the short sleeve sheathe, but you need one more dress for a complete week of powerful looks. The power dress could be a wrap dress. It could be boldly printed. It could be anything that is well made, stands out due to color or detail, and flatters your body almost inexplicably.
Interesting Light-Weight Earrings
You do not want to be over accessorized as a powerhouse. You want one interesting and quality piece that speaks for the outfit and then minimal additions. I find that an interesting earring and a simple ring works best with stylish office wear. This way you don't have to worry about paring a bunch of jewels together or having your bangles bang against your desk when you are typing. My go to for interesting light-weight earrings is Alexis Bittar.