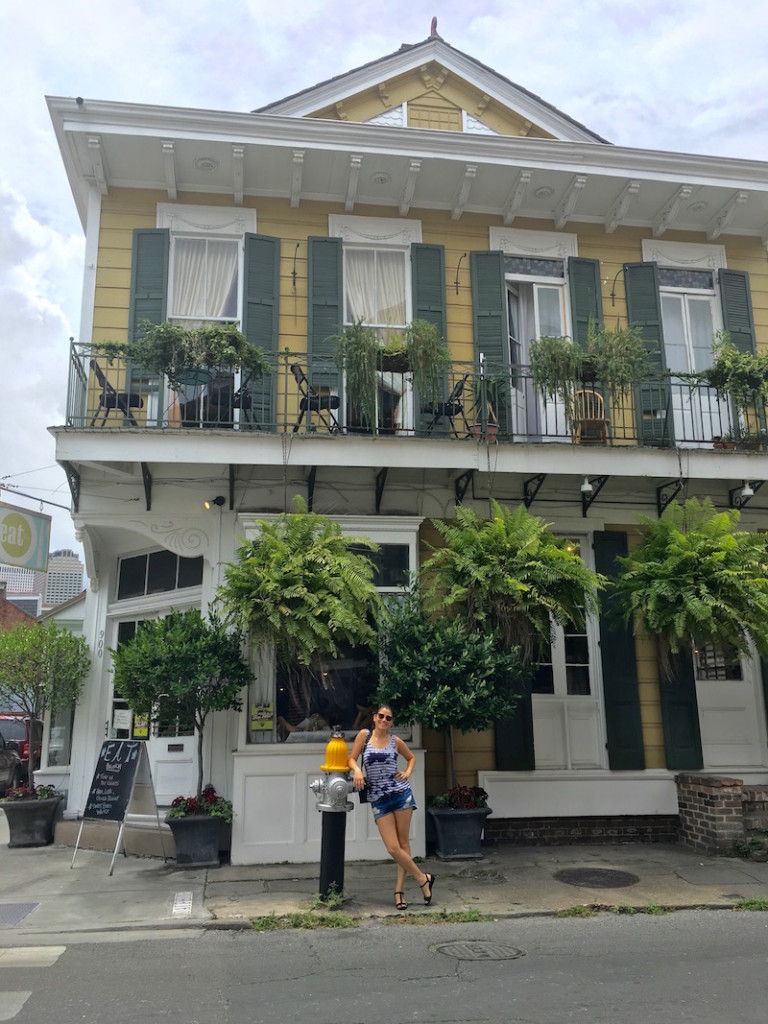 Updated August 2019
Visiting the heart of New Orleans in spring and summer requires a very specific packing list to ensure a comfortable and adventurous trip, especially if you are staying in the French Quarter as I did this past holiday weekend. To give you an idea of what to pack for New Orleans, I've outlined all the necessities for a 4-day trip that will fit into a standard carry-on suitcase and prepare you for the unpredictable humid weather.
Comfortable Walking Shoes
To truly enjoy New Orleans is to walk and walk and walk. At every corner, there is another musician, another boutique, another stunning balcony, another adventure. To not walk to your destination is to miss out on this amazing city. You must have comfortable walking shoes, especially if you have any foot or back issues. Go for supportive sandals or breathable flats so you can be comfortable without getting too hot. (See my full review of my favorite stylish walking shoes, here.)
Fancy Shorts & Casual Shorts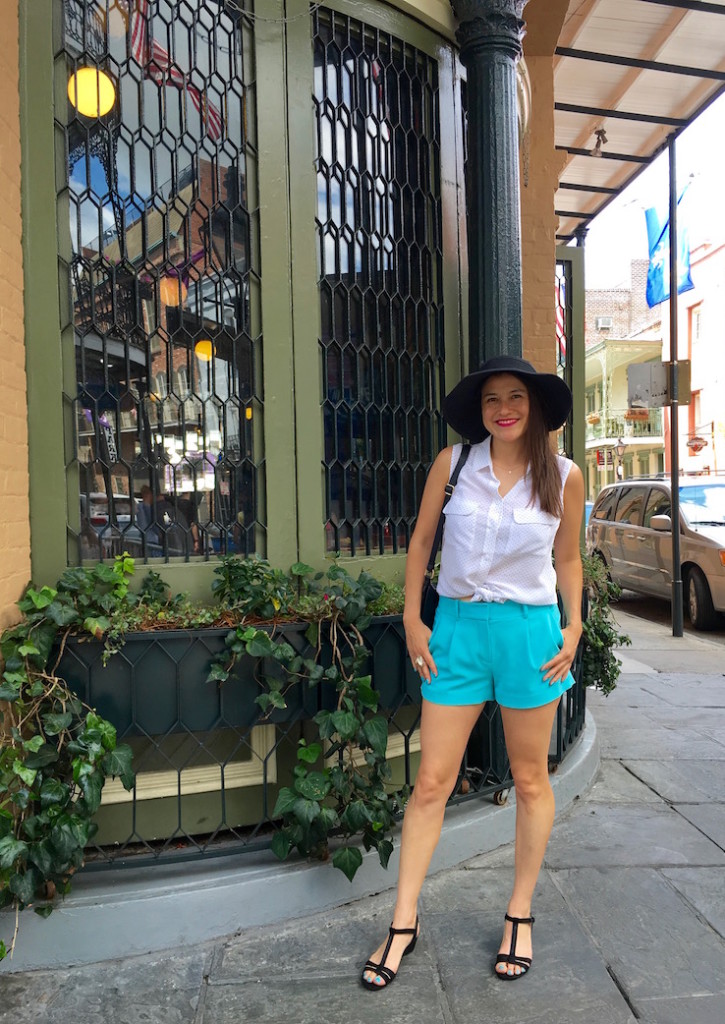 Between the sweat and the walking, shorts are the best idea if your thighs touch at all. The chaffing of thighs can ruin a trip. I loved wearing my absolute favorite denim cut-offs by Rag & Bone for casual days, and my delightful DVF turquoise 'Naples' shorts (similar option, here) for dressier days and nights. I'm also loving the Joie Carden shorts as a dressier option. (You can also check out my post on the Top 10 Most Flattering Women's Shorts.)
Comfortable & Stylish Day-To-Night Shoes
I cannot emphasize this enough – skip the heels! Pack ONLY comfortable shoes for a trip to New Orleans. Walking is often faster than an Uber, cab, or Lyft if you're only going a mile because the traffic can be insane. People are walking all over the streets, horses and buggies are running around, cars are trying to get in and out of the city, or seem to simply be driving in circles for no apparent reason. I imagine it was worse this weekend due to the Memorial Day holiday, but packing comfortable and stylish shoes is always a smart idea.
I highly recommend my Ecco's 'Rivas' wedge sandal for a day-to-night sandal this summer. They even held up in the rain I mention later. I also wore them on my Airboat Swamp Tour, which is a must do! Get the small boat with hotel pick-up.
Water Friendly Shoes & A Portable Umbrella
You need waterproof sandals or water-friendly shoes and a portable umbrella. You can walk to lunch on a sunny day, and then exit the restaurant to find it storming vigorously. Looking around during the storm really shows you how unexpected it can be. Beautiful dry-haired women lounge in sundresses and sandals at bars and restaurants, while pedestrians stand under balconies with matted hair and soaking shoes, startled expressions on their faces and screams falling out of their mouths. The weather apps on our phones weren't even accurate. The apps said it was only overcast, while the sky hosed me down and raindrops dripped off my eyelashes.
Cotton Undergarments
The humidity wasn't even that bad this weekend, but the struggle is real. It's best to wear cotton panties and cotton bras to soak up all that sweat you'll be producing. Polyester or modal undergarments soak up nothing and hold the sweat against your skin.
Prosecco
Yes, I packed Prosecco for my trip and thank goodness! There was no Prosecco to be found, and I was often teased when trying to order it in bars. Thankfully, you can enjoy your bubbly from your hotel balcony and on the streets. As I am sure you know, drinking in the streets is delightfully legal.
Adjustable Sunhat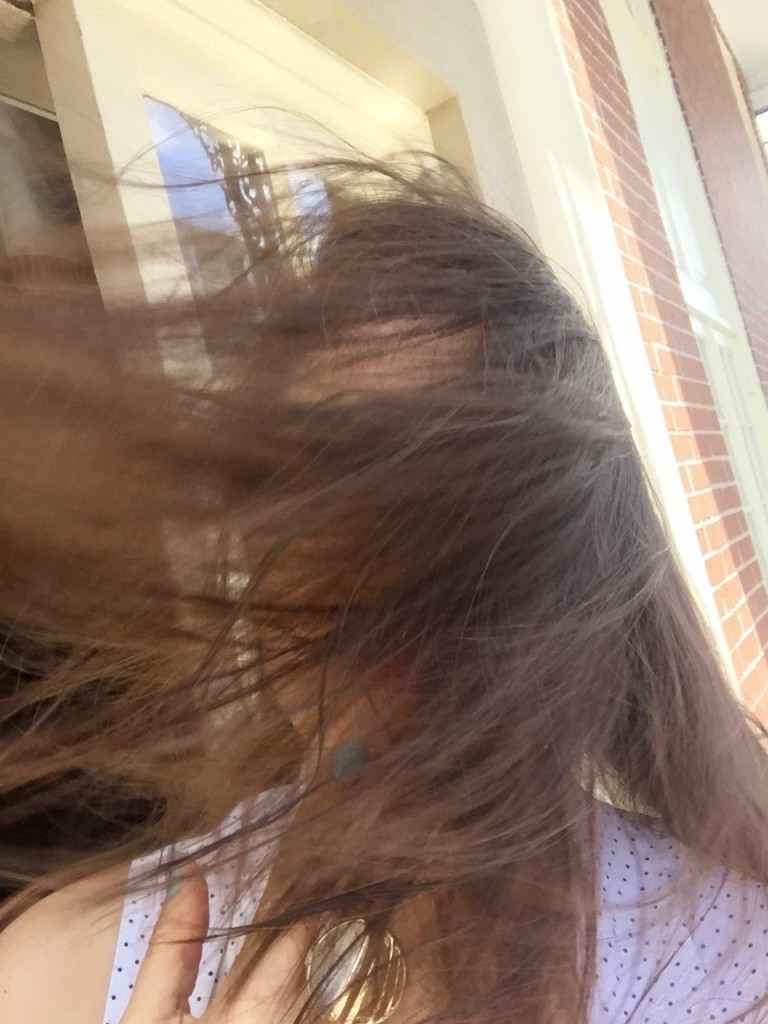 If you need a hat to protect your skin from the sun, I highly recommend a packable and adjustable sunhat. Mine is from San Diego Hat Co. You need it to be adjustable so you can tighten it when the wind picks up. As you can see above, the wind did pick up. A great roll-up hat can be good in the rain as well.
Sweaters Only (No Jackets)
Don't bother bringing a jacket that can't be folded up, but definitely bring a sweater. For pairing with dresses, I love the Nic + Zoe Book Club Open Cardigan. The air-conditioning is horrendous. It's turned up too high, so you're freezing when you go from the outside heat to the chilly indoors. Also, the temperature drops quite a bit during the surprise rain showers. Once you exit a cold restaurant and/or the rain stops, you want to be able to store the sweater in your bag so you can get back to sweating.
A Large Versatile Scarf
My large scarf from Diane Von Furstenberg was a lifesaver. I used it as a sarong, as a pop of color over my simple Splendid black jumpsuit, as a shawl when I would walk into insane air conditioning, and as a blanket on the chilly plane. I never thought I would be a big scarf person, but with all my traveling the past four years, a large scarf has become invaluable. For more scarf ideas check out my post on How To Wear A Shawl aka The Oblong Scarf.
A Lightweight, Medium Sized, Soft Shoulder Bag
You need that perfect sized bag that isn't too big or too small. Skip the stiff handbag and the useless clutch for a trip to New Orleans. You want a bag that can go from day to night, is easy to get into, and doesn't jostle into people when you walk in crowds. You also want it to be able to carry a small water bottle, your sweater, and a few essentials.
Multiple Tops
I always advocate packing items that create multiple outfits, especially if you want to stick to just a carry-on. But in New Orleans, you get so dirty and sweaty that it's nice to have a fresh outfit for, at least, all the evenings you go out. Save the reuse for your shoes, and basics like casual shorts. Thankfully, many of the clothing items you pack will fold up small enough to leave room for the multiple tops/dresses/jumpsuits. Below is my full list of what to pack for New Orleans in the spring.
My Packing List For 4 Days In New Orleans In Spring
1 walking shoe (great for longer walking days)
2 pairs of secure day-to-night sandals (wore all throughout the trip)
Flip-flops for the hotel pool (used once)
Bikini for the hotel pool (used once)
1 versatile sweater (wore every other day)
1 versatile scarf (wore every day)
1 denim short for day (wore twice)
Fancy shorts for day-to-night (wore all day, 1 day)
Jumpsuit for day-to-night (wore 2 days and 2 nights)
Summer dress for day-to-night (wore for 1 day)
1 skirt (wore twice)
1 polka dot blouse (wore once with fancy shorts)
2 tank tops (wore 3 times)
1 pair of Ray Ban Clubmaster sunglasses
1 adjustable and packable sunhat (wore once)
1 gold jewelry cluster (1 pair of earrings, 1 necklace, 2 rings)
1 hair tie (necessary for our airboat swamp tour)
Follow me on Instagram to keep up-to-date on my next trip.