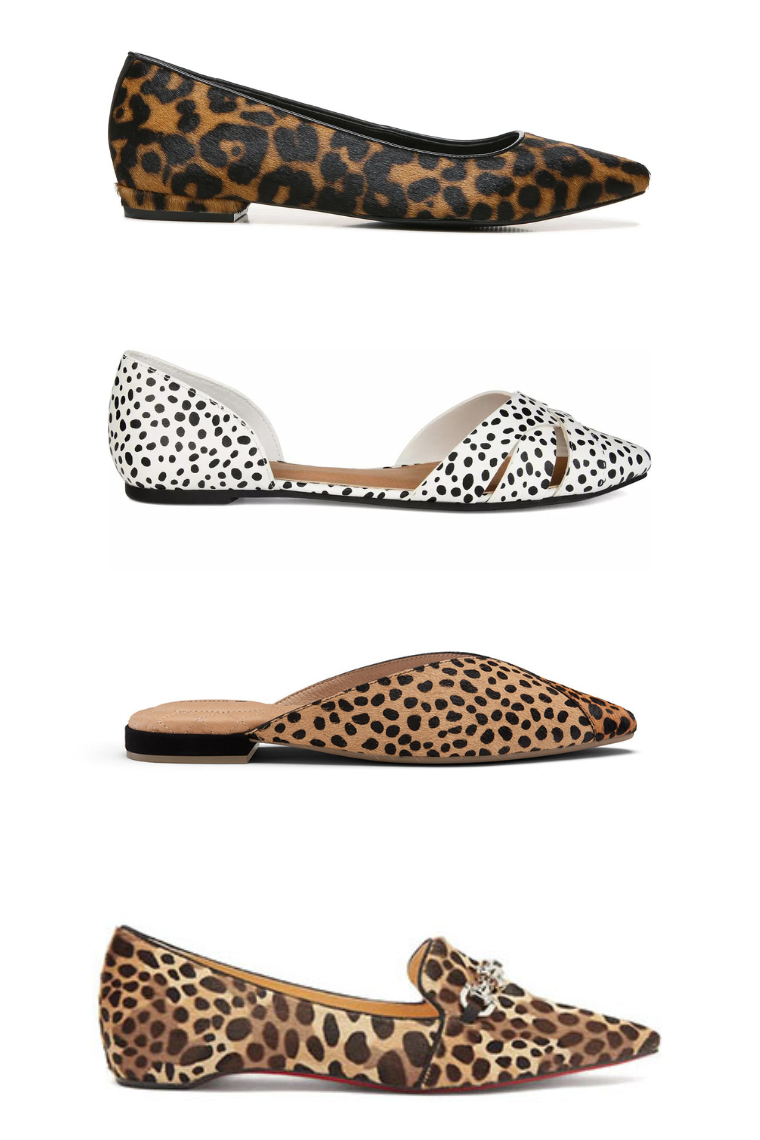 Cheetah flats are not exactly au courant, but they are a classic shoe that can always make an appearance in the fall. A cheetah or leopard print flat is especially relevant when animal print in general isn't in style, like now. For animal print lovers, a cheetah print flat is the perfect way to sport the animal glory, without overdoing it. As you may remember from past posts, I'm a huge fan of leopard print. I've featured it on pants, sweaters, workout leggings, and heels, but for those looking for a more subtle and classic nod to the graceful cats, you really can't go wrong with a leopard print flat or mule.
Cheetah vs. Leopard Print: What's The Difference?
Cheetah print is often confused for the leopard pattern. I have been guilty of it myself and even high-end websites are mislabeling the prints (I am looking at you Matchesfashion.com). The best way to keep it straight is to think of the cheetah print as organic-looking polka dots: small, dark imperfect circles often in black or dark brown against a beige, white, or brown backdrop. Whereas, leopard spots (as seen here) consist of a tan color spot surrounded by a thick irregular black border with gaps. Leopard spots are actually called rosettes because of their rose-like shape.
Still confused? Don't worry. Though die-hard animal fans might be aghast at lumping these spots in the same category, from a fashion perspective you can't go wrong with either, and both cheetah and leopard flats are worn the same way. Plus, the fashion industry takes creative liberty when designing the prints anyways. You'll notice I've included both cheetah and leopard print flats on the list below.
How To Wear Cheetah Flats (And Leopard Flats)
As I mentioned, cheetah flats and leopard flats are worn in the same way. The main thing to consider when creating an outfit around either of these animal print flats is your color palette. Over the seasons, many stylists and designers — myself included — have paired animal print flats with all sorts of colors and patterns. But we went too far (lol). Cheetah and leopard prints are absolutely classic, but they are not a true neutral. Pairing them with everything is not the epitome of chic. Let's be a little more intentional with our pairings this season. Here are the best colors to pair with leopard and cheetah flats:
Black
Tan
Camel
Espresso or Dark Brown
Medium Brown
Burgundy
Deep Forest Green
And here are my favorite modern outfits to pair with cheetah flats and leopard flats:
Skinny jeans or cropped straight leg jeans and a blouse
Ankle pants and a blouse
A flared midi dress
Cropped wide-leg pants and a tee or blouse
What Not To Wear With Cheetah Flats (And Leopard Flats)
Skip the skirt and short hem outfits with animal print flats this season. It feels too much like the trends of 'yore. You also want to stay clear of pairing these animal prints with uber bright colors like hot pink, neon yellow, or fire engine red. That time has passed. Give it a couple more years before we play in that absurd realm again.
When To Wear  Cheetah Flats (And Leopard Flats)
For the times you actually go into the office, a patterned flat is a great way to make a humdrum work outfit more interesting, but don't hesitate to wear these babies casually or for an evening out. A heel is always a crowd pleaser in the evening time, but when you aren't feeling it (like most of us these days), grab the wild flat. As for the season, many moons ago, I said cheetah flats were a year-round option. That doesn't feel fresh to me anymore. I prefer to keep these animal prints for the fall and winter for now.
The Best Cheetah Flats (And Leopard Flats) Right Now
The best cheetah flats are pointed or square-toed. The rounded-toe ballet style is passé. Though it's so out of style, it's apparently about to come back into style. Even if it is au courant again, I should note that rounded-toe ballet flats are just not as flattering for the leg as their pointed counterparts.
I can also get down with a cheetah loafer, but like all things, I am picky. You want to make sure you select the freshest version of these animal prints. Styles and prints that have been "in fashion" for so many decades can often look stale when paired incorrectly or made in the "old way." Obviously, I'm here to take the guesswork out of that. Below you will see all of the freshest and most modern leopard and cheetah flats this season.
Birdies The Swan Flat in Mini Cheetah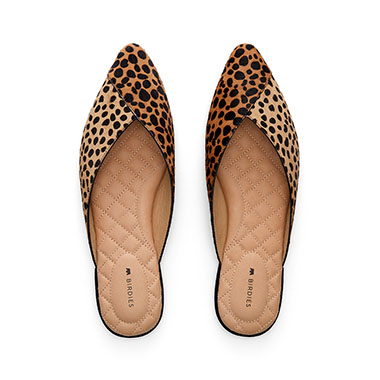 These cheetah flats are available at Birdies and Nordstrom.
Clarks Pure T-Bar Mary Jane Flat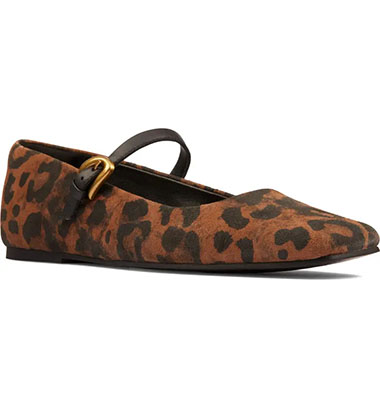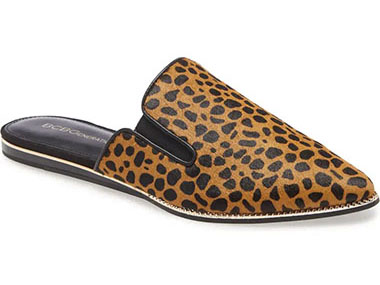 These cheetah mules are available at Nordstrom and DSW.
Vivaia Round-Toe Patterned Loafers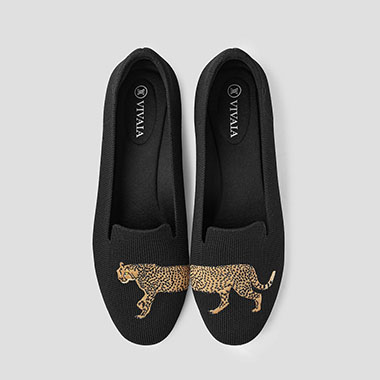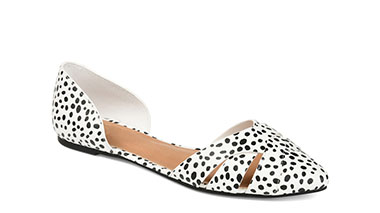 These cheetah flats are available at DSW, Macy's, Amazon, and Target.
Vionic Lena Pointed Toe Flat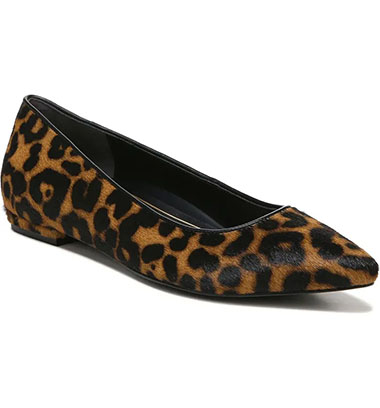 These leopard flats are available at Nordstrom, Amazon, Famous Footwear, and Dillard's.
Christian Louboutin Kashasha leopard-print calf-hair flats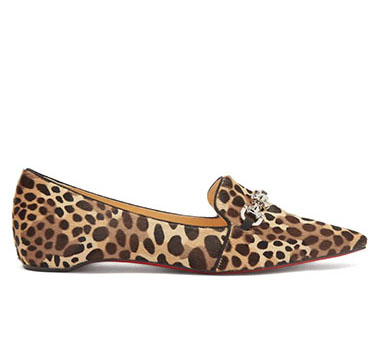 As you may have noticed, these Christian Louboutin flats have cheetah spots, despite being labeled as leopard-print flats.
Original Cheetah Flat Inspiration
I originally wrote this post back in 2009 — a testament to the timelessness of classic leopard print flats. Back then, I had already gone through two pairs of cheetah ballet flats, the last of which I tore apart by walking the entirety of London. I was delighted to try the pair featured above from Target. As I mentioned above, I now tend to stay away from round-toe ballet flats and opt for a pointed or square toe instead, but I love keeping elements from my original posts as a bit of a time capsule.