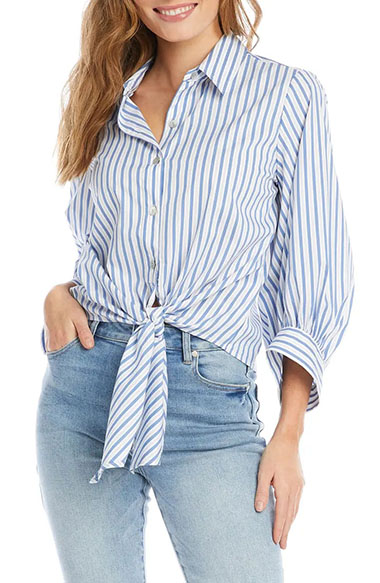 Blouses for work have been an extremely popular request from my clients over the past couple of years. It began during the pandemic. When office work went to Zoom, all anyone could see of you was your blouse, so my clients were scrambling to enhance their upper body style. The request for work blouses has only increased as folks are going back to the office more often and looking to refresh their wardrobe.
Best Blouses For Work: How Dressy Do My Work Blouses Need to Be?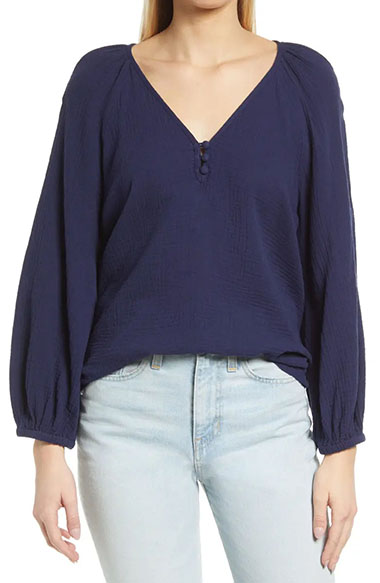 As you all have noticed, work wear in general has become a lot more casual. What classifies as a work blouse is a little bit different now than it was five years ago. Even before the pandemic, work fashion was gradually becoming more casual as comfort and humanization became more prioritized and culturally acceptable.
After the pandemic? Goodness, I am hearing reports of hoodies and pajamas on work calls — eke. In short, I have some work blouses here that will feel like pajamas, but will not be confused for such. Most of you do not need to be wearing silk blouses — unless you want to of course! I just know some of you have sticky-fingered kids or struggle with keeping up on delicate laundry care. Below I have blouses that will work for most dress codes, with some more formal looks as well as a few more casual work blouses for down-to-earth offices and video calls. You do want to mimic the general tone of the wardrobe your coworkers are wearing, but also keep in mind you want to be dressing for the job you want. It's rarely a bad idea to dress a little bit nicer than those around you.
Silk Blouses For Work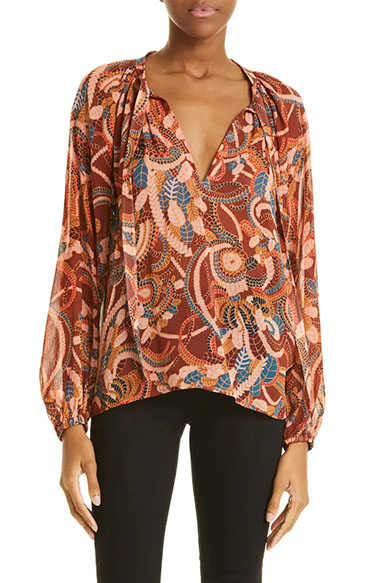 I do love a gorgeous silk blouse for work. If you worry about staining your silk blouse, welcome to the massive club of people who love silk but live in fear of staining it. The key is to get printed silk blouses. A print will often hide a stain. People also avoid silk because the tag says "dry clean only." This is misleading. You don't have to take most silks to the dry cleaner. If you have a front-facing washing machine, you can just do a short cold water wash on the delicate cycle with your blouse in a mesh bag. If you have a top loading washer with an agitator, stick with the dry cleaner. The agitator is very harsh on fabrics and can damage your silk.
But here is the best tip for silk blouses: I have a collection of the most gorgeous printed silk blouses for Zoom meetings that I rarely wash. Why? Because I am only wearing them for 15 minutes to 2 hours at a time. As long as it is below 75 degrees, my top just doesn't get stinky in that time period. In fact, my go-to blouse for Zoom calls has — ahem — never been washed actually. I have had it for six years, but I only wear it for 20 minutes at a time. It literally smells like nothing. I swear to you.
Now that I have grossed you, let me tell you something that grosses me out. I have a massive aversion to polyester masquerading as silk or chiffon. This is my biggest no-no. Polyester work blouses cheapen you. It is one of the few things I can be a bit harsh on. Of course, there are exceptions, and I have included those on my list. But when in doubt, skip polyester.
Colorful Blouses For Work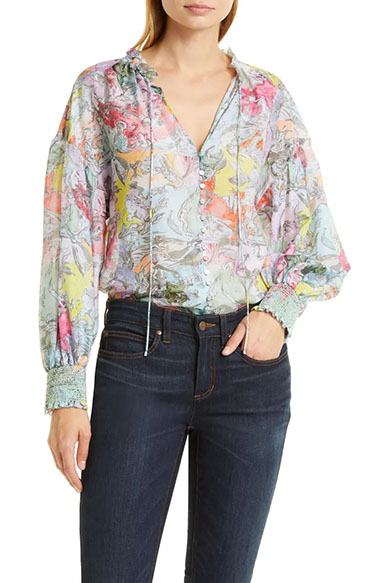 I adore colorful blouses for work. Colorful blouses are a great way to be noticed and will enhance your mood at work — something I think a lot of us need. Some people call this dopamine dressing. I call it, dress for the mood you want to be in. And let's not forget colorful and printed work blouses hide stains!
Some of my more minimalist clients don't love colorful blouses for work because they're memorable. This can be true if you are in the office every day or constantly logging onto video meetings with the same people. Most of my clients though, are rarely in an office and are not on video meetings every day. If you are not seen often, colorful blouses are a great choice. If you are working with the same people over and over each week, you just need a handful of colorful blouses (versus only a few) to create enough diversity.
What Do I Wear With My New Blouses For Work?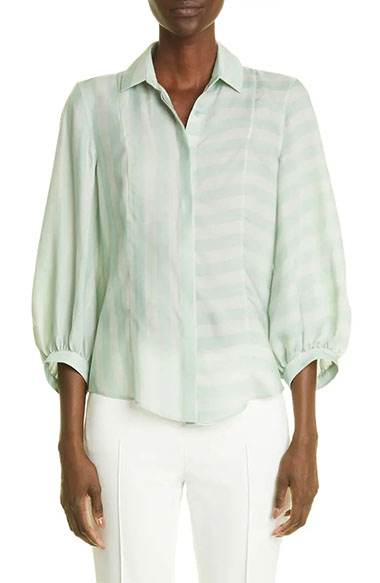 You can pair your work blouses with pants, skirts, and in some more casual offices, shorts, and jeans. This depends on the dress code at your work, the physicality of your work, and if people can actually see you below your waist — bless you remote work. Fun Fact: the ability to work from home is a legal right in some countries.
Here are the other blog posts I have done that can help you with the bottoms to pair with your work blouses:
I will add more blog posts to this list as we update or create them. If you're looking for a simple shell top to pair with a colorful skirt or pants, see my post on the best shell tops.
Veronica Beard Abra Floral Print Ruffle Blouse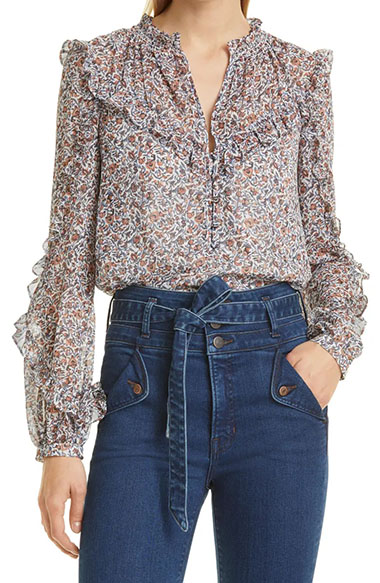 ba&sh Tarmac Shirt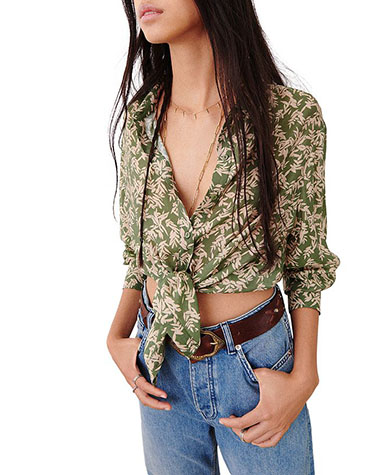 This work blouse is available at Bloomingdale's and ba&sh.
Karen Kane Embroidered Sleeve Gauze Top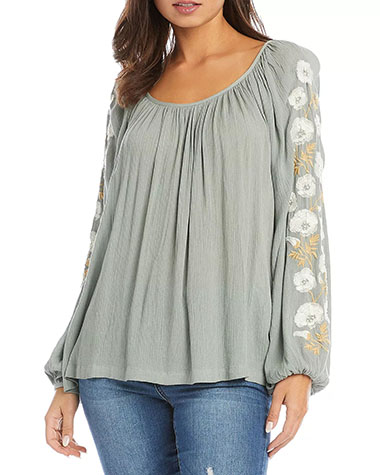 This Karen Kane blouse runs huge! Order a size or two down. I have also raised the hem of this top on everyone, but the effort is worth it! It's available at Bloomingdale's and Nordstrom.
Joie Stow Blouse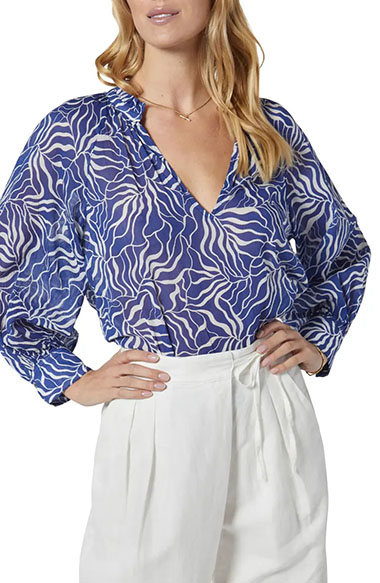 This Joie blouse is one of my favorite work blouses of the year! It's available at Revolve and Joie.
Vince Lilac Bias Silk Blouse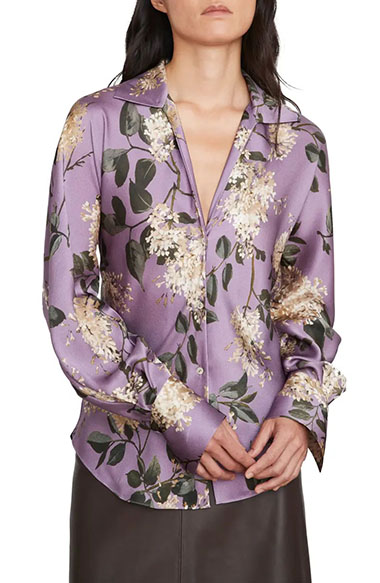 This blouse is available at Bloomingdale's, Nordstrom, and Vince.
Caslon Raglan Sleeve Seersucker Top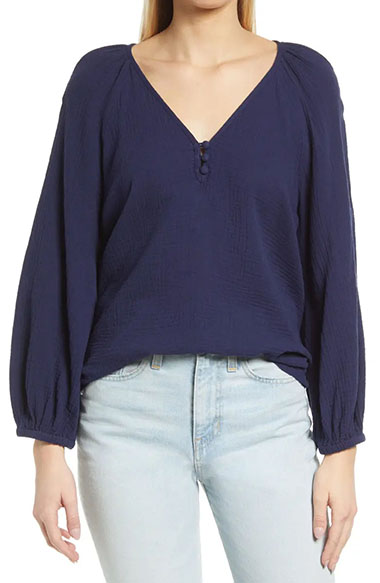 A.L.C. Dana Metallic Stripe Long Sleeve Silk Blend Blouse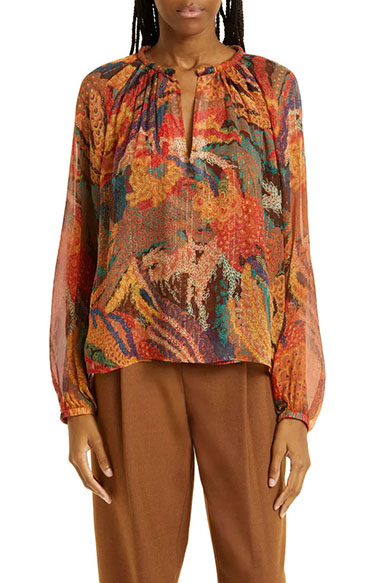 As you may remember from my spotlight post on A.L.C., it's one of my favorite brands for bold prints and flattering garments. If you're looking for a colorful, silk blouse for work you can't go wrong with A.L.C.'s tops, like this gorgeous piece featured above. It's available at Nordstrom, Neiman Marcus, and A.L.C.
Vince Crushed Pleat V-Neck Top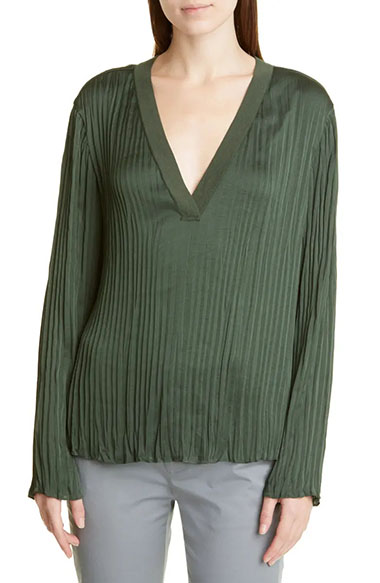 This work blouse is a godsend for those who hate to tuck in tops. This Vince top must be left untucked.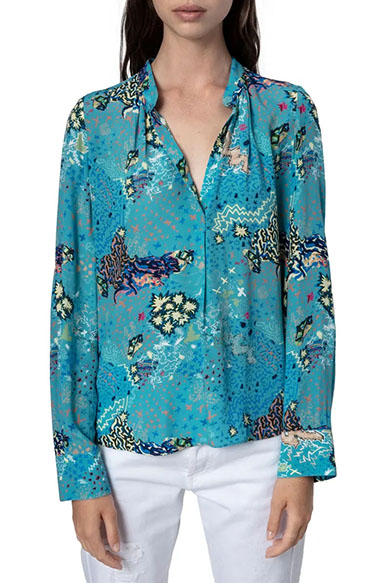 Akris Punto Stripe Cupro & Silk Blouse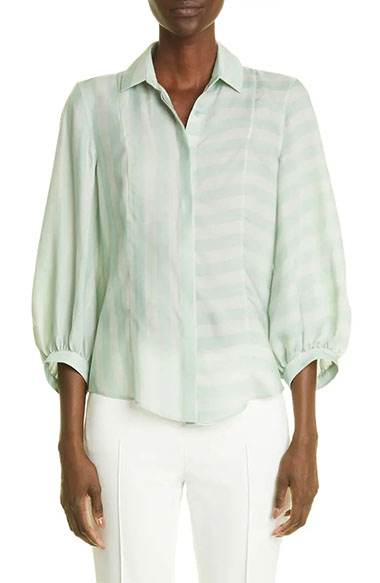 Alice + Olivia Julius Abstract Floral Print Cotton & Silk Blouse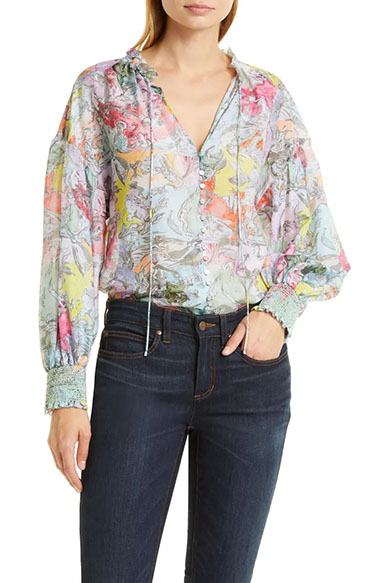 This work blouse is available at Bloomingdale's and Nordstrom.
Ulla Johnson Jules Floral Flutter Sleeve Cotton Top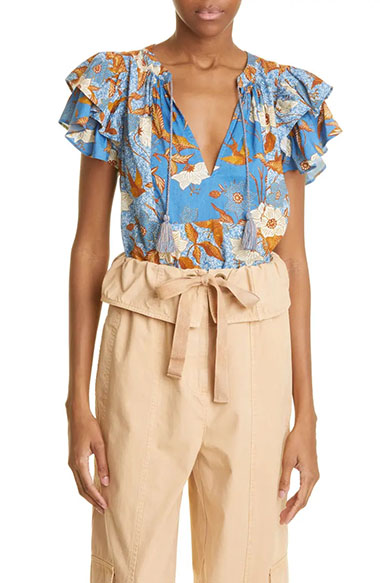 A.L.C. Delphina Silk Blouse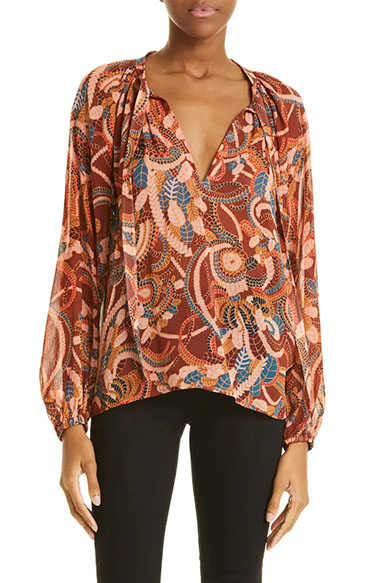 Karen Kane Tie Front Stripe Button-Up Shirt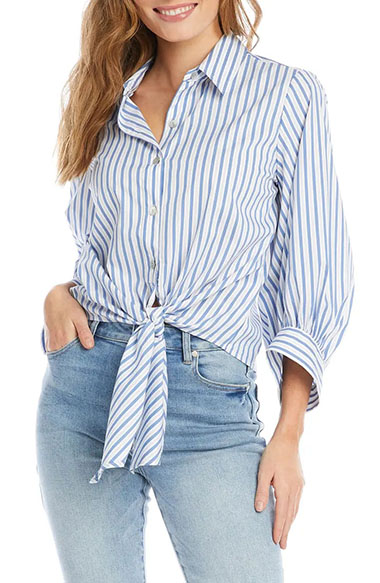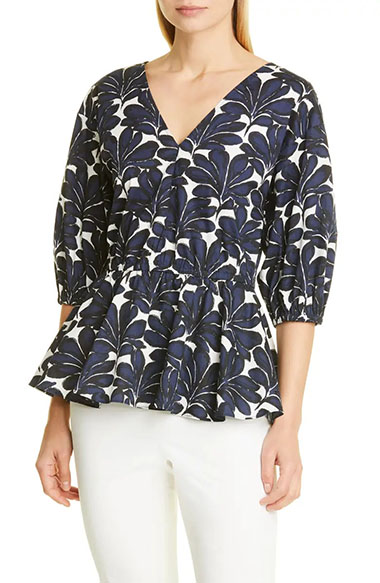 This work blouse by Donna Karan New York is for very tall women, or those willing to have a tailor bring up the waist.
Joie Bolona Silk Blouse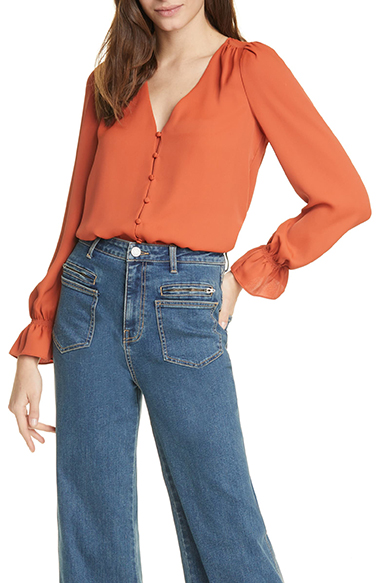 This Joie Bolona Silk Blouse in chili is simply gorgeous. Not for the stain prone, but gorgeous nonetheless.
The Best Blouses For Work From The Past
I originally wrote this post in 2019. I've left these photos below for nostalgic purposes. Whenever I update older posts I love to hold on to a collection of images as a bit of a time capsule so we can watch how our style evolves.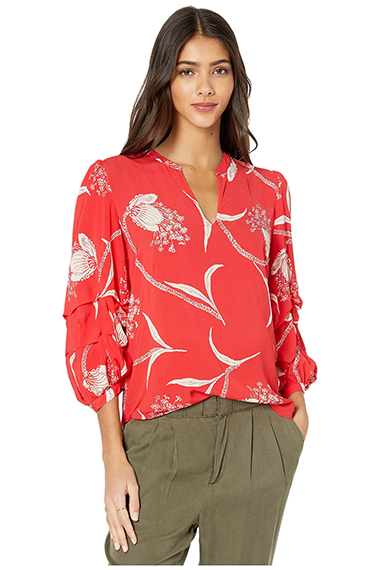 I want more joy in your workwear and this Joie Samyra top can help. Playful, but still serious, this bold top is going to get you excited to go to work.
Topshop Colorful Metallic Blouse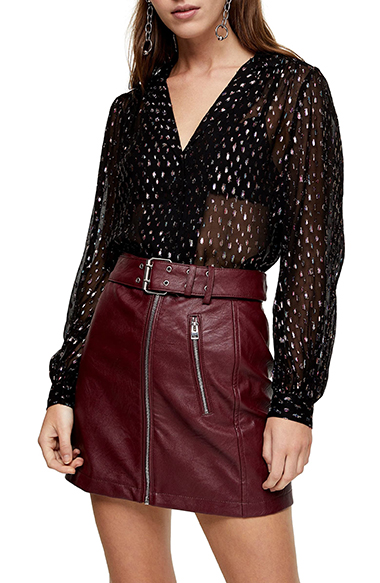 This Topshop Colorful Blouse may seem too racy for work, but a Nic + Zoe black tank underneath will fix that. When the weekend comes, just wear a black bra underneath it to embrace its full sexy glory.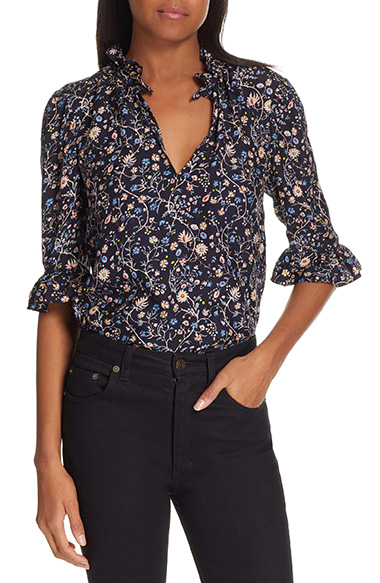 This Rebecca Taylor Vivianna Silk Blouse is my favorite of all the work blouses that can also play. The print is incredibly versatile, the fabric feels amazing, and it's very flattering.
Theory Classic Menswear Silk Work Blouses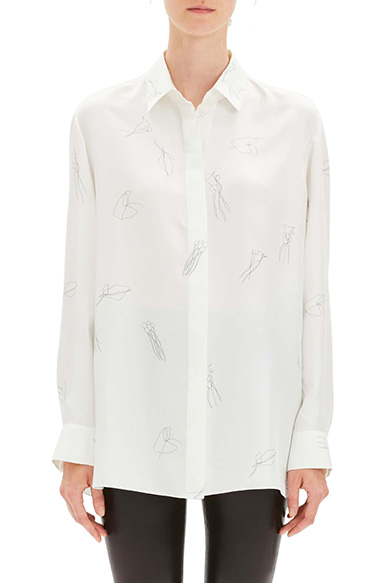 I have so much fun with this Theory Classic Menswear Silk Shirt. Instead of the usual white work blouses, I love this off-white artistic print top.
Equipment Cornelia Print Silk Blouse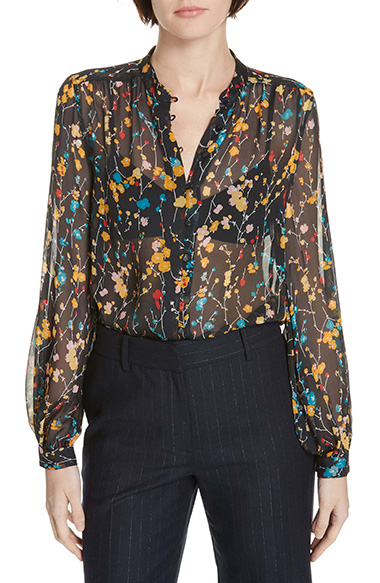 Throw a black tank top under this Equipment Cornelia Print Silk Blouse for work, and then just wear a black bra under it for a night out.