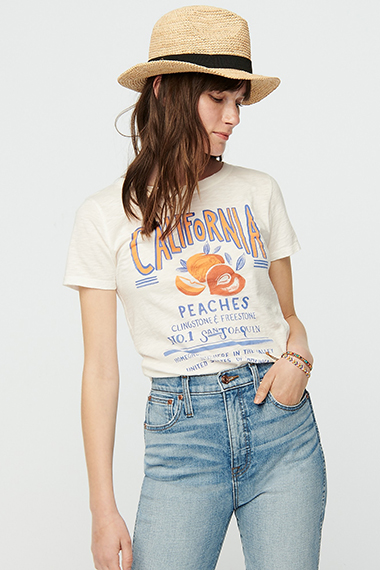 Graphic tees are an easy way to coolify your jeans — or wake up your pajama bottoms. I have had an influx of graphic tee requests from my clients and want to make sure everyone knows how to rock these rock tees. And may I remind you that age should not prevent you from enjoying a graphic tee.
My Favorite Stores + Brands For Graphic Tees
I just did a massive search for graphic t-shirts for one of my clients. I pursued my usual haunts and also found some new spots for graphic tees…
ModCloth
How To Wear Graphic Tees
Graphic tees are so supremely versatile the question really shouldn't be how to wear graphic tees, it should be how not to wear them (don't worry, I'll discuss both). Graphic tees adore spending time with every kind and style of denim. I love a white or yellow graphic tee with black jeans. Practically every graphic tee works with cut off shorts and denim skirts. Colored denim loves a washed out black graphic tee. Obviously, blue jeans and graphic tees are like Laverne and Shirley. And I love to see a graphic tee under a denim-on-denim look. If an all denim outfit is too bold, a graphic tee under a blazer is an excellent choice.
Here are my favorite blazers to pair with graphic tees:
Beyond the denim pairings, I also appreciate graphic tees with any casual pant, leather skirts, sequin skirts, bold slacks, or a bold suit.
#1 How To Wear Graphic Tees Tip: No matter what item you pair with your graphic t-shirt, it will look best if you tuck it in, tie it at your waist, or if your graphic tee is on the shorter side, aka cropped.
How To Wear Cropped Graphic Tees
Cropped graphic tees are perhaps even more versatile than the longer version. They pair with everything a longer tee does without having to tuck them in. Plus, a cropped tee is required to proportionally please certain looks. For instance, traditional sweat pants and pajama bottoms need a cropped tee. Try tucking a longer tee into either of these pants and you will immediately notice how unflattering it looks. Plus, it's not comfortable. Most of my clients hate tucking their shirts in. If you're hanging out in your pajamas, you don't want to worry about tucking your top in.
Lower waisted items also fare better with a shorter graphic tee, versus a longer graphic tee tucked in. Workout leggings also look best with a cropped tee.
How To Wear Oversized Graphic Tees
The oversized graphic tee can be interesting. First of all, size down — way down. I like them best tucked into high waisted leather or denim skirts. Another option is belting them at the waist and pairing them with fitted shorts. And I think it has been long enough that an oversized graphic tee with leggings could be fresh.
Tucking an oversized t-shirt into pants, even jeans, is difficult — it's just too much fabric. Try it though. Tell me how it goes.
How Not To Wear Graphic Tees
Graphic tees are insanely versatile. There are only four real no-nos I'd like to mention…
Don't wear graphic tees untucked with wider leg pants.
Wearing tight graphic tees with low-waisted pants is a breeding ground for muffin tops.
Skip graphic tees that are stiff.
If you are busty, skip high crew neck graphic t-shirts, and go for tees with a scoop neck.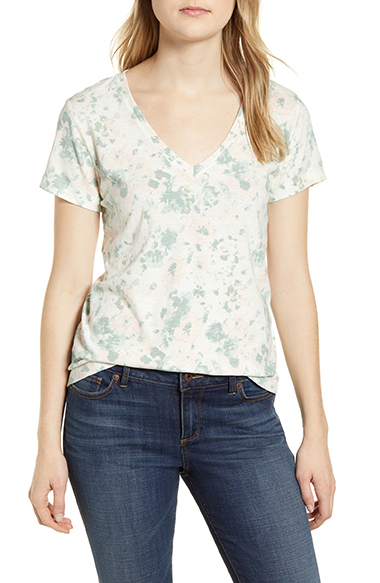 1901 Seaside Stripe Graphic Tee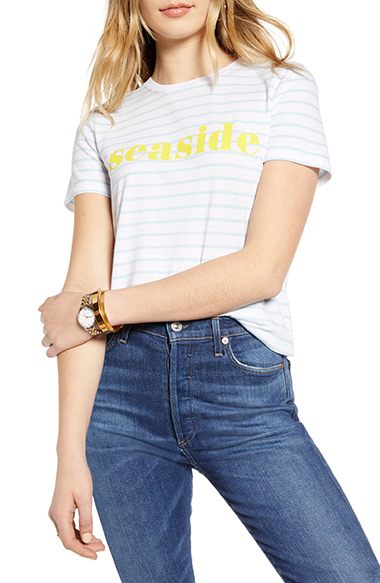 J.Crew Short-sleeve "Honolulu" T-shirt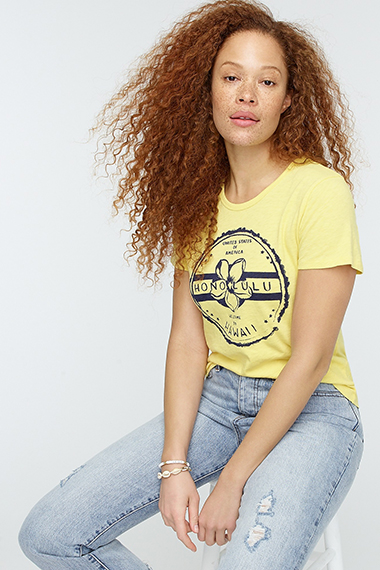 Forever 21 Patrick Nagel Graphic Tee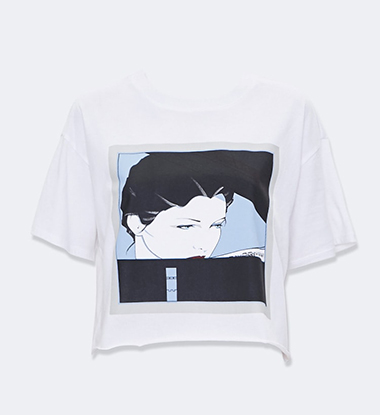 J.Crew "California peaches" T-shirt in Supima® cotton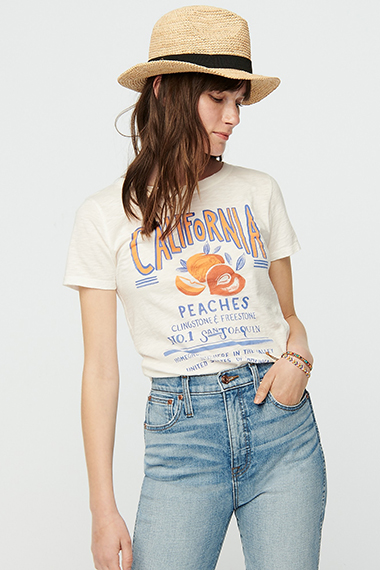 Red Dress Your Muse Charcoal Grey Graphic Tee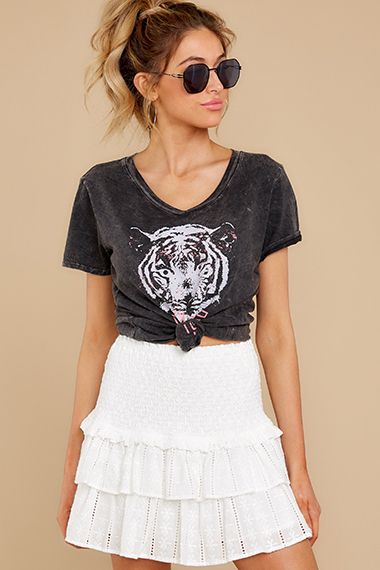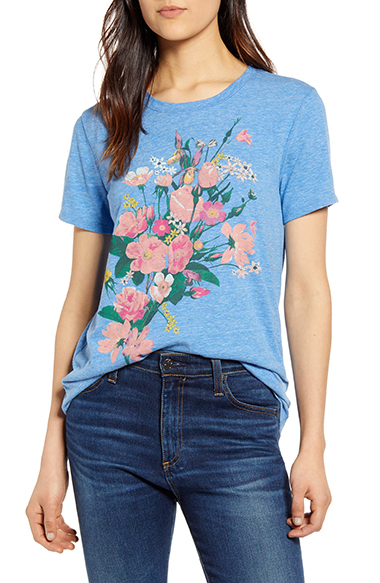 Anthropologie Marcello Velho Sunlight Graphic Tee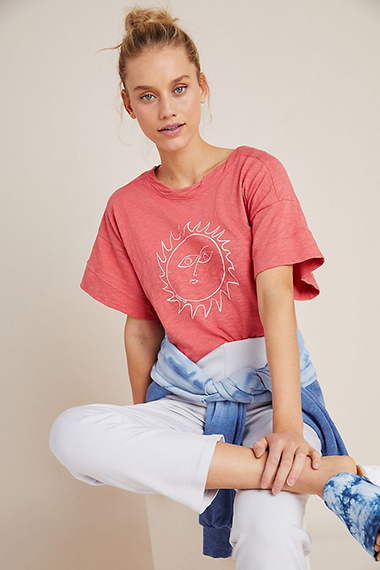 Free People Wrangler Oversized Tiger Tee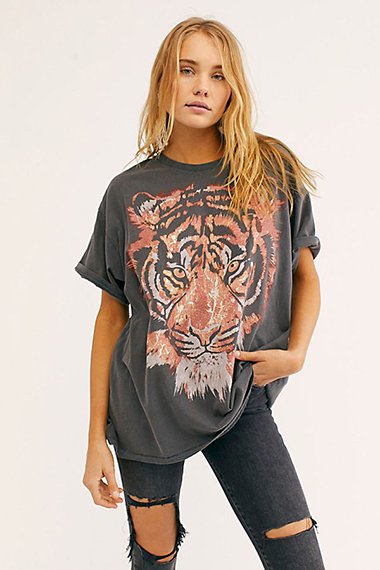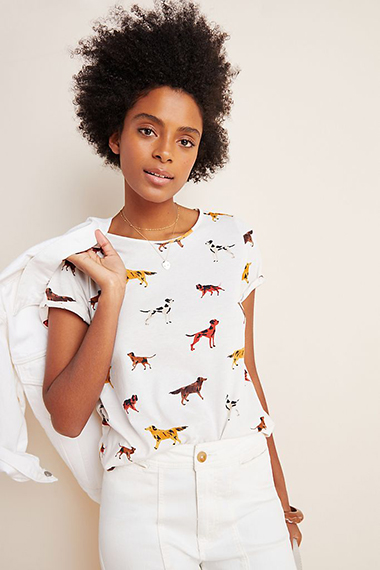 Free People Daydreamer Johnny Cash Tee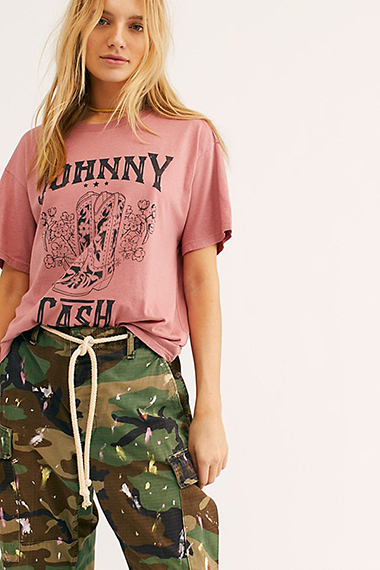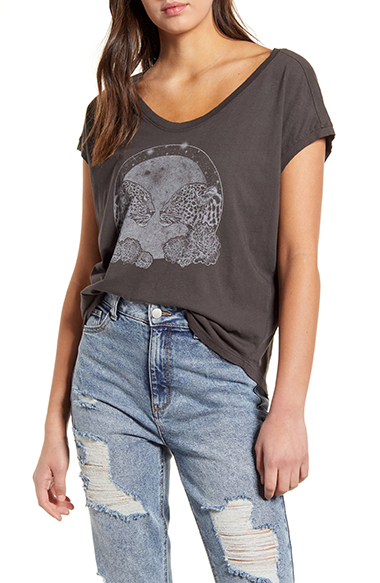 Free People Retro Brand Pink Floyd Boy Tee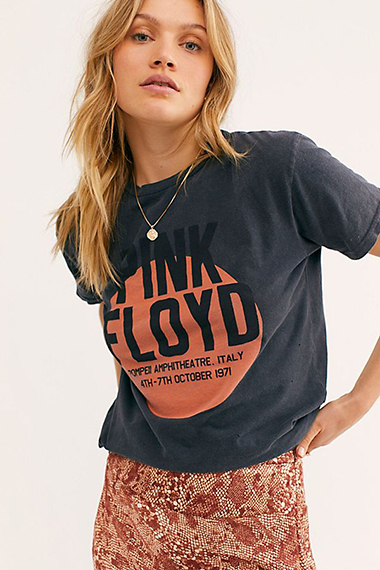 Free People We The Free Woodstock Clarity Ringer Tee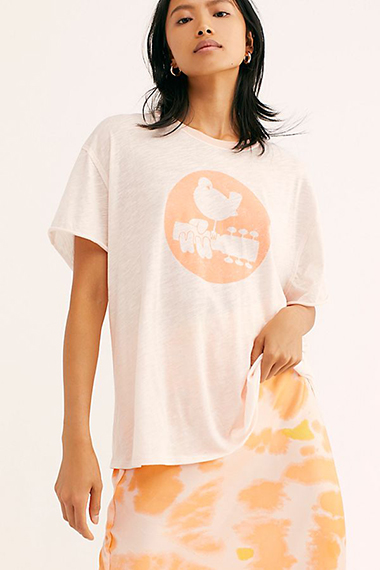 Free People Midnight Rider Circling Tigers Tee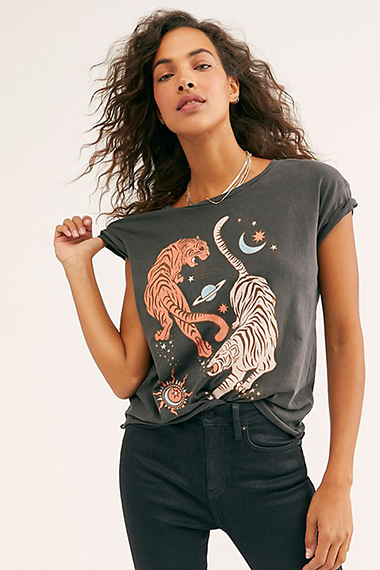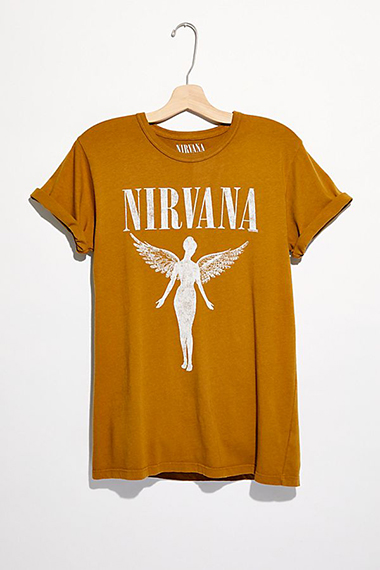 Lulus Prince Peter Coachella Valley Black Cropped Graphic Tee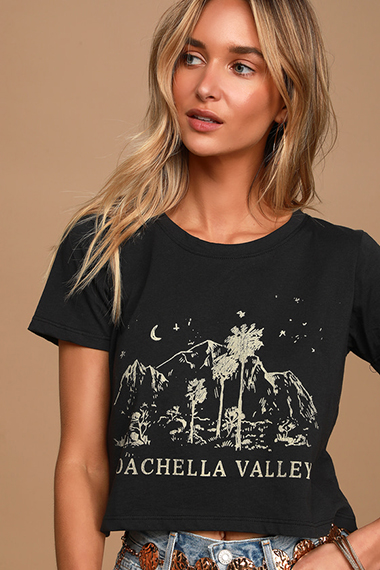 Free People We The Free Soak Up The Sun Tee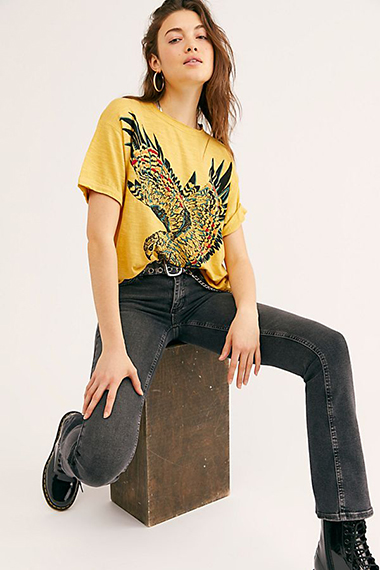 Free People We The Free Showtime Tee