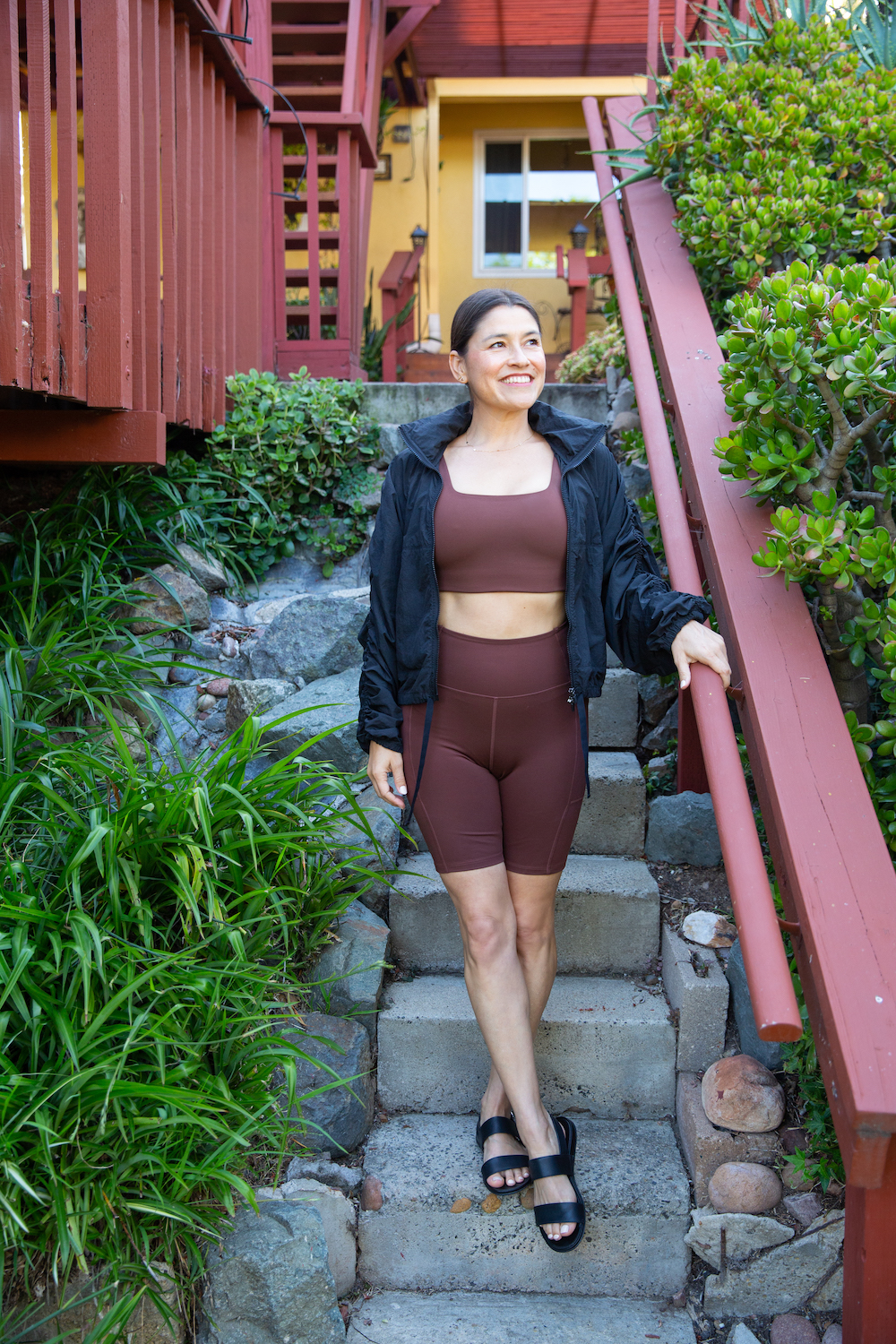 I have given you two posts on the best shorts right now, but I haven't gone into detail on how to style shorts or provided much detail about putting together a stellar shorts outfit. My clients really struggle with this, especially when it comes to what jacket to wear with shorts, so let's discuss the nuances of how to style shorts…
How To Style Shorts: The Tops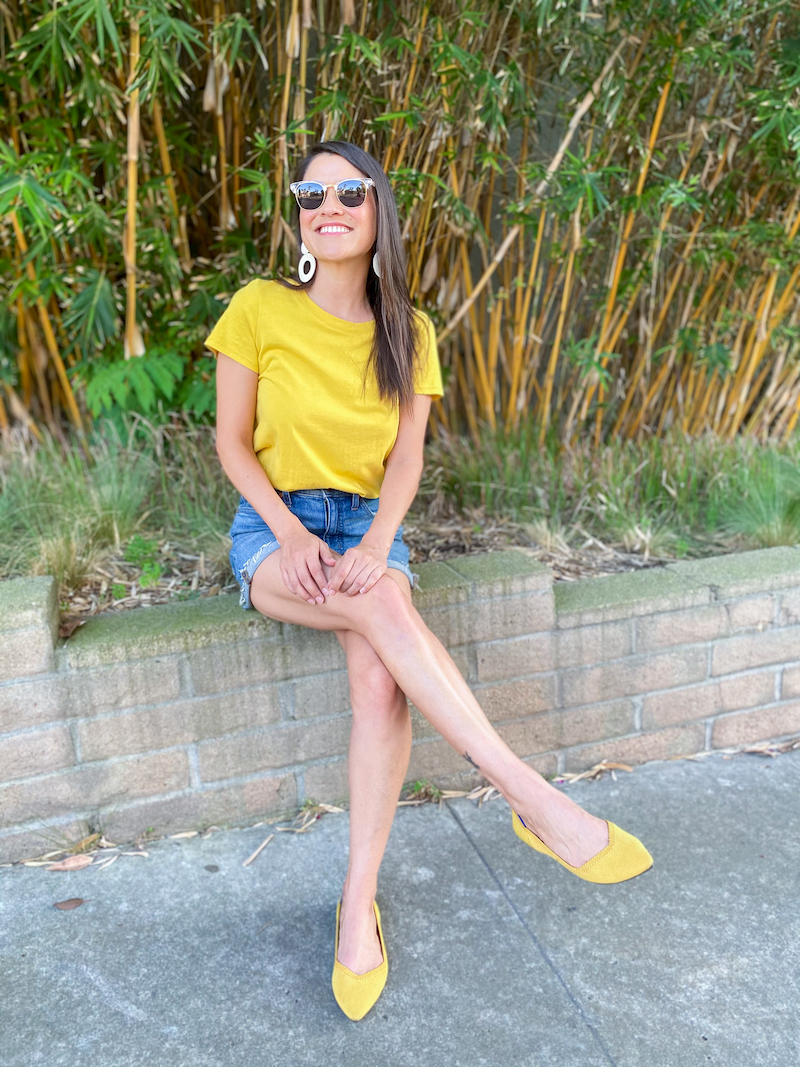 When putting together a shorts outfit, it's really easy to end up with a frumpy, uncoordinated look. Even when wearing slimming shorts, you must make sure you pair them with the right tops to look as fresh and flattering as possible. The best tops for styling shorts are, well, short — shorter tops, shirts that tie at the waist, tucked-in tops, and bodysuits. Just keep in mind, bodysuits are super flattering only when paired with high-waisted shorts. When wearing a longer top with shorts, just tuck it in, either fully or via the half-tuck, which is when you tuck in only the front of the shirt. In short (no pun intended!), here are the best tops to wear with shorts:
Cropped tops
Tucked or half-tucked in t-shirts (like I did above)
Tucked or half-tucked in tank tops
Bodysuits (for high-waisted shorts)
Tucked or half-tucked in blouses in casual fabrics like linen, cotton, rayon, modal, etc
Short sleeve or long sleeve button front shirts in casual fabrics like linen, cotton, rayon, modal, etc (again, these shirts must be cropped, tucked in, or half-tucked in when paired with shorts)
If you prefer a technical rule: do not wear a shirt with shorts that hangs more than 3 or four inches below your belly button.
How To Style Shorts: The Jackets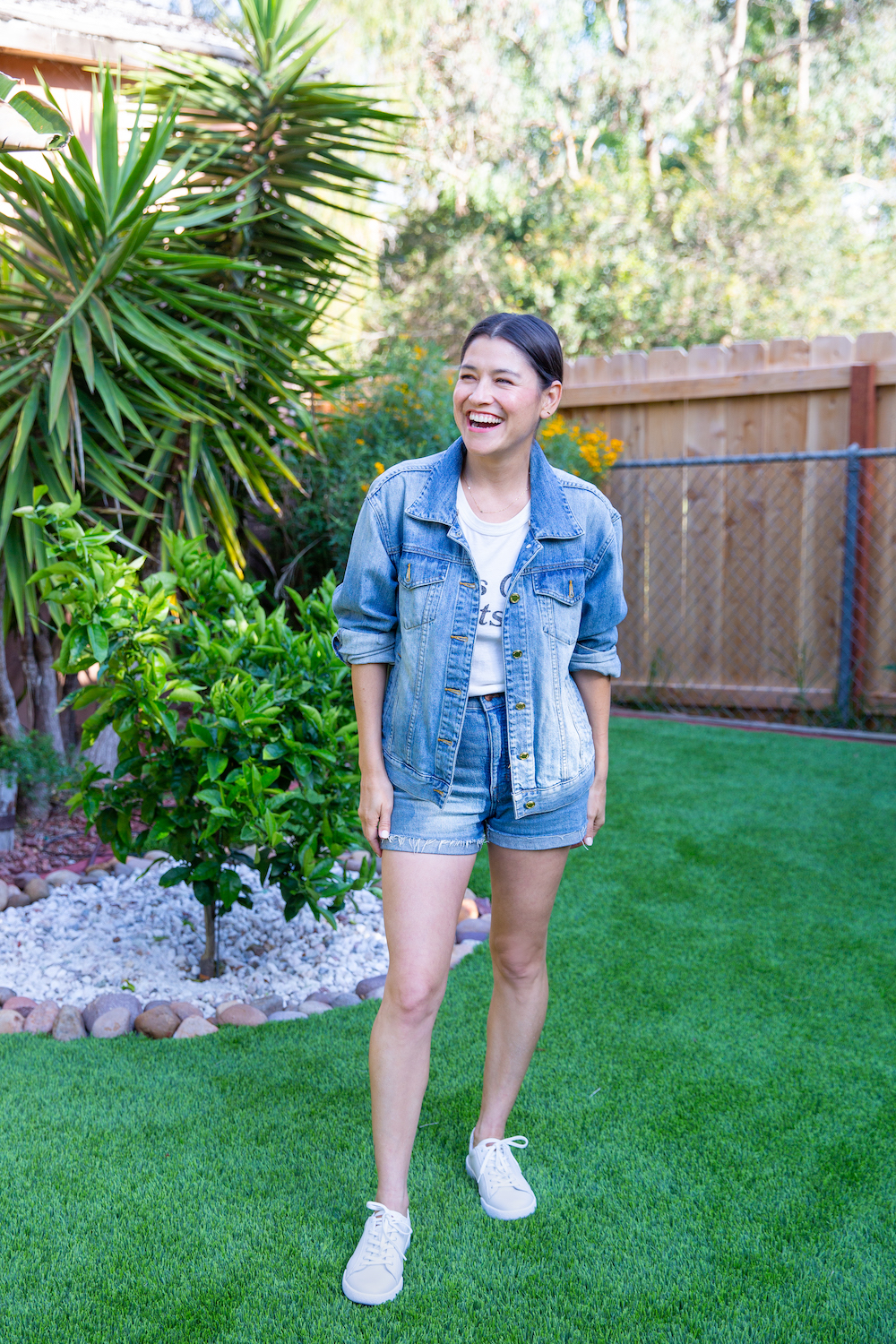 When styling shorts you need proportional outerwear. Get a jacket or sweater that hits mid-hip or a little shorter for the most flattering silhouette. A good rule of thumb for picking out the right jacket when styling your shorts is: you need a jacket that is longer than your top, and shorter than your shorts. Here is my full list of the jackets to wear with shorts for an everyday shorts outfit. We will discuss styling dressier shorts below. 
Shorter jackets in a similar weight and texture as your shirt or shorts
Hip-length sweater in a similar weight as your shirt
Leather jacket (if your shorts are of a heavier denim, canvas, or matching leather)
How To Style Shorts: The Shoes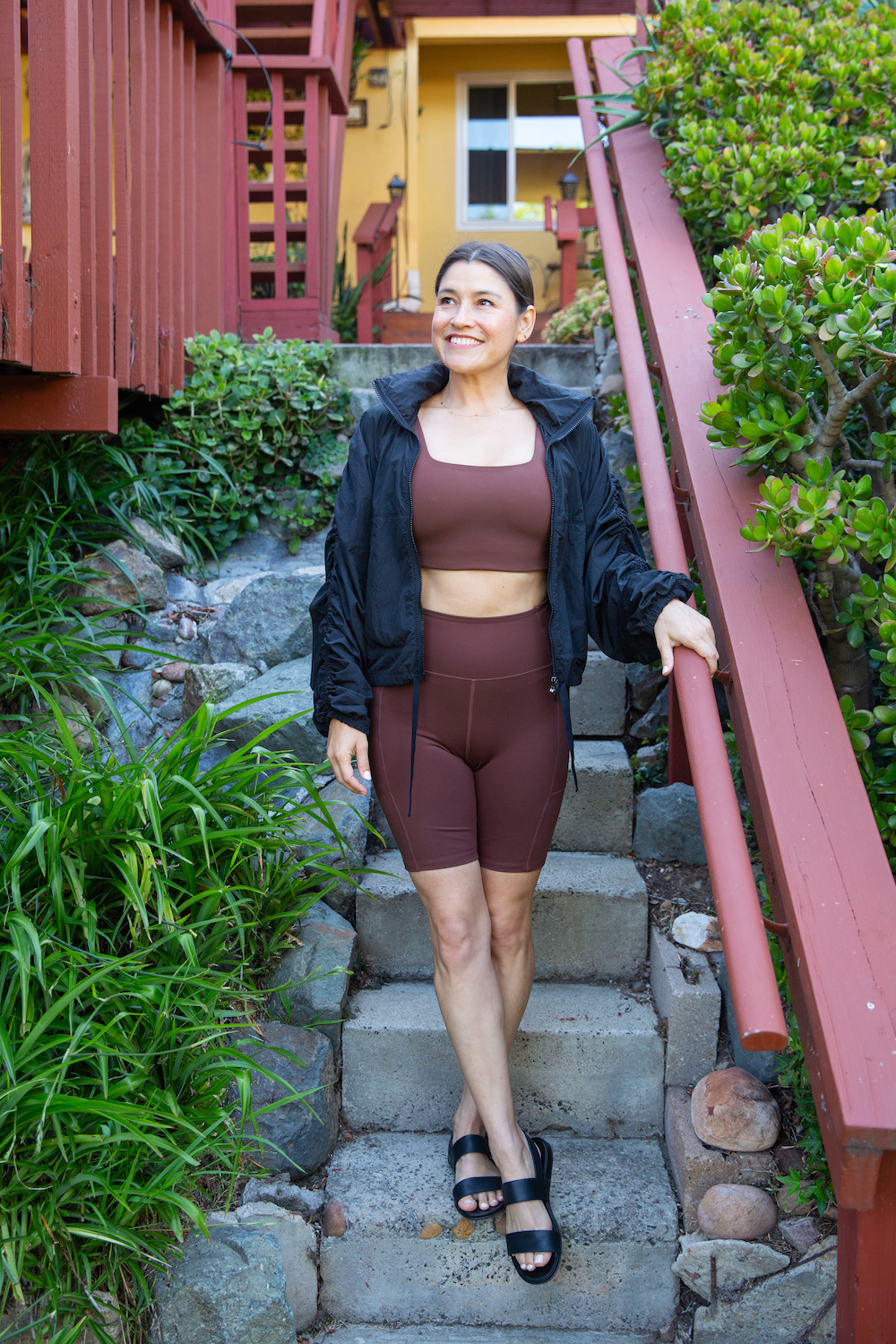 My favorite shoes to wear with a casual shorts outfit are sandals, flip flops, a casual flat, and low-rise slim sneakers. We will discuss pairing heels with shorts below. For this section, it's all about that everyday shorts outfit. Basically, sport those stylish sneakers or sandals with your shorts and call it a (summer) day:
Casual flats
How To Style Shorts: The Accessories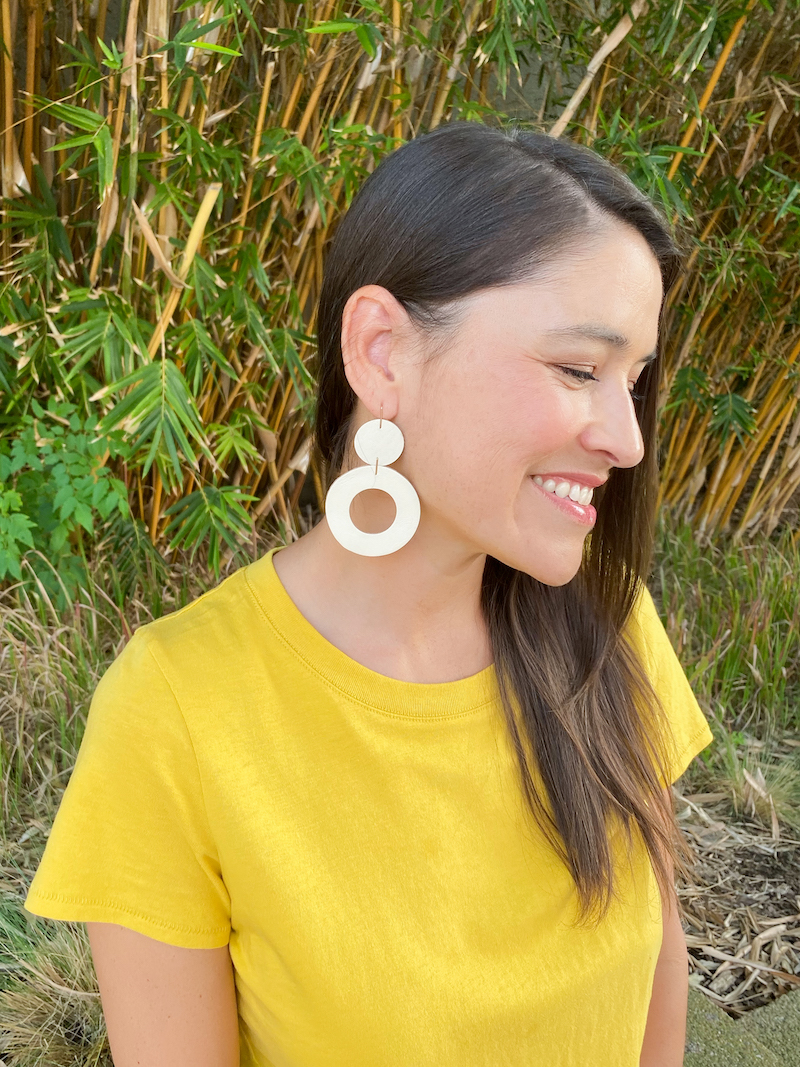 Just when my clients think we have finished styling our shorts outfit, the topic of accessories arises. Generally, I recommend delicate jewelry as pictured in most of these photos. But you can also sport more fun earrings in leather or acrylic, as pictured above. I'd skip the diamonds, the dangles, and the bangles for a casual shorts look. You want to accessorize so that the finished product looks truly effortless. (We will discuss accessories for the dressier shorts look below.) Here is a list of my go-to jewelry for an everyday shorts outfit:
Your go-to, non-sparkly hoops
Acrylic or clay earrings
Leather jewelry of any kind
A smartwatch or sports watch is fine
How To Style Biker Shorts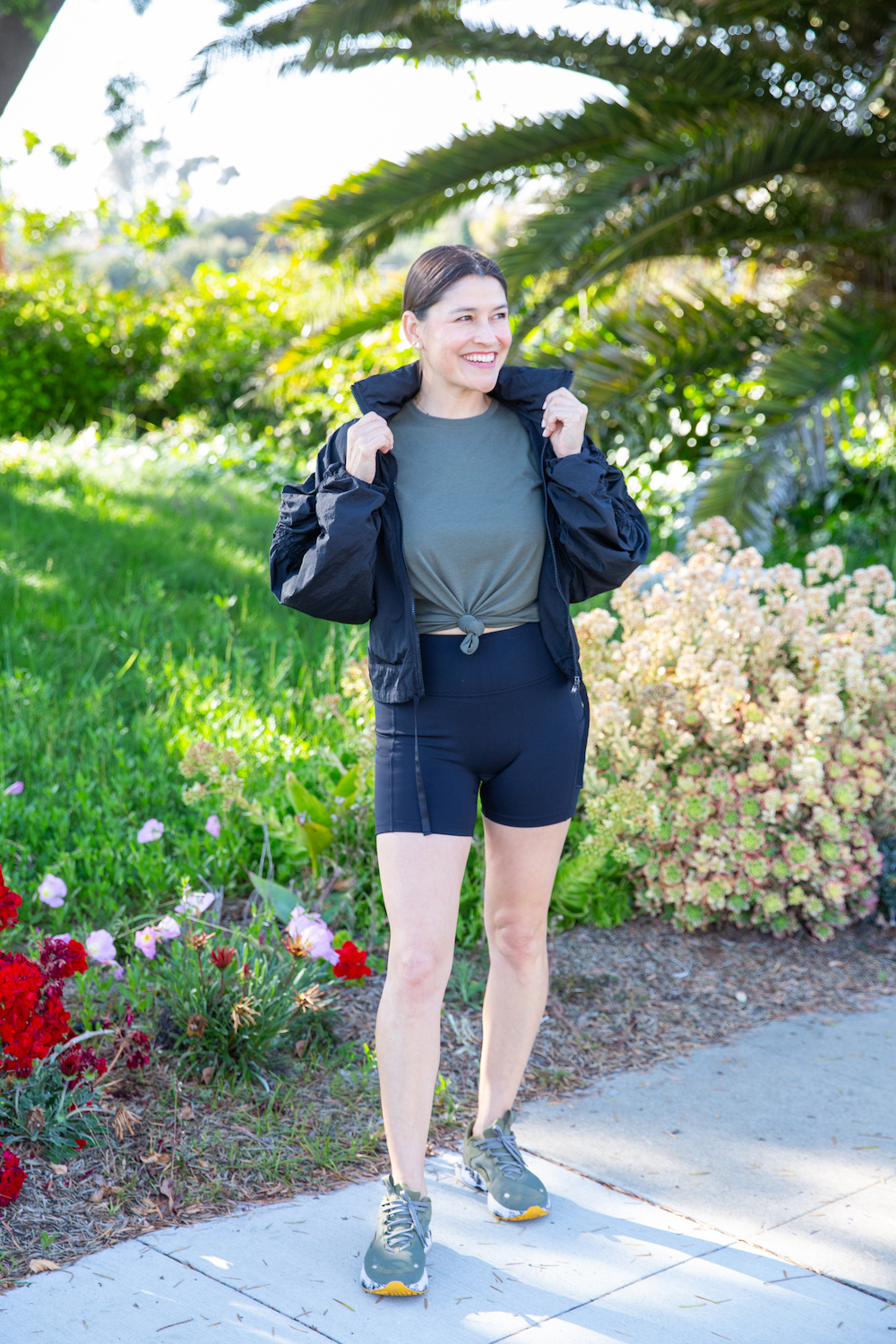 The key to styling biker shorts — that isn't overly trendy — is to keep it casual. Pair biker shorts with a crop top, sports bra, or a tee or tank tied at the waist. Jacket-wise, you want to sport a fitted anorak or cropped jacket in a material similar to your shorts. Think sportswear. Top it off with sneakers or sandals and keep your jewelry minimum: studs or huggie hoops are my go-to accessories with biker shorts. Once I complete my biker shorts outfit, I wear it to work out, on walks with friends, for activities with my friends' kids, and running errands.
I am sure you have seen folks sporting cowboy boots and/or blazers with biker shorts on Instagram. This is a fun look, but can look over done or unflattering very easily. To avoid those pit falls, check out this blazer and biker short look on Kkavvya. Notice how she uses a matching top and shorts set and a neutral palette to soften the trendiness and streamline the silhouette.  
How To Style Shorts For Dressier Occasions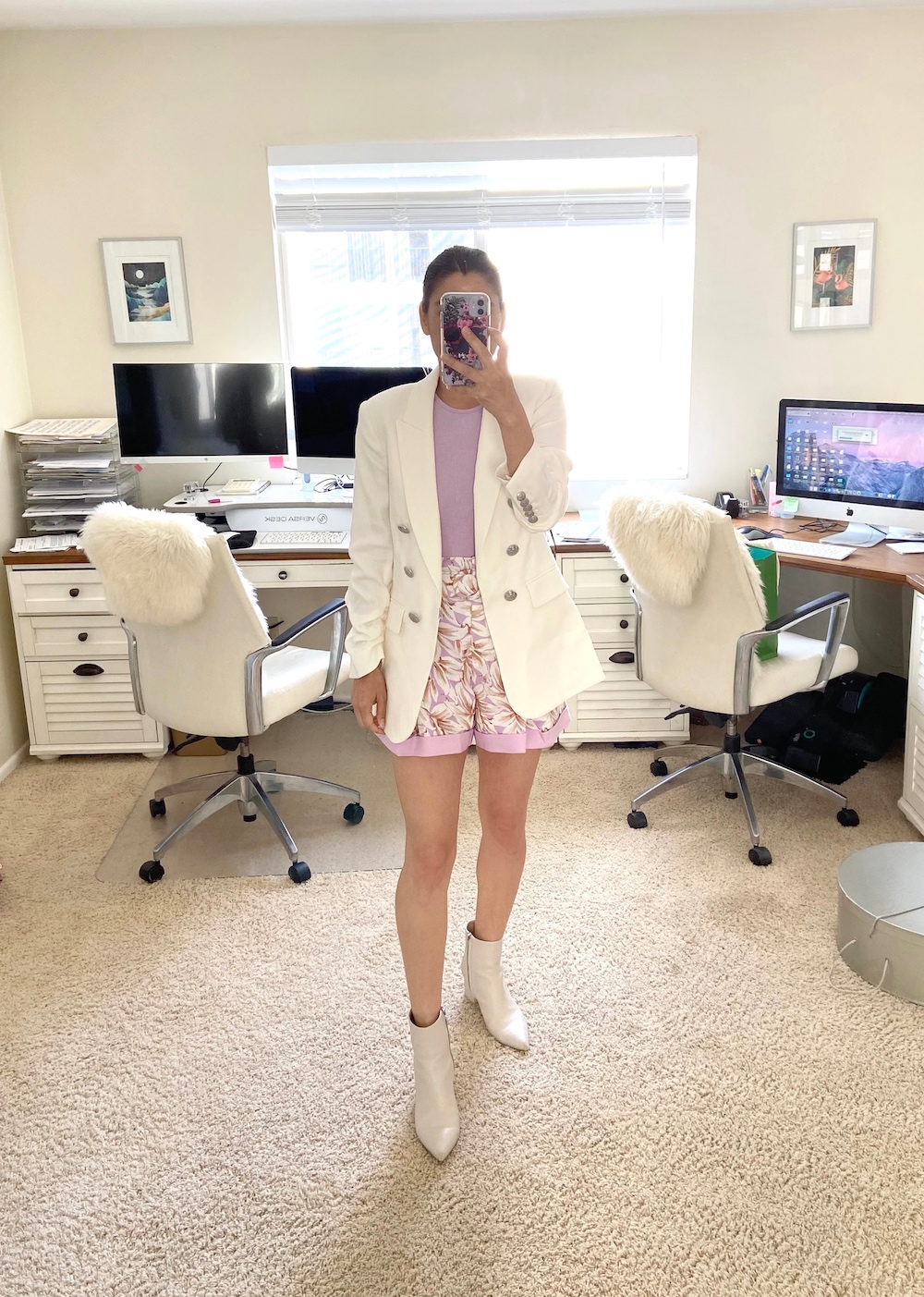 When styling dressy shorts, here are the best tops:
Tucked in tanks or shell tops of a similar weight and texture as your shorts.
Tucked in short or long sleeve blouses of a similar weight and texture as your shorts.
Bodysuits (Pictured above. Reminder: bodysuits are for high-waisted shorts only.)
When styling shorts for a dressier look, your jacket will follow the same proportional rules as stated above: you want your jacket longer than your shirt, but shorter than your shorts. Here is my go-to outerwear when styling shorts for dressier occasions:
Blazers
Lightweight leather jacket
Shawl
In a pinch, I love using summer-weight shawls with dressy shorts. Not only will a summer shawl keep you warm in air conditioning, but you can also use it to protect your skin from the sun without overheating. Plus, a scarf can be folded up easily and stowed in your purse when you're over it. (For tips on how to wear a shawl see my post, here.)
When styling shorts for dressier occasions, here is the best footwear:
Chunky heel booties (Pictured above and below!)
Block heel Sandals
Nicer flats, like Rothy's The Point
When styling shorts for dressier occasions, I don't have any hard rules. You just want your accessories to complement your look. You can wear diamonds, a hat, pearls — whatever works with the texture and proportions of your dressy shorts outfit.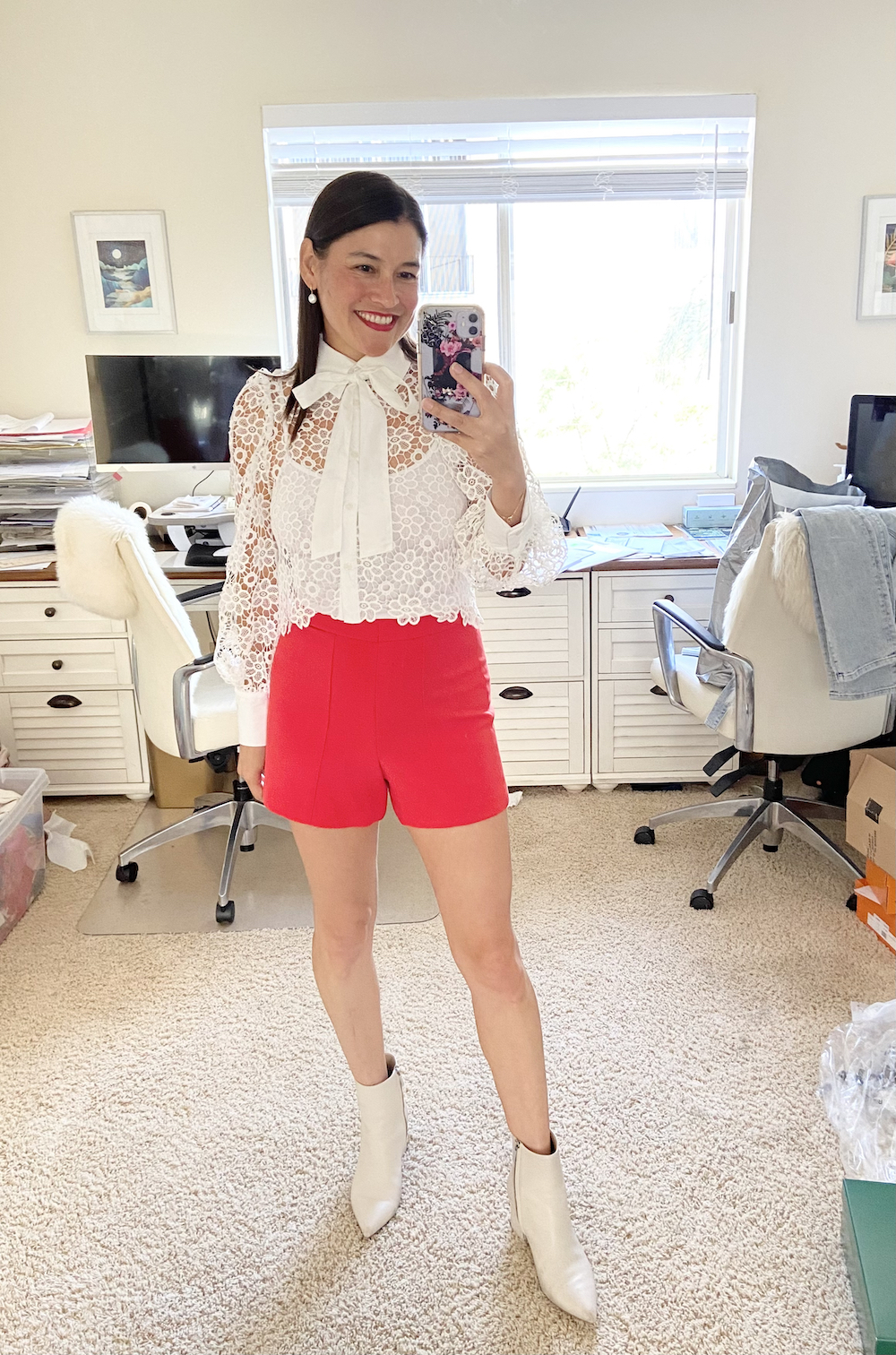 By the way, please excuse my messy office in the background of this last shorts outfit pic — insert facepalm emoji. I would say the most annoying aspect of being a personal stylist is the constant clutter of clothes, boxes, and plastic. Thankfully, we have numerous resources for recycling all this crap: read about it here.
Professional Photos by Dayley Photography